Welcome to "America's Riviera," a cosmopolitan city whose residents are as diverse as its visitors, the ever-famous Miami Beach.
The coastal resort city lies on natural and man-made barrier islands between the Atlantic Ocean and Biscayne Bay, the latter separating the Beach from the mainland city of Miami.
It is comprised of the South Beach neighborhood, located at the southernmost 2.5 square miles (6.5 km2) of the city, along with Downtown Miami and the Port of Miami, collectively forming the commercial center of South Florida.
Miami Beach was incorporated on March 26, 1915, and is the 26th largest city in Florida.
It's also been one of America's most famous beach resorts since the early 20th century.
It is home to 80,671 residents as of the latest US Census.
It's close to impossible NOT to think about beaches when anyone mentions "Miami."
With mile after mile of sparkling waters, fine, golden sands, tanned tourists of all races, celebrity-studded hotels, and non-stop nightlife, many believe Miami Beach — from South Beach to North Beach — is the epitome of Miami's standard of living.
Of course, these glamorous images can only be surpassed by reality.
As legendary as it is as a resort destination, setting the gold standard for hospitality, the famous island offers a variety far beyond sun and sand.
Miami Beach has been a tourist-friendly vacation spot for as long as anyone can remember.
And as the area constantly renews and evolves to catch the latest waves of local and visitor expectations, Miami Beach has become a trend-setting art and entertainment Mecca and a shopping and cultural wonder that's hard to miss.
Feast your eyes on a staggering variety of experiences and an unmatched cultural diversity in Miami Beach.
Due to the economic boom that sprung from the refurbishment of the Art Deco Historic District, travelers now enjoy an array of cafés, clubs, and shopping along South Beach's Ocean Drive, Lincoln Road, and Washington Avenue.
There are also international hotels and restaurants on Collins Avenue and Mid Beach and a re-emerging North Beach neighborhood filled with unique family-owned restaurants and wide, tranquil stretches of sugar-white sand.
Imagine an island city boasting over seven miles of beaches, three golf courses, 20(!!) parks, and a wide selection of dining, shopping, and art and culture spots!
Take Fontainebleau Miami Beach, for example.
Situated on oceanfront Collins Avenue in the heart of Millionaire's Row, the iconic luxury hotel is one of the most historically and architecturally significant hotels on Miami Beach.
Its design is a spectacular blend of Miami's glamorous golden era and stylish modern vibe.
The 22-acre oceanfront Miami Beach hotel features signature restaurants by award-winning chefs, two chic nightlife venues, a two-story spa, a virtually endless poolscape, miles of pristine beach, and state-of-the-art conference and event facilities.
Fittingly, Fontainebleau Miami Beach has been a revered Miami Beach landmark for more than half a century.
Another must-visit spot in the neighborhood is South Beach's (affectionately referred to as SoBe by locals) Art Deco District, which boasts the nation's largest concentration of Art Deco buildings, their whimsical design, bright colors, and glamorous features.
It's also where the Art Deco Welcome Center is located, a non-profit resource for historic preservation and enhancement of Miami Beach's unique architectural and cultural identity.
They offer guided walking tours and self-guided ones for visitors who prefer to explore at their own pace.
The welcome center's building also houses the Art Deco Museum, where visitors can browse year-round exhibits and special events such as lectures, films, and workshops.
Do you feel like having a one-on-one session with nature?
Come out to Lummus Park, Miami Beach's urban oasis for its vivid blue ocean and miles of white sand.
The famous park is a ten-block stretch bisected by the winding Beach Walk and bordered by the Atlantic Ocean on one side and iconic Ocean Drive on the other.
Here, you'll see runners, walkers, and cyclists gather to catch the sunrise while they log their morning miles.
Visitors can also cross over to the beach and climb the steps of one of the lifeguard towers for bird's-eye views of the beach and uninterrupted sunrise selfies.
Lummus Park also hosts weekend artisan markets and marquee annual events, including Art Basel Miami Beach satellite fairs, Miami Design Preservation League's Art Deco Weekend, the Hyundai Air & Sea Show, and the South Beach Wine & Food Festival's Grand Tasting Village.
For an all-out golf session, tee up at one of the few golf courses in Miami Beach, the Miami Beach Golf Club!
Just outside South Beach and a few blocks from the water, the historic greens—designed by foremost golf course designer Arthur Hills—boast 18 holes and offers lessons for all levels of expertise.
It recently received a $10 million facelift and is seen as one of the finest public courses in South Florida.
There's more to see in Miami Beach, especially if you're up for a mind-boggling array of shopping and dining options and the highly-coveted Miami nightlife.
SoBe's Lincoln Road is the most well-known shopping and dining destination.
Popular with locals and tourists alike, the pedestrian shopping street is packed with upscale boutiques, cutting-edge restaurants, and trendy coffee joints.
I could go on and on, but it's just IMPOSSIBLE to list everything down on one blog!
Miami Beach, indeed, has something for everyone! Extreme sightseeing, a limitless opportunity for water adventures, beach bumming, exploration, perfect weather, and dreamy beachside shopping and dining experiences-- what more can you ask for?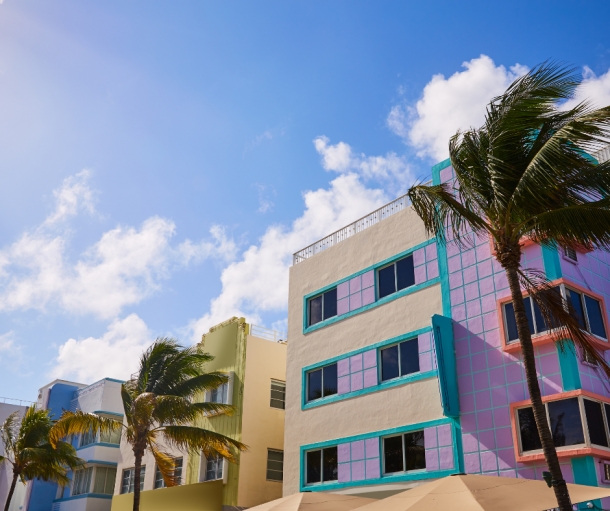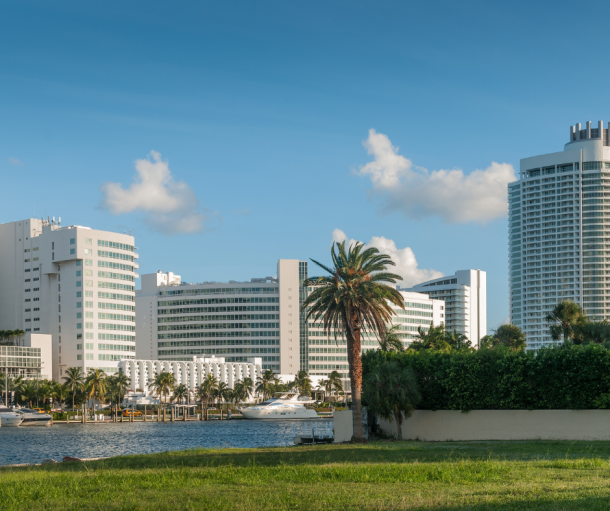 Fontainebleau Miami Beach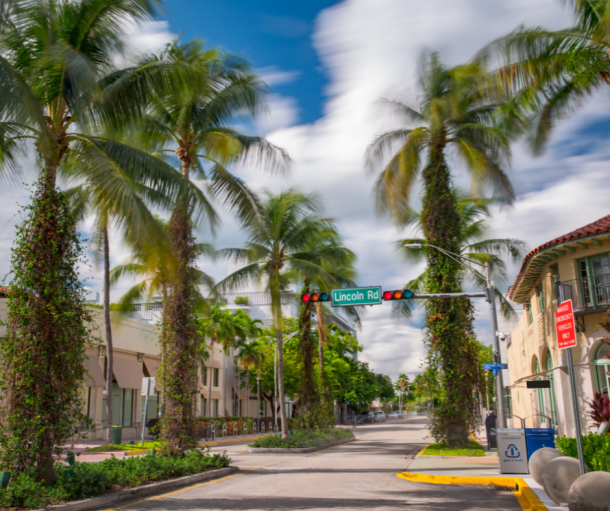 So, what's it like living on a legendary island featuring white sand beaches, crystalline water, elegant Art Deco architecture, and a glamorous, hedonistic lifestyle?
As it draws residents and visitors from around the globe, the neighborhood has become a vibrant and eclectic city that defies the norm.
Miami Beach is also a well-rounded community, offering folks glitz and glamour and fast-paced lifestyle care of South Beach and North Beach's relaxed, care-free living.
The same goes for the area's real estate.
Some of the most exclusive and expensive real estates in the world can be found in South Beach's glittering luxury condo towers, but there are also low-key residential pockets scattered throughout Miami Beach that put a spotlight on laid-back living in family-friendly, community-oriented neighborhoods.
For low-key health buffs, this Miami neighborhood is for you.
Here, residents enjoy an active lifestyle, and it's common to see locals walking, jogging, or rollerblading through the neighborhood at all times of the day.
Most areas around SoBe are pretty walkable, maybe due to the notorious South Florida traffic (which can be especially bad in Miami Beach's southern reaches) and difficult parking.
Many residents choose to commute to Downtown Miami, Fort Lauderdale, and Hollywood, and the neighborhood's convenient location at the "Crossroads of South Florida" means central Miami is only a 30-minute drive.
Not too keen on driving?
Miami Beach is well-served by public transit, with Miami Metrobus providing regular connections to Miami and the surrounding area.
The Miami Beach Trolley is a free service that connects the island neighborhoods.
Locals make full use of this hop-on, hop-off service, and it's always a fun ride.
As an alternative, many residents own bicycles, so you'll see shops dedicated to selling, fixing, and maintaining bikes.
Of course, you don't have to buy one.
Residents and tourists can rent bicycles for a day or even an hour (or two), usually at the same shops.
Meanwhile, families will be happy to know that Miami Beach's school systems are well-funded and top-notch.
Even on such a small island, you'll have a number of schools to choose from, whether you're looking for public or private, and many of the public elementary schools score top rankings across all categories.
Cheers to an easier pace of life in Miami Beach!
It's what you deserve, indeed!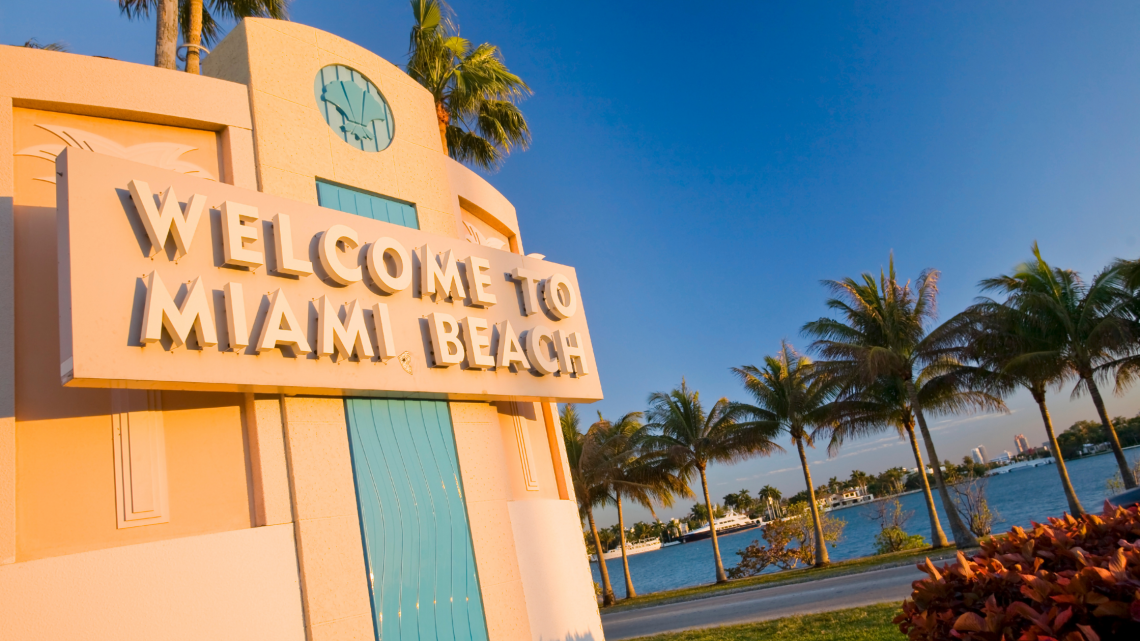 Set your sights on a dreamy CITY living on Miami Beach-- complete with beachfront views, friendly pedestrian travel, excellent public transportation, and a central location.
Whether you prefer a neighborhood that never sleeps (South Beach), a relaxed, family-oriented lifestyle (North Beach), or a little bit of EVERYTHING in BETWEEN (Mid-Beach), Miami Beach has it for you served on a silver platter!
But it's not only the beautiful and vibrant surroundings that make up for everything great about Miami Beach.
Actively engaged residents, friendly neighborhoods, and dynamic community organizations make the City of Miami Beach a great place to live.
So, go and turn that DREAM into REALITY.
Welcome to Miami Beach!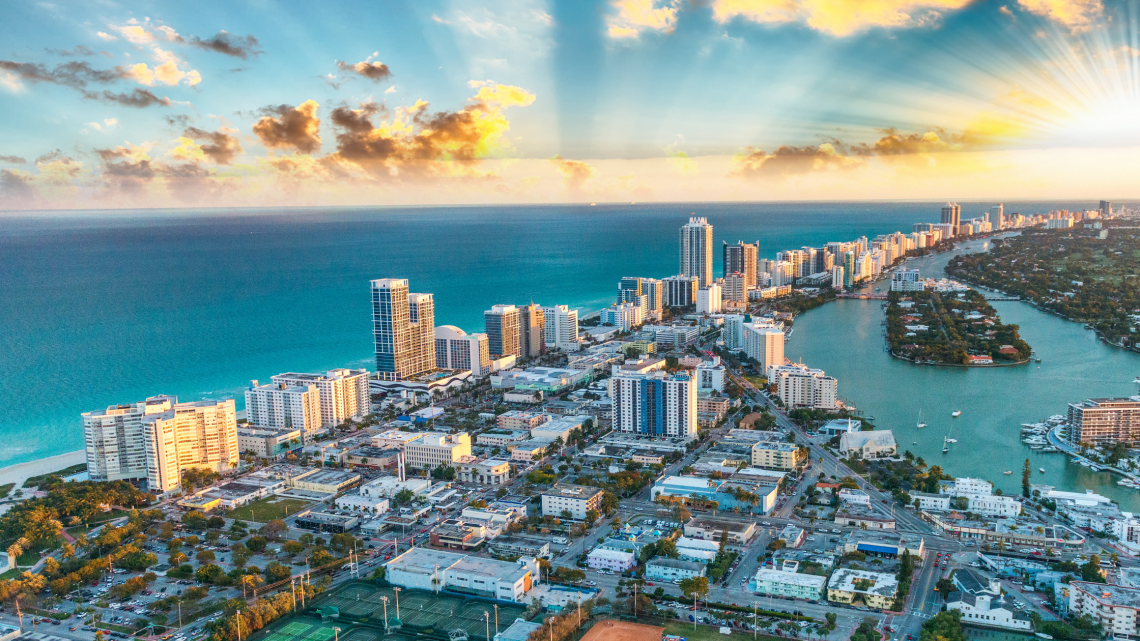 Who are we?
We are the ALL IN Miami Group out of Miami.
We are Honduran, Filipino, Puerto Rican, Cuban, German, Hispanic, Indian, Syrian, and American.
We are Christian, Hindu, and Jewish.
We are many, but we are one.
We sell luxury homes in Miami, Florida.
Although some of our clients are celebrities, athletes, and people you read about online, we also help young adults find their first place to rent when they are ready to live on their own.
First-time buyers?
All the time!
No matter what your situation or price range is, we feel truly blessed and honored to play such a big part in your life.