Top 5 Hotels in Coral Gables
Experience tranquility and old-world flavor in the heart of the sprawling Miami metropolis-- Coral Gables is "City Beautiful," a rare pearl in South Florida.
Boasting tree-lined boulevards, ivy-covered mansions, and lavishly green avenues winding through its entirety, Coral Gables is a Mediterranean-themed planned community punctuated by civic landmarks and embellished with playful architectural features that detail the Mediterranean Revival signature style.
Hailed as a famed pedestrian-friendly destination, one can get lost in Coral Gables' Spanish-inspired charm and canopied streets, a destination boasting historic affluent character reinforced by famous landmarks and tourist spots, alongside an abundance of world-class restaurants, boutique shops, and national and regional retailers.
Undoubtedly its contrasting appeal has made Coral Gables hard to miss by tourists worldwide!
So pack your bags and book a trip to "City Beautiful!"
Indeed, there's a lot of fun to be had for you in this memorable community!
Here are the top five hotels in Coral Gables.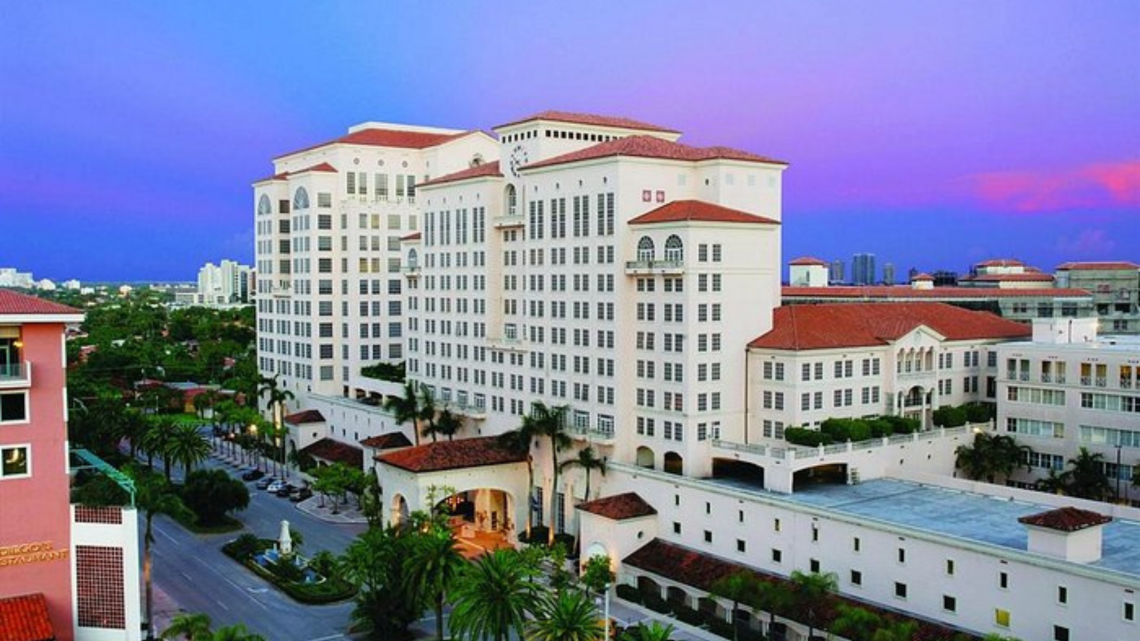 50 Alhambra Plaza, Coral Gables, FL 33134
A luxurious Coral Gables hotel modeled after Spain's Alhambra Palace, the Hyatt Regency Coral Gables embraces the alluring Mediterranean culture with its striking two-story marble lobby, antique accents, and Spanish-style windows, a tranquil refuge just off the popular Miracle Mile.
Apart from its sophisticated style, Hyatt Regency Coral Gables provides guests exquisite comfort through its 254 magnificently updated rooms, including 80 with inviting balconies or patios to soak in the Florida sun and 60 spacious suites with separate seating areas, where Moorish and Spanish design influences blend seamlessly with modern technology.
Its updated finishes reflect Hyatt Regency Coral Gables' Alhambra-style architecture and include refreshed upholstery, and significant features like motion sensor night lights, multiple USB ports, and convenient outlets, making each room an ideal space to unwind and recharge after a long day out in the city.
But that's not all!
The Hyatt Regency Coral Gables is also committed to ensuring a seamless experience for all guests, including equal access and opportunity for individuals with disabilities, through its hotel accessibility features and amenities evident in its Spanish-influenced pool deck, StayFit™ Fitness Center, 24-hour business station, and a blend of local and Mediterranean-inspired dining options that range from regional and chic to quick and healthy.
To top it all off, The Hyatt Regency Coral Gables is PET-APPROVED, so Fido can join all the fun and enjoy the luxe amenities alongside you!
2) The Biltmore Hotel Miami Coral Gables
1200 Anastasia Ave, Coral Gables, FL 33134
An elegant Mediterranean Revival retreat built in 1926 by George Merrick and inspired by Spanish and Venetian architecture, Biltmore Hotel is a Coral Gables treasure and the perfect option for a stylish, history-filled stay in "City Beautiful!"
A National Historic Landmark with a 95-year history of luxury and elegance, The Biltmore Hotel Miami Coral Gables immerses guests in luxury and endless amenities while enticing their senses with its opulent surroundings and breathtaking views.
Relax and indulge in The Biltmore Hotel Miami Coral Gables' lush rooms, all with breathtaking views of a sweeping tropical landscape, first-class amenities, and open-air balconies, carefully detailed and furnished to provide a refreshing and comfortable stay.
The Biltmore Hotel Miami Coral Gables' famous Biltmore Pool is also a sight for sore eyes being one of the largest hotel swimming pools in the U.S.
Here, you can soak up South Florida's sunshine while surrounded by a stylish setting for relaxing, outdoor recreation, and dining in one of its cabanas or daybeds, whichever one prefers.
At The Biltmore, you can also partake in a Coral Gables tradition with a Sunday brunch at the lavish Fontana courtyard restaurant or the Cascade restaurant overlooking the hotel's famous pool.
Indeed, Old World glamour is alive and thriving at the Biltmore Hotel Miami Coral Gables!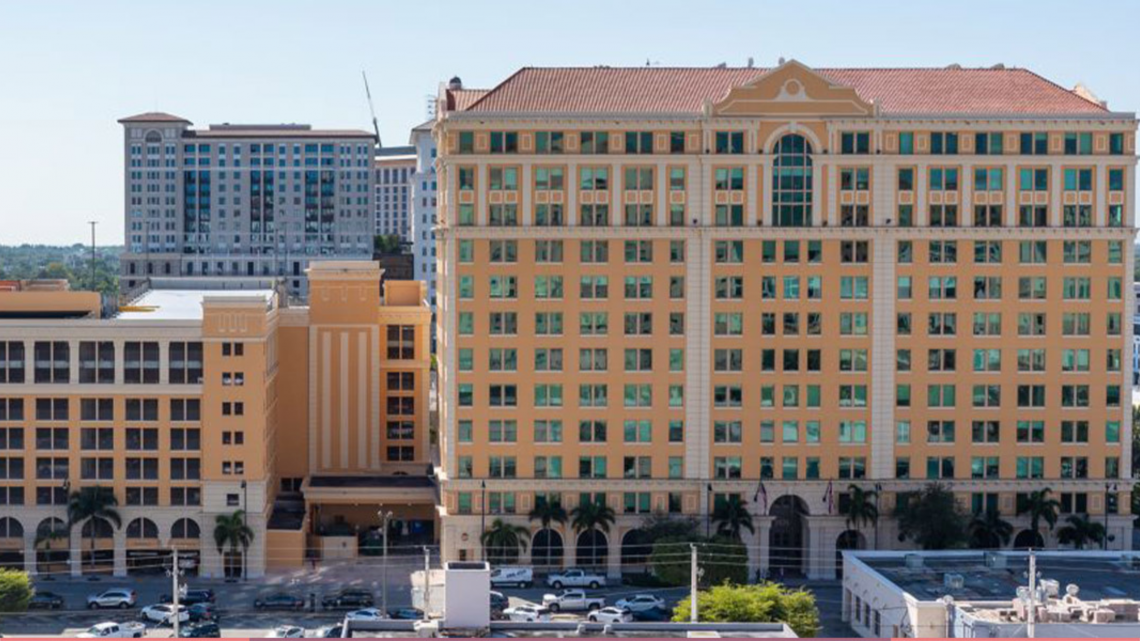 3) Hotel Colonnade Coral Gables, Autograph Collection
180 Aragon Ave, Coral Gables, FL 33134
Celebrating the history of travel and the luxury of exploring a new destination in style, Hotel Colonnade Coral Gables, Autograph Collection offers an intimate, luxury experience to spirited travelers, adventure-seekers, and work-hard-play harder road warriors in the heart of Coral Gables.
Bursting with whimsy and exotic elegance, the newly re-imagined Hotel Colonnade offers dashes of European elegance, sophisticated social spaces, and an unparalleled location on the Miracle Mile, unlike any other property in Miami.
Of course, Hotel Colonnade Coral Gables' undeniable beauty doesn't end with its artsy interiors and elegant design.
Hotel Colonnade Coral Gables' collection of guestrooms and suites also boast wood floors and modern stainless steel pedestal beds complimented by sleek sectional sofas and intricate bronze and smoked glass desks, furnished with premium amenities for a pleasant stay.
Hotel Colonnade Coral Gables also features a vast heated rooftop pool and whirlpool, rent-free, in-house bicycles, in-house restaurants and cafes, events and meeting spaces, a fitness center, a game room, and a gift shop for souvenirs and trinkets.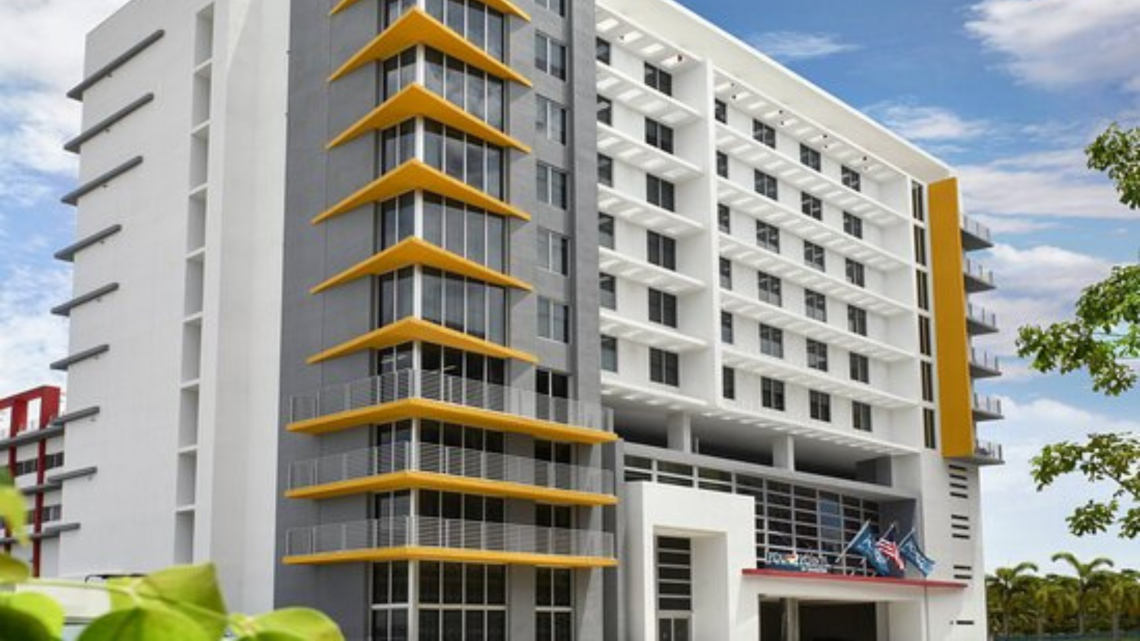 4) Four Points by Sheraton Coral Gables
3861 SW 40th St, Coral Gables, FL 33146
Indulge in a quick escape to Four Points by Sheraton Coral Gables, a mile away from the University of Miami, less than 1 mile away from the popular area of Miracle Mile, and within walking distance to Merrick Park Shops, and treat yourself to a comfortable and relaxing time in "City Beautiful."
With its modern rooms, a full-service restaurant, and 550 square feet of meeting space, Four Points by Sheraton Coral Gables sets guests up for a successful getaway, not just by providing an ideal location near famous Coral Gables tourist spots but also through top-notch amenities unlike any other!
We're talking about green-designed and spacious rooms and suites furnished with ultra-comfortable beds, walk-in showers with spa-like features, Smart TVs, ergonomic workspaces, coffee makers, and complimentary high-speed Wi-Fi to stay connected.
Apart from this, Four Points by Sheraton Coral Gables has a heated outdoor pool for a refreshing swim and a fitness center open 24 hours a day, seven days a week!
Expect a memorable stay when you choose Four Points by Sheraton Coral Gables!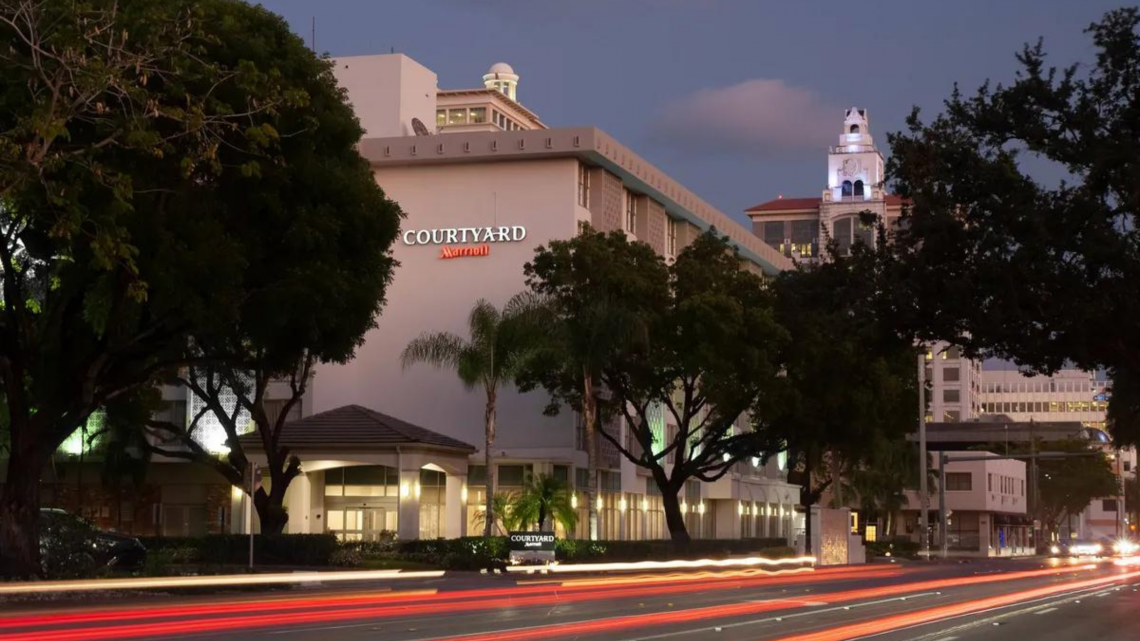 5) Courtyard by Marriott Miami Coral Gables
2051 S Le Jeune Rd, Coral Gables, FL 33134
Plan your stay at Courtyard by Marriott Miami Coral Gables, a famous Miami hotel in the heart of historic Coral Gables boasting a unique setting within walking distance from the Coral Gables financial business district, minutes from The University of Miami, surrounded by fine dining, shopping, exquisite entertainment, and lavish lifestyle hotspots!
Apart from being in an ideal location for business and pleasure, Courtyard by Marriott Miami Coral Gables amenities keep travelers and jet setters at their feet, from its world-class facilities down to its stylish guestrooms offering superior comfort filled with a range of essential amenities.
Courtyard by Marriott Miami Coral Gables' rooms and suites are spacious and comfortable with newly refreshed bathrooms that offer comfort and style, work desks, soft and sturdy beds, complimentary Wi-Fi, and a living area, some with direct pool-patio access!
Apart from luxe rooms, Courtyard by Marriott Miami Coral Gables features an outdoor pool, a fitness center with top-notch equipment, and complimentary airport transportation!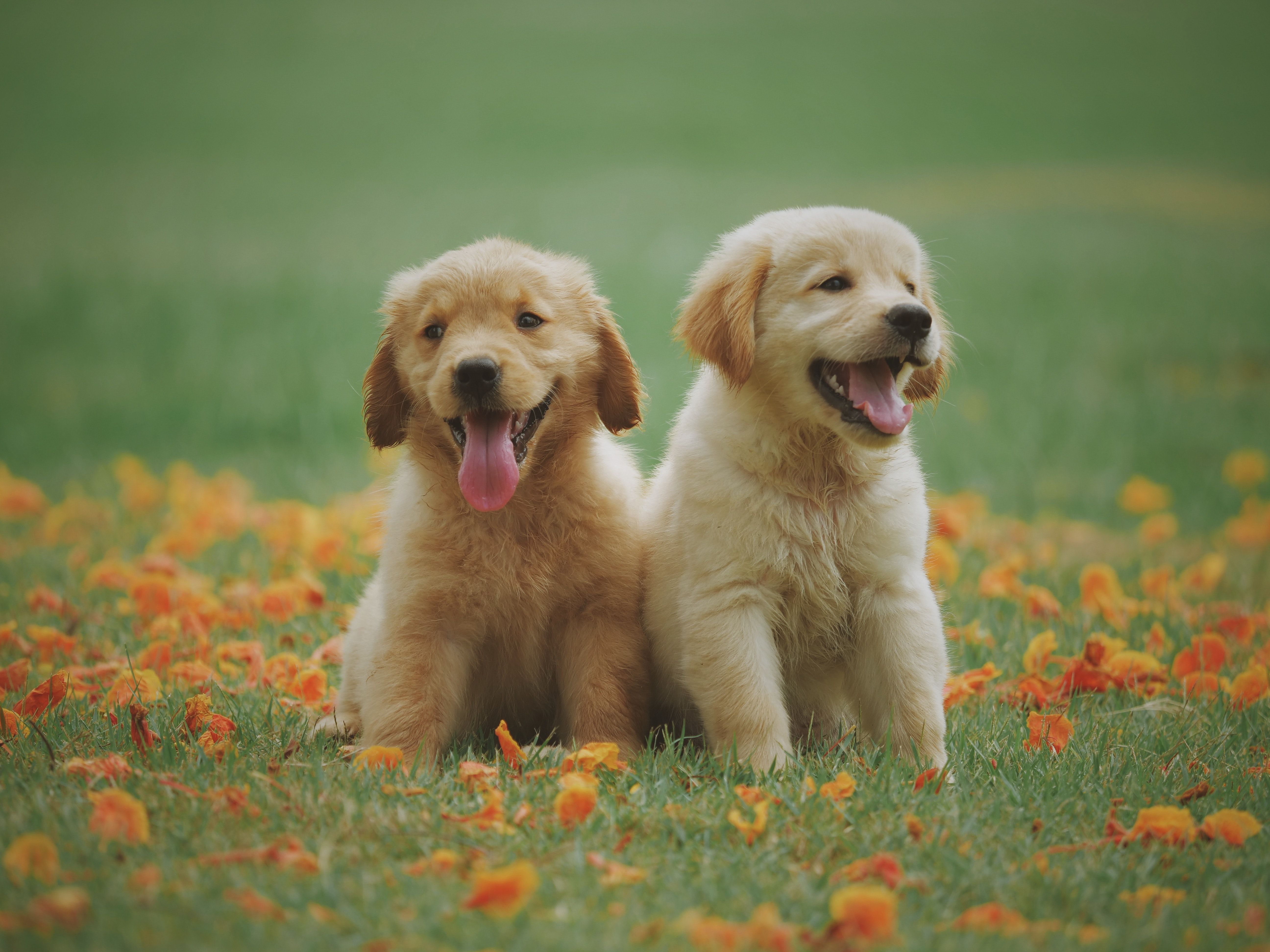 Here are the BEST dog parks in Miami. We analyzed 55 different neighborhoods in Miami, and...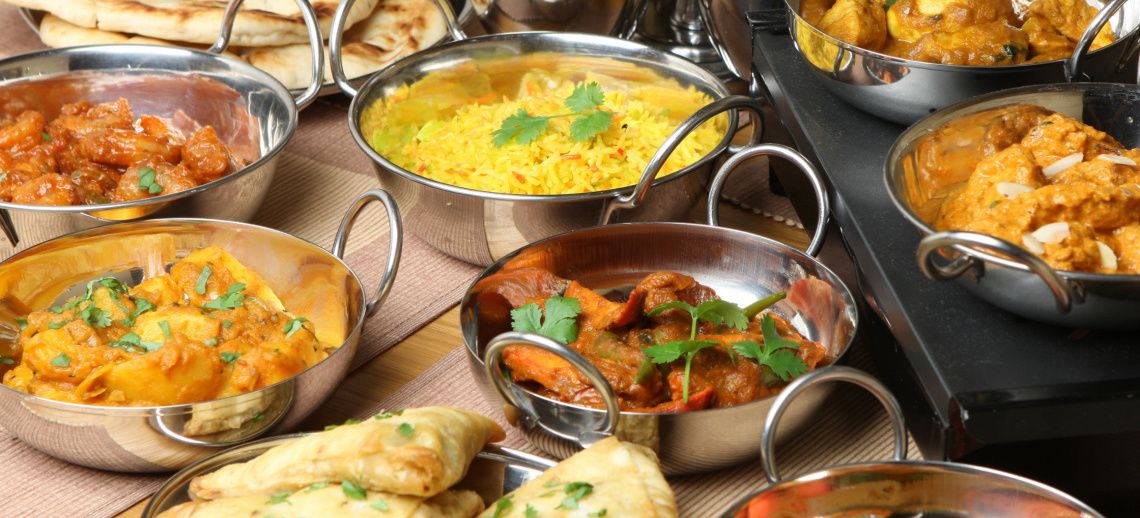 If you are a foodie or just love to eat as much as I do, here are my picks for the best pl...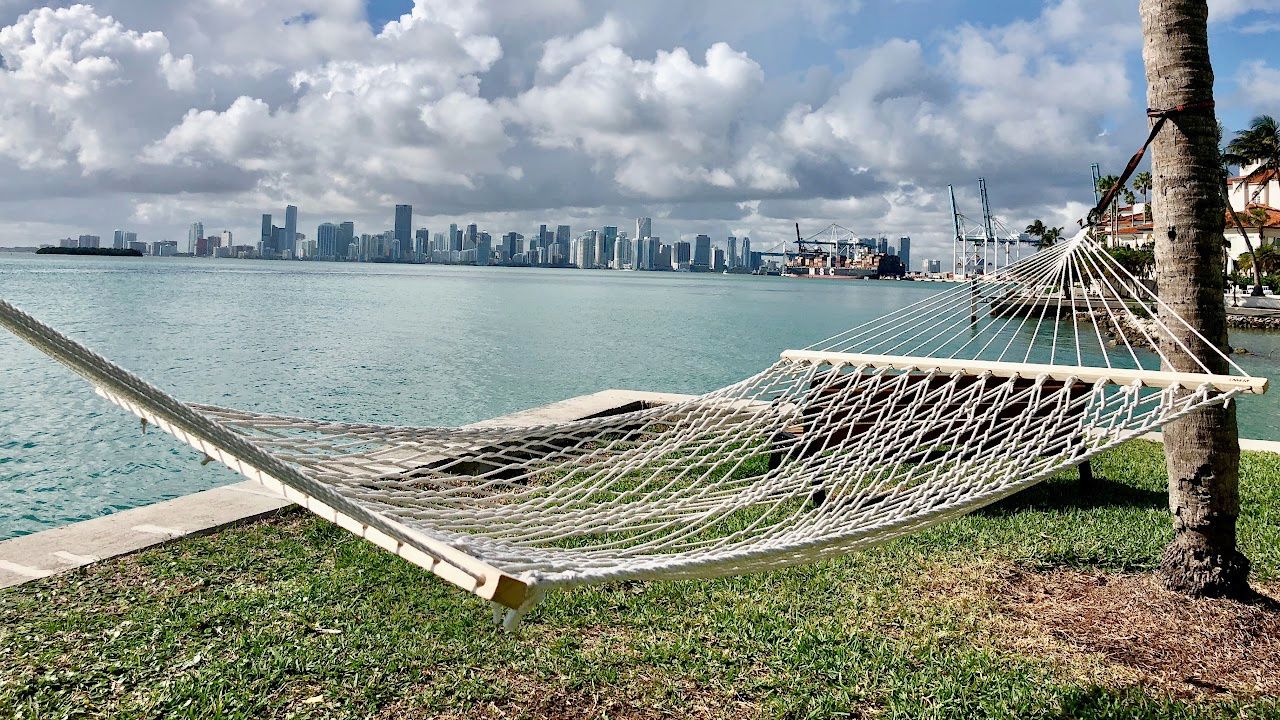 Discover Miami's top neighborhoods and schools with our comprehensive guide! Find the perf...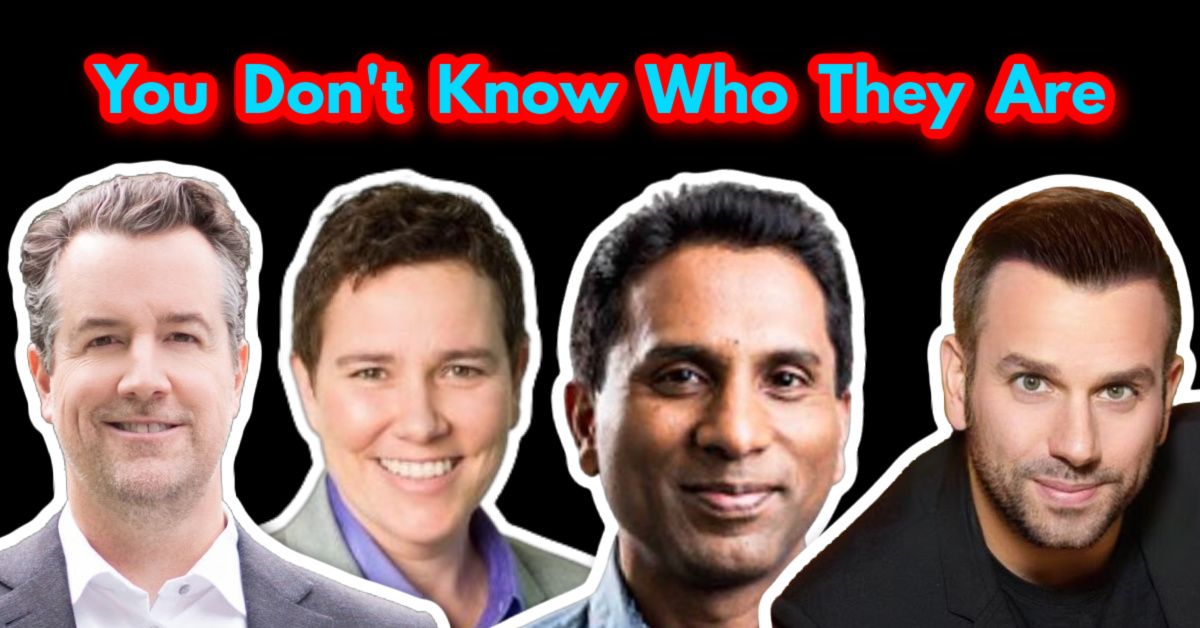 Sotheby's, Coldwell Banker, EWM, eXP, and the list goes on and on. This is absolutely why ...
Who are we?
We are the ALL IN Miami Group out of Miami.
We are Colombian, Filipino, Cuban, German, Japanese, French, Indian, Syrian, and American.
We are Christian, Hindu, and Jewish.
We are many, but we are one.
We sell luxury homes in Miami, Florida.
Although some of our clients are celebrities, athletes, and people you read about online, we also help young adults find their first place to rent when they are ready to live on their own.
First-time buyers?
All the time!
No matter what your situation or price range is, we feel truly blessed and honored to play such a big part in your life.