Top 5 Local Hangouts in Brickell (Miami)
You live in Brickell, so you obviously are a people person.
You would not be living in the densest, most populous neighborhood in South Florida unless this was partly true.
Brickell is the corporate center of south Florida so there is a work-hard, play-hard vibe to it all, whereby a necessary, organic outgrowth is the neighborhood hangout. Drinks, happy hours, great food, people watching, music, loud conversations, are some of its necessary components.
I have lived in Brickell for 2 years, right in the center of it all, so if you want to know where your neighbors are socializing, networking, and catching a buzz, here are my 5 favorite local hangouts.
Top 5 Local Hangouts in Brickell
1) MOXIE'S
900 S Miami Ave, Miami, FL 33130
If you live in Brickell, you must know Moxie's.
You want to feel like you are in the epicenter of Brickell?
Then Moxie's is it.
Moxie's has great food, drinks, and the coolest staff, who you will end up being best friends with after a while.
Sit outdoors, grab a Fusion Old Fashion, the Kale and Quinoa Salad with Salmon (my favorite ), and watch the neighborhood parade go by.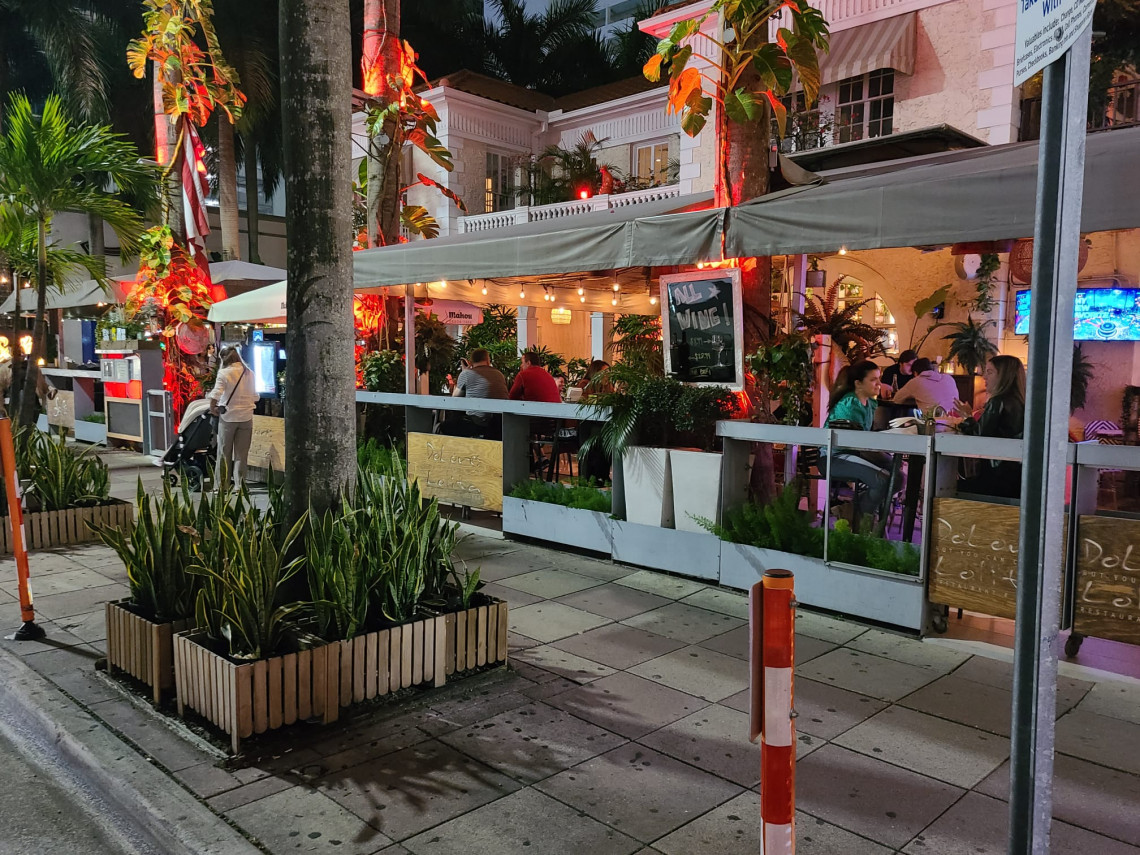 2) Dolores But You Can Call Me Lolita /SoCal Cantina
1000 S Miami Ave, Miami, FL 33130
A Brickell institution since 2007, Lolita is one of the oldest yet thriving hangouts in Brickell.
A former Fire Station, they merged their outdoor space with Socal Cantina, to create one of the largest outdoor areas on South Miami Avenue.
Why is the left side of the venue packed?
Oh - It's Taco Tuesdays at SoCal.
Why is the right side packed today?
Damn - It's Happy Hour at Lolita.
An abundance of great energy and fun either way.
Wine is priced daily at $8.99 a glass and $28.99 a bottle, as well.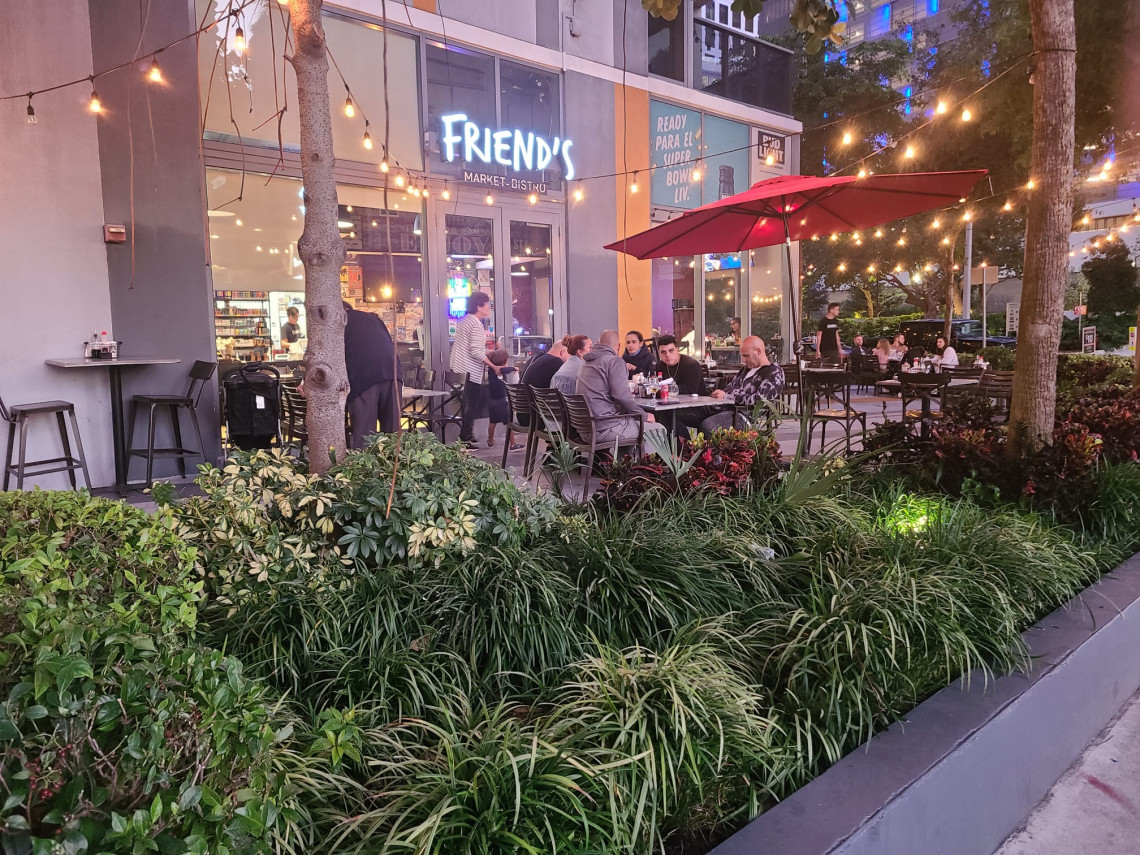 31 SE 6th Street, Miami, FL 33131
Welcome to the equivalent of the neighborhood's Central Perk.
Everything from great coffee, breakfast, smoothies, burgers, pizza, wine, beer, and more.
Kind of like the old school neighborhood diner all to be enjoyed with your neighbors, on a huge outdoor patio.
You can shop for groceries there as well.
Friend's is always buzzing from morning to night.
Say hello to Chandler, Phoebe, and the gang for me, if they happen to be there.
4) Baby Jane
500 Brickell Ave, Miami, FL 33131
Every time I walk by the outdoor patio at Baby Jane, I either go in or feel bad that I couldn't go in.
The music is pumping, the tables are full of life, and the drinks are amazing.
A Brooklyn ambiance, right here in Brickell, in one of the coolest spots in town.
Try the Ramen, one of their specialties, from the Asian-themed menu.
Daily Happy Hour from 5:00 - 7:00.
You're at one of the above hangouts and you need a place with more of a late-night vibe?
Then 8 Street Brickell is the place.
8 Street is cozy, sexy and fun with great DJ s that spin amazing trance, house, and hip hop.
If you are looking for an upscale, chic, party crowd, yet still qualifying as neighborhoody, 8 Street is a great venue to check out.
Happy Hour, Monday - Friday, from 5:00 - 8:00.

"Our home, priced at $1,225,000 was on the market for ONE YEAR with a local realtor without any offers...... the team sold it in 34 days at a price we were very happy with."
- Alicia Sandoval
"His high-end, digital marketing for sellers is truly cutting-edge and worlds ahead of the competition. Amit also offers hands-on buyer services that are the best you will find in the Coral Gables area. Hire him for all your real estate needs!"
Who are we?
We are the ALL IN Miami Group out of Miami.
We are Honduran, Filipino, Puerto Rican, Cuban, German, Hispanic, Indian, Syrian, and American.
We are Christian, Hindu, and Jewish.
We are many, but we are one.
We sell luxury homes in Miami, Florida.
Although some of our clients are celebrities, athletes, and people you read about online, we also help young adults find their first place to rent when they are ready to live on their own.
First-time buyers?
All the time!
No matter what your situation or price range is, we feel truly blessed and honored to play such a big part in your life.