Top 5 Instagrammable Places in South Beach
Ladies and gents, welcome to South Beach, "The Sun and Fun Capital of the World," where everything is iconic, lavish, and INSTAGRAMMABLE!
Fondly called by locals as "SoBe," among other nicknames like "America's Riviera" and the "Art Deco Playground," South Beach is a vibrant Miami Beach community east of the city proper, between Biscayne Bay and the Atlantic Ocean, and encompassing Miami Beach south of Dade Boulevard.
A trendy area that remains to be the place to "see and be seen," South Beach's 2-mile-long swath of sugar-white sand beach attracts celebrities, sun-seekers, and spring break parties, offering visitors a dose of the classic Miami Beach scene and glittering nightlife that may seem somewhat pigeonholed exclusively for the 24-hour partiers, albeit it's not ALWAYS necessarily the case.
That said, it's imperative to have your cameras and phones with you at all time because every minute is a noteworthy IG moment in South Beach-- no lie!
Ah, South Beach-- your beauty ALWAYS does wonders!
Here are the top five Instagrammable places in South Beach.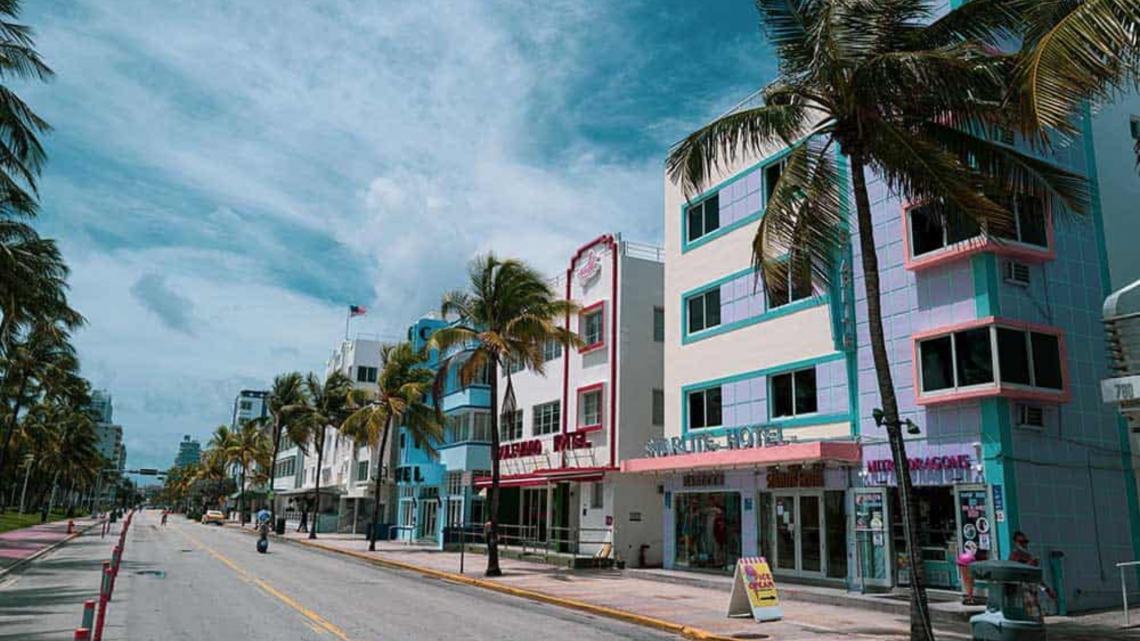 Between 5th Street and 23rd Street, along Ocean Drive, Collins Avenue, and Washington Avenue
Are you ready to go retro on the sandy strands of South Beach?
Pack your cameras-- you'll want to capture the beauty of this iconic destination!
Say hello to the Art Deco District, one of South Beach's (and Miami Beach's) most distinguishable highlights, home to the largest concentration of the sleek and bright architectural styles of the 1920s and 1930s.
We're talking about around 800 pastel-colored historical buildings with geometric lines and curves, chrome accents, window "eyebrows," and fountains-- pretty easy to spot, even for a Miami Beach newbie!
Do South Beach the right way and get up-close views of stunning landmarks, hotels, and restaurants that feature the ornate carvings and mosaics of the vibrant Art Deco and "Miami Modern" styles.
You'll thank yourself for it as soon as the "likes" start rolling in!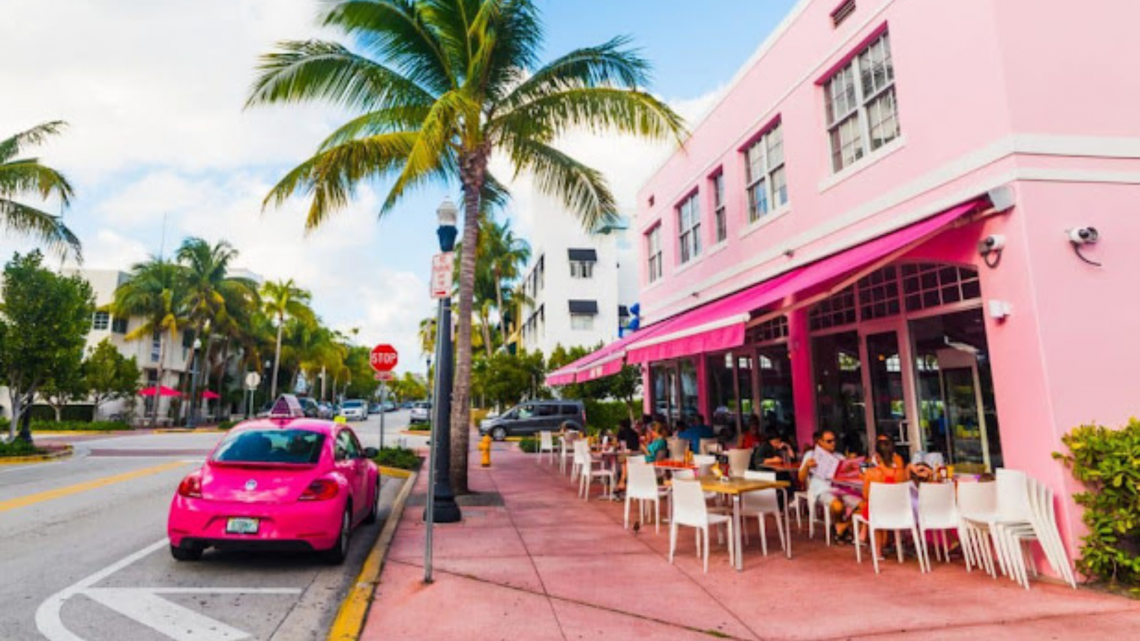 2) Big Pink
157 Collins Ave, Miami Beach, FL 33139
It's eye-catching, charming, and PINK-- need I say more?
Welcome to Big Pink, Myles Chefetz's take on the retro diner experience right on the glorious sands of South Beach!
Opened in December 1996, Big Pink features 200+ items on the menu, including the Big Pink TV Dinner, a selection of daily specials served on a stainless steel tray, capturing the vibes of a stereotypical American diner we've all grown to love!
And no, the food here ISN'T PINK (thankfully!), but it's pretty darn good!
An all-hours scene, signature pink Volkswagen Beetles, and delicious classic American dishes?
It's a yes to all, please!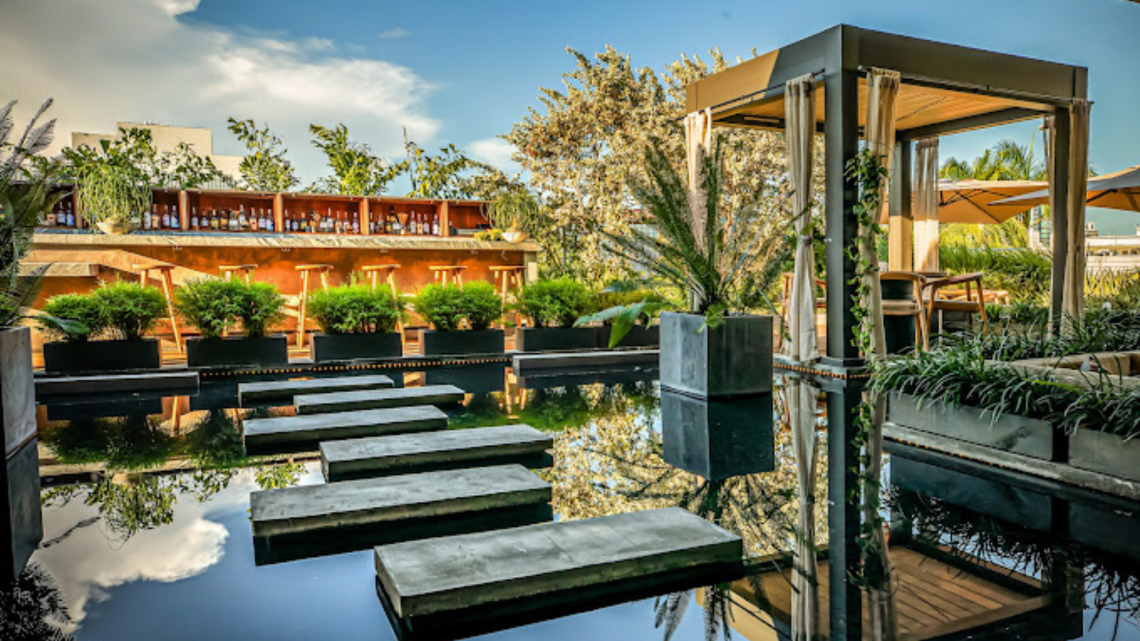 3) MILA
1636 Meridian Avenue Rooftop, Miami Beach, FL 33139
You say you want trendy and upscale? I hear you!
On South Beach, you just can't have it any other way!
But maybe, just maybe, this bougie rooftop destination can take your expectations a little further!
Presenting guests with an expanded rooftop venue inconspicuously overlooking Lincoln Road, quickly turning into one of South Beach's destinations, MILA (short for MILA Restaurant, Rooftop Lounge & Mixology Bar--whew!) offers a Miami rooftop experience like no other.
Think chic-bohemian style, minimalistic design elements, sculpted wood tabletops, natural textiles, and a central water feature partnered with a culinary journey through the shores of the Mediterranean and Japan served in the informal izakaya dining style!
We're talking luxurious and high-end, yet bohemian and flirty, with a vibrant and glamorous atmosphere!
Instagrammable? No doubt!
4) Betsy Orb
14th Place &, Ocean Ct, Miami Beach, FL 33139
Is it an egg?
A ball?
An orb??
Well, everyone's raving about this odd giant egg-shaped structure in the back alley of a hotel, and we're here to solve this ongoing mystery of what it really is!
An ovoid architectural element in the back of the Betsy and Carlton hotels on Ocean Drive, "The Orb" (yes, it's not an egg!), isn't just a simple sculpture but an actual sky bridge that connects both buildings!
The daring piece of public art was completed in 2016, with its conceptualization and creation attributed to architect Allan Shulman as part of Betsy Hotel owner Jonathan Plutzik's creative efforts.
No passerby is left unmoved by this piece, and you're very likely to strike a pose, too, when you see it, just to take photographic evidence of this discovery!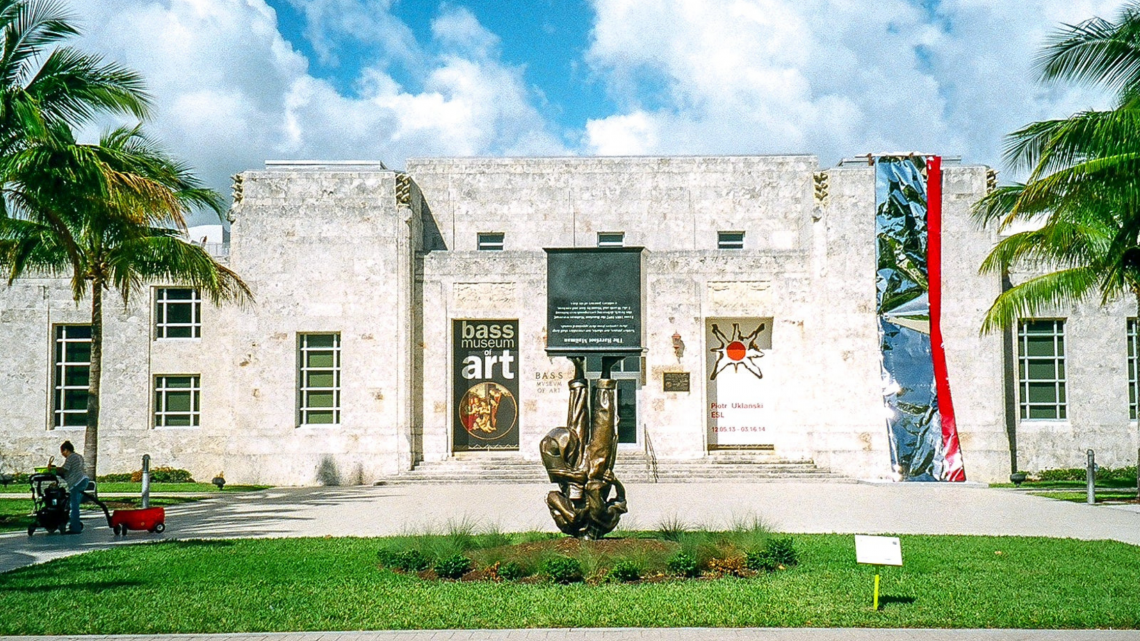 2100 Collins Ave, Miami Beach, FL 33139
Are you craving more of South Beach's artsy allure?
For a one-stop shop of exhibits, sculptures, galleries, and paintings, put The Bass at the top of your South Beach must-see list!
A striking piece of Art Deco and a famous Miami Beach landmark, the historic Bass Museum is a work of art itself, debuting as the Miami Beach Public Library and Art Center in the 1930s.
Today, apart from being listed on the National Register of Historic Places, The Bass Museum is a renowned contemporary art space boasting 16,000 square feet of exhibition space and multiple galleries featuring pieces from 15th-century European painting and sculpture to contemporary North American, Latin American, and Asian artworks.
Take a self-guided tour, interact with virtual reality exhibits, or customize your Bass museum experience with a docent-led exploration.
And before you leave, don't forget to check out its gorgeous "Art Outside" exhibit, featuring impressive works ranging from massive sculptures to light shows to sound and wall murals.
It's "art on art on art" at the Bass Museum, and we're all here for it!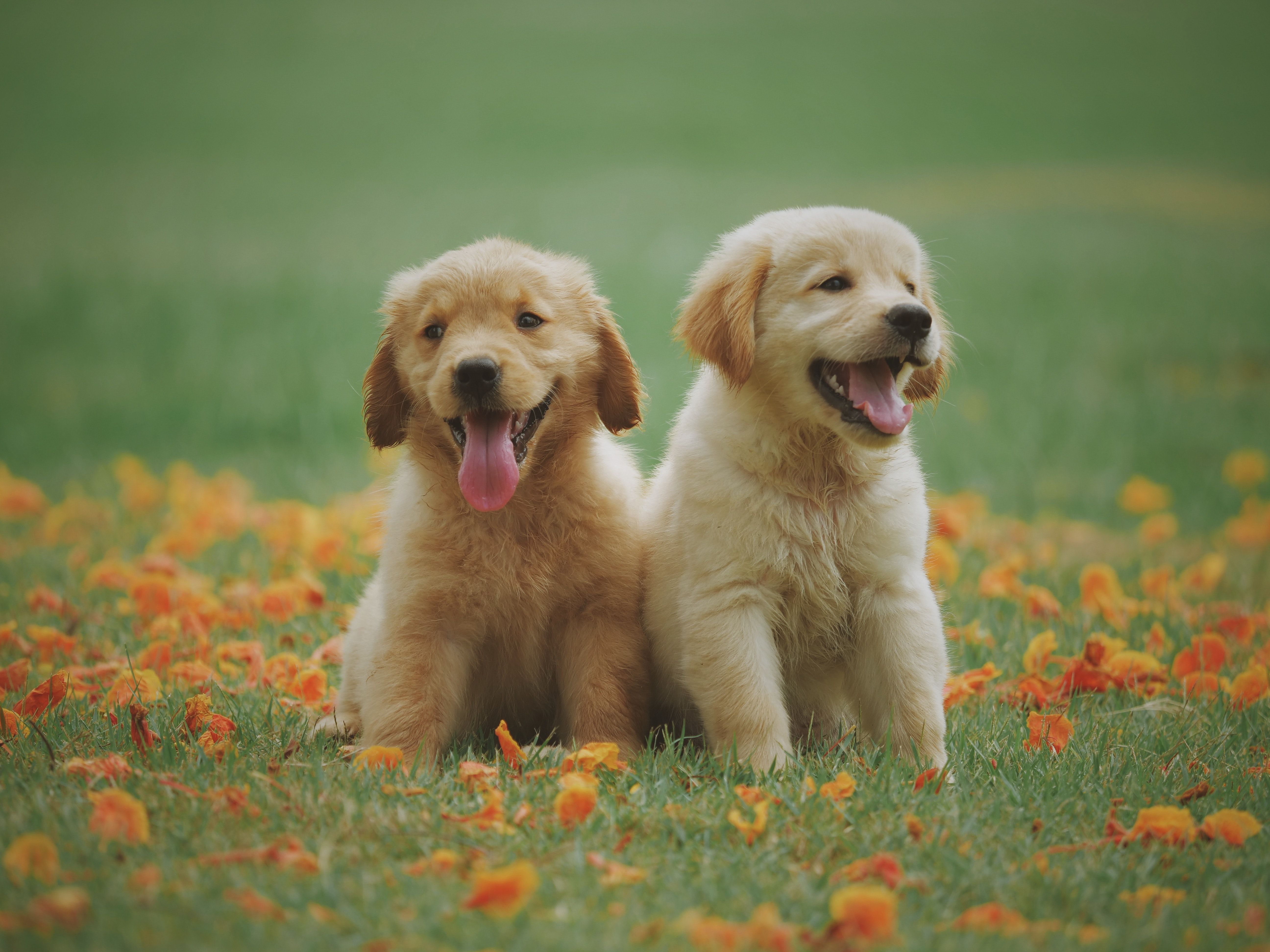 Here are the BEST dog parks in Miami. We analyzed 55 different neighborhoods in Miami, and...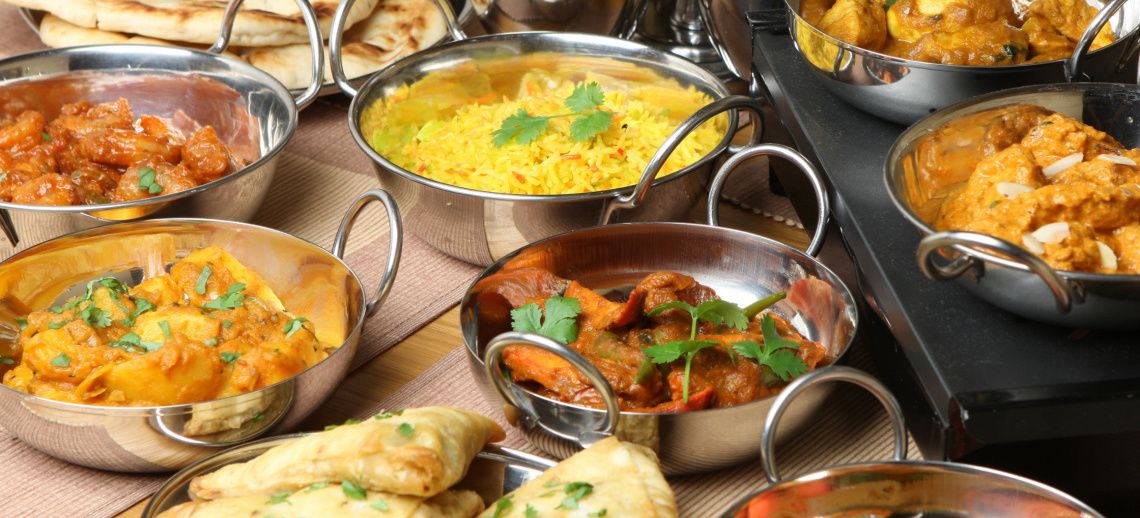 If you are a foodie or just love to eat as much as I do, here are my picks for the best pl...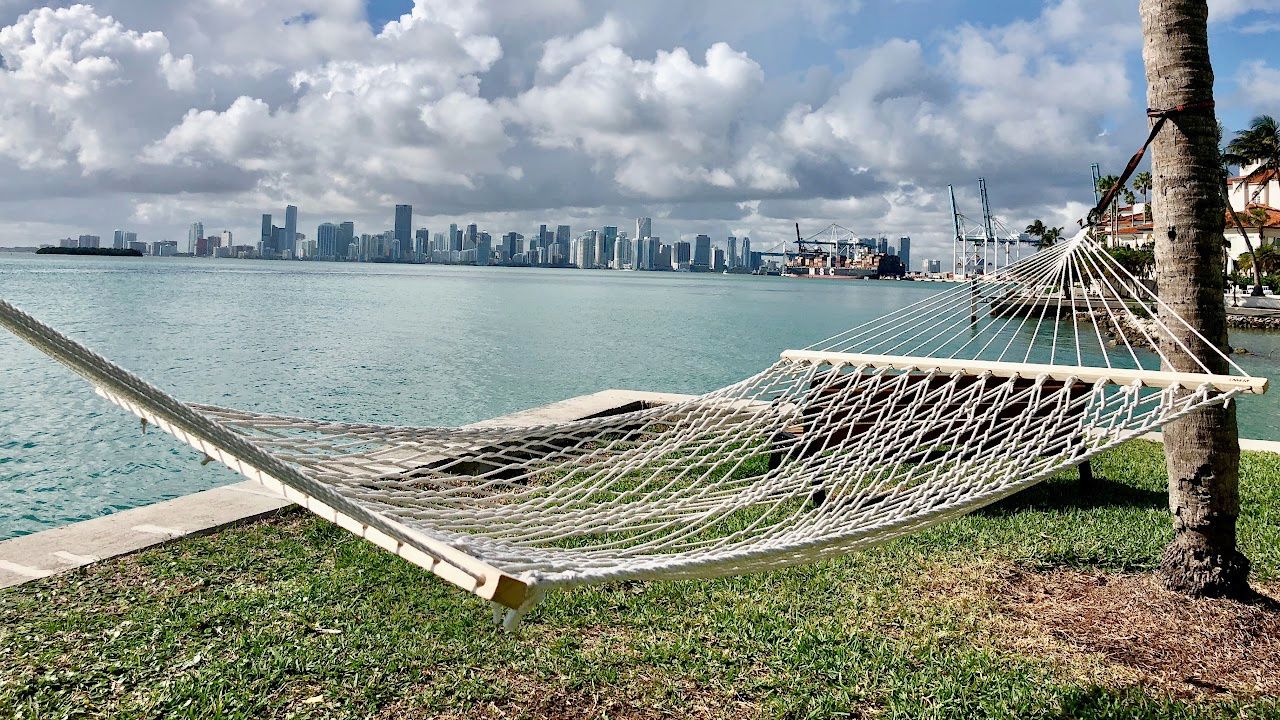 Discover Miami's top neighborhoods and schools with our comprehensive guide! Find the perf...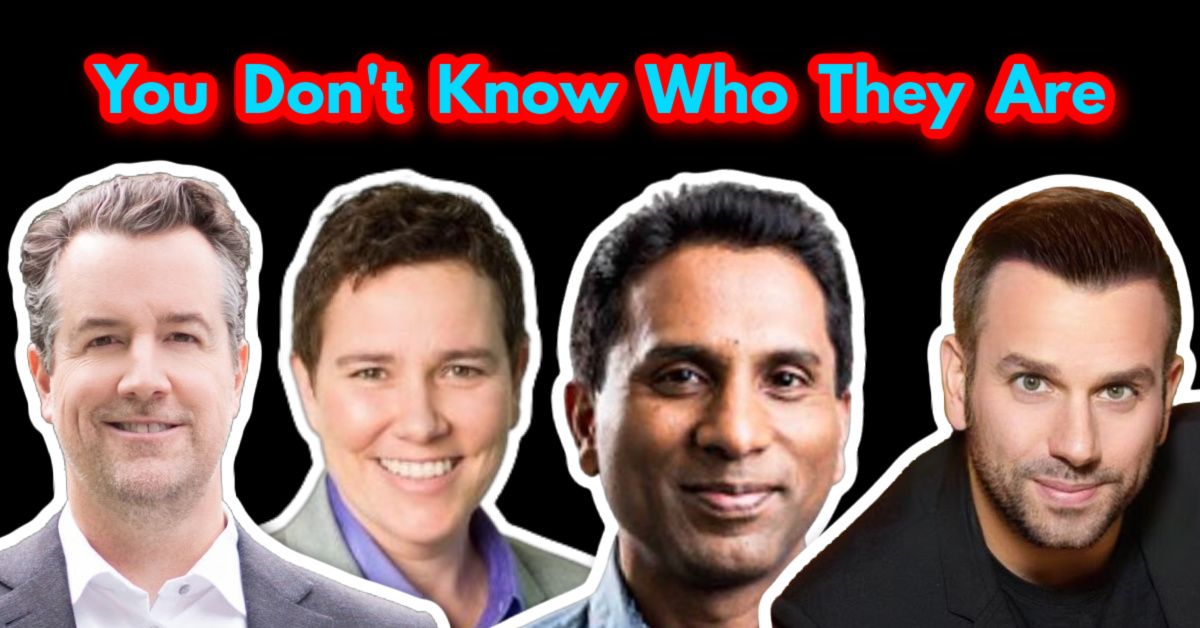 Sotheby's, Coldwell Banker, EWM, eXP, and the list goes on and on. This is absolutely why ...
Who are we?
We are the ALL IN Miami Group out of Miami.
We are Colombian, Filipino, Cuban, German, Japanese, French, Indian, Syrian, and American.
We are Christian, Hindu, and Jewish.
We are many, but we are one.
We sell luxury homes in Miami, Florida.
Although some of our clients are celebrities, athletes, and people you read about online, we also help young adults find their first place to rent when they are ready to live on their own.
First-time buyers?
All the time!
No matter what your situation or price range is, we feel truly blessed and honored to play such a big part in your life.