Top 5 Instagrammable Places in Key Biscayne
Recharge your spirit on a tiny sliver of land with South Florida's signature allure-- this is Key Biscayne, an island paradise of stunning beaches and idyllic nature, one of Miami's most Instagrammable destinations!
A low-key tropical oasis between two state parks, the Atlantic Ocean and Biscayne Bay, connected to the city via Rickenbacker Causeway, Key Biscayne is an island town south of Miami Beach and east of Miami.
It brims with quaint neighborhoods, palm tree-lined streets, and various outdoor activities, coupled with a vibrant and laid-back island culture that offers a sweet escape from the busy streets and honking horns of city life.
You're looking at days of fabulous beaches and summer weekends with extensive city convenience matched with dazzling bayside and oceanfront views perfect for noteworthy IG postings!
Only at Key Biscayne will you find an unforgettable island escapade-- and one of the best backdrops of South Florida!
Here are the top five Instagrammable places in Key Biscayne.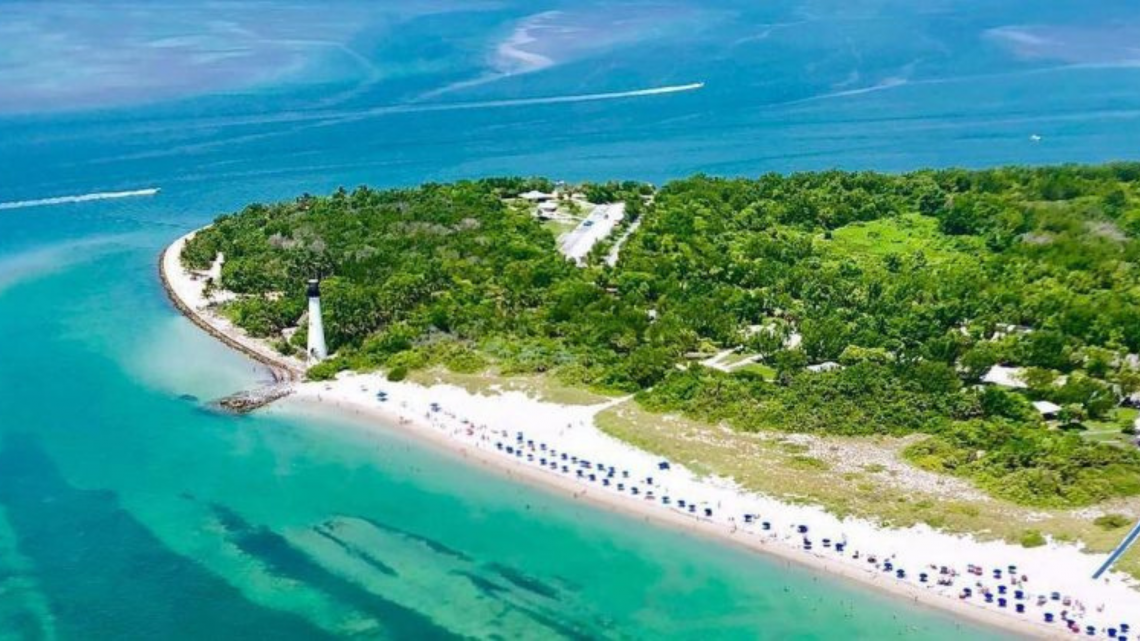 1) Bill Baggs Cape Florida State Park
1200 Crandon Blvd, Key Biscayne, FL 33149
Start your Key Biscayne island-hopping with a trip to Bill Baggs Cape Florida State Park, a natural paradise at the southern tip of Key Biscayne, home to tranquil natural beach stretches and breathtaking views of the Atlantic Ocean!
Walk along tree-lined trails and soak up the sun's warmth on the beach-- Bill Baggs Cape Florida State Park's beach has been ranked one of USA's top ten beaches for swimming, fishing, boating, biking, and hiking, and a fantastic spot for sunset views and boat camping via its No Name Harbor!
For some wildlife spotting and bird-watching, stroll on one of Bill Baggs Cape Florida State Park's unpaved service roads to spot colorful birds flitting in the trees or wading in the mangroves, especially during spring and fall migrations.
It's almost impossible to take a bad photo on Bill Baggs!
Bill Baggs Cape Florida State Park also offers two in-house restaurants and canoe and kayak launches perfect for experienced paddlers!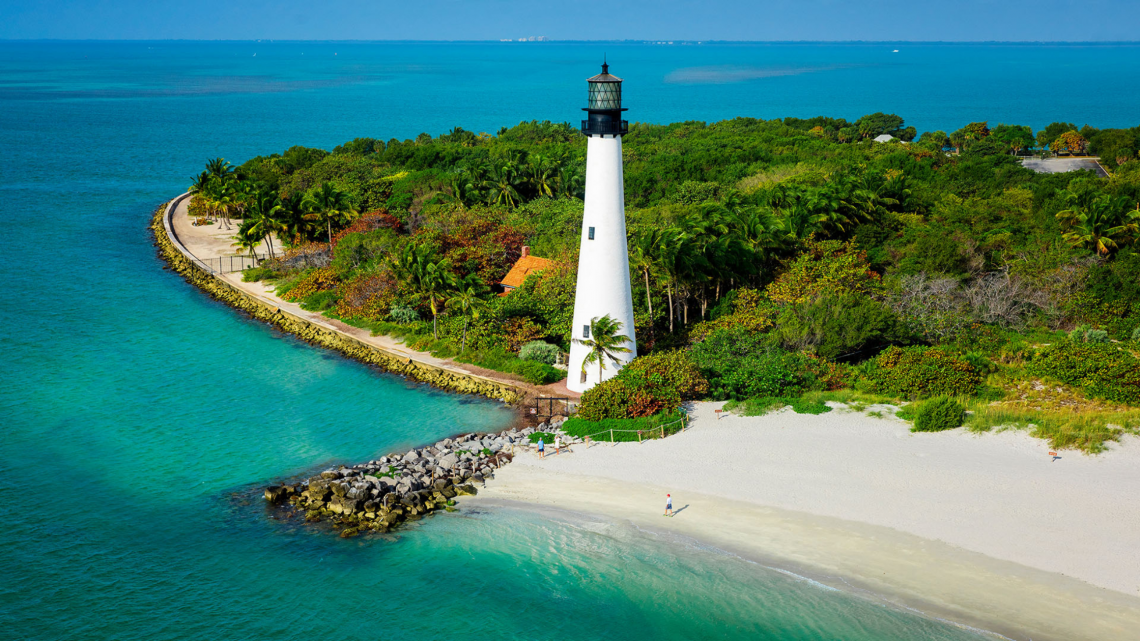 Cape Florida Lighthouse, 1200 Crandon Blvd, Key Biscayne, FL 33149
When you reach the southern end of Key Biscayne (a.k.a, Bill Baggs Cape Florida State Park), you'll find yourself on historical ground, with its historical landmark that will take your breath away.
If the Cape Florida Lighthouse was what came to mind, then you've got it right in the bull's eye.
Originally built as a 65-foot lighthouse with wooden stairs in 1825, the Cape Florida Lighthouse is the oldest standing structure in Miami-Dade County, though it has been rebuilt and reinforced many times.
It's a beautiful piece of history leftover from the not-so-kind stories of Indian attacks, Civil War chaos, hurricanes, and other harrowing times in Florida history-- a treasure that has withstood more than a fair share of wear and tear over the years.
Reminisce fascinating Florida history through the eyes of a tower-- visitors can hear about Key Biscayne's history in more detail when they visit the lighthouse and tour the keeper's cottage (all replicas, of course).
And yes, expect gorgeous IG-worthy snaps to come with the experience!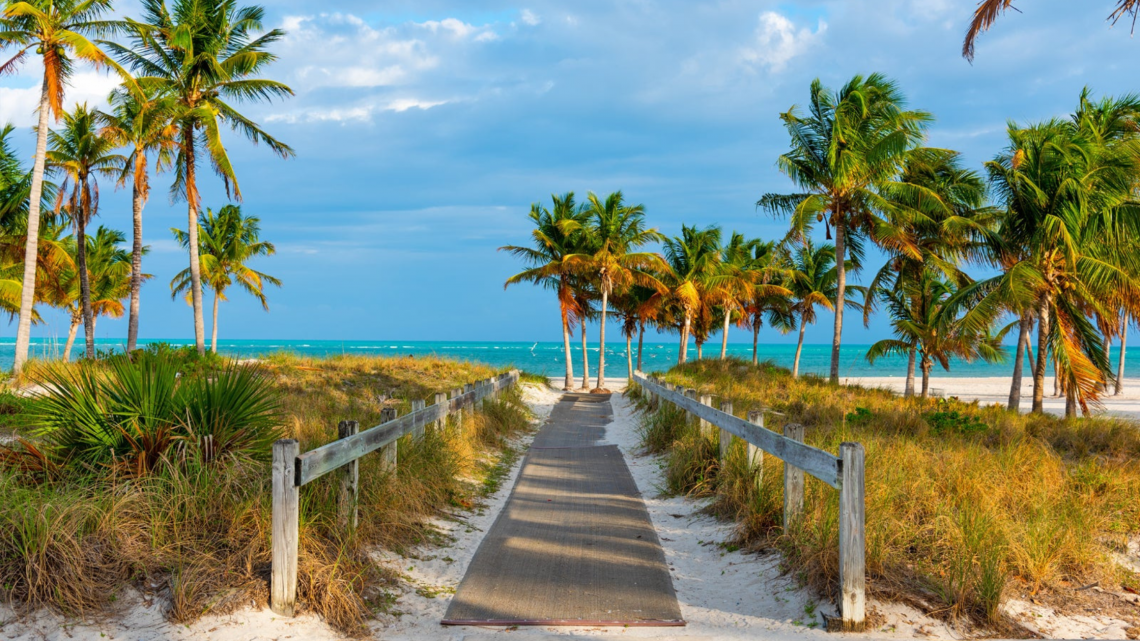 3) Crandon Park
6747 Crandon Blvd, Key Biscayne, FL 33149
Are you ready for more beach and nature to come your way?
Located on the idyllic barrier island of Key Biscayne, right on Biscayne Bay, Crandon Park is an 800-acre oasis famous for its beautiful beach, rich coastal environment, unique fossilized mangrove reef, protected wetlands, birding sites, extensive range of sports and outdoor activities, and the most scenic Key Biscayne views!
At Crandon Park, you can spend the day enjoying a smorgasbord of fun activities like guided nature tours, biking, hiking, skateboarding, canoeing, kayaking, kiteboarding, paddleboarding, sailing, snorkeling, wakeboarding, and even windsurfing(!!!).
Apart from this, Crandon Park boasts premium facilities, including nature exhibits, covered porches, a central amphitheater courtyard, a two-mile beach with pristine sands and calm waters, a sandbar, a waterfront promenade, and an onsite marina, the Crandon Marina, offering wet slips, boating ramps, docks, and a public dive boat for adventurers!
Want more of Crandon Park?
Don't forget to drop by the Crandon Park Amusement Center and let your kids loose at the playground with sculptures of different marine animals, its old-fashioned outdoor roller rink, and its historic carousel, which operates on weekends and holidays!
Undoubtedly a treat for your eyes and hearts and the perfect destination for fun photos on Key Biscayne!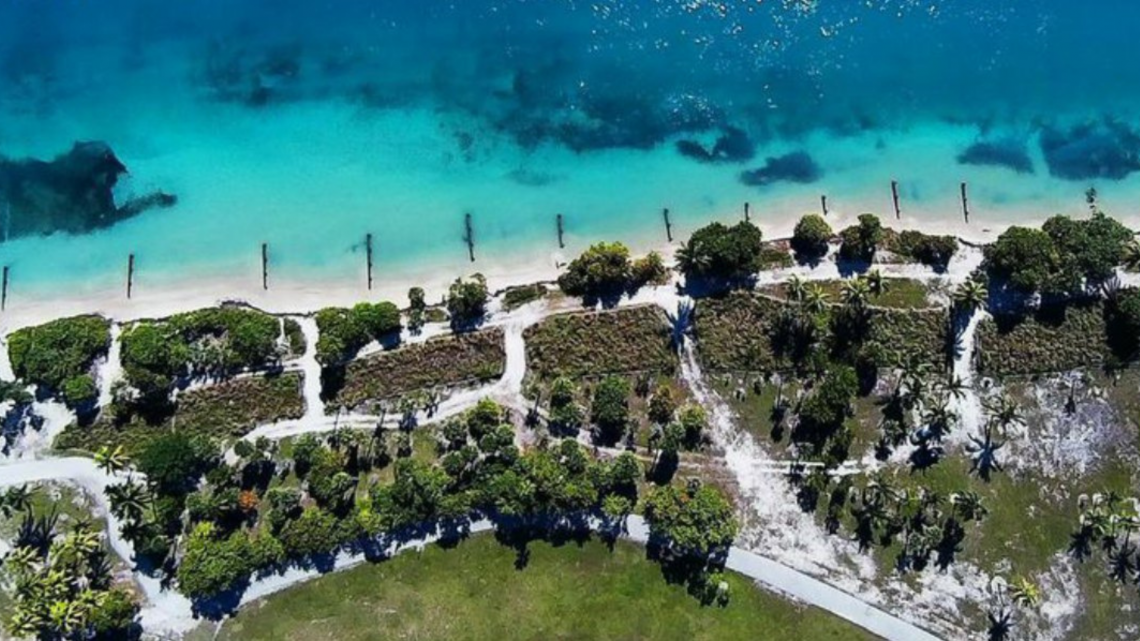 4) Historic Virginia Key Beach Park
4020 Virginia Beach Dr, Miami, FL 33149
Whether you enjoy a quiet, palm-shaded oasis or the energy of famous see-and-be-seen sands, the Historic Virginia Key Beach Park is a beautiful stretch of surf and sand you shouldn't miss in Key Biscayne!
And yes, it's also one of the most Instagrammable spots in Magic City!
Less than a mile from the shores of Downtown Miami, Historic Virginia Key Beach Park is easily one of the area's most scenic beaches on Biscayne Bay – a hidden retreat full of nature and sweeping views of the bay and the Atlantic.
Apart from its beauty, Historic Virginia Key Beach Park is an ideal destination for those who enjoy swimming, relaxing in the sun, and a rich cultural history dating back to 1896!
Enjoy the most adrenaline-pumping bike trails, mountain trails surrounded by nature and water, nature boardwalks and coastal hammock trails, a mile-long shoreline, an antique carousel with ocean views, a miniature train ride, and more!
You're in Historic Virginia Key Beach Park, one of Key Biscayne's most sensational destinations!
One snap, and the "likes" are bound to keep rolling in!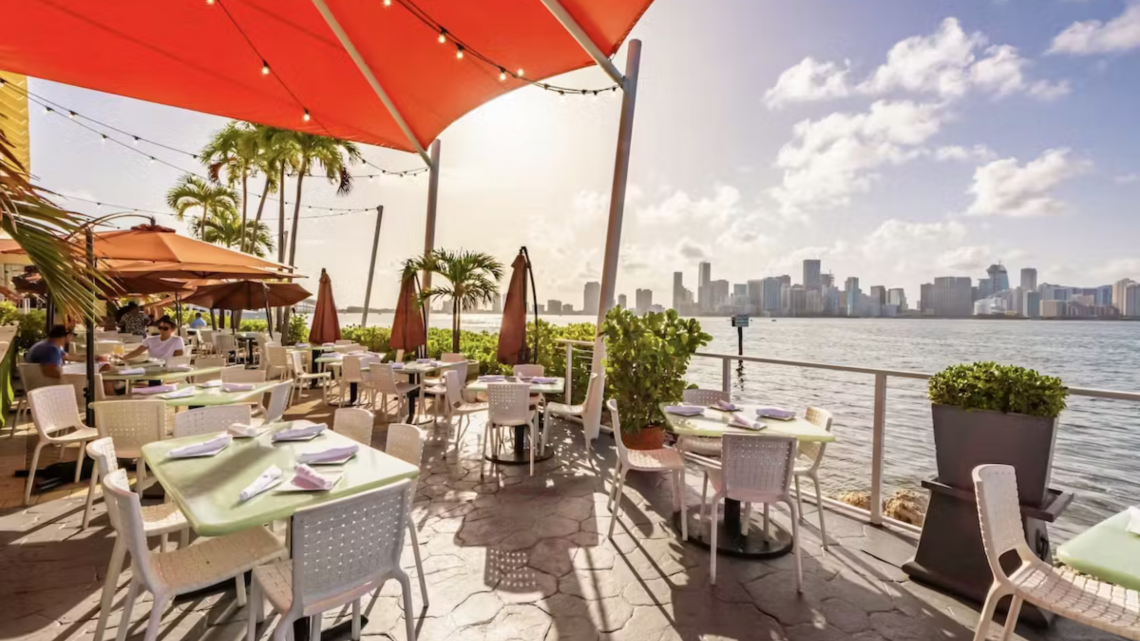 3201 Rickenbacker Cswy, Key Biscayne, FL 33149
The best dishes and picturesque Key Biscayne views in one location?
Say no more-- Rusty Pelican Miami is here to deliver!
Traverse the Rickenbacker Causeway and find the Rusty Pelican, one of Key Biscayne's most iconic restaurants, revered for its elegant waterfront setting and floor-to-ceiling windows with stunning views of Biscayne Bay and Downtown Miami.
And yes, it's the perfect spot for happy hour, brunch, dinner, a random seafood craving, or the best photos of Biscayne Bay!
At Rusty Pelican, you can click away and pair your views with an agave sunset Margarita and any dish from the extensive menu of contemporary American fare.
Meanwhile, if you're looking for food for two, consider the Rusty Pelican Board: whole fried snapper, lobster risotto, and New York Strip with smoked sweet plantain mash-- the best shareable meal on the menu!
End your meal with Rusty Pelican's French toast with blackberry syrup and marshmallow cream-- it's great for dessert too!
With dazzling waterfront views, artfully hand-crafted cocktails, glamorous décor, and top-notch service, you're in for an unforgettable experience at the Rusty Pelican.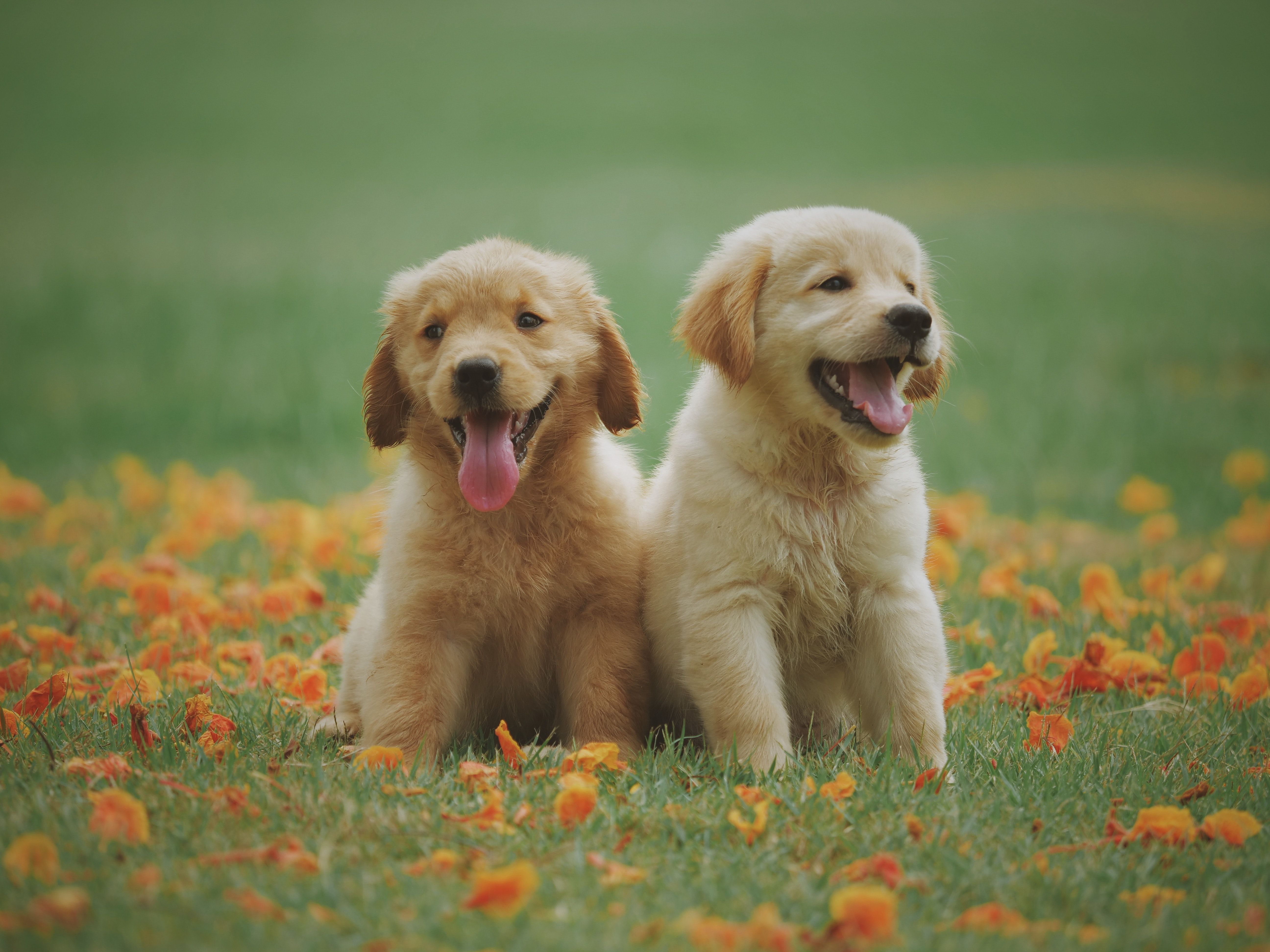 Here are the BEST dog parks in Miami. We analyzed 55 different neighborhoods in Miami, and...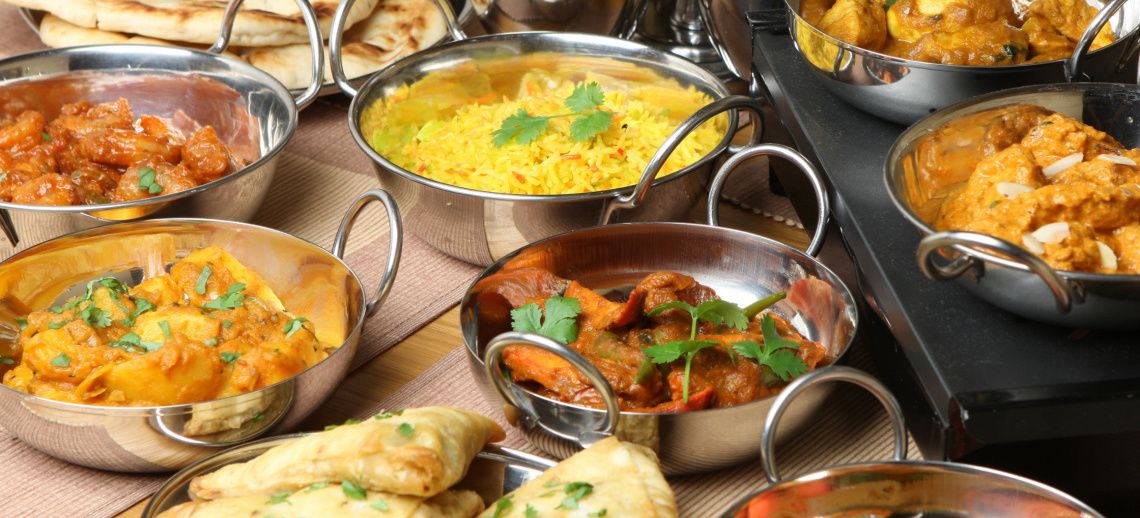 If you are a foodie or just love to eat as much as I do, here are my picks for the best pl...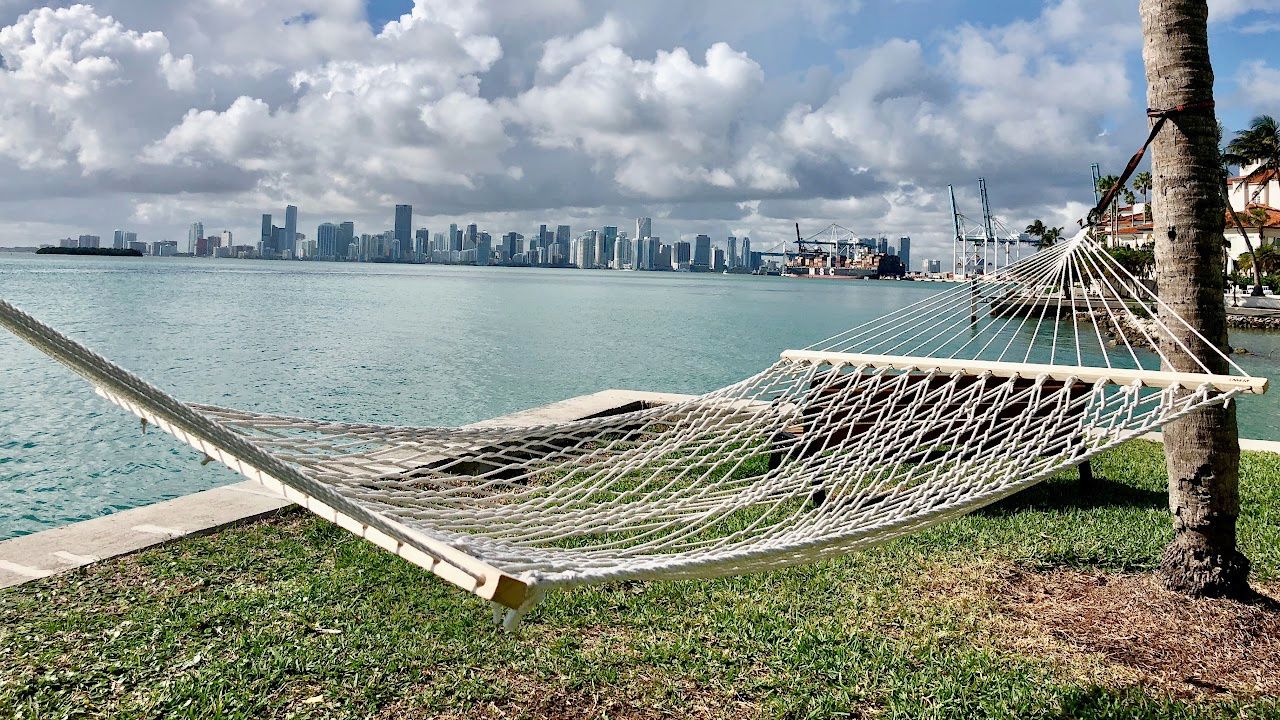 Discover Miami's top neighborhoods and schools with our comprehensive guide! Find the perf...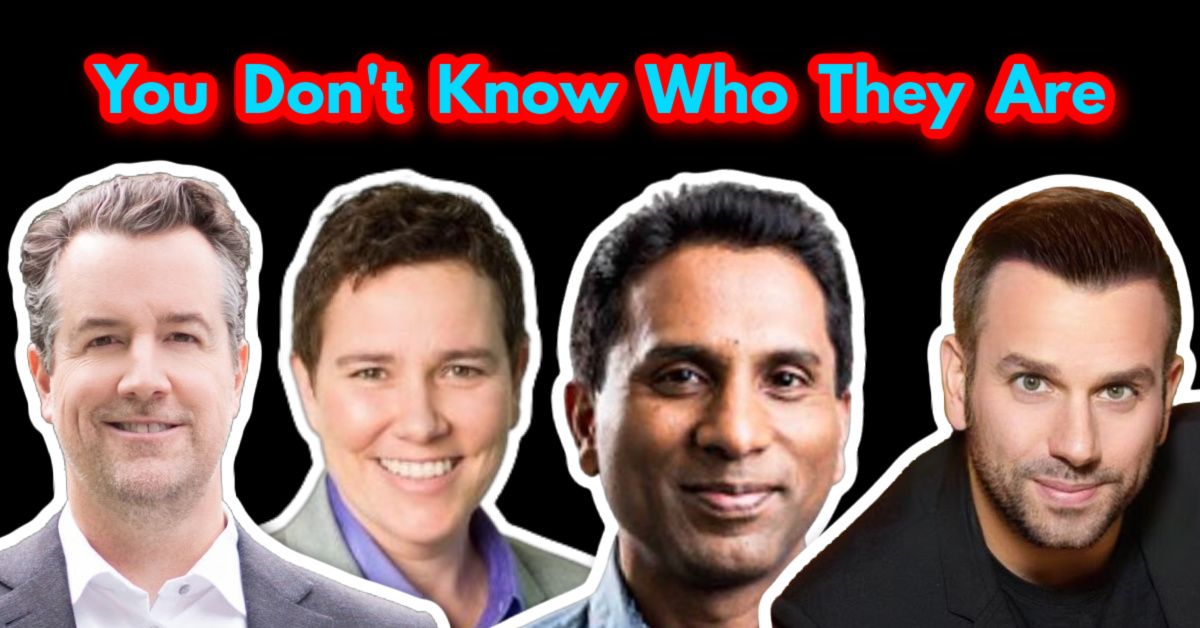 Sotheby's, Coldwell Banker, EWM, eXP, and the list goes on and on. This is absolutely why ...
Who are we?
We are the ALL IN Miami Group out of Miami.
We are Colombian, Filipino, Cuban, German, Japanese, French, Indian, Syrian, and American.
We are Christian, Hindu, and Jewish.
We are many, but we are one.
We sell luxury homes in Miami, Florida.
Although some of our clients are celebrities, athletes, and people you read about online, we also help young adults find their first place to rent when they are ready to live on their own.
First-time buyers?
All the time!
No matter what your situation or price range is, we feel truly blessed and honored to play such a big part in your life.