Top 5 Instagrammable Places in Hialeah
Fill your feeds with memorable snaps from an exciting adventure of art, history, and culinary delights at Magic City's Hialeah, a dynamic community of cultural heritage and traditions!
Often overlooked by tourists for more favored neighborhoods like Little Havana, Downtown Miami, and Miami's Central Business District, Brickell, Hialeah sits in the heart of northwest Dade, boasting access to every major thoroughfare (I-75, Palmetto Expressway, Florida Turnpike, U.S. 27 (Okeechobee Road).
It borders Opa-Locka, Miami, and Miami Lakes and provides direct business access to Opa-Locka Airport and Miami International Airport.
Although Hialeah runs low on the usual Miami highlights (sun, sand, sea, and shopping), the same can't be said for its historic and culinary offerings, especially when it comes to anything Hispanic-- from the city's attractions down to its delicious eats!
And don't get me started on its gorgeous architectural style, showing hints of Florida's past with its unique designs and mix of different cultures of the Mediterranean-- colors, arches, and more!
Imagine being able to take IG-worthy shots just from anywhere in Hialeah!
Yes, peeps, the beauty of this neighborhood is undeniable!
Here are the top five Instagrammable places in Hialeah.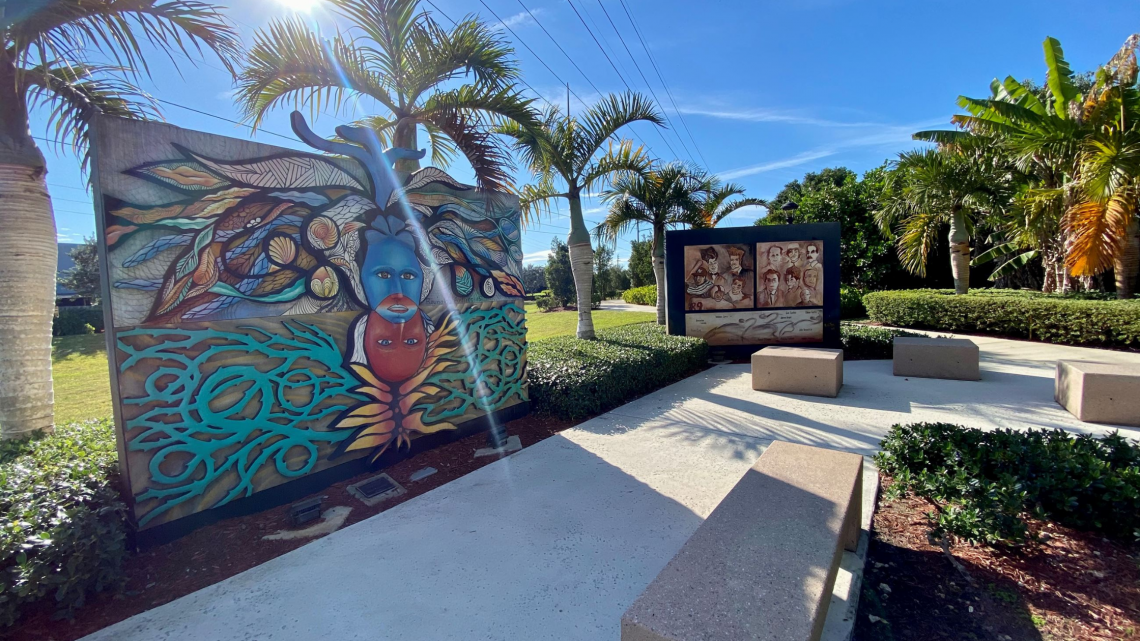 1850 W 76th St, Hialeah, FL 33014
Hialeah's emerging arts and culture scene is begging to be explored, and if you're into public art, murals, and sculptures, Garden of the Arts is one spot you shouldn't miss-- especially if you want epic snaps for your IG feeds!
Presenting an open-air art museum home combining South Florida's beautiful plant life with the artistic genius of hometown artists, Garden of the Arts features murals and sculptures by renowned artists and an array of trees, plants, and flowering bushes, all found along paved walkways.
At Garden of the Arts, you'll also find walking trails leading you to the park's corners, perfect for an artful afternoon stroll, lush green spaces for picnics and small gatherings, an Amphitheater, and a stage for events and community celebrations!
Art, history, recreation, and exercise all in one destination?
Sounds like a dream!
And if that isn't enough to get you moving, the Garden of the Arts entrance is FREE, so you can snap away and enjoy a colorful day at NO COST!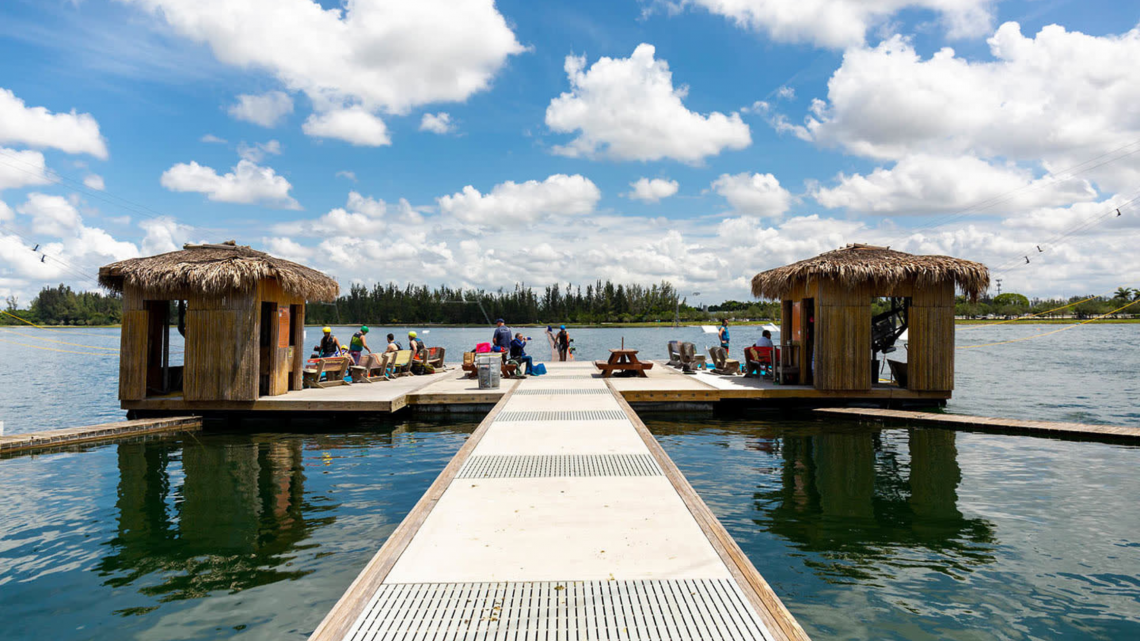 401 E 65th St, Hialeah, FL 33013
If you need some time to wind down and relax while enjoying a couple of activities in between, Hialeah has the perfect sprawling urban outdoor sports and recreation complex for YOU-- Amelia Earhart Park!
A 515-acre park encompassing a soccer complex with four mini fields, a petting zoo, a disc golf course, bike trails, sand volleyball courts, an enclosed bark park, and an island playground, Amelia Earhart Park draws park lovers and adventure-seekers everywhere, a true oasis for recreation in Hialeah's northern stretch!
Are you craving some fun on the water?
Yes, Amelia Earhart Park has that covered, too!
At Amelia Earhart Park, you'll find a wakeboarding cable complex and wakeboarding from behind a Super Air Nautique G23 boat at the 90-acre freshwater lake, plus a paddleboarding area!
It's the best place for fun, recreation, and the best photos in Hialeah, one that you shouldn't miss when you visit!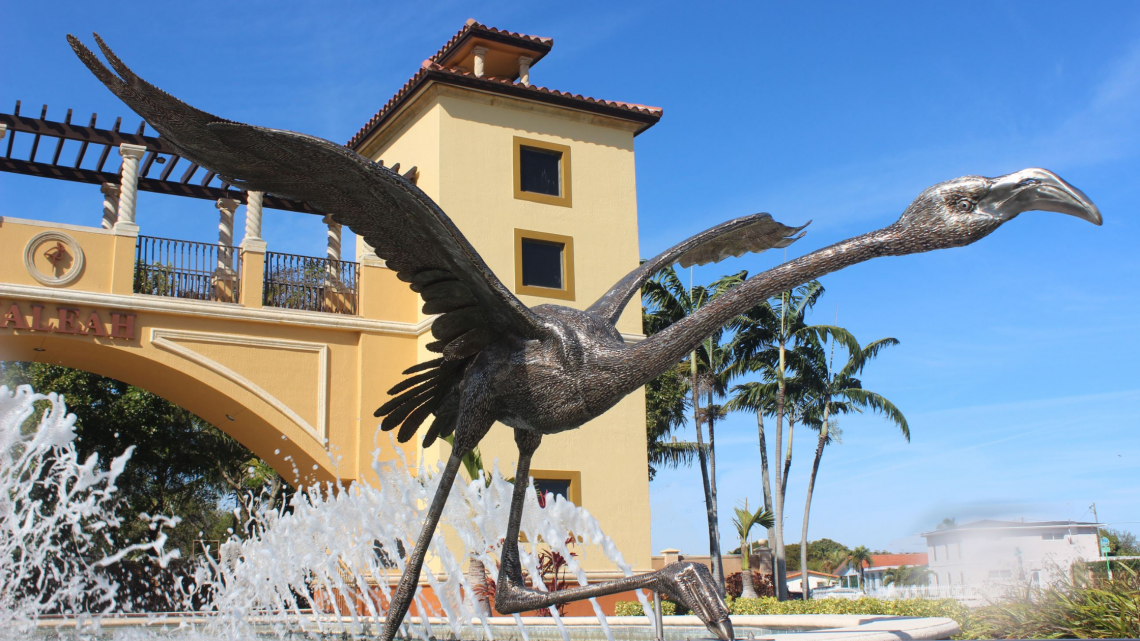 3) Hialeah Entrance Plaza Park
399 E Okeechobee Rd, Hialeah, FL 33010
Upon entering Hialeah, you'll find one of its most recognizable landmarks (and probably one of the most iconic IG photo destinations in town), acting as the gateway to the city, the Entrance Plaza Park!
The famous Hialeah historical structure nestles at the intersection between East Okeechobee Road and SE 4th Avenue, home to a beautiful fountain, sculptures, greenery, and a peaceful vibe that sets the tone for this beautiful city!
Apart from being significant to Hialeah's history, the Hialeah Entrance Plaza Park is a crowd-favorite among tourists and a top spot for aesthetic IG snaps!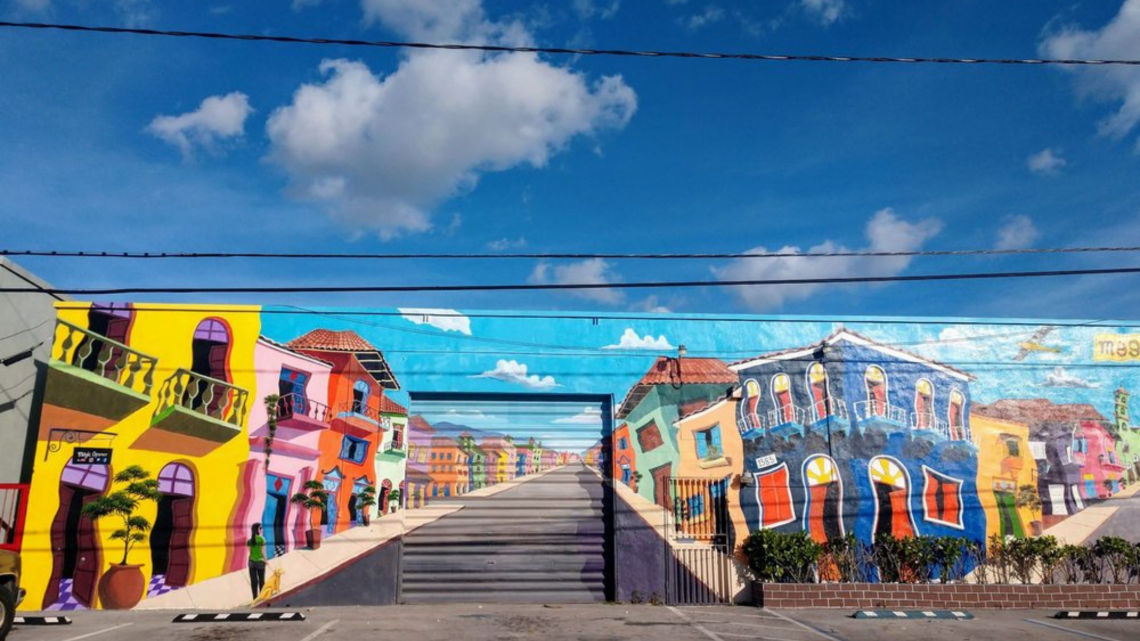 1055 E 15th St #1025, Hialeah, FL 33010
For more of Hialeah's funky vibe and colorful murals, don't forget to drop by the Leah Arts District, a defunct warehouse district transformed into a thriving destination for artists and creatives with live-work spaces!
In a similar vein to the nearby Wynwood Arts District, Hialeah's Leah Arts District is mural-splashed and filled with galleries, food trucks, local boutiques, hip thrift shops, and antique stores, an all-in-one destination for art, good food, shopping, and gorgeous photos within the community!
Leah Arts District also regularly hosts block parties with live music that bring the community together.
Quirky public art, new acquaintances, bop music, delicious eats, and unending spots for IG snaps?
Count me in!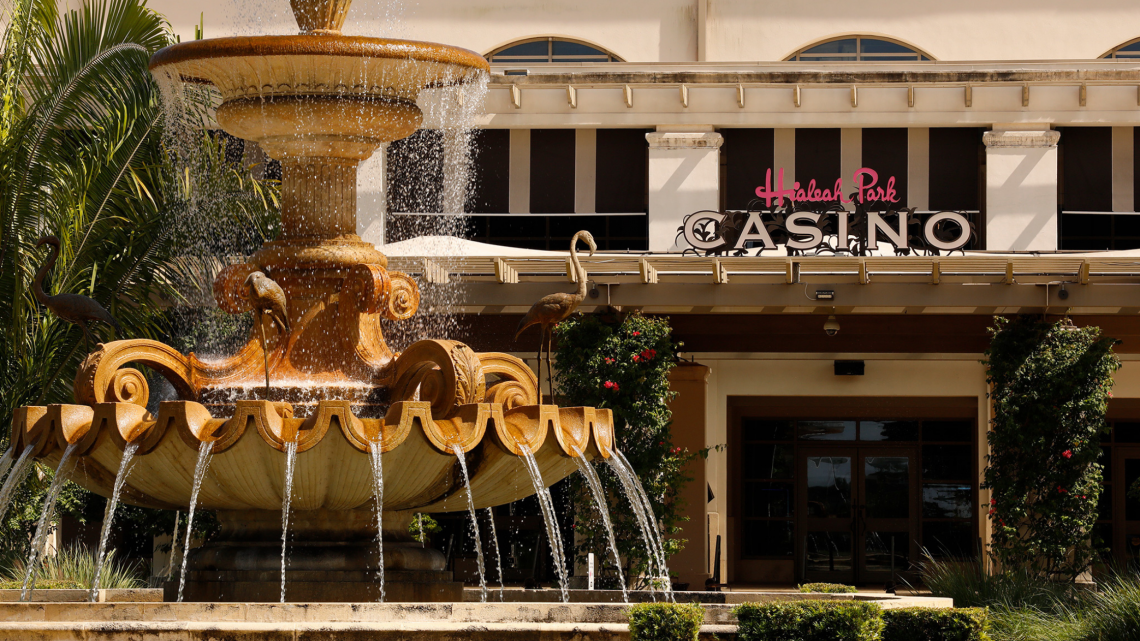 100 E 32nd St, Hialeah, FL 33013
For an action-packed afternoon of fun and gaming, head to the racetracks and visit the Hialeah Park Racing & Casino, Hialeah's pride and joy!
Set on 200 acres of landscaped gardens with architecture inspired by the 16th Century French Mediterranean movement, Hialeah Park Racing & Casino has been a mainstay for nearly a century with a National Register of Historic Places distinction, AND an Audubon Bird Sanctuary where flamingos roam wild!
Yes, wildlife is alive and kicking at Hialeah Park Racing & Casino!
Meanwhile, its casino boasts a 33-table poker room and nearly 900 slot machines, so you can try your hand at a bunch of casino games while you're there!
And to top it all off, Hialeah Park Racing & Casino is hailed as one of the most beautiful racetracks in the WORLD, so you can also get some gorgeous snaps for your socials while you have the time of your life!
Indeed, nothing gets away from you at Hialeah Park Racing & Casino!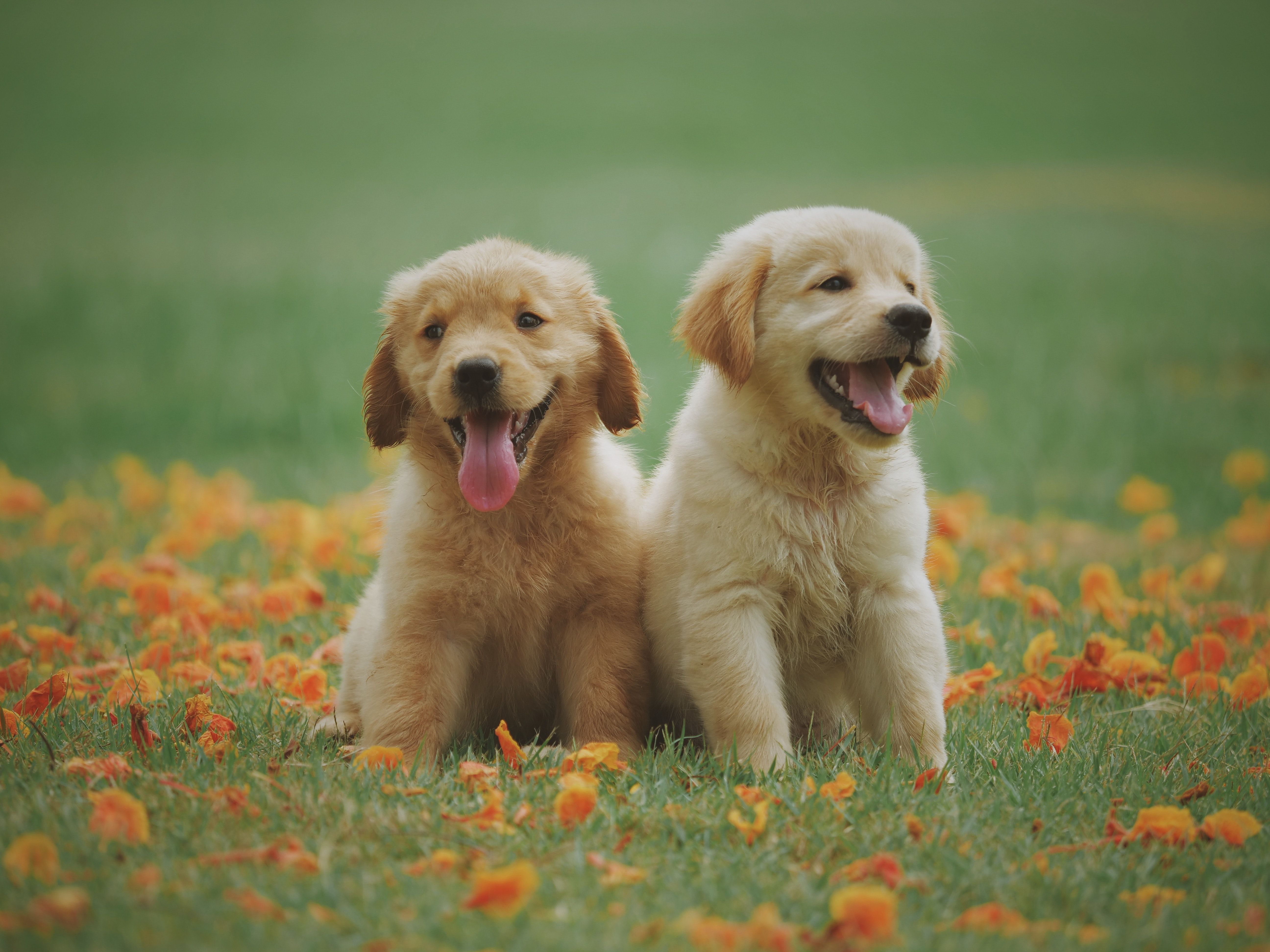 Here are the BEST dog parks in Miami. We analyzed 55 different neighborhoods in Miami, and...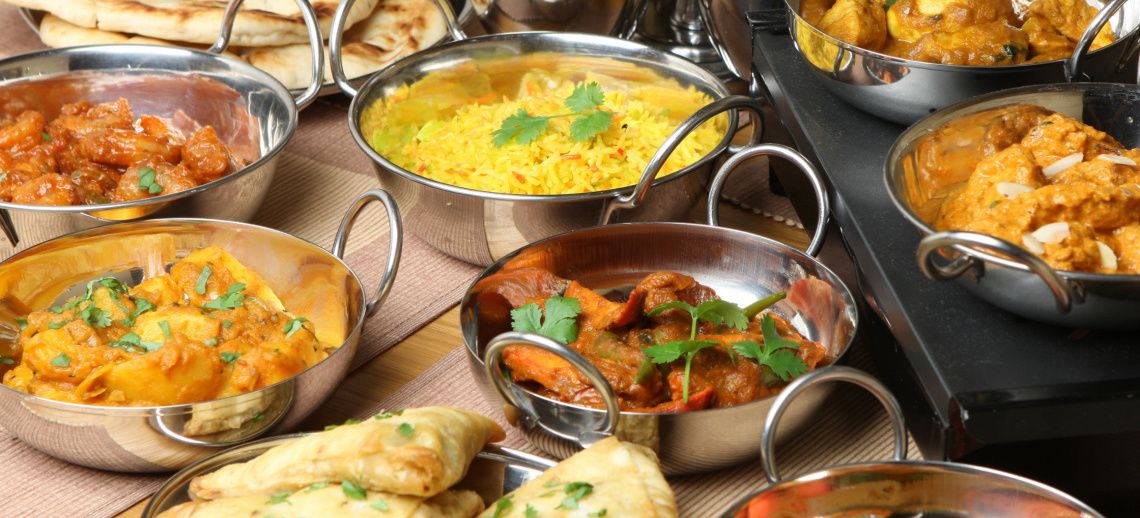 If you are a foodie or just love to eat as much as I do, here are my picks for the best pl...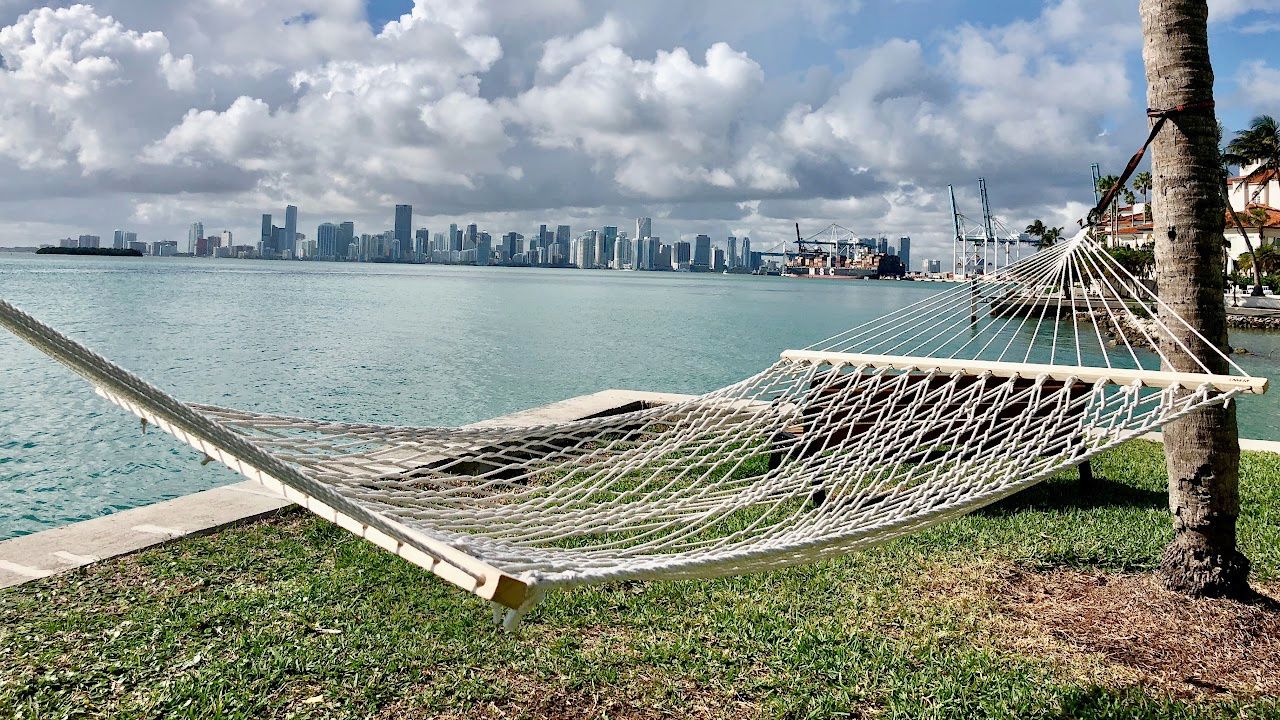 Discover Miami's top neighborhoods and schools with our comprehensive guide! Find the perf...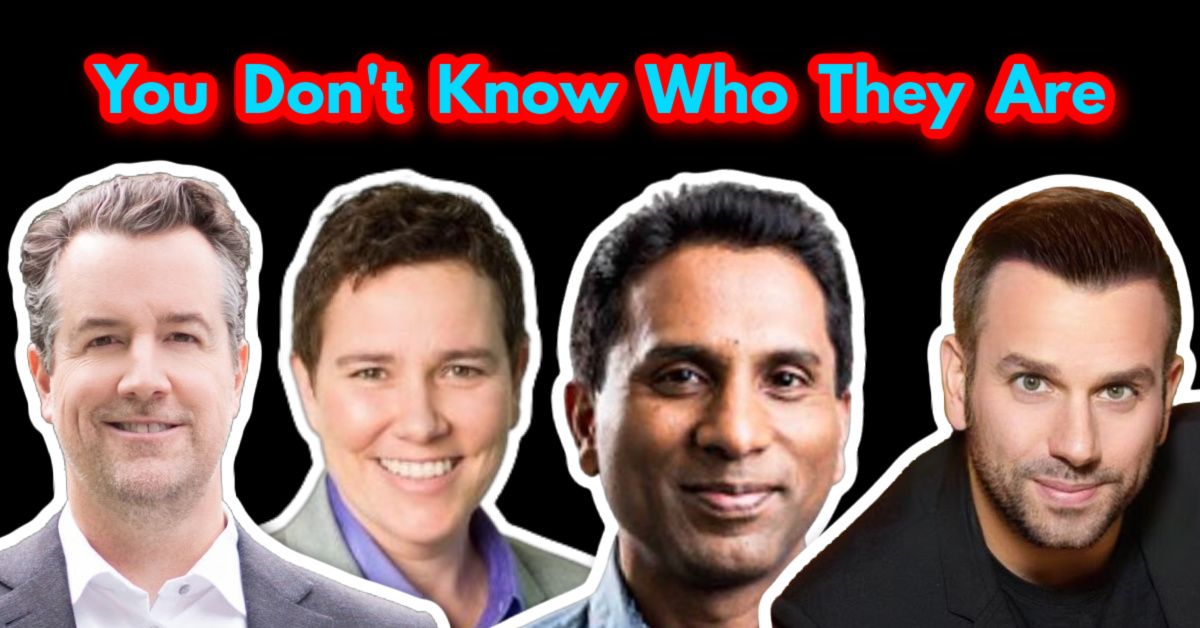 Sotheby's, Coldwell Banker, EWM, eXP, and the list goes on and on. This is absolutely why ...
Who are we?
We are the ALL IN Miami Group out of Miami.
We are Colombian, Filipino, Cuban, German, Japanese, French, Indian, Syrian, and American.
We are Christian, Hindu, and Jewish.
We are many, but we are one.
We sell luxury homes in Miami, Florida.
Although some of our clients are celebrities, athletes, and people you read about online, we also help young adults find their first place to rent when they are ready to live on their own.
First-time buyers?
All the time!
No matter what your situation or price range is, we feel truly blessed and honored to play such a big part in your life.