Top 5 Hotels near Palm Island | Hibiscus Island
Feast your eyes on the Palm and Hibiscus Islands, two of three exclusive manmade islands on Florida's sparkling Biscayne Bay, exuding privacy and luxury while offering the BEST location for a crazy-filled Magic City itinerary!
Palm Island and Hibiscus Island, spanning only 82 acres and 69 acres, respectively, are two highly sought-after waterfront communities constructed parallel to one another as part of the City of Miami Beach.
Accessible only via the MacArthur Causeway, these two private communities boast high-end amenities, palatial waterfront estates, vast mansions, and luxury, multi-million-dollar estate homes.
And surprisingly, despite their exclusivity, these two majestic islands also hold the perfect central location for the ultimate Miami travel experience!
Beaches, famous restaurants, Miami shopping destinations, tourist attractions, and museums?
Yes, they're all within reach of the Palm and Hibiscus Islands!
And don't forget the best of the best Miami hotels, too!
Here are the top five hotels near the Palm and Hibiscus Islands.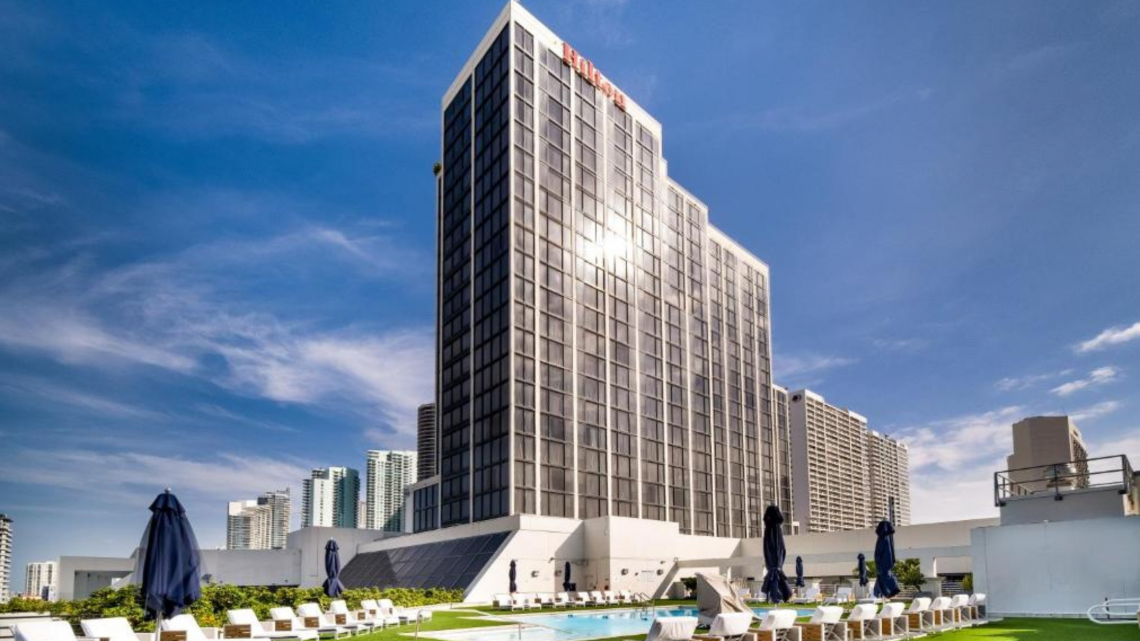 1601 Biscayne Blvd, Miami, FL 33132
Experience the signature Hilton luxury retreat at Hilton Miami Downtown, a famous Downtown Miami 4-star hotel overlooking Biscayne Bay, only a 6-minute drive from the Palm and Hibiscus Islands!
Only a mile from Kaseya Center and Bayside Marketplace, the Hilton Miami Downtown offers the perfect location to explore the best of Metro Miami while enjoying the perks of South Beach life and the Port of Miami in just a 10-minute drive!
After a day out in the city, wind down in the Hilton Miami Downtown pet-friendly rooms, all boasting premium amenities, like complimentary high-speed Internet access, comfortable beds, refrigerators, comfortable work desks, and flat-screen TVs, with some offering bay or Downtown views, tubs, and separate seating areas.
Are you looking to experience more of Hilton Miami Downtown?
Don't forget to take advantage of other Hilton Miami Downtown amenities, including a state-of-the-art fitness center, their on-site restaurant, Brisa Bistro, serving your favorite Floridian and Caribbean-inspired dishes with an international twist, a 24-hour convenience store for your last-minute needs, a rooftop pool for a relaxing dip, and a business center.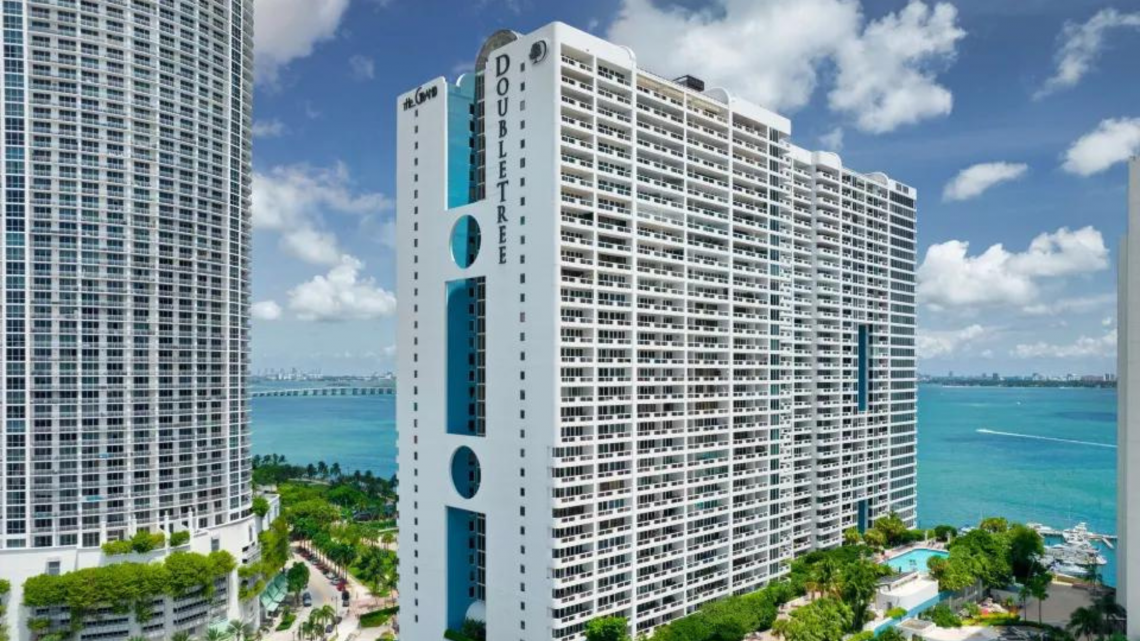 2) DoubleTree by Hilton Grand Hotel Biscayne Bay
1717 N Bayshore Dr, Miami, FL 33132
Enjoy a signature Hilton experience overlooking Biscayne Bay at DoubleTree by Hilton Grand Hotel Biscayne Bay, a waterfront hotel 7 minutes away from the Palm and Hibiscus Islands!
Boasting an unrivaled location with spacious accommodation and state-of-the-art amenities, all at an affordable price, the DoubleTree by Hilton Grand Hotel Biscayne Bay provides guests easy access to Miami's delightful spots in the heart of Magic City's center!
Spend the day at Bayside Marketplace, filled with shops, restaurants, and entertainment options, or stroll through the historic Art Deco district and the area's nearby museums.
After a tiring day exploring, have a restful night's sleep on the DoubleTree by Hilton Grand Hotel Biscayne Bay's signature Sweet Dreams beds, and enjoy the premium room amenities, including overlooking balconies, spacious bathrooms, seating areas, and work desks.
Some of DoubleTree by Hilton Grand Hotel Biscayne Bay's suites even have kitchenettes for when you want to whip up a home-cooked meal!
If you're feeling famished, feel free to savor a delicious meal at one of DoubleTree's on-site restaurants, then work out all the calories in the state-of-the-art DoubleTree by Hilton Grand Hotel Biscayne Bay fitness center or in the Olympic-size swimming pool, where you can swim laps or take a break at the poolside lounge chairs.
And if you ever need a refreshing spa and salon session, book an appointment at DoubleTree by Hilton Grand Hotel Biscayne Bay's on-site Spa and Wellness Center, and feel recharged to start another day painting the city red!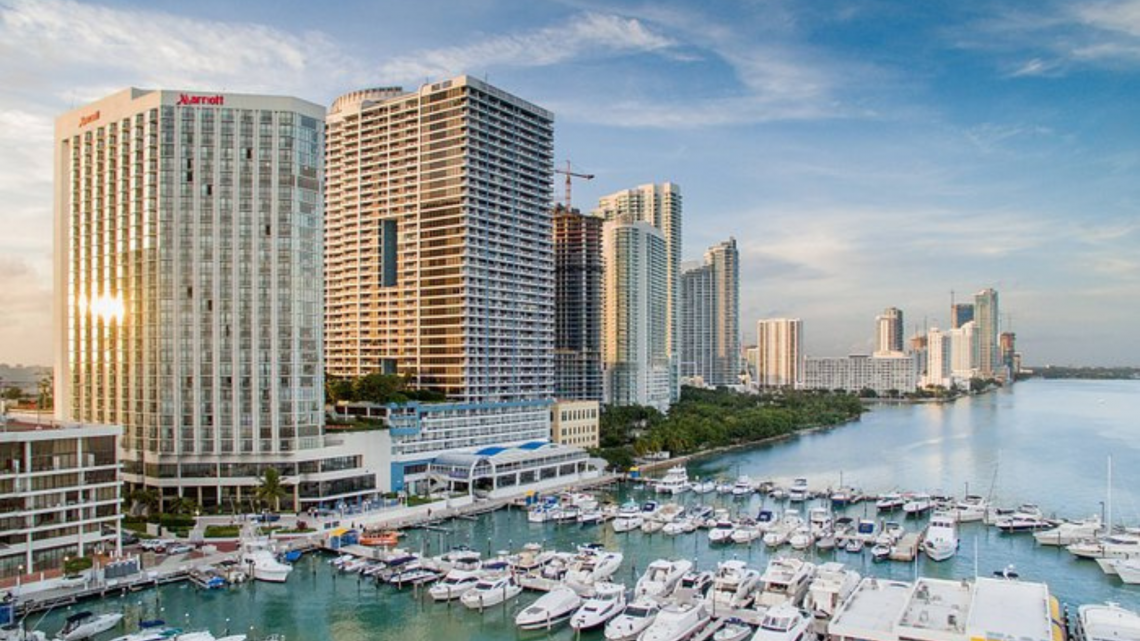 3) Miami Marriott Biscayne Bay
1633 N Bayshore Dr, Miami, FL 33132
Offering 360-degree views of stunning Biscayne Bay along with spacious rooms and premium hotel amenities, Miami Marriott Biscayne Bay is your best bet for an unforgettable luxe Miami stay and invigorating weekend getaway!
And yes, this hotel is only a 7-minute drive from the Palm and Hibiscus Islands!
From exploring Miami's dynamic neighborhoods to evenings at the Adrienne Arsht Center for a jaw-dropping performance or a Miami Heat game at the FTX arena — everything is moments away from Miami Marriot Biscayne Bay!
But its central location isn't the only catch!
Miami Marriott Biscayne Bay's rooms are also an added treat to the experience, as it lets guests soak in the Miami vibe with its gorgeous bay views from a private balcony, vibrant custom artwork and glass showers, comfortable beds, seating areas, flat-screen TVs, and spacious bathrooms.
And if you're feeling hungry, you won't even have to go out of Miami Marriott Biscayne Bay's comforts!
Dine in at Gold Coast Kitchen + Cocktails for a delicious meal influenced by the bold international flavors of Miami, perfectly paired with a citrus-forward cocktail menu alongside a selection of primarily white, rosé, and sparkling wines-- or get room service if you feel too lazy to get up from your bed!
Best of all, Miami Marriott Biscayne Bay is pet-friendly, meaning your favorite pup can join you for a Marriott signature hotel stay too!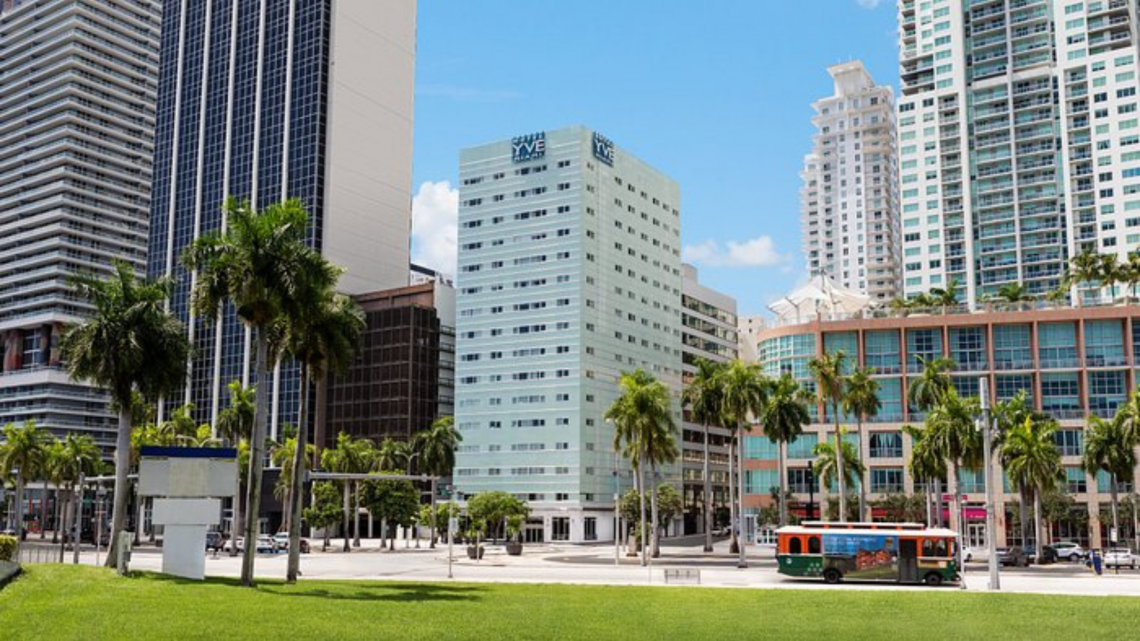 146 Biscayne Blvd, Miami, FL 33132
Find your gateway to Magic City at YVE Hotel Miami in the heart of bustling Downtown Miami, a 7-minute drive from the Palm and Hibiscus Islands!
A short walk from chart-topping concerts and professional sporting events at the Miami Arena and an array of theater, cultural, and leisure events year-round at Bayfront Park, YVE Hotel Miami let guests mingle business with art for late nights over cocktails in one of the USA's most cosmopolitan settings-- with luxe and comfortable rooms and premium amenities to boot!
Yes, folks, YVE Hotel Miami centers its services around your needs, from its easily accessible location to modern meeting rooms, dry-cleaning service, and knowledgeable concierge.
Meanwhile, YVE Hotel Miami rooms mix comfort and style effortlessly, boasting trendy suites with modern amenities and gorgeous bay views for a stay that's just as good as it looks!
But that's not all!
At YVE Hotel Miami, guests enjoy dining and drinks at an in-house bar/lounge/restaurant, setting meetings via YVE Hotel Miami meetings and function rooms, exercising at its fitness center, and high-speed Wi-Fi, and dry cleaning and laundry services!
Find a distinctly modern hotel with a relaxed sensibility only at YVE Hotel Miami!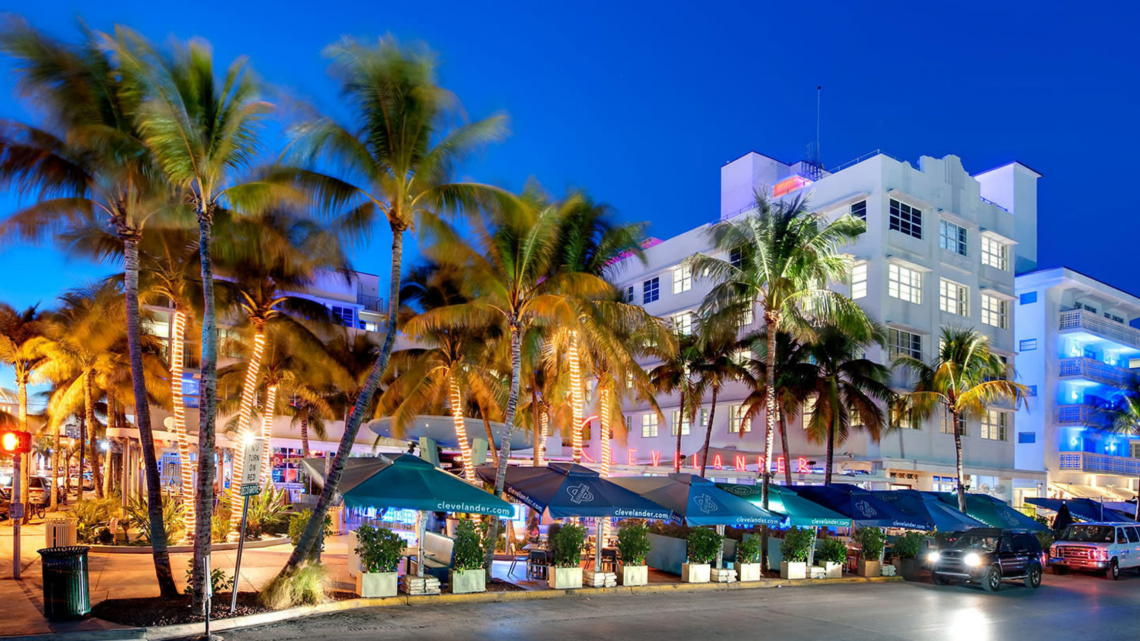 5) Clevelander South Beach Hotel and Bar
1020 Ocean Dr, Miami Beach, FL 33139
Feel Miami's vivacious vibes at Clevelander South Beach Hotel and Bar, perched on Ocean Drive in the heart of the Art Deco District, an 8-minute drive from the Palm and Hibiscus Islands.
An icon of the Miami Beach scene, everything about Clevelander is designed to ensure you have an unforgettable experience.
At Clevelander South Beach Hotel and Bar, you can spend your days lounging on the beach, chilling at Clevelander South Beach Hotel and Bar's POOL+PATIO, or dozing on the beautiful SPF4 Sun Deck.
And as the sun goes down, join in as the action ramps up on the dance floor as you sip a cocktail and soak up the vibe amidst breathtaking city views at C-LEVEL.
When nighttime comes, find your retreat in Clevelander South Beach Hotel and Bar's chic rooms and suites, boasting unique artwork, free, fast Wi-Fi access, iHome alarm clocks, spacious bathrooms with rain showers and premium amenities, and plush beddings where you can stretch out and relax your body aches away.
Guests can choose from the hotel's historic North Tower with prime views of the dynamic POOL+PATIO, the Ocean Front rooms overlooking Ocean Drive and the sparkling blue waters of the Atlantic, or the Rockstar Suites for a customized hotel experience and VIP service.
Indeed, there's no such thing as too much fun at the Clevelander!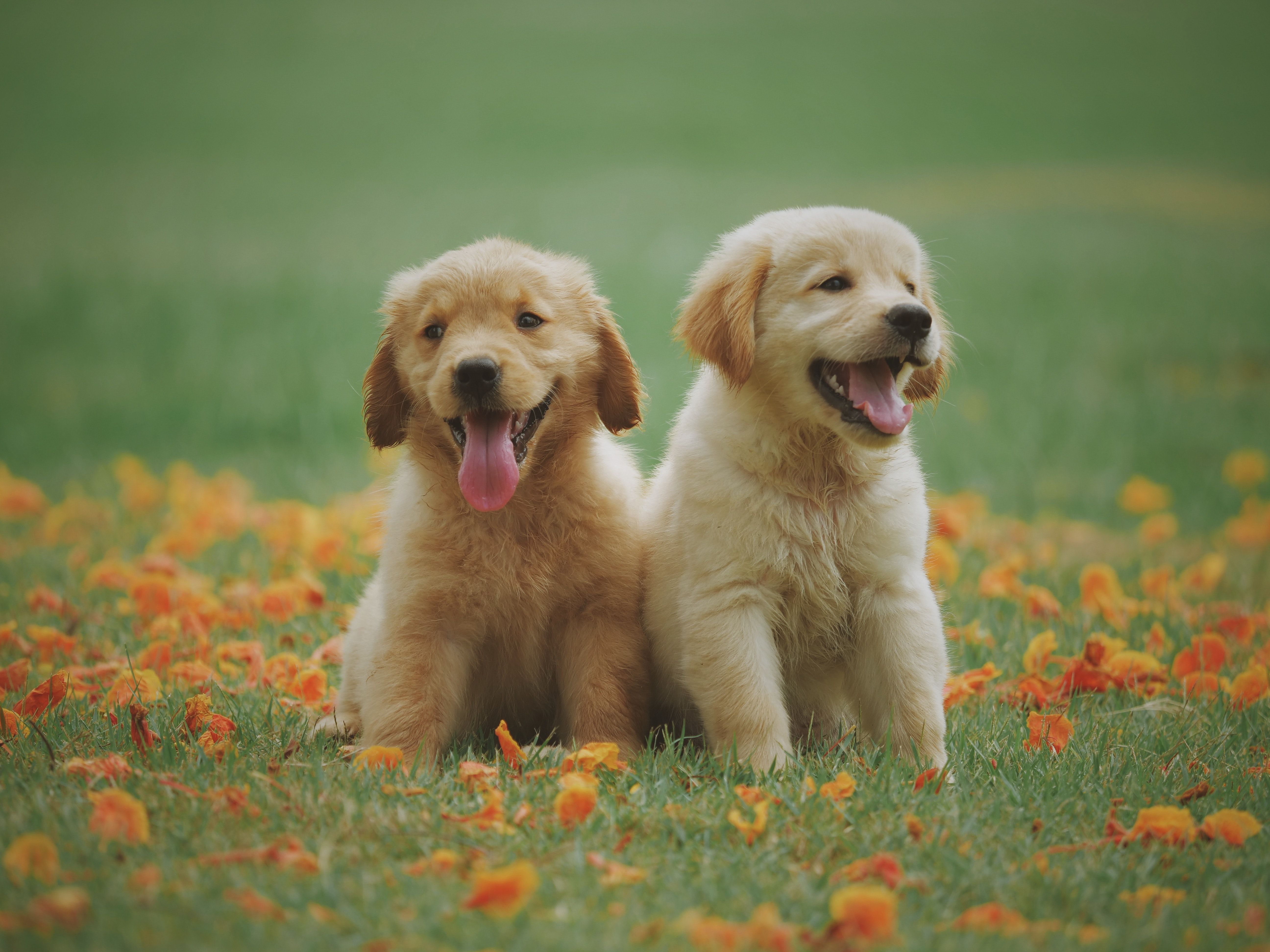 Here are the BEST dog parks in Miami. We analyzed 55 different neighborhoods in Miami, and...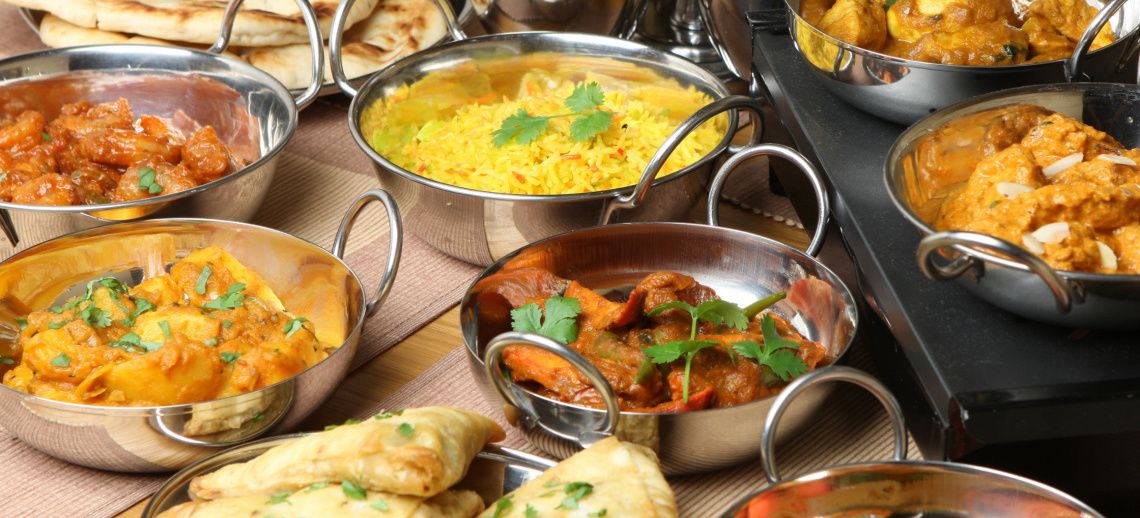 If you are a foodie or just love to eat as much as I do, here are my picks for the best pl...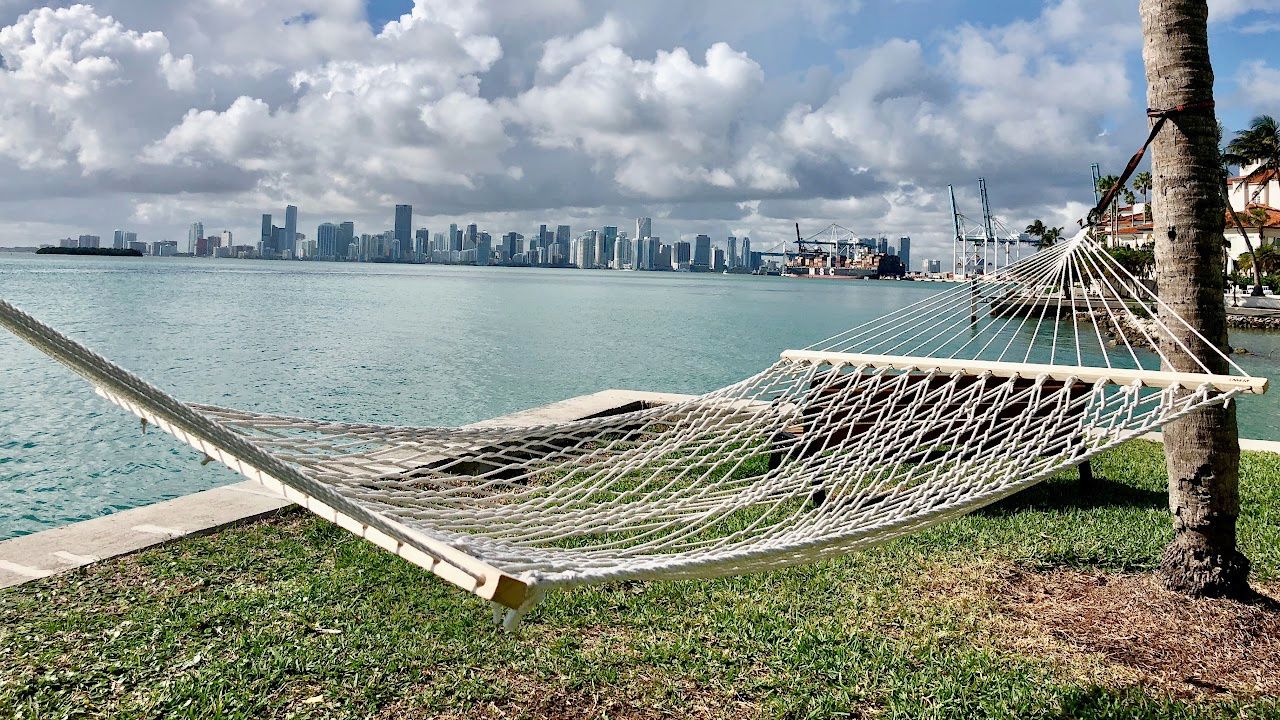 Discover Miami's top neighborhoods and schools with our comprehensive guide! Find the perf...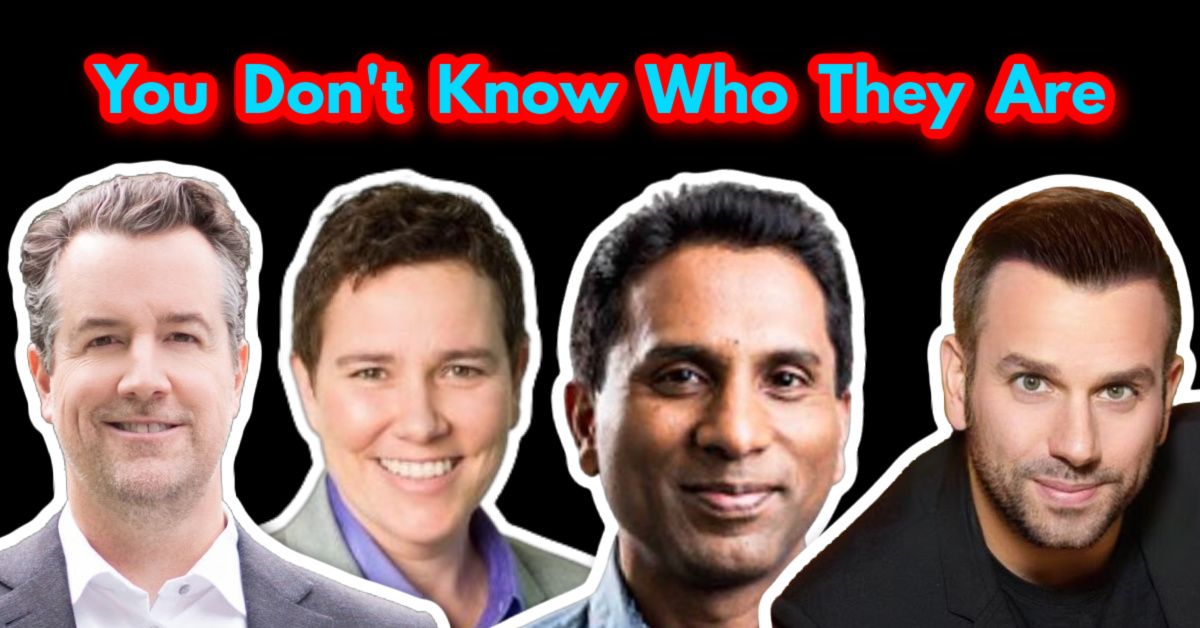 Sotheby's, Coldwell Banker, EWM, eXP, and the list goes on and on. This is absolutely why ...
Who are we?
We are the ALL IN Miami Group out of Miami.
We are Colombian, Filipino, Cuban, German, Japanese, French, Indian, Syrian, and American.
We are Christian, Hindu, and Jewish.
We are many, but we are one.
We sell luxury homes in Miami, Florida.
Although some of our clients are celebrities, athletes, and people you read about online, we also help young adults find their first place to rent when they are ready to live on their own.
First-time buyers?
All the time!
No matter what your situation or price range is, we feel truly blessed and honored to play such a big part in your life.