Top 5 Hotels near Miami Shores
Right in the middle of everything metropolitan is a small community embedded with a hundred-year-old history and a distinct small-town charm-- say hello to Magic City's "Village Beautiful," Miami Shores!
A lush residential village a mile south of North Miami and six miles north of Miami proper, Miami Shores has a total area of 3.75 square miles just west of Interstate 95.
Apart from its location amidst metro Miami, you'll find nothing "big city" about Miami Shores.
Instead, you'll be surrounded by bayfront vistas, quaint churches, and wide, tree-lined streets, offering a welcome pause from the fast-paced South Florida lifestyle.
But don't be too quick to count Miami Shores out of the running for your next travel destination, especially if you're looking for a more leisurely and relaxed Miami experience!
With its optimum recreational activities and facilities, plus proximity to other South Miami attractions, finding ways to stay busy in Miami Shores should be a breeze!
And for your accommodations, well, the best around Miami surrounds this city, so you can add a memorable staycation to the list!
Here are the top five hotels near Miami Shores.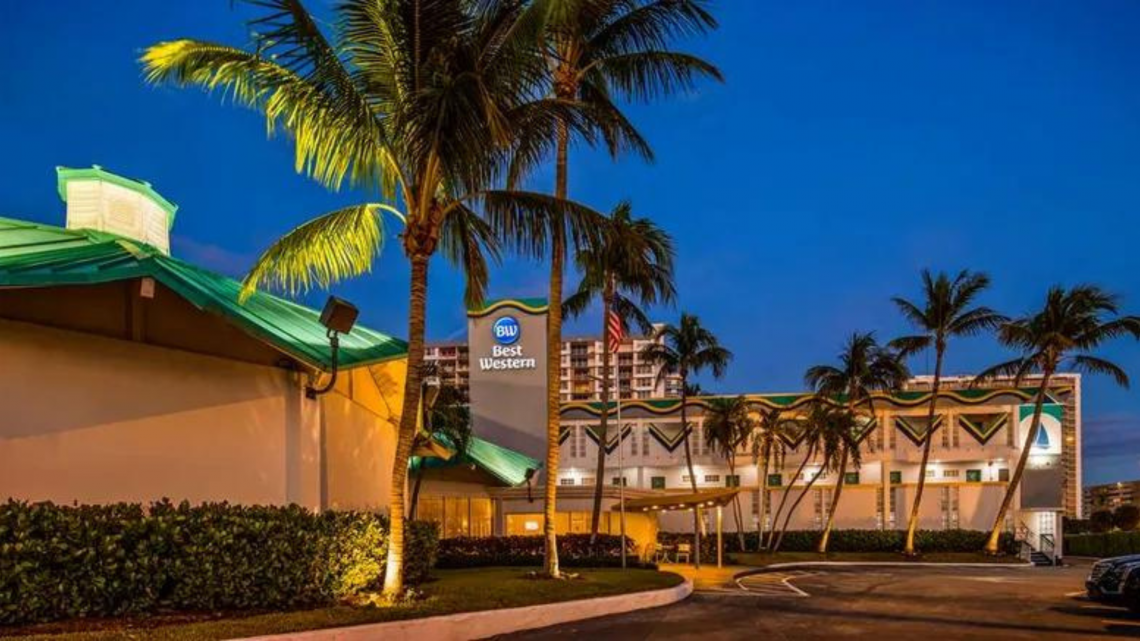 1) Best Western On The Bay Inn & Marina
1819 79th Street Causeway, North Bay Village, FL 33141
For a peaceful and comforting home away from home near Miami Shores, equally suited for short getaways and extended stays, look to Best Western On The Bay Inn & Marina, only a 9-minute drive!
At Best Western On The Bay Inn & Marina, you'll find a waterfront retreat perfect for guests in search of a peaceful, affordable Miami getaway moments away from Miami Beach with its tropically landscaped pool deck overlooking the bay, onsite marina, and beloved in-house restaurant, the famous Shuckers Bar & Grill, a laid-back local hotspot for more than 25 years!
Meanwhile, Best Western On The Bay Inn & Marina accommodations occupies two wings united by a bayfront swimming pool, offering a variety of newly-renovated rooms to suit the needs of business and leisure guests, some with private balconies overlooking Biscayne Bay and the option of interior and exterior corridors.
All Best Western On The Bay Inn & Marina rooms are furnished with comfortable beds, seating areas, private bathrooms, well-lit working areas, HDTVs, microwaves, refrigerators, and complimentary Wi-Fi access.
Best Western On The Bay Inn & Marina also offers a 24-hour Business Center, a well-equipped Fitness Center, and thoughtful services and amenities ranging from around-the-clock coffee in the lobby to boat dockage and discounted parking.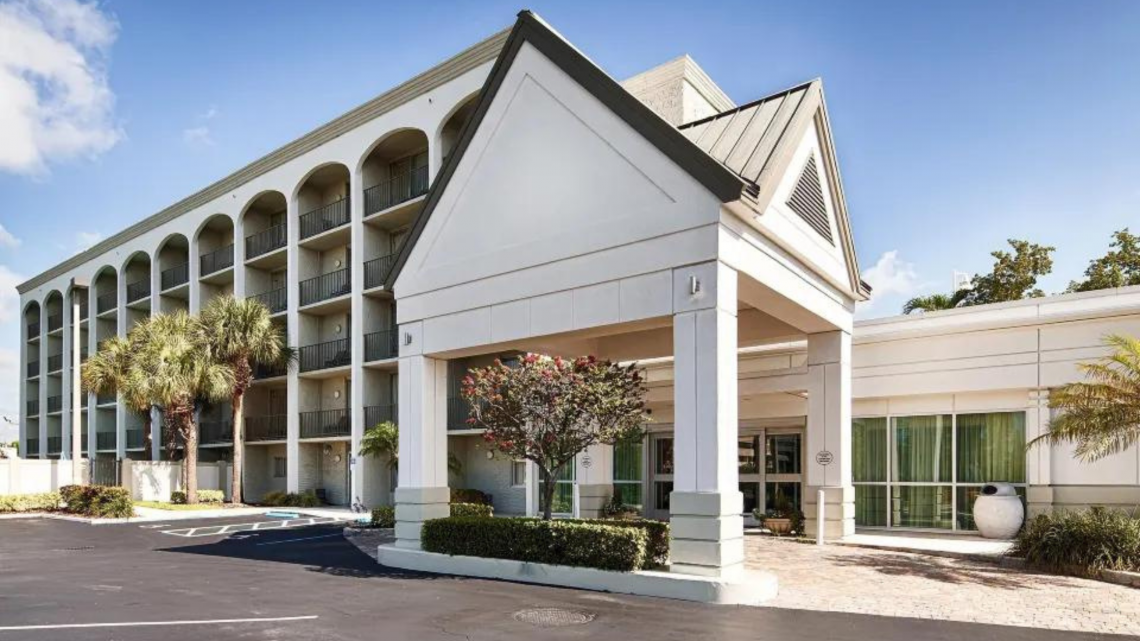 2) Best Western Plus Windsor Inn
12210 Biscayne Blvd, North Miami, FL 33181
Boasting exceptional customer service and spacious accommodations just 10 miles from the Port of Miami and 17 miles from Fort Lauderdale, Best Western Plus Windsor Inn is the perfect accommodation for business and leisure travelers looking for premium hotel amenities at an affordable price, only a 9-minute drive from Miami Shores!
With easy access to the nearby FTX Arena, Hard Rock Stadium, Miami Shores Country Club, the family-friendly Miami Seaquarium, and Oleta River State Park, Best Western Plus Windsor Inn is your ideal "home base" for a holistic South Florida travel experience.
In fact, within just a short drive, guests can visit Miami's most popular beaches, including Bal Harbor Beach and South Beach-- talk about beach-hopping galore!
For your accommodations, Best Western Plus Windsor Inn rooms and suites are spacious and comfortable, all with interior corridors and amenities like a refrigerator, microwave, private bathroom, free wireless and wired high-speed Internet access, and complimentary deluxe breakfast!
Best Western Plus Windsor Inn also boasts a sparkling outdoor swimming pool, a 24-hour coffee station, a cocktail lounge where guests can grab a bite to eat and unwind after a day out on the town, and a multilingual staff ready to give you the best hotel experience imaginable!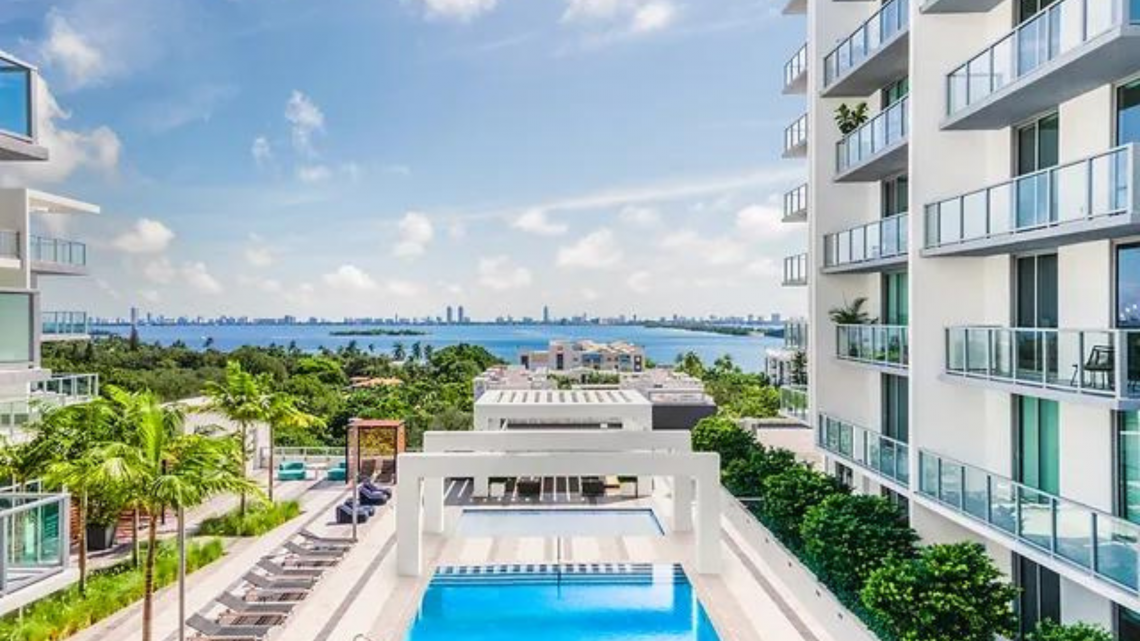 3) Nomada Destination Residences
3900 Biscayne Blvd, Miami, FL 33137
Whether you're looking for a short-term or LONG-term stay near Miami Shores, around the beautiful Miami Design District area, Nomada Destination Residences is the perfect hotel alternative for you, only a 9-minute drive!
A luxury, brand-new condominium building raved about by city visitors, business travelers, and short-term vacationers, Nomada Destination residences boasts 5-star services, spectacular unit features, and access to resort-style amenities-- minus the piling costs!
Choose from studios, 1-bedrooms, and 2-bedroom condos with private balconies overlooking the spectacular views of the Miami city skyline, Biscayne Bay, and Miami Design District-- you can never go wrong with any of the choices!
In fact, all Nomada Destination Residences units come with everything you need for a comfortable stay-- a fully equipped kitchen, an in-unit washer and dryer, stainless steel appliances, a coffee machine, and more!
Yes, even towels and complimentary toiletries!
And if you feel like staying in, Nomada Destination Residences will bring the fun to you via its resort-style pool, co-working areas, lounges, and fitness center, plus its exclusive access to personalized shopping and delivery services, and discounts to local restaurants and fitness studios!
For the cherry on top, Nomada Residences offer complimentary parking in a gated garage and free coffee and WiFi every day.
Bye, bye Miami parking nightmares!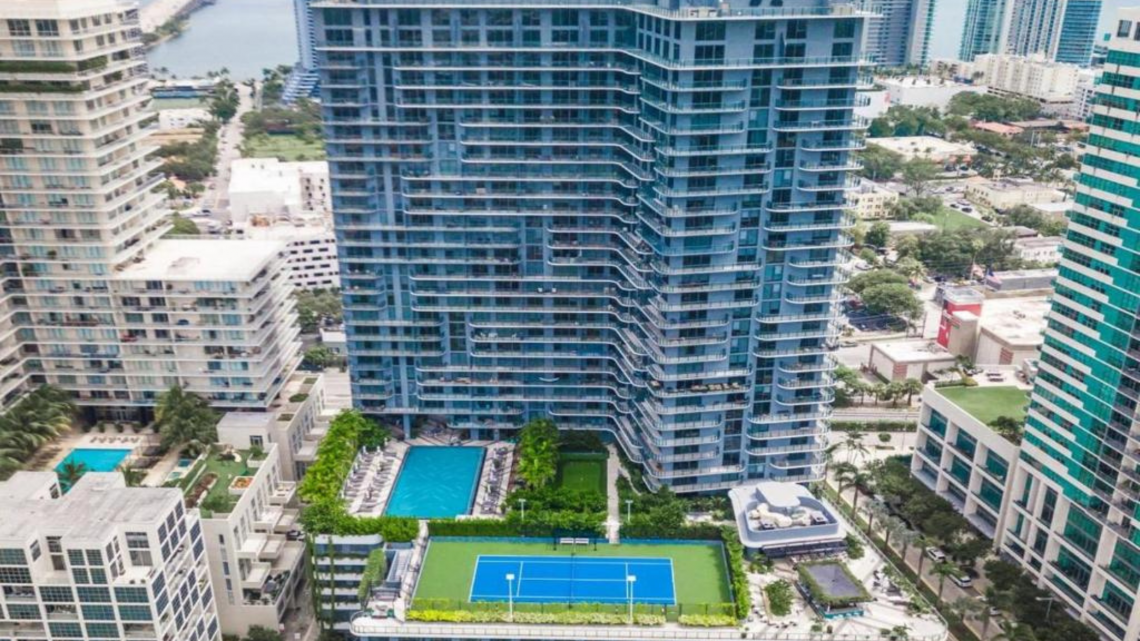 101 NE 34th St, Miami, FL 33137
In the heart of Miami's hippest neighborhood lies the Hyde Midtown Miami, a hotel taking inspiration from today's most provocative creators of fashion and art by making high design part of everyday life with eclectic and authentic amenity spaces for lounging, fitness, and entertainment.
And yes, it's just an 11-minute drive from Miami Shores!
At Hyde Midtown Miami, stylish and state-of-the-art are an understatement, considering its unparalleled luxury amenities-- a vast pool, tennis court, fitness centers with the latest equipment, a small golfing area, a business and meeting center, and A DOG PARK for your four-legged companion!
Meanwhile, the Hyde Midtown Miami accommodations are a mix of studios and suites featuring stunning interiors by David Rockwell and breathtaking Miami city views, all equipped with a spacious bathroom and shower area, comfortable beds, a kitchenette with fridge, microwaves, Allesi china and flatware, and a minibar curated with Hyde Midtown Miami signature items!
Hyde Studio ADAs also have balconies with breathtaking Miami city views!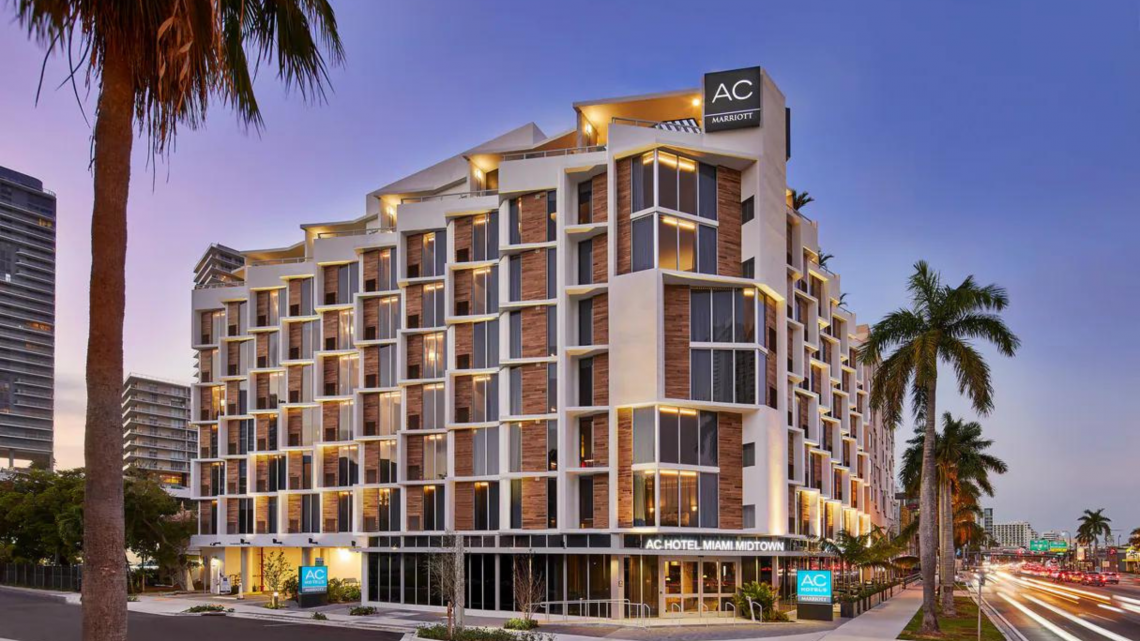 5) AC Hotel by Marriott Miami Wynwood
3400 Biscayne Blvd, Miami, FL 33137
Everyone deserves an unforgettable travel experience, especially at a charming destination like metro Miami, and there's no other place to book your stay than at AC Hotel by Marriott Miami Wynwood, a 12-minute drive from Miami Shores!
Oozing with a polished, modern elegance, the AC Hotel by Marriott Miami Wynwood is a luxury hotel boasting a sleek style with a European twist, complimentary WiFi, and flexible workstations for hitting deadlines.
The signature AC Hotel by Marriott Miami Wynwood experience starts with a delicious breakfast at the AC Kitchen, where guests enjoy freshly baked croissants, artisan cured meats, and assorted quiches.
Move on with the rest of your day at the rooftop pool and high-tech fitness center to rejuvenate your body and spirit while taking in breathtaking skyline views, and spend your evening unwinding at the AC Lounge with its unique tapas menu and signature cocktails!
Meanwhile, all AC Hotel by Marriott Miami Wynwood rooms feature scenic views and modern European décor, carefully curated with signature bedding with custom duvets and plush mattresses, a high-speed WiFi connection, ergonomic workstations, and an in-room Smart TV with Netflix access.
Best of all, AC Hotel by Marriott Miami Wynwood is PET-FRIENDLY, which means Fido can enjoy all these premium amenities with you!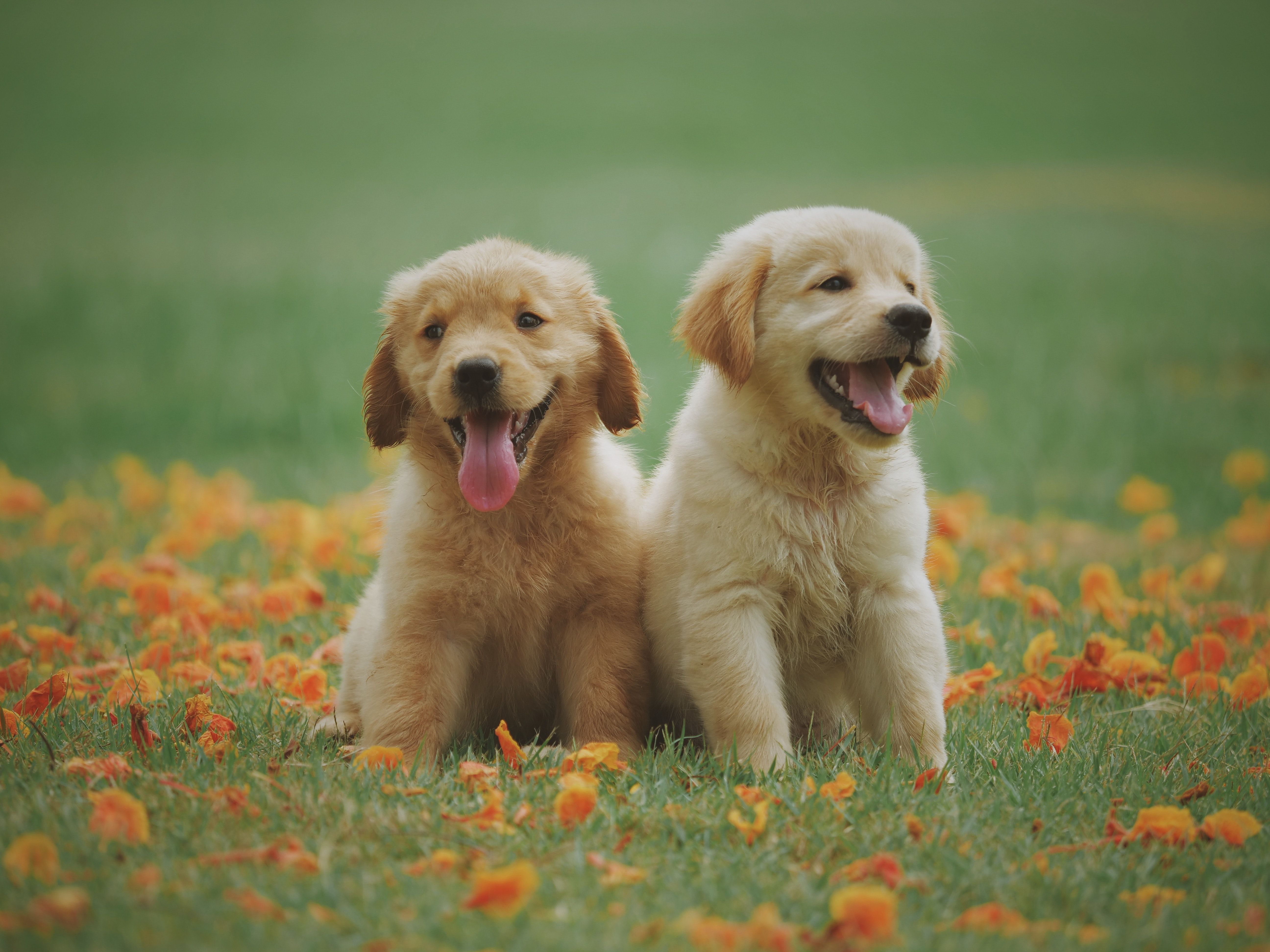 Here are the BEST dog parks in Miami. We analyzed 55 different neighborhoods in Miami, and...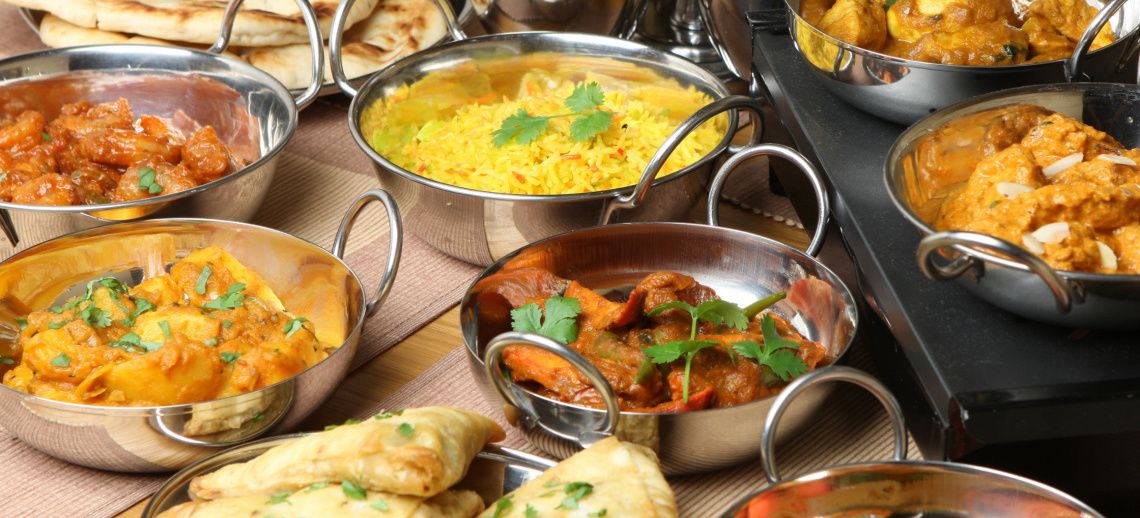 If you are a foodie or just love to eat as much as I do, here are my picks for the best pl...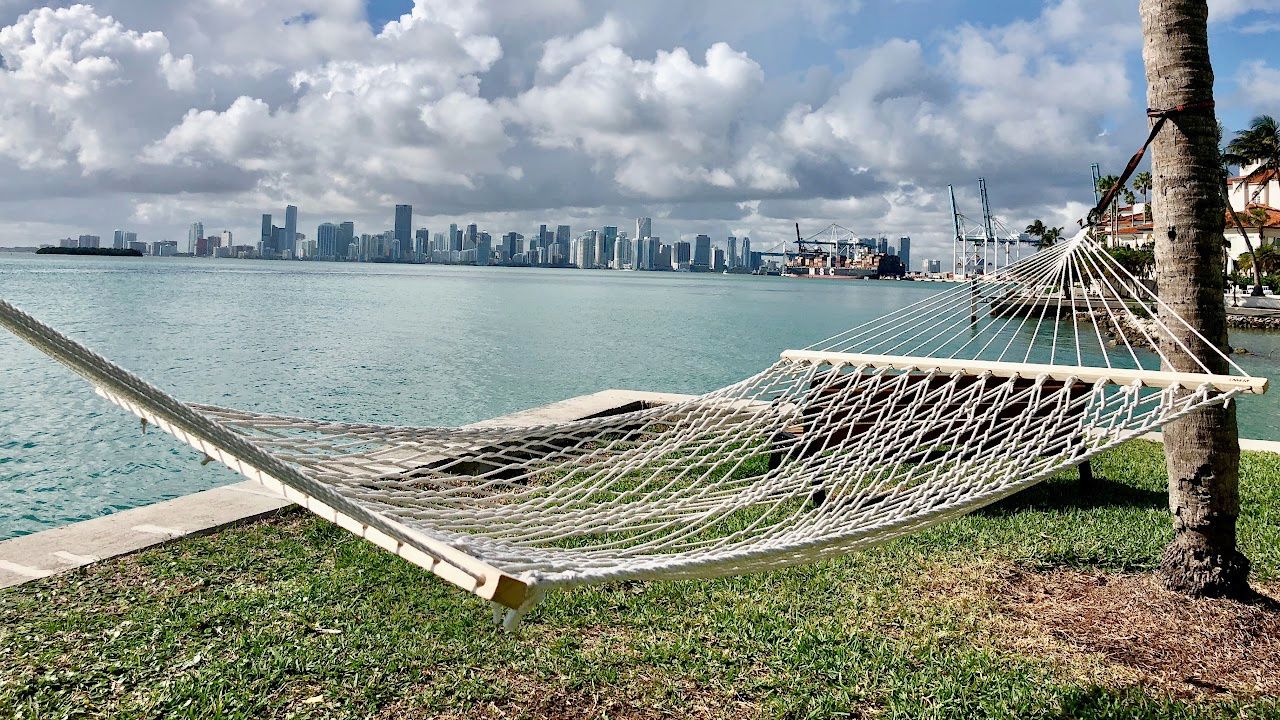 Discover Miami's top neighborhoods and schools with our comprehensive guide! Find the perf...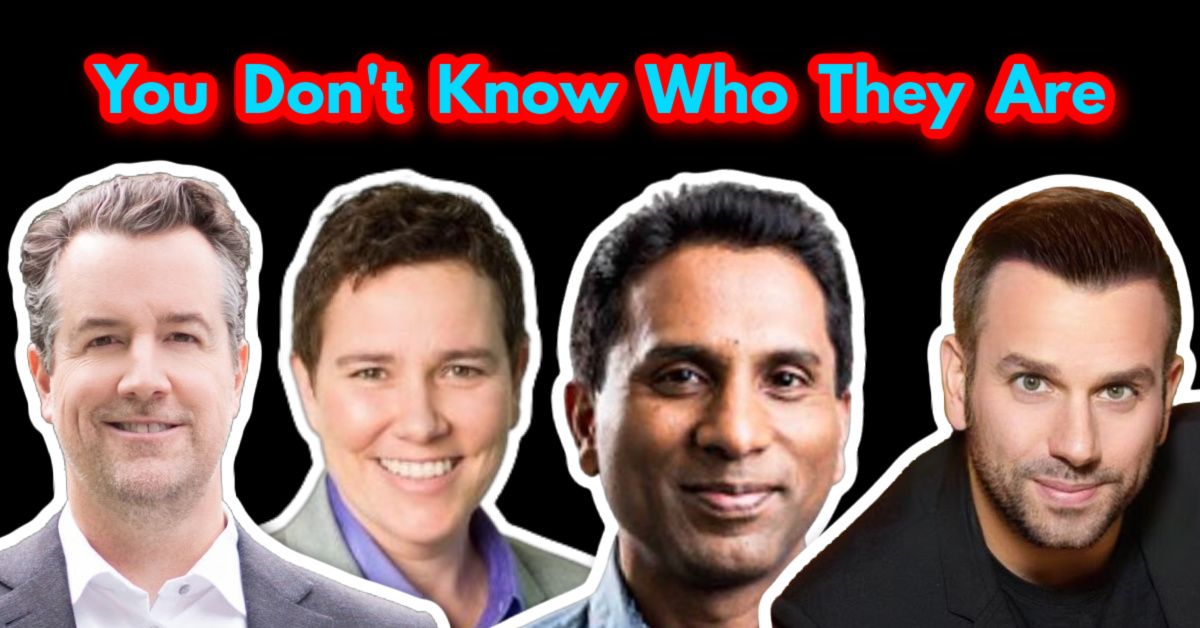 Sotheby's, Coldwell Banker, EWM, eXP, and the list goes on and on. This is absolutely why ...
Who are we?
We are the ALL IN Miami Group out of Miami.
We are Colombian, Filipino, Cuban, German, Japanese, French, Indian, Syrian, and American.
We are Christian, Hindu, and Jewish.
We are many, but we are one.
We sell luxury homes in Miami, Florida.
Although some of our clients are celebrities, athletes, and people you read about online, we also help young adults find their first place to rent when they are ready to live on their own.
First-time buyers?
All the time!
No matter what your situation or price range is, we feel truly blessed and honored to play such a big part in your life.