Top 5 Hotels near Miami Gardens
Pegged by travelers for its gaming, recreation, and supreme Caribbean soul food options, Miami Gardens is a unique Magic City destination, a proud home to the famous American football team, Miami Dolphins, and Miami-Dade's youngest city!
All eyes are on Miami Gardens, covering 20 square miles in the North-Central region, mid-way between Fort Lauderdale and Miami, accessible through all the major highways (I-95, the Palmetto Expressway (SR 826), and the Florida Turnpike).
Often revered for its culinary and entertainment scenes, Miami Gardens is also a ringer for lush scenery, as it boasts four state parks and eight more local parks within its boundaries, drawing outdoor enthusiasts and nature lovers from all over the globe.
Not to mention, Miami Gardens hosts annual festivals and concerts, too, so your weekends won't be a drag while you're here!
Nevertheless, these unique features are NOT the only things SUPERB about Miami Gardens, so it's time to pack those bags and discover more reasons to fall in love with this vibrant city!
So, let's check the first item on your to-do list to jumpstart your Miami Gardens journey: finding the best accommodations!
Here are the top five hotels near Miami Gardens.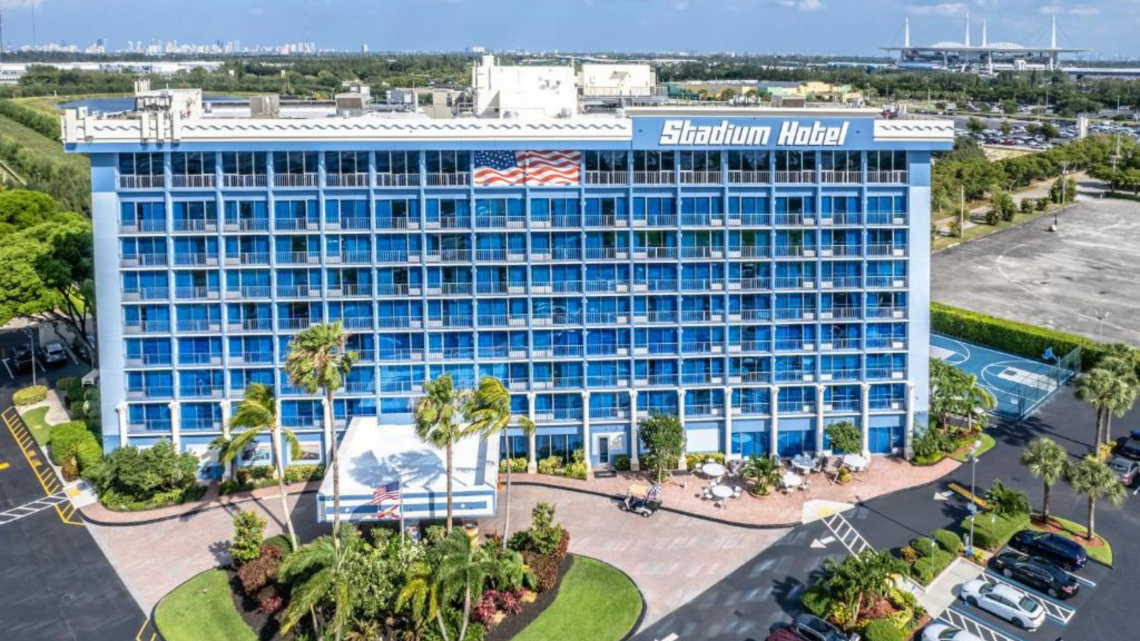 21485 NW 27th Ave, Miami Gardens, FL 33056
If you're looking to be in the heart of the action for an epic Miami Gardens stay, book your accommodation at the Stadium Hotel, where comfort and affordability matter!
Boasting the perfect location one mile from the Hard Rock Stadium and the Calder Casino, two of Miami Garden's pride and joy, the Stadium Hotel features spacious rooms with premium in-room amenities, including a furnished balcony, comfortable beds, and expansive bathrooms, some with kitchenettes, dining tables, and chairs, and an in-room jacuzzi!
Apart from homey accommodations, guests enjoy Stadium Hotel's continental breakfast, nine-hole mini-golf course, garden gazebo, outdoor pool, basketball court, and its in-house restaurant, the Legends Sports Grill, where you'll find refreshing drinks, delicious samplers, and your favorite Classic American dishes!
Comfort and accessibility have never been this affordable-- yes, folks, only at Stadium Hotel!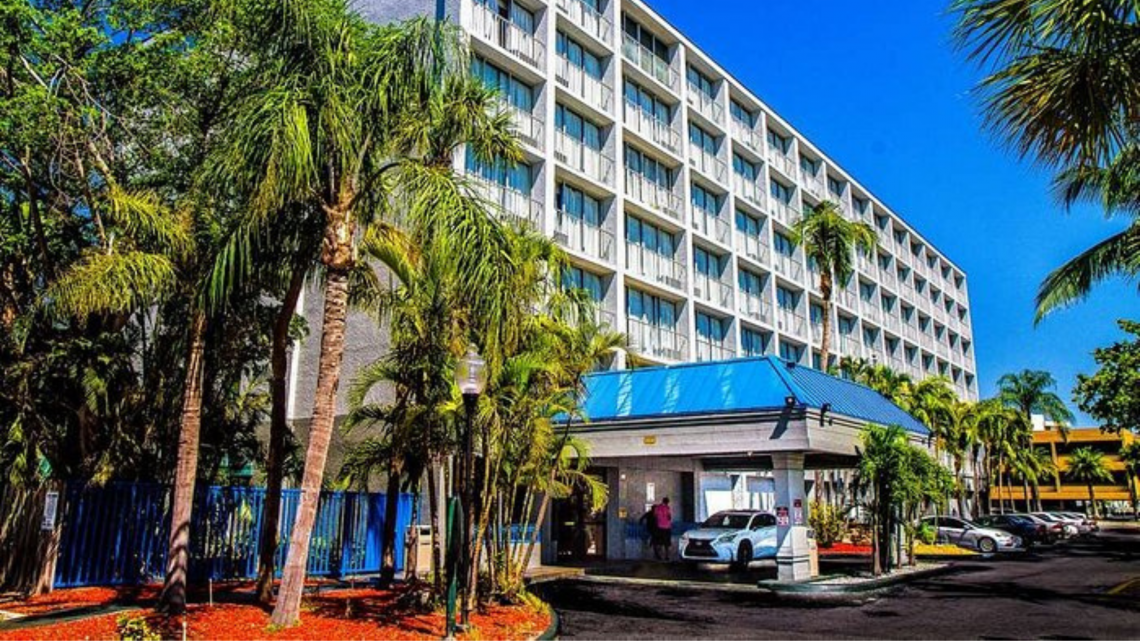 2) North Miami Beach Gardens Inn & Suites
148 NW 167th St, North Miami Beach, FL 33169
For more affordable hotels near Miami Gardens, plan your stay at the North Miami Beach Gardens Inn & Suites, a 3-star North Miami Beach hotel, only a 9-minute drive!
Offering all the essentials for traveling on a budget, with the reliability and security of a national brand you can trust, the North Miami Beach Gardens Inn & Suites is your best bet for a simple stay that's moments away from the sights and sounds of North Miami Beach and the best attractions of South Florida!
Catch a football game at the Hard Rock Stadium, go shopping at the Aventura Mall, or visit Oleta River State Park, Snake Warrior Island Natural Area, Topeekeegee Yugnee Park, Reef Lounge Aquarium, Sunshine State Arch, Calder Race Course, Calder Casino, and Ripley's Believe It or Not! Museum with the family-- your itinerary has never been this jampacked!
Meanwhile, North Miami Beach Gardens Inn & Suites rooms feature comfortable bedding and linens and full bathrooms with hairdryers, refrigerators, microwaves, flat-screen TVs, irons, and ironing boards.
Select North Miami Beach Gardens Inn & Suites rooms have dining tables and chairs.
North Miami Beach Gardens Inn & Suites amenities include free WiFi, an outdoor pool, meeting space, and free parking.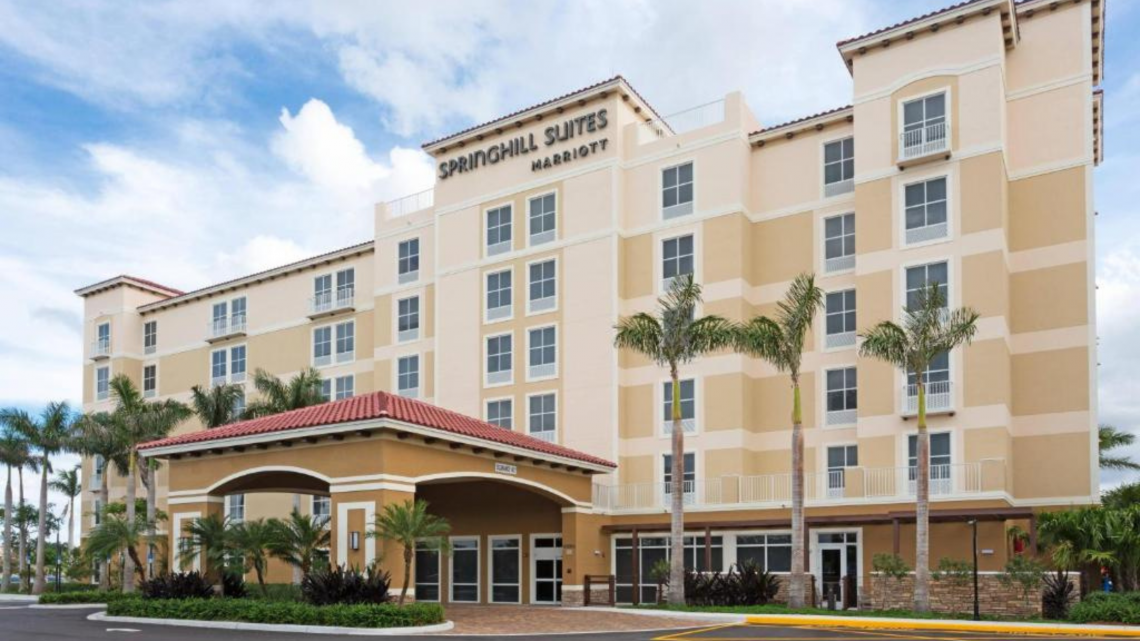 3) SpringHill Suites by Marriott Fort Lauderdale Miramar
10880 Marks Way, Miramar, FL 33025
Travel in style at SpringHill Suites by Marriot Fort Lauderdale Miramar, an all-suite hotel seamlessly blending design and functionality with all the modern amenities you need to stay refreshed and focused - all at an affordable price!
Vibrant lobbies with flexible spaces perfect for working, meeting, or relaxing, free Wi-Fi, relaxing pools, and fitness centers-- enjoy premium amenities without breaking the banks!
For its accommodations, SpringHill Suites by Marriot Fort Lauderdale Miramar rooms and suites are stylish and spacious, offering plenty of natural light for working and relaxing, comfortable beds, seating areas, expansive private bathrooms, HDTVs, in-room coffee makers, mini-refrigerators and microwaves!
After a restful sleep, savor your complimentary new breakfast with fresh choices for a customized start to your day - like eggs with local salsa or Greek yogurt and oatmeal, complete with a toppings bar for options.
Simply put, from business trips to leisurely journeys, SpringHill Suites by Marriott Fort Lauderdale Miramars is a breath of fresh air, only a 10-minute drive from Miami Gardens!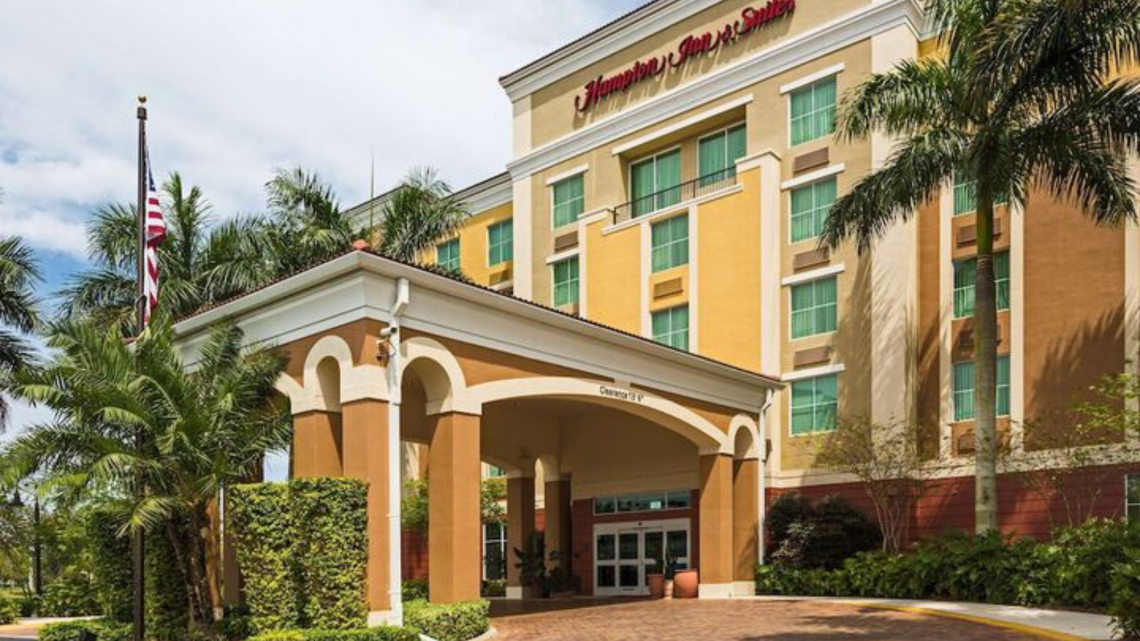 4) Hampton Inn & Suites Ft. Lauderdale/Miramar
10990 Marks Way, Miramar, FL 33025
For a luxurious stay on a budget, look to Hampton Inn & Suites Ft. Lauderdale/Miramar, a boutique-style hotel just off the Ronald Reagan Turnpike, only a 10-minute drive from Miami Gardens, with the best price for business and leisure travelers.
An affordable, pet-friendly three-star hotel boasting a signature Hilton experience, Hampton Inn & Suites Ft. Lauderdale/Miramar offers guests a prime location moments away from Fort Lauderdale, the Hard Rock Stadium, Downtown Miami, and neighborhood dining and shopping gems, allowing more time for shopping and exploring!
Meanwhile, Hampton Inn & Suites Ft. Lauderdale/Miramar rooms boast premium amenities, including complimentary hot breakfast, free high-speed Internet access, one or two beds, comfortable work desks, and flat-screen TVs.
Selected Hampton Inn & Suites Ft. Lauderdale/Miramar rooms have roll-in showers, bathtubs, and seating areas.
Hampton Inn & Suites Ft. Lauderdale/Miramar amenities include a fitness center, an outdoor pool, free parking, and a 24-hour business center.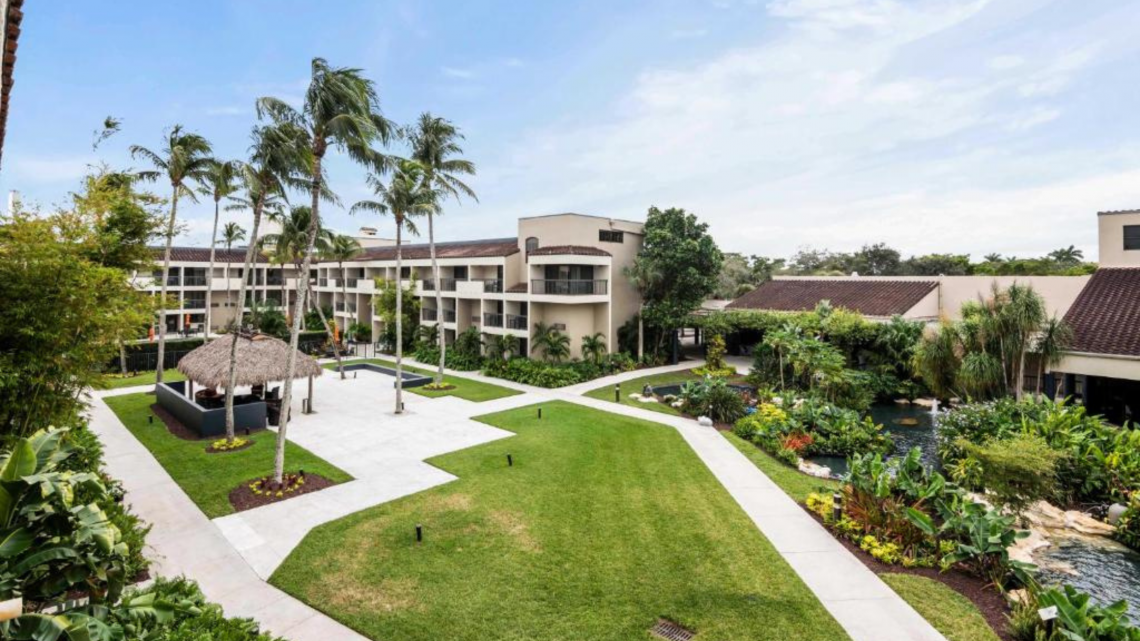 6842 Main St, Miami Lakes, FL 33014
Welcome to the beautiful Miami Lakes Hotel, a destination designed to provide great service in an upscale ambiance for business and leisure travelers alike!
Nestled amidst the tree-lined canopies and tropical landscapes in the quaint town of Miami Lakes, a 12-minute drive from Miami Gardens, Miami Lakes Hotel prides itself on being one of the last independent hotels in Miami, promising a level of service and attention twice as good as the top-brand competition.
We're talking about 205 guest rooms and 17 suites decorated in Florida contemporary style, with clean, crisp lines, classic furnishings, and neutral tones accented by vibrant pops of color, all neatly arranged in a three-story building with indoor corridors providing a cool refuge from the Miami Lakes heat.
All Miami Lakes Hotel accommodations feature wood flooring, crown molding, new headboards, designer bedding, and lighting, with amenities including pillow-top mattresses, mini-refrigerators, and complimentary wireless Internet, some offering views of the tropical pool and lushly landscaped gardens!
For dining, Miami Lakes Hotel promises something to savor for every palate, from a casual sports bar, a charming French-style bakery, and a golf course grill-- without needing to step out of the premises!
Are you looking for more things to do around Miami Lakes Hotel? Say no more!
Apart from its in-house Athletic Club, indoor and outdoor sports courts, and outdoor pool, Miami Lakes Hotel has exclusive access to the Miami Lakes Golf Club, one of Miami's best championship golf courses!
The 18-hole, Par 72 course features Championship Bermuda greens and trees, a driving range, and a practice area.
Experience a piece of Miami history combined with contemporary Florida style and modern amenities at Miami Lakes Hotel, creating raving fans, one guest at a time!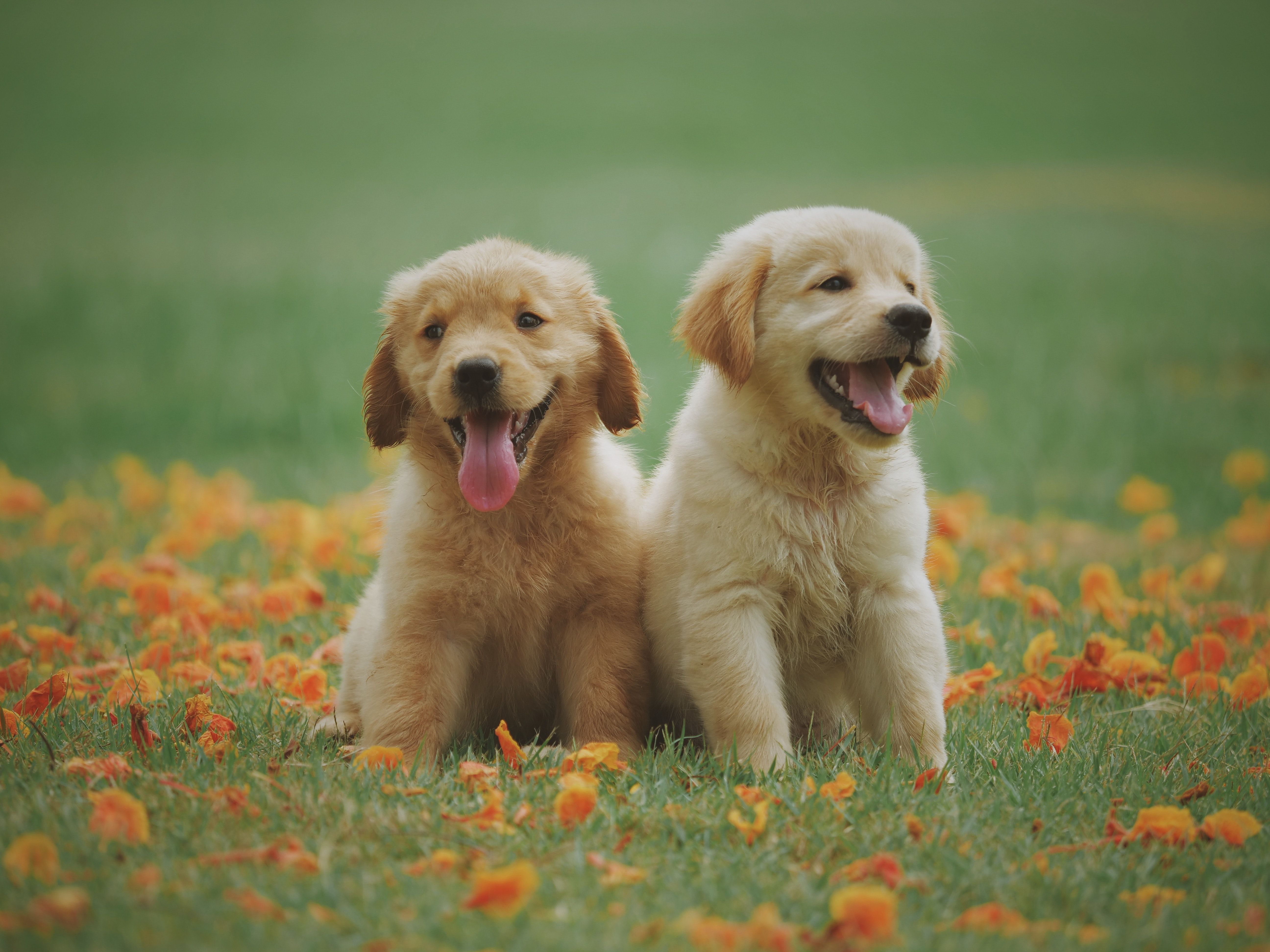 Here are the BEST dog parks in Miami. We analyzed 55 different neighborhoods in Miami, and...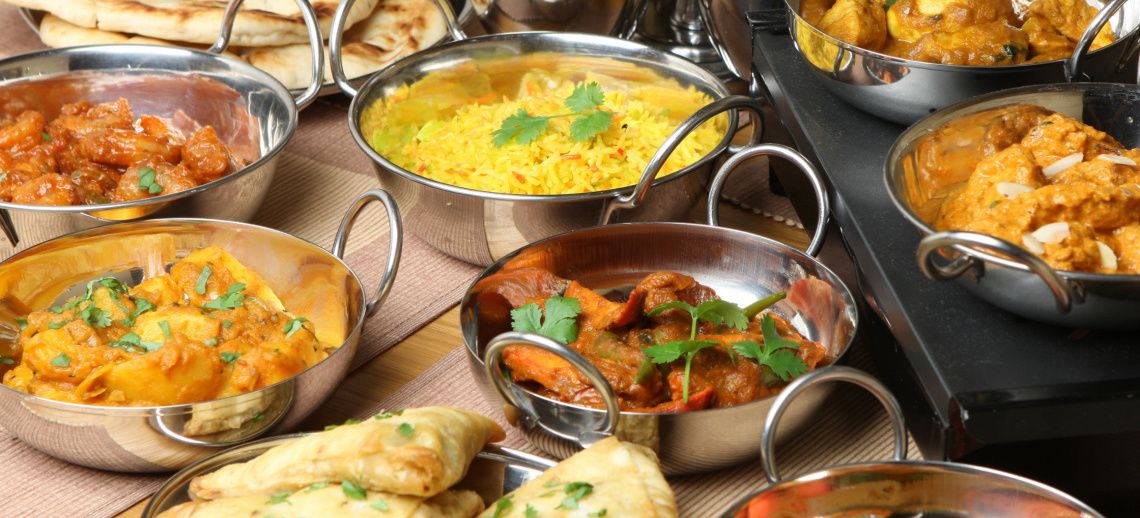 If you are a foodie or just love to eat as much as I do, here are my picks for the best pl...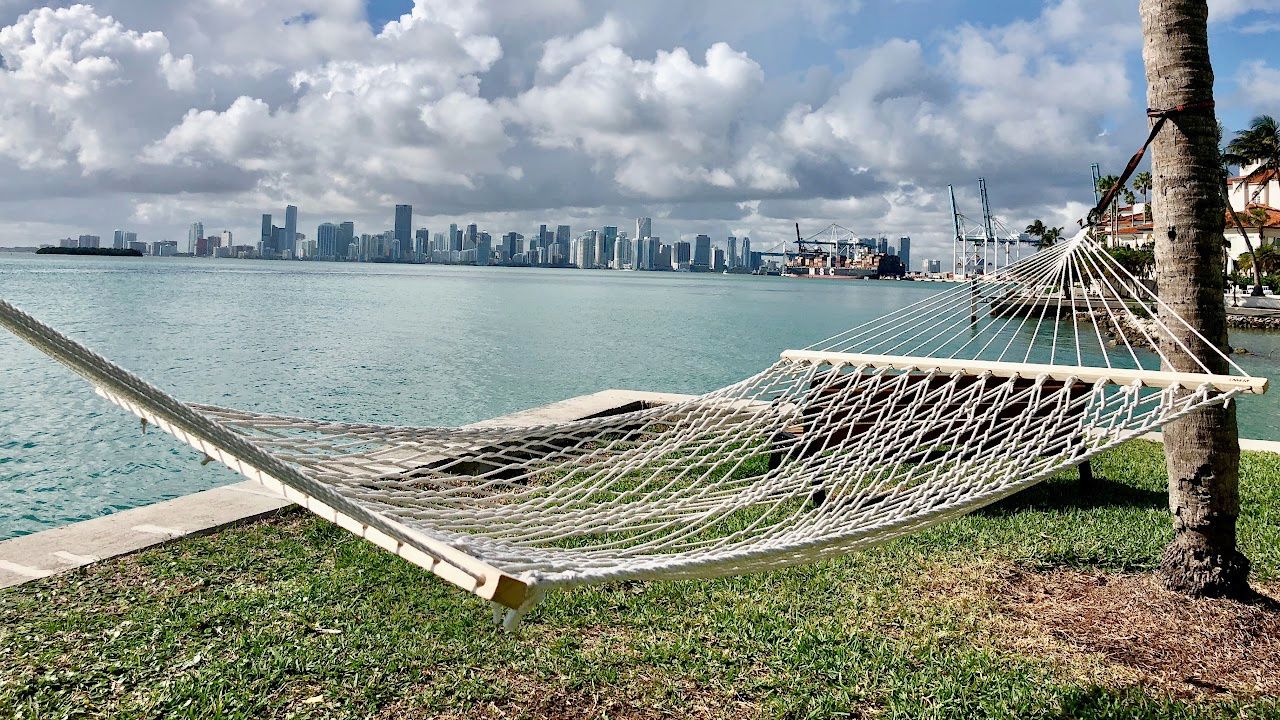 Discover Miami's top neighborhoods and schools with our comprehensive guide! Find the perf...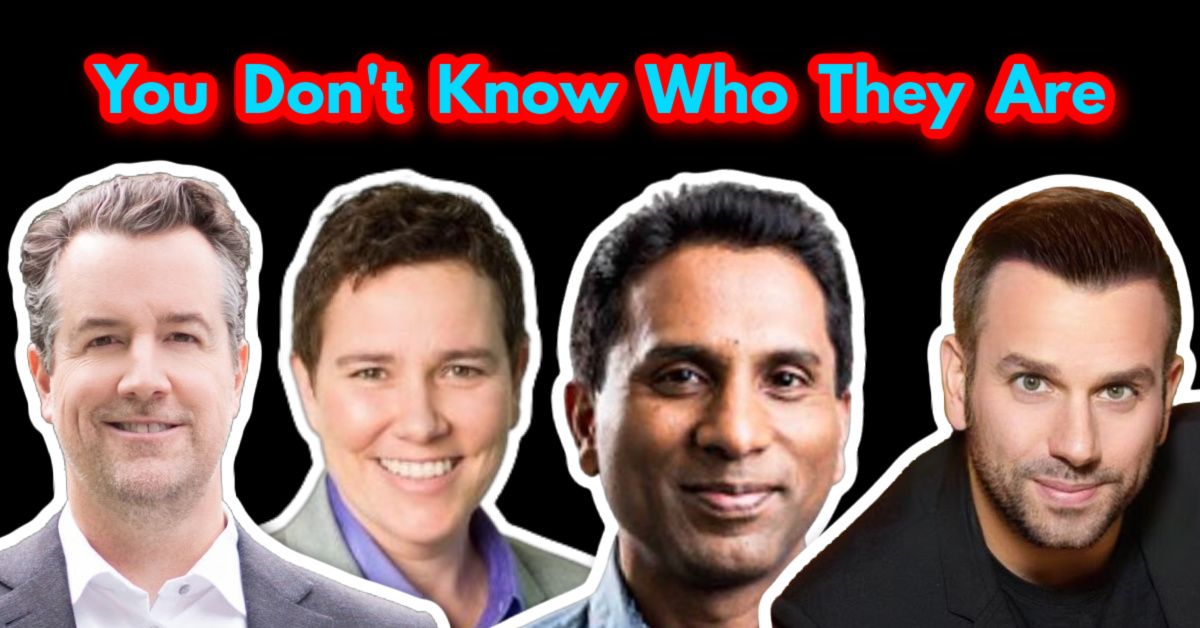 Sotheby's, Coldwell Banker, EWM, eXP, and the list goes on and on. This is absolutely why ...
Who are we?
We are the ALL IN Miami Group out of Miami.
We are Colombian, Filipino, Cuban, German, Japanese, French, Indian, Syrian, and American.
We are Christian, Hindu, and Jewish.
We are many, but we are one.
We sell luxury homes in Miami, Florida.
Although some of our clients are celebrities, athletes, and people you read about online, we also help young adults find their first place to rent when they are ready to live on their own.
First-time buyers?
All the time!
No matter what your situation or price range is, we feel truly blessed and honored to play such a big part in your life.