Top 5 Hotels in North Beach
Discover Miami Beach's stretch of tranquility presented by an equally chill beachfront community with a small-town atmosphere, North Beach, the area's unofficial "hidden gem."
Occupying the northernmost section of Miami Beach (hence, its name), North Beach collectively refers to the communities of the Isles of Normandy, Biscayne Point, and La Gorce, roughly bounded by 63rd Street and Indian Creek Drive to the south and 87th Terrace to the north.
North Beach is a largely residential area, unlike other parts of Miami Beach, which means fewer tourists visit this side of the beach annually, but let me tell you, it's far from being a SLEEPER community!
While undeniably overlooked in favor of the flashy and glamorous South Beach, North Beach boasts a culturally diverse population and vibrant and eclectic aura, plus a lot of shopping and dining (much like most parts of Miami Beach), but with a heavy emphasis on small, local gems.
Of course, there's also the peaceful stretch of the beach (which we all love!)-- and more affordable beachfront accommodations than other Miami Beach areas (which we love even more!).
Are you ready to open your eyes and hearts to a different side of Miami Beach?
Here are the top five hotels in North Beach.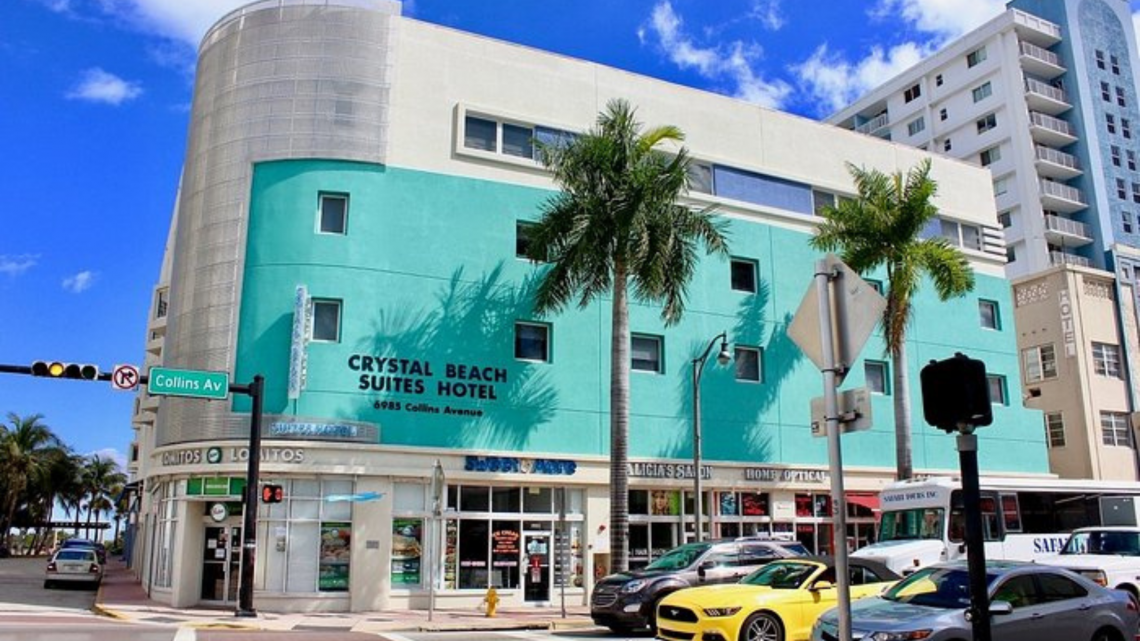 1) Crystal Beach Suites Oceanfront Hotel
6985 Collins Ave, Miami Beach, FL 33141
On the Miami Beach oceanfront lies Crystal Beach Suites Oceanfront Suites Hotel, a North Beach hotel with spacious accommodations and convenient amenities at an affordable price!
Known to have expansive suites larger than most hotels on the beach, including ones with separate private bedrooms, the Crystal Beach Suites Oceanfront Hotel is a dream stay for families and big groups alike.
In fact, aside from more living space (which you'll need if you're traveling with the company), Crystal Beach suites are also well-equipped, boasting premium amenities like full-sized kitchens, living rooms with (queen-sized) sleeper sofa beds, HDTVs, private bathrooms, and complimentary high-speed internet-- it's like a home away from home!
Do you need more reasons to book your stay at Crystal Beach Suites Oceanfront Hotel?
Apart from large suites, Crystal Beach Suites Oceanfront Hotel features an amazing oceanfront pool, direct access to the beach (just behind the property), a fully-equipped fitness center, an oceanfront boardwalk, an on-site ATM cash machine, and a 24-hour front desk service with a multilingual staff ready to cater to your needs!
And get this-- Crystal Beach Suites Oceanfront Hotel is just minutes away from South Beach, the Miami Beach Convention Center, the Miami International Airport, and other famous South Florida attractions, so you can easily plan a grand excursion while you're here!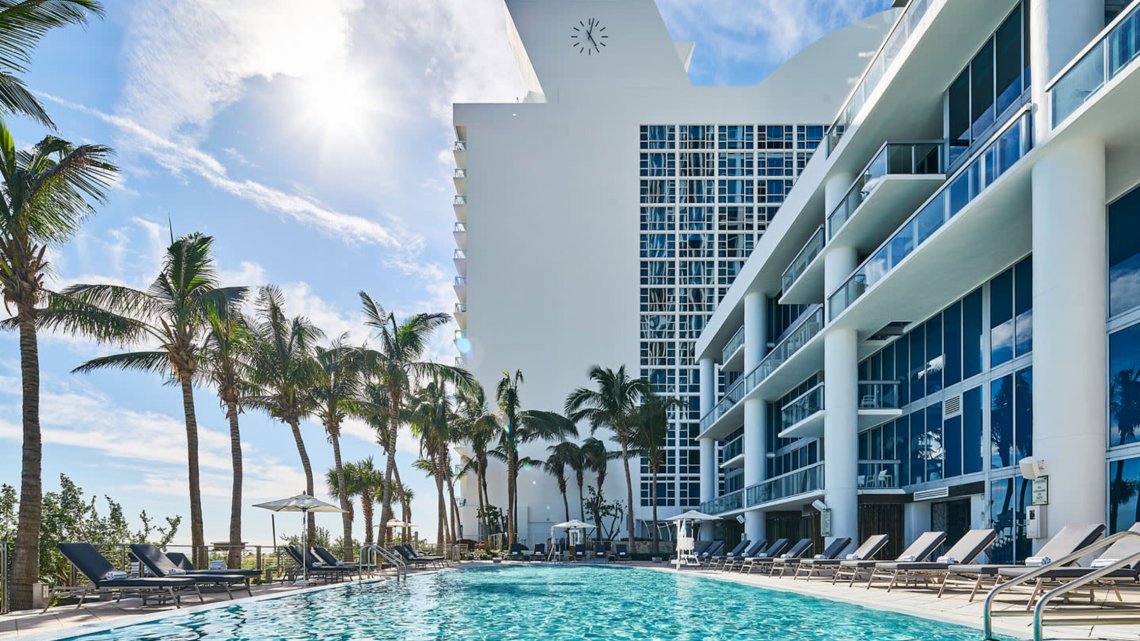 2) Carillon Miami Wellness Resort
6801 Collins Ave, Miami Beach, FL 33141
Welcome to Carillon Miami Wellness Resort, a luxury North Beach hotel where innovative wellness and balanced indulgence come together in one extraordinary beachfront setting!
Come for a nourishing journey for the body and soul at Carillon Miami Wellness Resort, a premium hotel, where you can align your physical and mental health, dine on vibrantly fresh, organic cuisine at the ocean's edge, and savor a stay at modern luxury apartments, all situated on one of Miami Beach's longest beachfront stretches!
At Carillon Miami Wellness Resort, guests take in gorgeous views of the Atlantic Ocean or Miami skyline from floor-to-ceiling windows in the comfort of their one- and two-bedroom luxury apartments with the perks of premium amenities, like comfortable beds, separate living rooms, HDTVs, fully equipped kitchens, and spa-like bathrooms!
Carillon Miami Wellness Resort is also known for having one of the most exclusive spas on Miami Beach, the Carillon Spa & Beach Club, where guests enjoy a unique and comprehensive mixture of Western, Eastern, Alternative, and Aesthetic medicine for custom treatment plans and impactful results!
Come for transformative signature spa treatments derived from the seaside locale, massage therapies that harness the power of aromatherapy and warm crystal quartz, and sophisticated facials that combat pollution and stress, and address specific skin concerns-- from cupping to cryotherapy, and infrared saunas, Carillon Miami Wellness Resort has you covered!
For more of Carillon Miami Wellness Resort, dine in at any of their three on-site restaurants, down a freshly brewed cup of coffee with a selection of delicious pastries at The Corner Store, sweat it out at their cutting-edge fitness center, take a dip at the Cabana Pool, and enjoy private beach access any time of the day!
Embark on a journey of relaxation at Carillon Miami Wellness Resort-- you deserve it!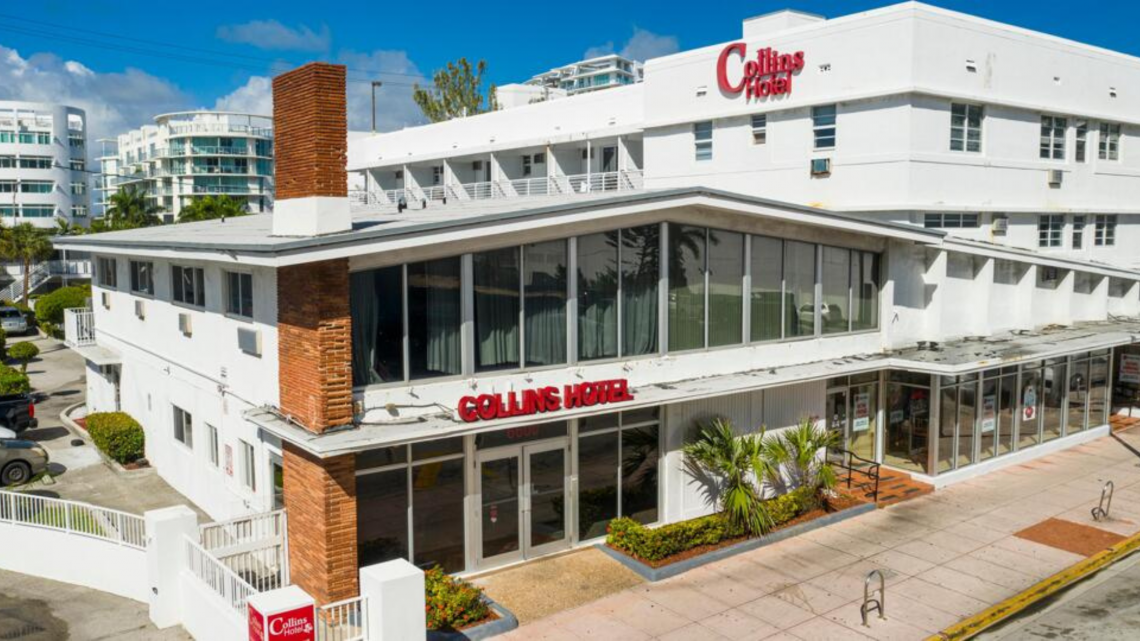 6600 Collins Ave, Miami Beach, FL 33141
Experience Miami Beach's trend-setting vibe, nightlife, and natural beauty from the comforts of the Collins Hotel, a contemporary, modern hotel on North Beach.
Located a block from Miami Beach's ocean and pristine sands, the Collins Hotel offers a relaxing retreat for a family vacation or romantic getaway, with a location surrounded by postcard-worthy beaches, designer shopping, a vibrant culinary scene, and indescribable nightlife while being minutes from the area's best dining, shopping destinations and attractions.
For its accommodations, the Collins Hotel offers the perfect blend of modern comfort and convenience via stylishly modern rooms with plush beds, 43" TVs, complimentary high-speed Wi-Fi, modern decor and colorful accents, spacious private bathrooms, and refrigerators, some with separate lounging areas.
Grab a complimentary beach towel and walk to the golden sand beach or lounge with a cocktail in hand by the Collins Hotel's outdoor pool as the palms sway to ocean breezes-- and if you ever get famished from a purposeful day out in Miami Beach, you can always grab a bite from the Pizza Hut on-site, or make your way to any of Collins Avenue's famous dining spots just a few steps from Collins Hotel!
Undoubtedly, the relaxing beachside retreat you need on the sands of Miami Beach!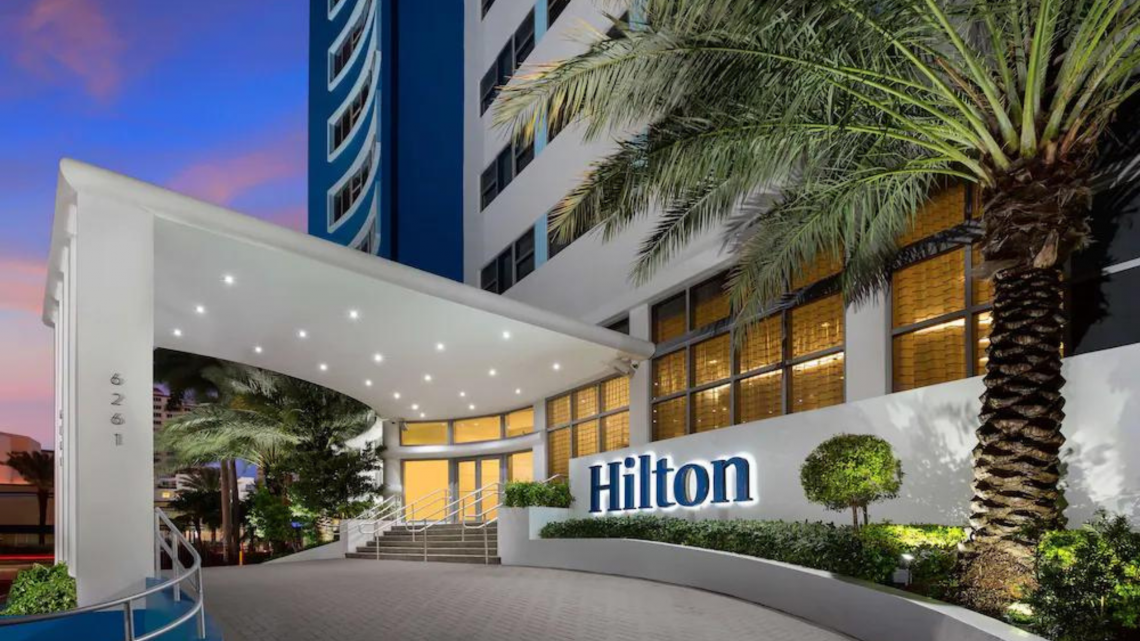 6261 Collins Ave, Miami Beach, FL 33140
Experience the signature Hilton luxury retreat at Hilton Cabana Miami Beach, a famous beachfront resort on Millionaire's Row!
Overlooking the Atlantic Ocean, the Hilton Cabana Miami Beach offers direct access to a private beach and the nine-mile Miami Beachwalk while minutes away from Lincoln Road's shopping and dining and the Miami Beach Convention Center.
Within Hilton Cabana Miami Beach, guests enjoy two oceanview outdoor pools, including a rooftop pool, poolside cabanas and beach daybeds, a coffee house, and an on-site restaurant, the legendary Allison Restaurant & Bar, offering tropical bites and delights to keep you fueled.
After an exhausting (but fun) session at the beach, recharge at the Hilton Cabana Miami Beach rooms, where you can take advantage of a relaxing oceanview via a private, furnished balcony or terrace, spacious living areas, HDTVs, chic modern decor, plush linens, and deluxe bath amenities.
Some Hilton Cabana Miami Beach suites have separate seating areas and bedrooms.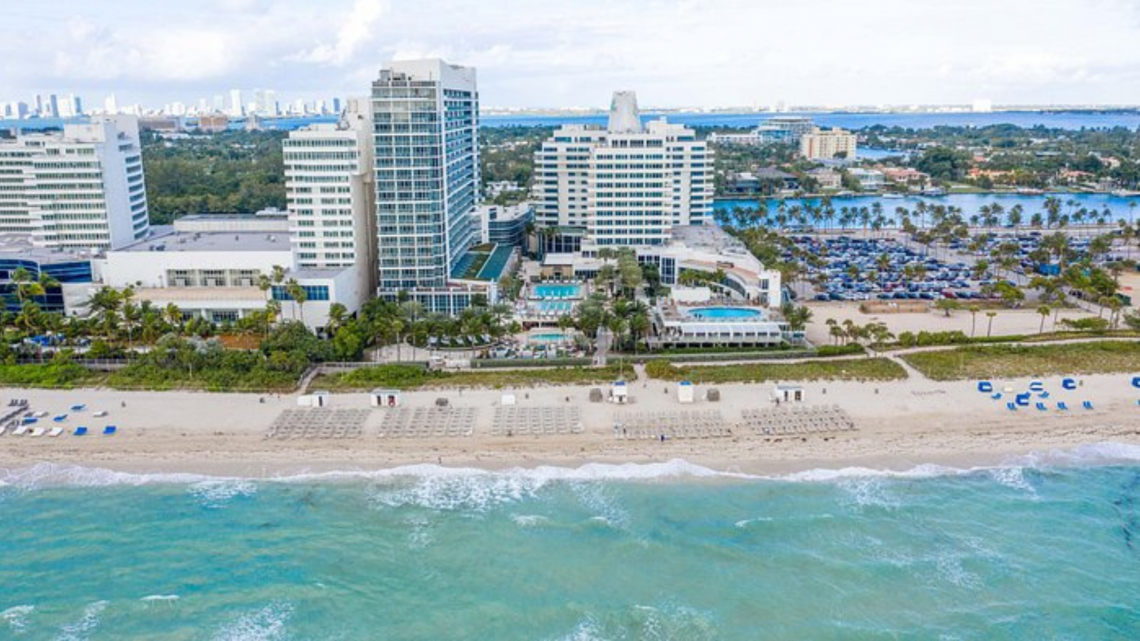 4525 Collins Ave, Miami Beach, FL 33140
Discover a colorful Miami Beach icon designed by famed architect Morris Lapidus in 1955, the Eden Roc Miami Beach, a playful, vibrant, and timeless (pet-friendly) hotel promising to bring plenty of nostalgic glamour to your modern beachfront resort experience!
Charming guests with its timeless style and upbeat ambiance, the Eden Roc Miami Beach offers bright, spacious guest rooms with large balconies with direct ocean views and just the right pops of color and touches of classic Florida glamour.
Each Eden Roc Miami Beach guest room and suite channels the undeniable energy of Miami and surrounds guests with beautifully curated pieces from Saatchi Art and world-class amenities, including high-speed Wi-Fi, HDTVs, expansive private bathrooms, gourmet coffee machines, and comfortable queen or king-sized beds.
Eden Roc Miami Beach suites and lofts have jetted whirlpool tubs, furnished oversized balconies, private patios with direct pool access, and separate seating areas!
Start your Eden Roc Miami Beach stay with a welcome cocktail in the famous Lapidus-designed Lobby Bar to set the stage for an iconic experience, and follow it up with fresh fare overlooking the ocean at Ocean Social, classic Miami bites, and refreshing cocktails poolside at Aquatica, and world-renowned Nobu cuisine.
Apart from the luxe accommodations and dynamic culinary treat, Eden Roc Miami Beach offers a tranquil playground for personalized renewal, true relaxation, and elevated treatments at the Esencia Wellness Spa, a 24-hour fitness center, three sparkling beachfront pools, and an exclusive strip of beach with vibrant nightlife and world-famous cultural attractions just minutes away!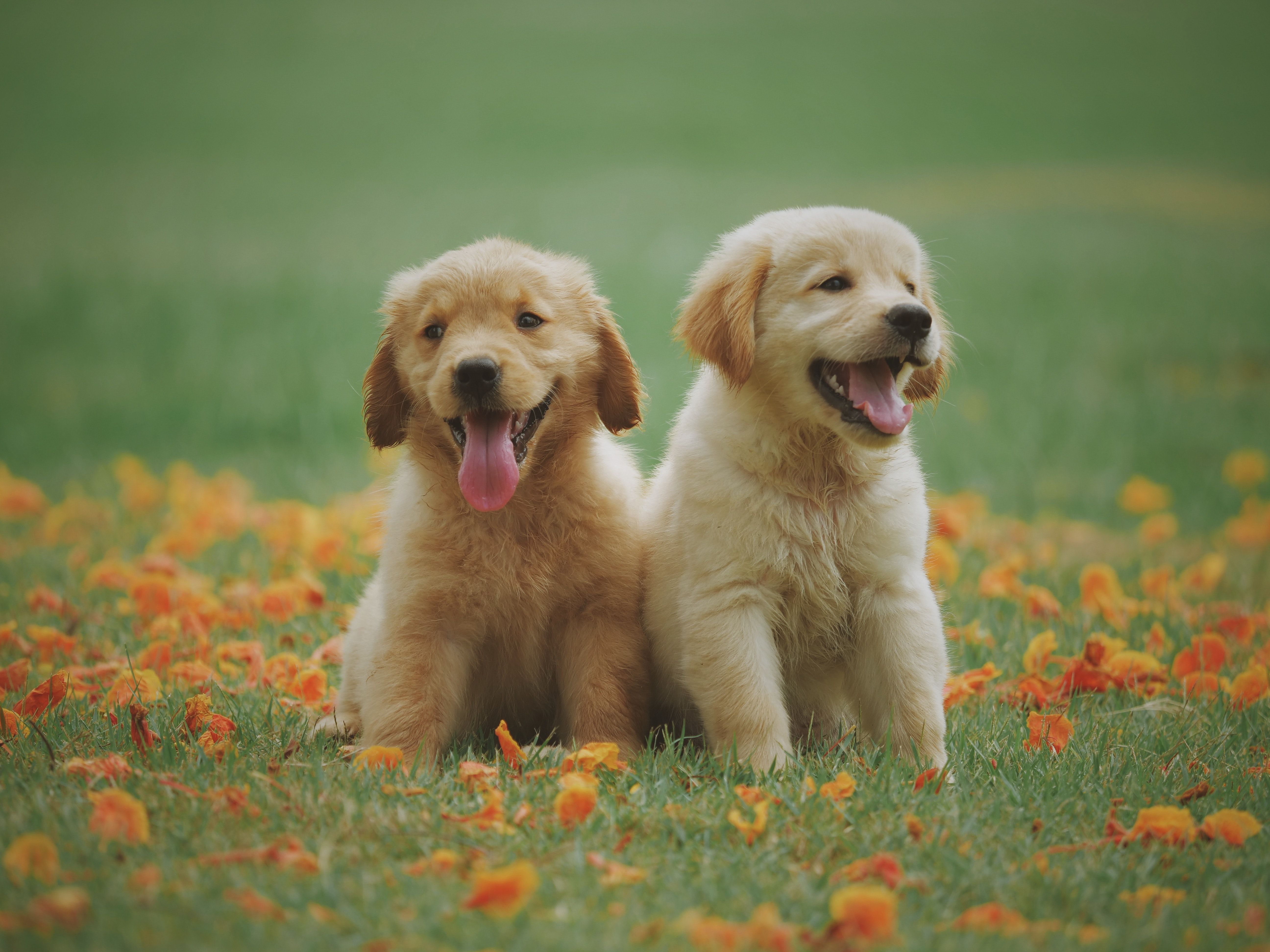 Here are the BEST dog parks in Miami. We analyzed 55 different neighborhoods in Miami, and...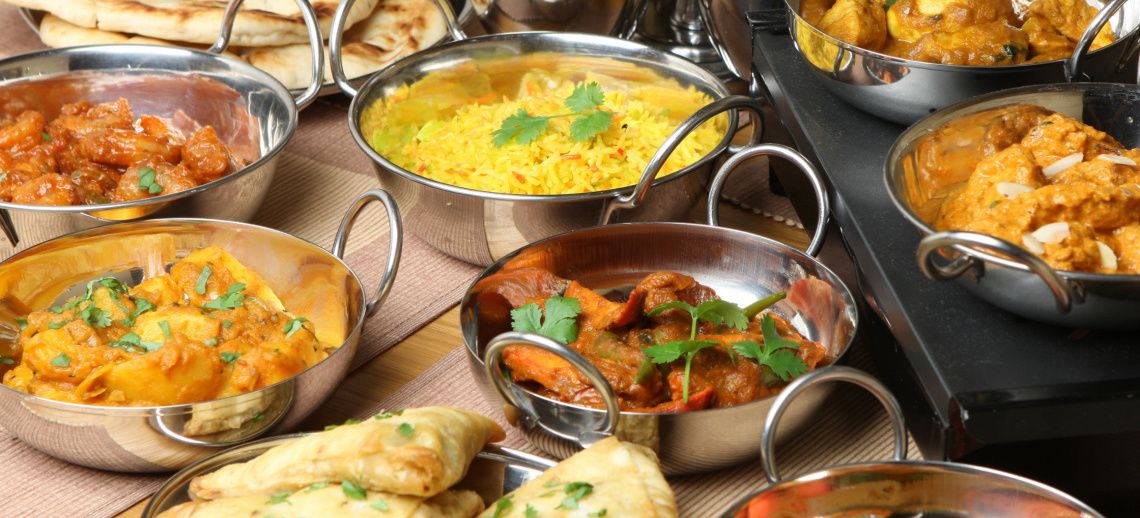 If you are a foodie or just love to eat as much as I do, here are my picks for the best pl...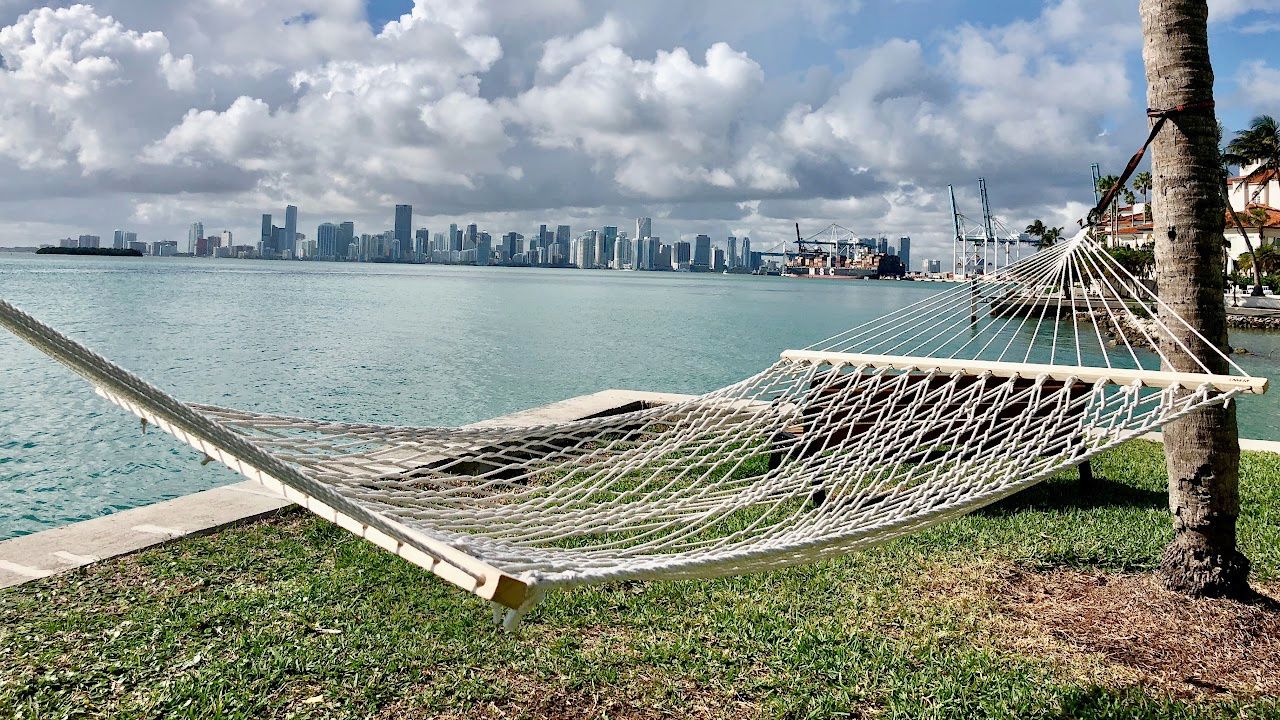 Discover Miami's top neighborhoods and schools with our comprehensive guide! Find the perf...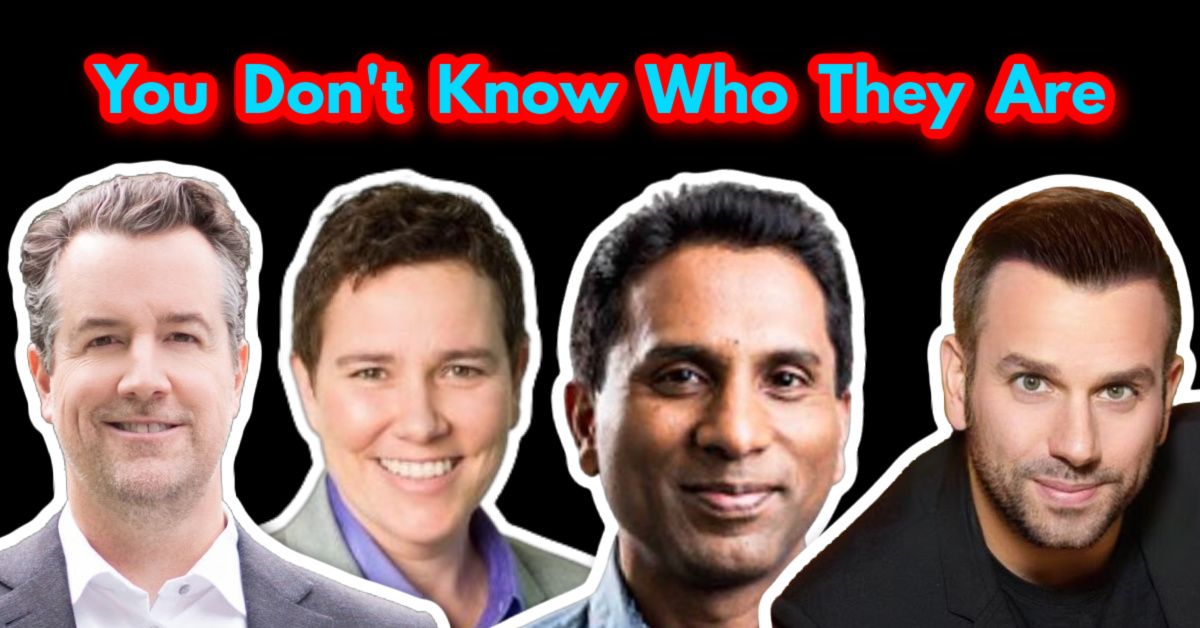 Sotheby's, Coldwell Banker, EWM, eXP, and the list goes on and on. This is absolutely why ...
Who are we?
We are the ALL IN Miami Group out of Miami.
We are Colombian, Filipino, Cuban, German, Japanese, French, Indian, Syrian, and American.
We are Christian, Hindu, and Jewish.
We are many, but we are one.
We sell luxury homes in Miami, Florida.
Although some of our clients are celebrities, athletes, and people you read about online, we also help young adults find their first place to rent when they are ready to live on their own.
First-time buyers?
All the time!
No matter what your situation or price range is, we feel truly blessed and honored to play such a big part in your life.