Top 5 First Date Spots in Miami
Going on a first date?
I got you covered.
A first date can be something that causes nervousness, anxiety, or even make you a shy person when you're not.
I'm here to help you choose the right spot that'll bring out the best in you when you don't have your friends there to back you up.
I believe fully that your friends bring out the best in you, but what happens when they aren't there and you're with someone you're just getting to know?
My first piece of advice is to try to do an activity prior to dinner to have a good conversation starter about what you guys were doing beforehand.
That will help the dinner go smoother and for sure lead to going to a bar after to continue the night.
Top 5 First Date Spots in Miami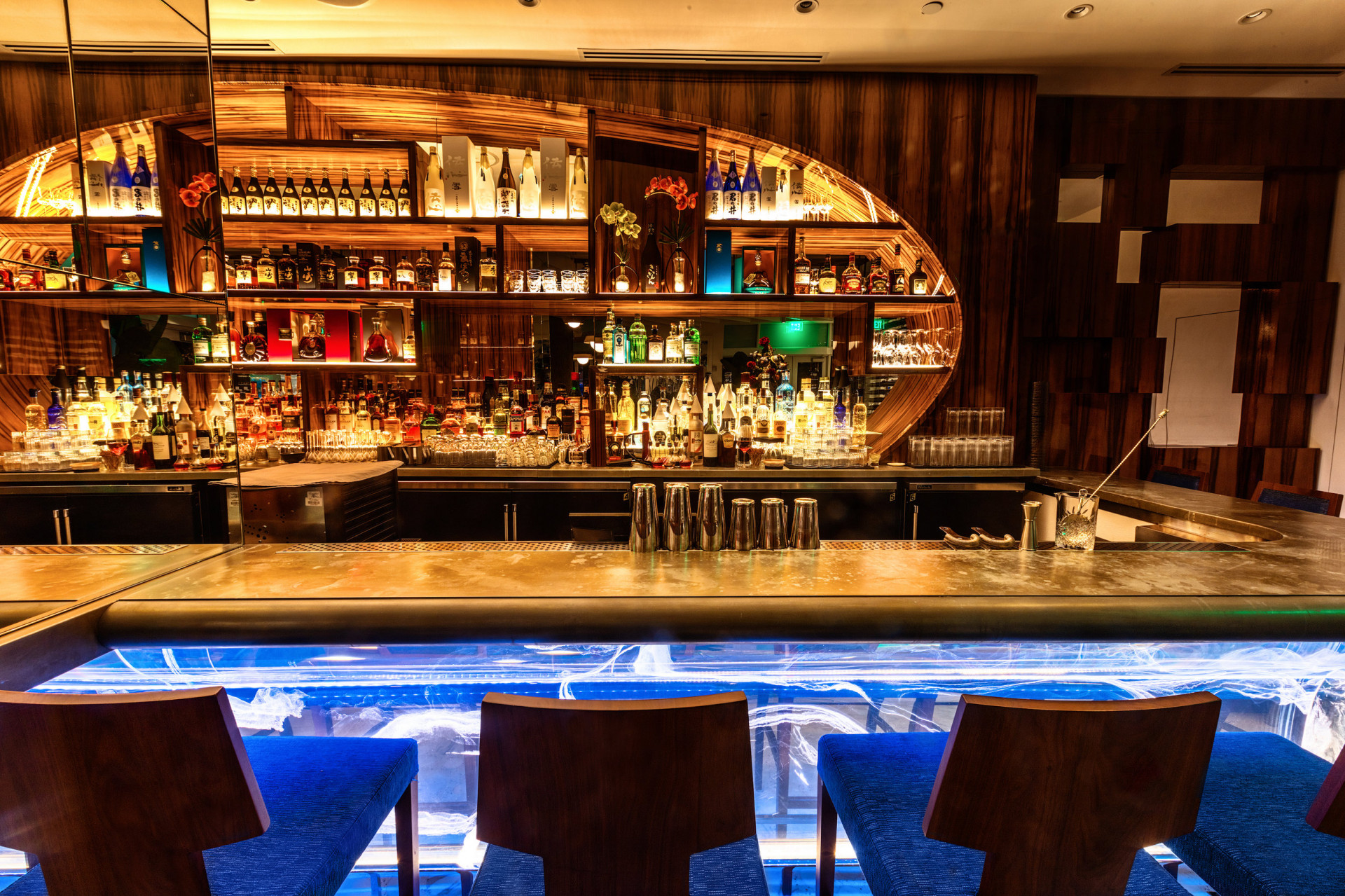 1) Novikov
300 S Biscayne Blvd, Miami, FL 33131
Novikov is one of my favorite options.
Novikov is a sophisticated world-renowned Chinese-Japanese concept, situated on a lively corner of Downtown Miami.
Novikov is known for its colorful seafood and vegetable market display, whereby guests are encouraged to handpick the best and freshest items from a globally-sourced, daily selection of seasonal ingredients.
The Asian menu encompasses robata grill and wok dishes, along with an extensive dim sum and sushi selection.
The music is always at a perfect level in the evenings.
This is extremely important because there are many restaurants out there that play their music way too loud and make it impossible to comfortably talk to the person across from you.
Novikov has a very vibrant, sexy, and intimate atmosphere.
Most of the plates tend to be shareable so it is perfect for ordering a few different menu items and trying out different food items with your date.
There is also outdoor seating that has a nice view of the river and some of the skyline.
I would not recommend sitting outdoors though as the noise from passing traffic, Miami humidity, and hotter weather during summer months could make outdoor seating uncomfortable.
Given its location, there are many bars within walking distance that you could head to after dinner.
Valet is available.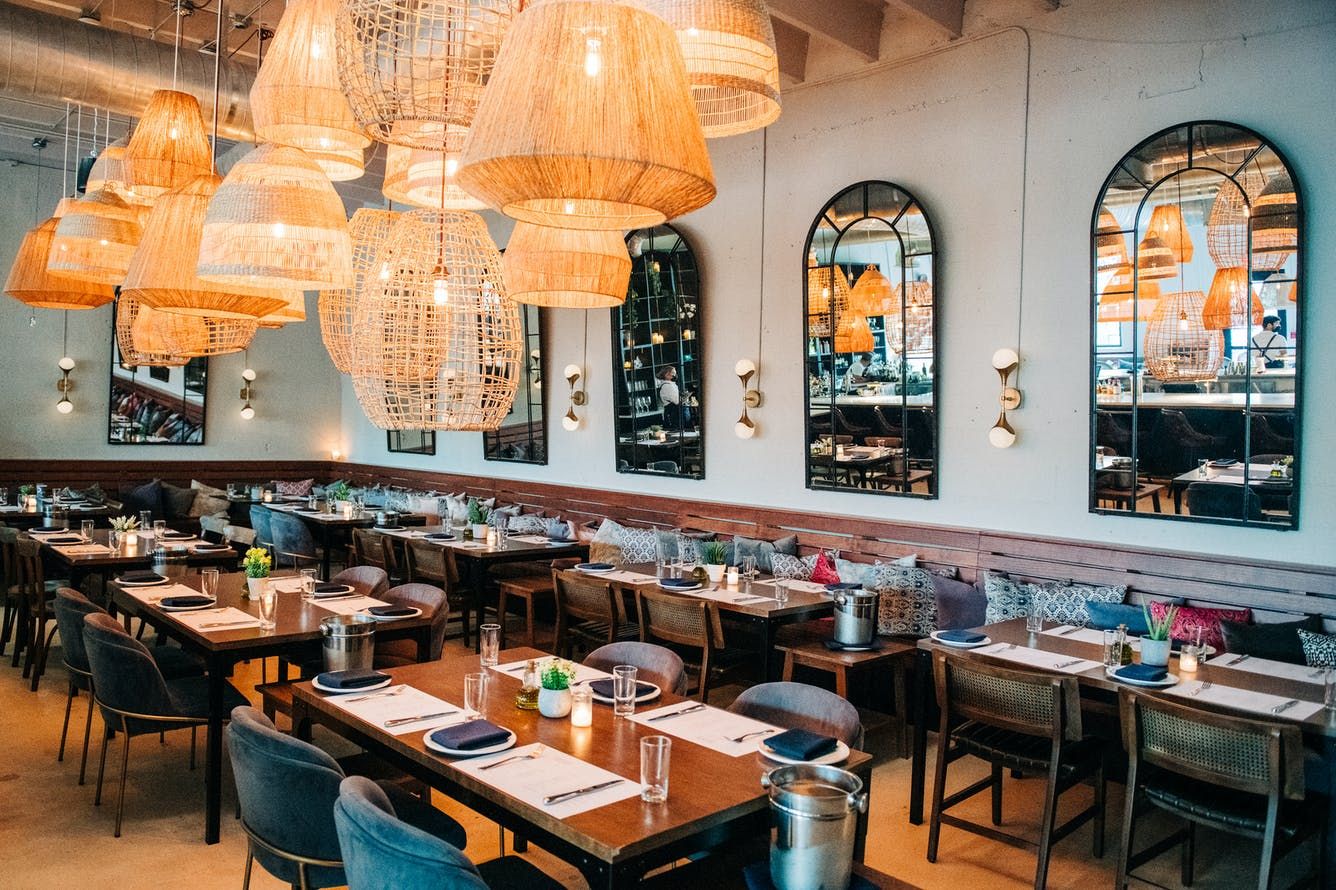 2) DOYA
347 NW 24th St, Miami, FL 33127
DOYA is a modern Aegean Meze + Bar restaurant, based in Wynwood, Miami.
It's an airy yet upscale restaurant with a central bar offering contemporary Greek/Turkish cuisine and craft cocktails.
Perhaps the most impressive design feat at this Wynwood Aegean eatery helmed by the old Mandolin chef isn't the eye-catching bar or the light-strewn patio.
It's that they've managed to make a space on extremely busy NW 24th Street feel like a secluded secret garden, where high shrubbery and great deep house music shield diners from the endless parade of booming car stereos.
The food is pure sharable bliss, whether you're fighting for the last bite of the creamy Manti, or grazing hands as you simultaneously dip fluffy pita in Turkish Pastrami Hummus.
DOYA is quickly becoming another Aegean Miami staple.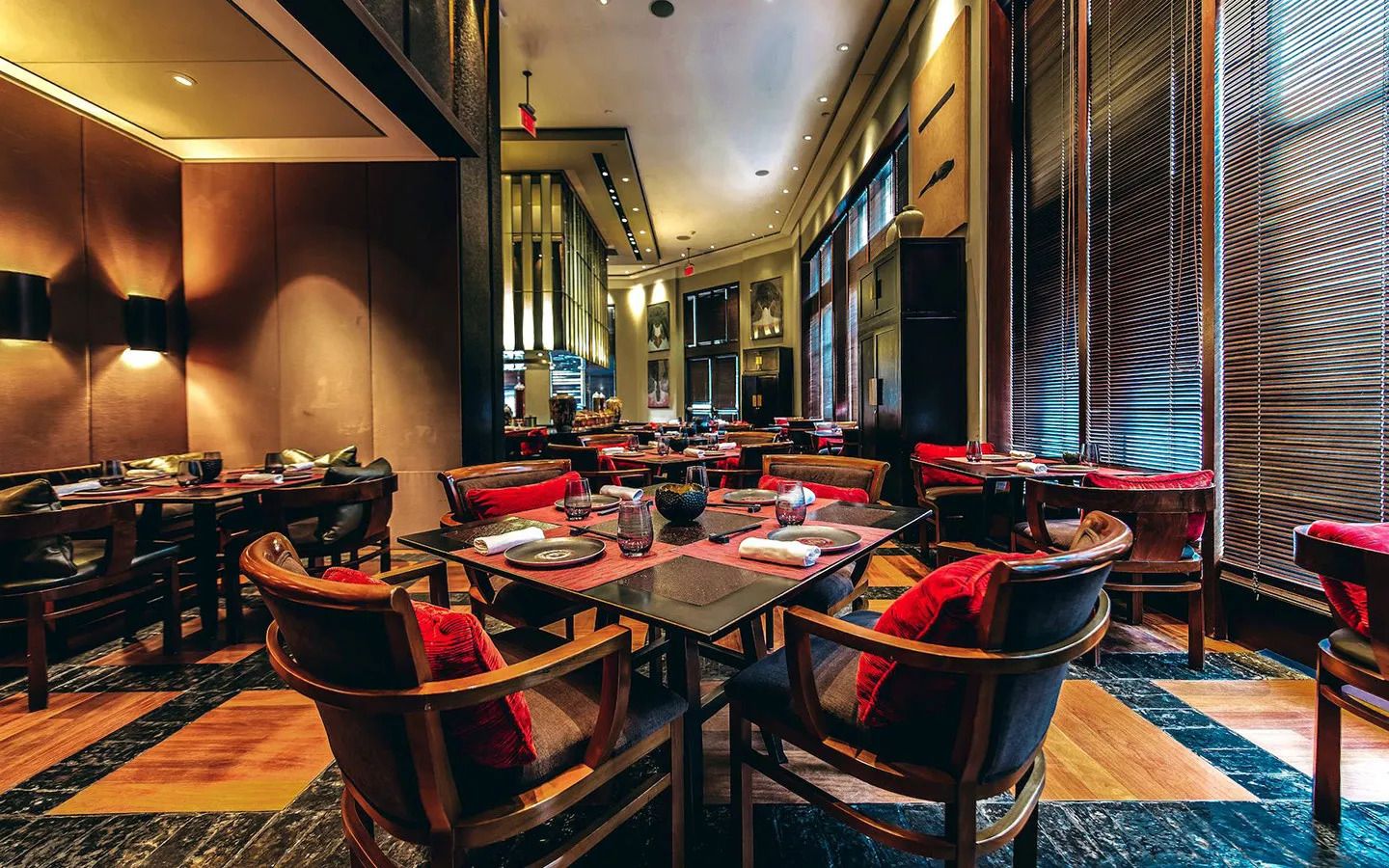 2001 Collins Ave, Miami Beach, FL 33139
Jaya at The Setai boasts standout dishes from Thailand, Vietnam, Korea, India, China, and Japan.
Named one of Miami's "hottest new restaurants," Jaya incorporates many traditional culinary techniques from wok stations to tandoor ovens.
Its menu features bold and modern Asian cuisine with bountiful flavors of turmeric, cardamom, ginger, cinnamon, chilies, coconut milk and tamarind; while also presenting longtime Setai favorites including Peking Duck, Naan breads, Indian curries, Tandoor sea bass, and Dim Sums.
A meal among the twinkling lights and balmy breezes at this Asian-inspired spot in the Setai is exactly what one pictures when they think of "date night in Miami."
Sexy house music and captivating fire dancers make for a not-so-subtly suggestive backdrop as you and your date go in on sushi, curries, tandoori, and spicy craft cocktails by the outdoor reflecting pool.
The soft light is bolstered by a cluster of trees surrounding said pool, each illuminated like a shopping promenade during the holidays.
The warm air and soft wind create an aura of magic, and whether you're trying to impress someone new or celebrate someone special, it's a guaranteed mood-maker.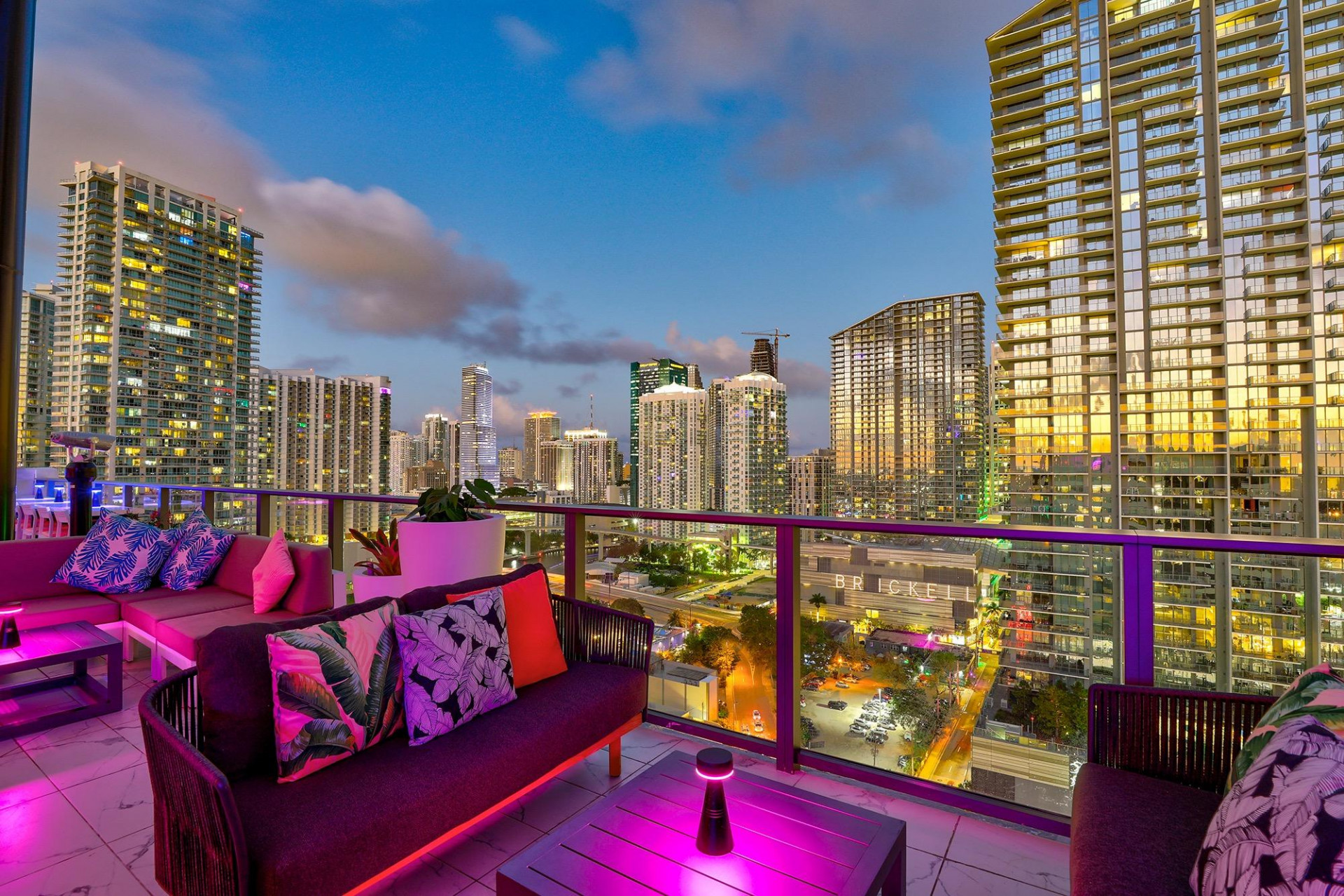 115 SW 8th St, 22nd Floor, Miami, FL 33130
Busting out your phone on a romantic night out is probably the quickest way to ensure there won't be a second outing… but it's almost impossible when presented with the backdrop Rosa Sky Rooftop spreads out before you and your paramour.
This restaurant gazes east across Brickell.
And even amid the crowds of beautiful people that pack the place nightly, the warm humid air merging with that view is pure romance—just try not to ruin it with too many selfies.
Set sky high above the city, Rosa Sky is Miami's newest rooftop lounge.
With panoramic views of the shimmering Miami skyline, colorful hand-crafted cocktails, globally inspired tapas, and a bold music lineup, Rosa Sky is the perfect blend of scene and serene.
You can watch the sunset, day fading into night, sunshine fading as the neon lights come on.
Look to the ceiling and you'll see specially curated light choreography.
DJs spin throughout the night.
Tim Petrillo, co-founder and CEO of The Restaurant People, calls it "the perfect melding of scene and substance."

5) Tea Room
788 Brickell Plaza, Miami, FL 33131
Sexy and sophisticated, the Tea Room is EAST Miami's hidden cocktail lounge and speakeasy serving delicious drinks and Miami's only Asian Night Brunch.
The Tea Room is a well-kept secret and a nice reprieve from the touristy-ness of Sugar next door with the same great vibes and views.
Tea Room is sexy, sophisticated, and elegant.
Amazing house music is spun all night while you dine on a 5-course meal with unlimited cocktails if you choose to do the nighttime brunch for $88.
Be sure to ask the hostess outside of Sugar how to get to the Tea Room as it's hidden behind a flush door, somewhat like a speakeasy entrance.
Tea Room is inspired by EAST Miami's Asian roots and is located high above the bustling streets of Miami's metropolitan Brickell neighborhood. Hidden behind a black door, Tea Room serves creative cocktails, live music, and Miami's only Asian Night Brunch, a two-hour dining experience that tantalizes the senses and leaves you wanting more.
Stylishly designed and beautifully appointed, guests are instantly transported into a sophisticated Hong Kong-inspired cocktail lounge the moment they step inside.

"Our home, priced at $1,225,000 was on the market for ONE YEAR with a local realtor without any offers...... the team sold it in 34 days at a price we were very happy with."
- Alicia Sandoval
"His high-end, digital marketing for sellers is truly cutting-edge and worlds ahead of the competition. Amit also offers hands-on buyer services that are the best you will find in the Coral Gables area. Hire him for all your real estate needs!"
Who are we?
We are the ALL IN Miami Group out of Miami.
We are Honduran, Filipino, Puerto Rican, Cuban, German, Hispanic, Indian, Syrian, and American.
We are Christian, Hindu, and Jewish.
We are many, but we are one.
We sell luxury homes in Miami, Florida.
Although some of our clients are celebrities, athletes, and people you read about online, we also help young adults find their first place to rent when they are ready to live on their own.
First-time buyers?
All the time!
No matter what your situation or price range is, we feel truly blessed and honored to play such a big part in your life.