As someone who constantly craves spa days, I can't think of a better Miami native to bring you this article.
In hindsight living in Miami, IS paradise and we may require fewer spa days, in comparison to those who live in faster-paced cities (New York I'm looking at you).
Despite the fact, we all deserve to unwind and have self-care days, especially when they take place in one of the best spas in Miami.
I've made it my personal mission to find you the top 3 spas in Miami!
I was pampered at a variety of spas for 5 weeks straight to find you our top 3 (in no particular order).

1) Lapis Spa at the Fountain Bleu
4441 Collins Ave, Miami Beach, FL 33140
Lapis Spa at the Fountain Bleu is one of the most well-known spas in Miami.
Martha Stewart named it "The most beautiful spa in America."
After seeing this spa for ourselves we completely agree!
The spa is covered with floor-to-ceiling marble and has beautiful ocean views.
It feels like you've teleported into spa heaven.
Lapis offers an array of amenities such as their mineral pools, massage jet showers, and their
eucalyptus steam bath.
Lapis has a large selection of massages and facials to choose from, what really caught our eye was their "Body rescues."
Their body rescue menu is intended to detox and refresh your body using a combination of massages, body wraps, and contorting therapy.
We highly recommend the Marine detox wrap described as "Sea salts and sea clay smoothed over the entire body to exfoliate, refine and remineralize the body.
The body is then wrapped in a 3-zone thermal blanket to increase heat, enhance exfoliation and rid the body of toxins through perspiration"
5/5 Stars

2001 Collins Ave, Miami Beach, FL 33139
The Valmont at the Setai will always be one of our top picks! The customer service is world-class, and the "rituals" are top tier.
Valmont prides itself on its anti-aging rituals, they even have a skin collection line, and they will often gift you after your service.
Zen is what comes to mind when entering the Setai, its environment is truly distinctive and luxurious with an underlying Asian aesthetic and value.
After your spa day, you can choose from their 3 pools to swim in or lounge out on their beach chairs.
Setai also offers two restaurants, their beachfront restaurant offers the most beautiful sunset views.
I really wanted to try their anti-aging rituals; I went for the majestic facial which Is a 90-minute face and neck treatment that incorporates a massage technique passed down from the Japanese tradition, Kobido.
I've heard of Kobido before and the word on the street is that it's better than botox.
I can confirm that the massage was amazing, and my skin looks and feels more vibrant than before, and a little more contoured than when I walked in.
All in all, we love the Setai, and we dream about living here since it's a hotel and residence!
5/5 Stars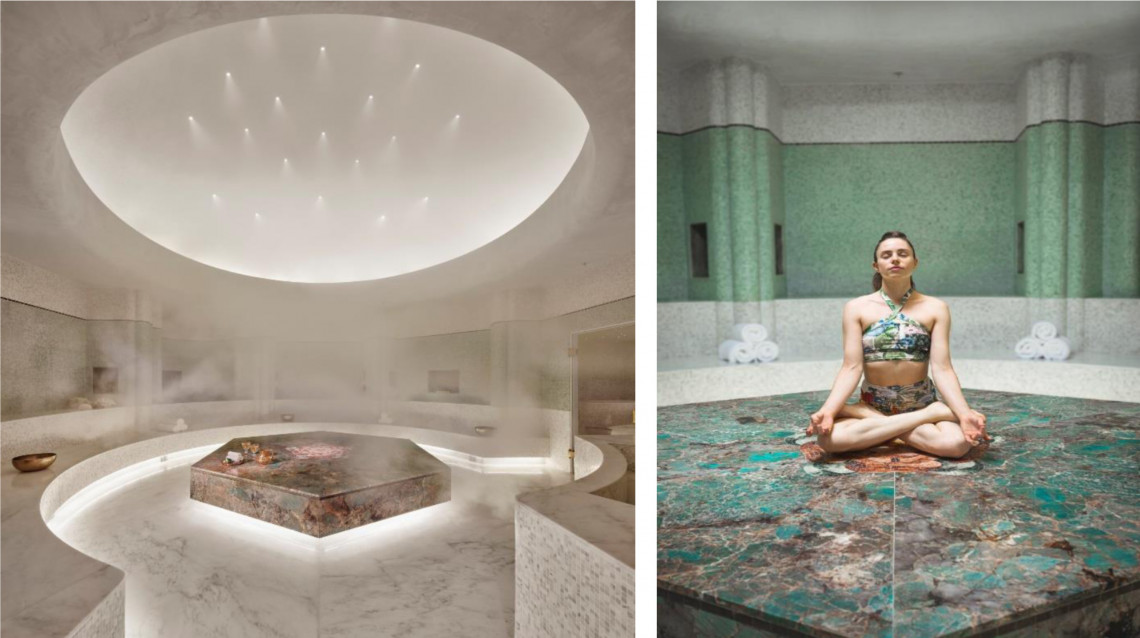 3) Tierra Santa Healing House at the Faena
3201 Collins Ave, Miami Beach, FL 33140
We can't get over our experience at Tierra Santa.
For one it's over 22,000 sq ft and features the largest Hamman on the east coast.
Visually speaking, it might be the most beautiful spa we've ever seen.
Calling Tierra Santa, a luxury spa feels like an understatement, it's a sanctuary.
See for yourself.
Tierra Santa offers shaman-inspired therapies for the spirit, mind, and body.
I was fascinated to learn that they develop their own organic hand blended oils, butter, resins, healing stones, and poultices which are ethically sourced from South America.
I'm someone that enjoys meditating in my free time, and sound baths really help take my mediation to the next level.
Tierra Santa incorporates Nepalese sound bowls in several of its services.
The sound bowls help release tension in the body, as well as unblock chakras.
I highly recommend the Hamman rose ritual!
In this ritual you are treated with a lemongrass and mimosa scrub, a restorative mask is then placed to remineralize your skin.
Once your skin is reinvigorated, you'll have a relaxing rose oil steam bath and finish off with a calming massage.
Spending an entire day at Tierra Santa will leave you feeling enlightened.
If you're looking to cleanse your mind, body, and soul, I highly recommend it.
5/5 Stars