The Rise of Car Manufacturer Branded High Rises in Miami
It's no secret in Miami that if you own a Porsche or Aston Martin, you're going to turn some heads in what are some of the most revered sports cars in the world.
The German and UK-based automotive brands known by so many to be a status symbol of the luxury car market have gone ahead and entered into the Miami luxury condo market too.
From the racetrack to the living room, these brands have decided to make their customer experience from vehicle ownership to condo ownership seamless and one of brand loyalty.
Throw into the mix the new Bentley building that will soon be coming to the Miami skyline, and it's obvious what the new hot condo market scene in Miami is going to look like in a few years.
Luxury carmakers meet luxury high rises.
Who's next? Ferrari? BMW? Lamborghini? One can only imagine. It makes sense, though.
Miami is a place to see and be seen. We all love getting out of a luxury sports car after an evening at some of Miami's finest restaurants.
Why not get out of that car and go into a building completely designed by your favorite car manufacturer too?
Completed in 2014 at the cost of $560,000,000, The Porsche Design Tower in Sunny Isles lead the charge in this department.
Announcing their plans for a Porsche-themed building at their headquarters in Stuttgart, Germany. Porsche Design Tower is quite the exclusive high rise though at only 132 total residences.
Lionel Messi even owns a condo in the building. They were the pioneers of the first building in Miami to utilize a car elevator that takes you to your apartment.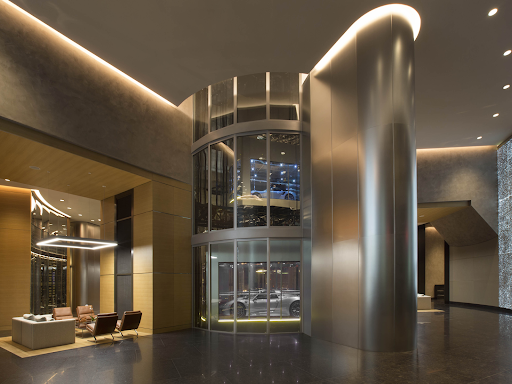 The project saw so much success that many other carmakers have decided to hop on the train.
The Aston Martin residences are currently being constructed and will have a top off height of 816 feet.
Making it the second tallest building in Miami at the time of its completion.
With 400 residences in the building and almost all of them already sold out, it's no wonder why other car brands such as Bentley have also decided to start building their own car branded high rises.
The purchaser of the penthouse at the Aston Martin Residences will automatically gain a 1 of 24 Aston Martin Vulcan ownership.
A small token of appreciation when the asking price for the condo is hovering at $50,000,000.
The land where the building is being constructed was purchased in 2014 for $125,000,000.
The building also comes with a superyacht dock for any resident who'd like to make Miami the home for their superyacht.
Next in line will be the Bentley Tower. Lots of details are yet to be released regarding many aspects of this build but we do know it will span around 200 units encompassing 60 stories.
Something similar in size to the Porsche Design Tower.
So similar in the fact that the same architecture firm that is responsible for the Porsche design tower, Sieger Suarez Architects, is also behind this project.
It will be constructed in Sunny Isles by Dezer Development Group. Prices are expected to start anywhere from $4,000,000 to $6,000,000.
The building is heavy on incorporating sustainable standards in an effort to protect the local environment and is being built in accordance with the Florida Green Building Council certification.
The same effort that Bentley puts into sustainably manufacturing their vehicles is also the same effort going into creating an eco-friendly building.
There is a huge trend in the world of consumer luxury goods turning into luxury high rises.
From vehicles to leather goods. Even Fendi has a building in Miami now.
Brand loyalty is at an all-time high, and Miami is the epicenter of it all.
The future is bright and exciting for the luxury condo market in Miami as long as the designs of many of the world's most recognized brands are behind the projects.