A neighborhood considered one of the million-dollar communities in Miami-Dade County, offering waterfront luxury living at its finest! Welcome to Golden Beach, a town like no other!
Covering approximately 1.8 square miles, Golden Beach is a quaint but affluent community bounded on the east by the Atlantic Ocean, on the west by the Intracoastal Waterway, on the south by the City of Sunny Isles Beach, and north by the City of Hallandale Beach.
The Miami-Dade County town is among the oldest municipalities in the county, having been incorporated in 1929, almost 92 years ago.
It is home to 913 residents as of the latest US Census.
Most would agree that "Golden" is a name that best suits this waterfront neighborhood.
Aside from boasting convenience in fine dining, cultural centers, professional sports venues, and world-class shopping centers, Golden Beach also prides itself in its exclusivity and privacy, hence being hailed as one of the most desirable places to live in the whole South Florida.
It's no wonder people from all over the world have been flocking over to this Miami gem, with the town's luxury real estate, opulent lifestyle, and jaw-dropping private beach being the main draws.
In fact, Golden Beach has had a lot of notable residents over the years, such as Bill Gates, Eric Clapton, and Paul Newman!
The secluded hideaway offers a lush, tropical escape from the outside world while being a short driving distance from the large urban areas of Miami and Ft. Lauderdale.
However, despite being only 18 miles north of the Miami International Airport and 15 miles south of Hollywood International Airport and Port Everglades, the town rarely gets any tourists because of its seclusion.
Golden Beach also does not allow high-rise construction and commercial development within the town limits.
Nevertheless, the upscale neighborhood's convenient location means it's within easy reach of some amazing options for shopping and dining.
Nearby Bal Harbour Shops offers some of the most exclusive shopping globally in a beautifully landscaped setting. Aside from the luxury boutiques, there are plenty of upscale restaurants here, too.
Oh, and don't forget the town's proximity to Aventura and its famous Aventura Mall!
Love parks and green spaces?
That's one thing Golden Beach is known for having, with Loggia Beach Park being the town's crown jewel, a historic oceanfront pavilion elegantly restored.
The pavilion can be rented and provides a popular venue for glamorous parties and events.
You'll also find a lot of other parks and nature spots scattered throughout Golden Beach, adding to the town's relaxing vibe, like Tweddle Park and The Strand Park.
These parks feature expansive tennis courts, playgrounds, and kayaks, and paddleboats, respectively.
I guess when Golden Beach said they're a PRIVATE and EXCLUSIVE neighborhood, they really meant it, huh!
With 364 single-family homes, nine parks, and private beach access, one could say that Golden Beach is, indeed, a town like no other.
The small quiet community has maintained its family lifestyle in a mile-long sanctuary mostly located on the Intracoastal and its waterways or directly on the Atlantic Ocean.
Golden Beach's town charter is also composed of an elected Mayor and four Council Members, with elections being held every two years, having an independent governing body, much like its neighboring town, Bal Harbour.
So what's it like living in Golden Beach? Of course, its mile-long stretch of sand is one of its main attractions, so it shouldn't come as a surprise that daily life mostly revolves around its pristine beach.
Locals enjoy nothing more than spending the day relaxing on the beach, enjoying the ocean breeze, and listening to the turquoise water lapping on the shore, which is how they like it.
The real estate in Golden Beach is also as luxurious as Miami living can get.
Homes in this neighborhood only fit into two main categories and nothing more-- the fabulous and OUTRAGEOUSLY fabulous.
You have a choice of looking inwards towards the Intracoastal waterway or out into the blue Atlantic.
The latter properties commonly come with their private slices of the beach, so these are among the most expensive, yet the West-facing properties are no slouches either.
A family-oriented neighborhood offering exceptional quality of life, but not without a laid-back beach feel and a small community atmosphere--- yeah, that sums up Golden Beach for you!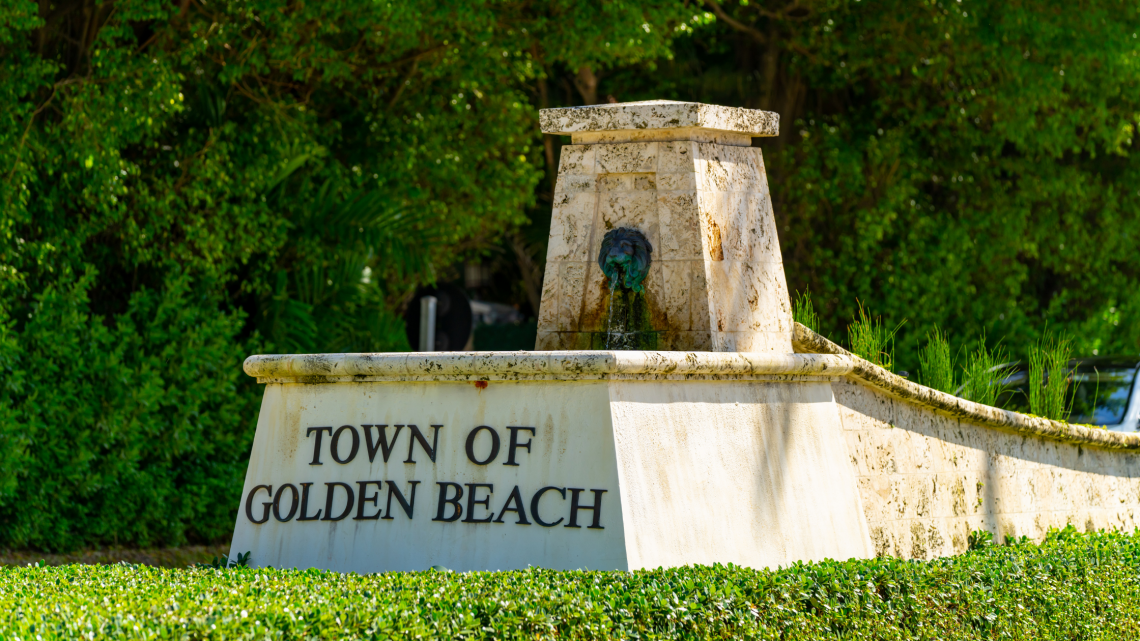 A flashy neighborhood that serves as a magnet for those who seek a secluded hideaway with all the luxuries of living in tropical elegance-- this best defines the town of Golden Beach.
Tranquil. Secluded. Nature-Driven-- your very own slice of Paradise.
Embrace the simple Florida beach life like no other.
Welcome to Golden Beach!

"Our home, priced at $1,225,000 was on the market for ONE YEAR with a local realtor without any offers...... the team sold it in 34 days at a price we were very happy with."
- Alicia Sandoval
"His high-end, digital marketing for sellers is truly cutting-edge and worlds ahead of the competition. Amit also offers hands-on buyer services that are the best you will find in the Coral Gables area. Hire him for all your real estate needs!"
Who are we?
We are the ALL IN Miami Group out of Miami.
We are Brazilian, German, Hispanic, Indian, Syrian, and American.
We are Christian, Hindu, and Jewish. We are many, but we are one.
We sell luxury homes in Miami, Florida.
Although some of our clients are celebrities, athletes, and people you read about online, we also help young adults find their first place to rent when they are ready to live on their own.
First-time buyers? All the time!
We feel so honored and lucky to play that big a part in someone's life.