E11EVEN Hotel and Residences
So, not only does he fight Mike Tyson, but he also buys a penthouse with his brother at E11EVEN MIAMI.
So, Jake and Logan Paul each bought a penthouse in the E11EVEN Hotel and Residences, or E11EVEN Tower, coming to downtown Miami.
Together, those penthouses were valued at around $20.5 million. A monumental sale for Miami.

Can you believe that it's already 2022!?
Oh my gosh. All right. Well, today we're going to learn about something really exciting, and that is the E11EVEN Hotel and Residences that are coming to Miami.
There are two towers coming to downtown Miami, the Park West District.
I think it's one of the most exciting projects to come here to Miami.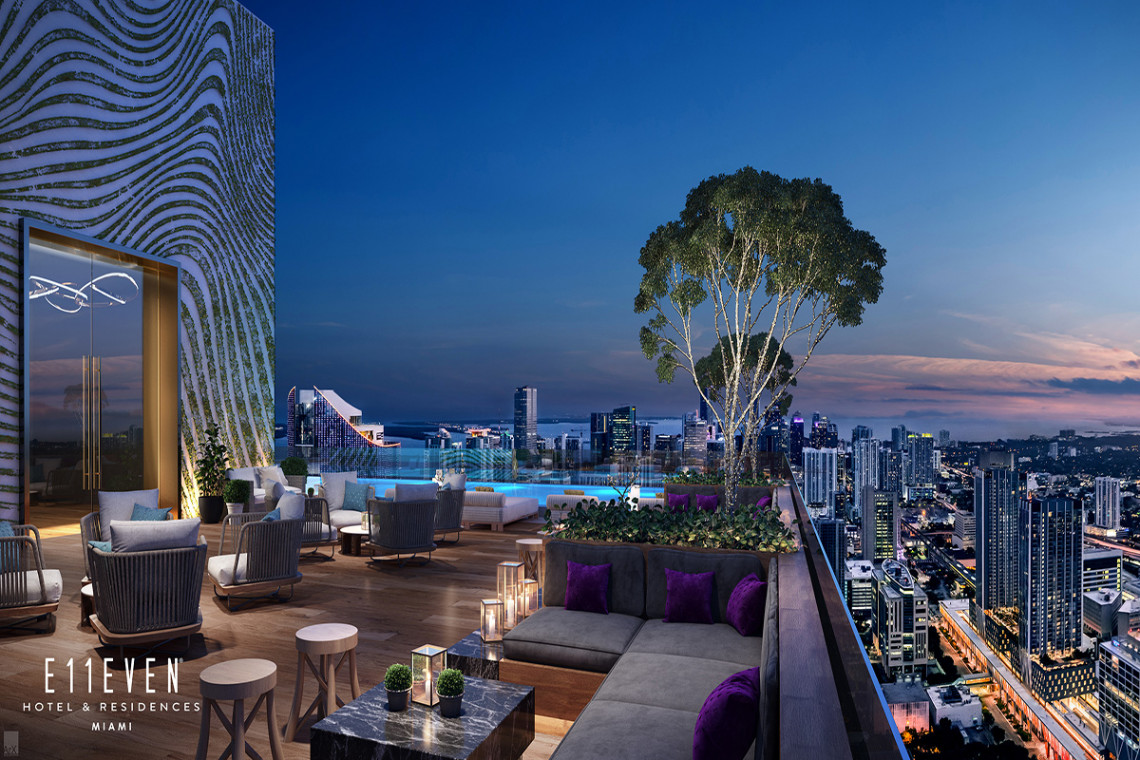 A strip club launching condos. This could only happen, and only succeed, in Miami.
So, if you haven't been, E11EVEN is actually a strip club in Miami.
But it's much more than just a strip club.
Take it from someone who's actually been there, not to strip of course, or at least not yet 😊
But E11EVEN is also a nightlife venue.
They have performers every week, and it's a really fun place if you haven't been.
It's a strip club and also a club.
And it's very, very, very popular here in Miami. People love it! They love the brand.
So, the bosses behind E11EVEN partnered with PMG.
PMG has done other buildings here in Miami, like Echo, which I love.
They are also going to be doing the Waldorf Astoria, also coming downtown in Miami.
They partnered together to build E11EVEN Hotel and Residences.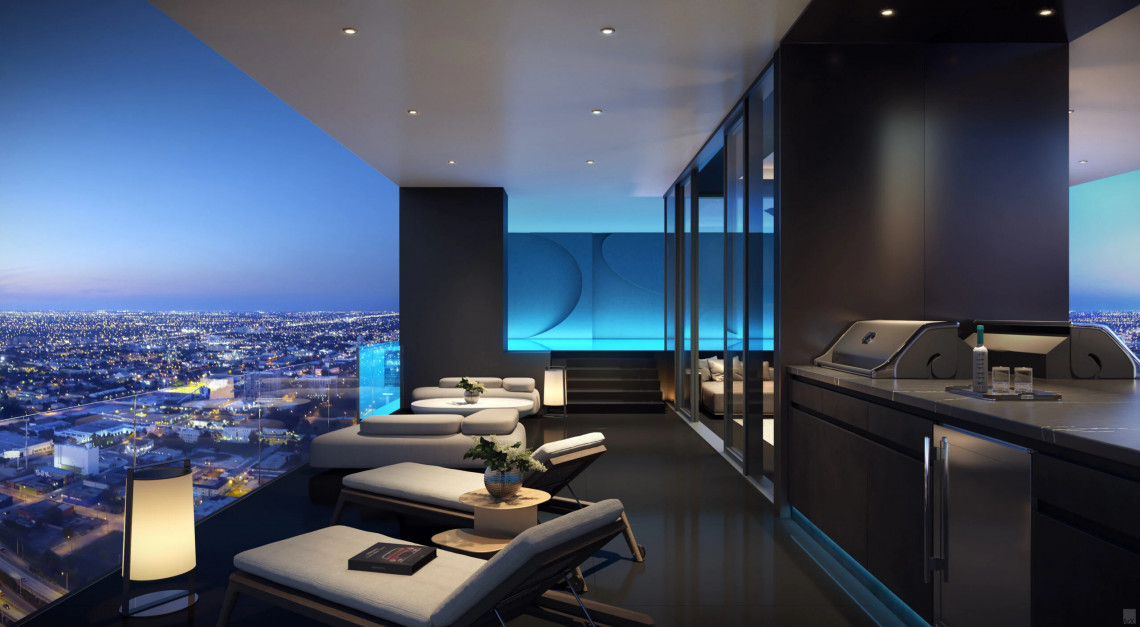 So, E11EVEN Residences has two towers, right?
The original tower, and then the Beyond Residences.
And I'm going to tell you my thoughts on each.
So, they're both 65 stories, both beautiful towers.
The units actually come fully furnished, which I love because furniture these days is such a hassle to get your hands on, with all the supply chain issues.
And who wants to deal with moving trucks anymore?
So, they come fully furnished, which I love.
So, in the first tower, in Tower One, they allow nightly rentals, which people see and they love.
Everyone loves nightly rentals.
And then, in the second tower, they allow monthly rentals.
So, totally two different concepts going on under the same roof.
And what's really cool about this building, well, a lot.
There's so much going on here, but they accept crypto.
Yes, you can pay in crypto. This is Miami. It's E11EVEN. It's a strip club condo?
No, it's just a condo, but you can indeed pay in crypto.
They've partnered with FTX, who now own the naming rights to the former American Airlines Arena, where the Miami Heat play.
You can buy it in crypto if you don't want to sell and realize those gains, or maybe losses now, since the crypto market's not doing so well.
But who knows, maybe you'll listen to this in a couple months or May, and sure it will be back up.
Don't hold me to that. This is not financial advice.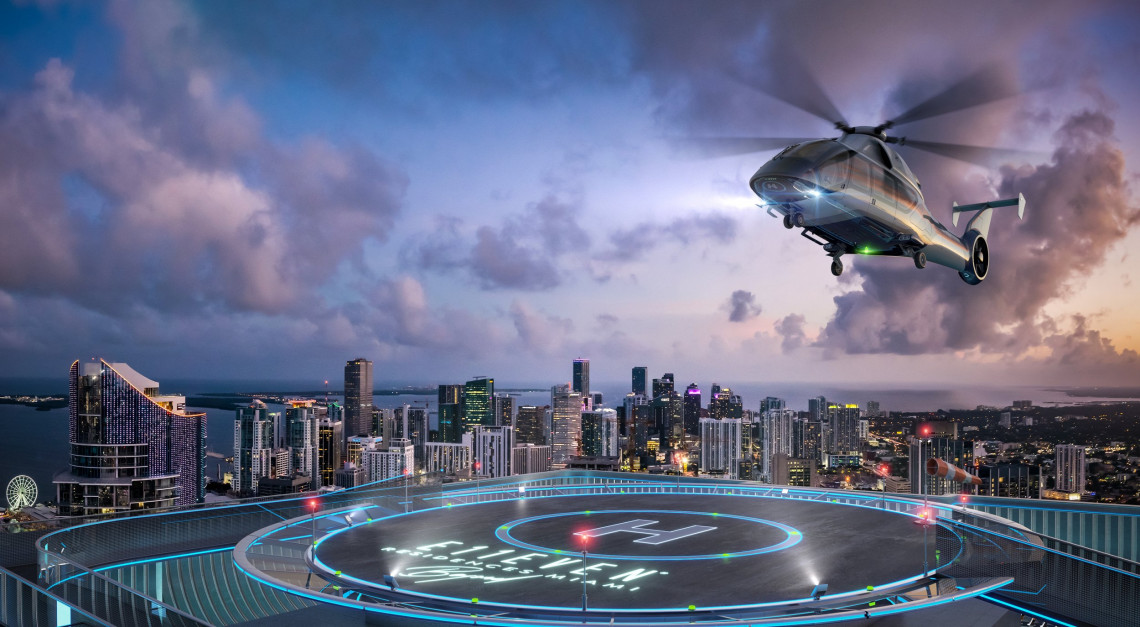 So each tower is very interesting.
The first tower has nightly rentals, and the second tower has monthly rentals.
I actually, believe it or not, like the second tower better.
And I'm going to tell you why.
Both have access to the helipad.
The helipad's actually in the second tower, which I like, so I can get on my helicopter and jet in and out of Miami.
But the first tower is the one that has the pool deck. There's a man sculpture coming out.
And that's where they're going to have the DJs perform on the weekend that have been at club E11EVEN Miami, performing the night before.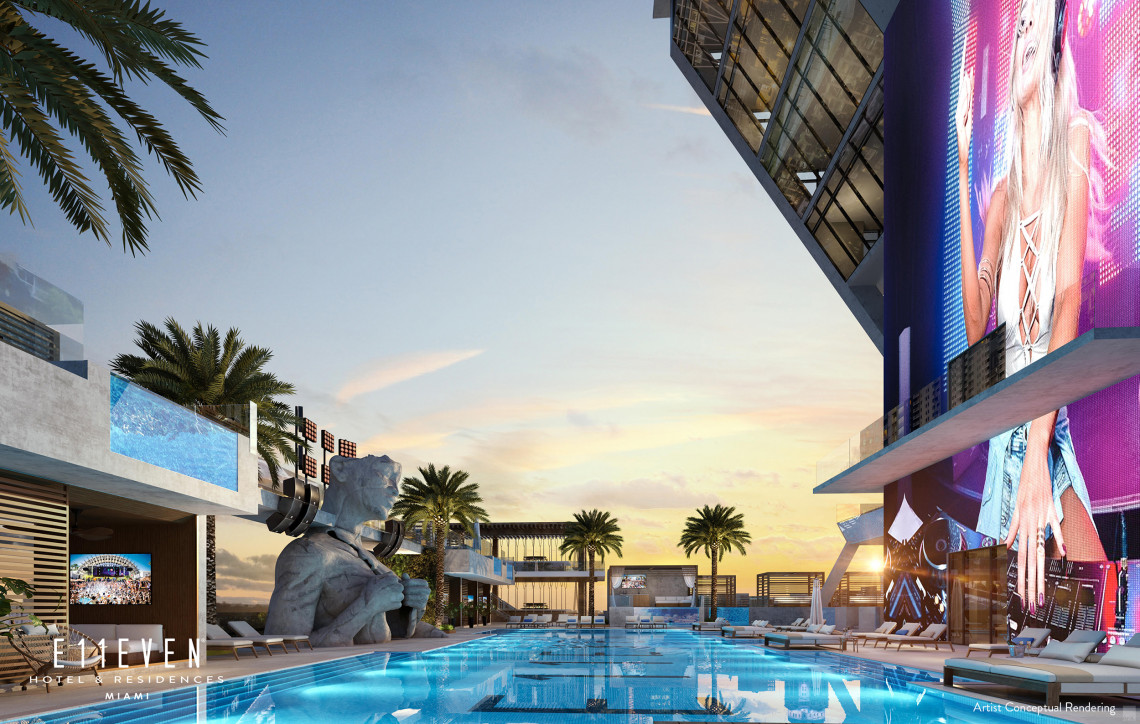 So, why do I like the second tower better?
Well, you can access all the amenities of the first tower and the amenities of the second tower, but the residents of tower one can't access your amenities.
So, A, you have access to more amenities, and B, your unit at night will actually be more quiet because it's not in the nightly rental.
But I also think, from an investment perspective, a lot of people have this almost obsession with Airbnb, short term rentals.
I want to buy something, Airbnb, and nothing is wrong with Airbnb. Airbnb is great.
But the problem is, when your 93 year old grandma knows what it is and everyone does, maybe it's time for a new concept.
So, what I really love about the second tower is that it's catering more towards executives.
They're actually going to have a whole floor of almost like a WeWork setup and executive office suites.
I love this for maybe music producers who are coming to town, or athletes that are going to be here prior to a conference, who knows.
And so, it's catering to someone that would still love the E11EVEN brand, but a little bit more elevated.
I think this is an interesting approach - to not make both the towers nightly rentals, but to make the second one a monthly rental.
I mean, I could be just a little bit too ahead of the time right now by saying, "Airbnb, blah. Whatever. It's out."
It's not out, it's just everyone is doing it.
So, I think when everyone's doing something, it's time to probably look at something else and go a different way, kind of go against the tide.
Which is why I really like tower two.
I also think that, if you look at recent trends in Miami, rental rates are up 40% since last year, and they're likely going to go up again.
People need places to stay in between them finding their homes, or even buying their homes.
It's so complicated and so difficult right now.
Still possible, and if you call me, I can help, but people are really looking for a place to be for a bit, not just for a night.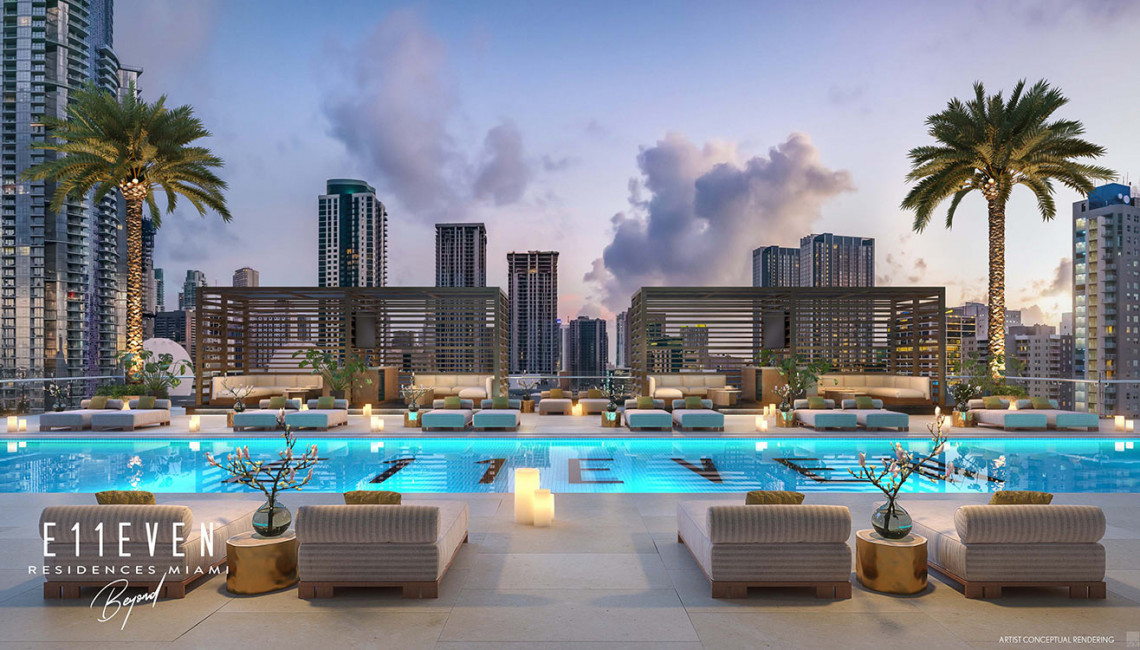 And even on the Airbnbs that I run, that we run with my managing company, the average guest right now is staying about six, seven days.
And they could stay for less, but they're not.
And I think, with working from home and things like that, tower two is just going to be really attractive.
I really, really think so. I think it's probably going to end up being more successful than tower one.
I mean, hey, tower one is great.
Nothing against you if you bought in tower one, but I really think tower two is where it's at.
So, those are my thoughts on tower one versus two.
What I think is great is that it creates the number 11, one tower, and then one tower.
And there's actually going to be a bridge connecting them, a signature bridge.
And at the bottom of tower one, they're going to have a high end restaurant, put in a club, and all of that good stuff.
So, obviously, you have the penthouses, which I already talked about.
Logan and Jake Paul. Jake and Logan Paul, however you want to say it.
So, what do you have?
You have access to the social club.
There's a social club in tower two, the restaurant, five star restaurant collection.
They're putting a casino in tower one. That's pretty freaking cool. Casino style sports lounge.
The day club, which is in tower one.
The rooftop on tower one is a pool, which is awesome as well.
What do I love? Hello, room service, 24/7. What is better than that?
What says Miami more than that? Room service 24/7.
So, 65 stories tall, baby. 461 residences, PMG, great developer and the interior architect is great as well!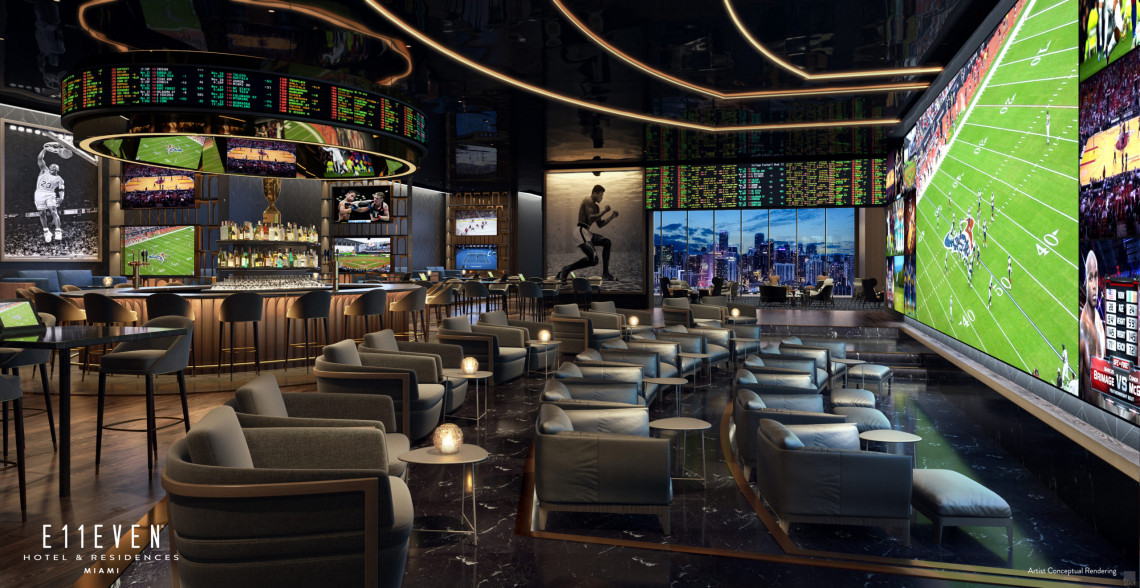 No, but really interesting project, and obviously the helipad is great, just like 1000 Museum nearby.
And, "Oh my gosh, you're not at the beach," you say.
"How can you be using Fontainebleau numbers to calculate numbers on my potential return.
That's because you're going to have E11EVEN Beach Club, baby, right next to where The Continuum is, South of Fifth, on South Beach.
And you'll have your own designated area with chairs and towel service and sunscreen and all that great stuff there as well.
So, you get the best of both worlds. Why?
Because Park West is one of the only areas in Miami that a club can be open 24/7.
But you'll also have access to the beach at your E11EVEN Beach Club.
So, beach and 24/7 partying, or whatever you're doing, betting or hanging out or going to the Chopra Spa, which is fricking awesome.
I'm just going to hang out there all day.
So, pretty cool, right? What do you think? Pretty cool.
They're also going to have a dog walking service.
So, those are some of the really interesting things coming.
Now, I'm going to talk to you a little bit in this next part about numbers.
Okay. So, all of this stuff, helipad, beach club, 24/7 room service, dog walking services, Chopra spa.
How much is that going to cost me, Jade?
You're probably talking about three or four million. I'm not.
So, what's really interesting about E11EVEN is that it has such a wide range of prices.
You can get a studio in the $400,000's, believe it or not, fully furnished, and you're part of the E11EVEN Tower!
You can also buy a penthouse if you want for $10, $10.5 million. Totally up to you.
But there is that variability there.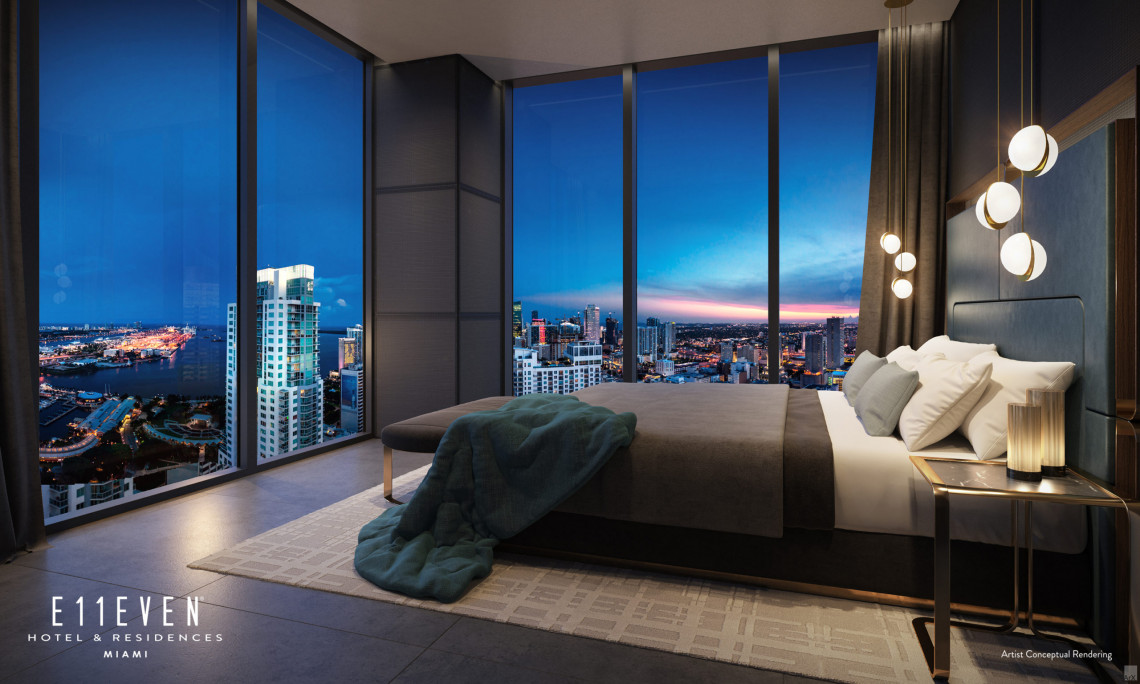 So, as far as units go, if you get a studio, right now, it is January.
So, I'm going to say these prices today, they're probably going to change because that's what happens.
The more they sell, obviously the stronger the prices are.
So, you can get a studio right now for $416,000.
That's the least expensive studio you can get, and my personal favorite studio is the 07 Line.
I just like the way it's oriented, and that studio, which is 405 square feet, the best priced one is $476,000.
If you want to go to a one bedroom, today, as of Monday, January 24th, the best price one bedroom is the low 7s, $724,000.
And if you want to go to a two bedroom, you want to be really fancy, the best price in the two bedroom right now is just under a million, in the 10 line at $997,000.
So, that gives you an idea of some of the price intervals for where you need to be for what you want.
But what I love is that, for $400,000, $416,000, whatever it is, you can be part of all of that.
Something that would normally cost millions of dollars. So, that's pretty cool.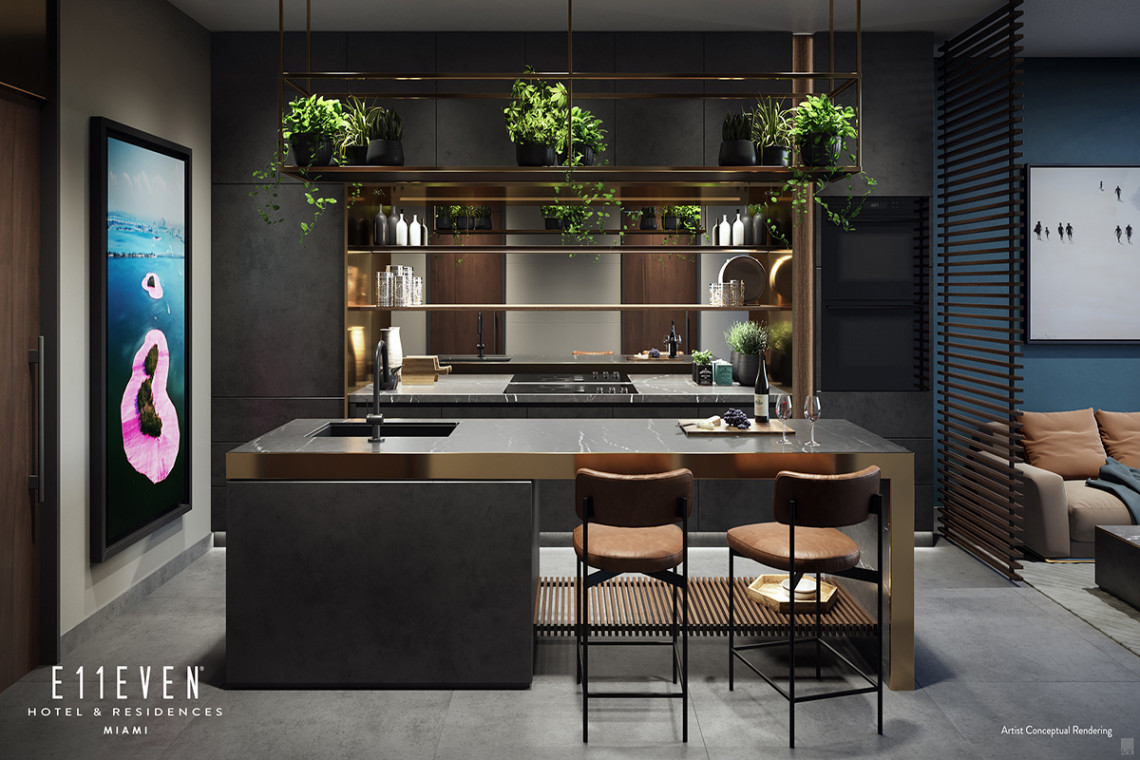 Now, let's talk about numbers and occupancy rates and all that really, really sexy data, because I know that's what you guys are really interested in.
But first, I'm going to tell you, if you are interested, obviously you should reach out to me, but as far as what you need to pay, it's basically, and this year, in 2022, is going to be a total of 30%.
In one year from summer, so summer 2023, is another 10%, and then the balance of 60% at closing.
And you can obviously finance up to 80%, typically, when the building is built, so you get that extra 20% back.
So, you lay out 40%, you get 20% back, and then you can finance the balance there if the banks are still around in a couple years. No, I'm kidding. But for, let's say it's $416,000.
You would essentially lay out $166,000, and then you would get $83,000 back at closing.
So, you'd just be out $83,000, plus your closing costs.
So, those are some numbers for you.
But what I want to talk about is what I'm comparing this to for investors.
And I'm actually comparing it to Fontainebleau, which is an older building.
Now it's funny to say that, on the beach, that people love.
Why do they love Fontainebleau?
Because not only do you have the beach and all that jazz, but you have Live, which is a great club, similar vibe to E11EVEN, believe it or not.
Not the strip part, but the crowd.
And so, I actually went ahead and got some quotes from, not Live, from Fontainebleau on how much it would be to stay during certain time periods, in different rooms and things like that.
They're probably angry because I never booked it, but I just used it for data on my end.
So, I estimate all the numbers super conservatively because the last thing I want to do is you end up being upset at me.
So, I'm just going to do this exercise with you on a purchase price of just under $480,000.
It's a studio. So, monthly, believe it or not, this would go for about $11,000 a month.
Conservative. Very, very, very conservative.
This is an average based on the prices of Fontainebleau, and an average between the summer and the winter high and low ends.
And then I took a little bit less, just because I want to be conservative.
I did an occupancy rate of about 70%, even though it's a little bit higher downtown.
It's between 75% and 80%, but you never know.
So, yearly gross, you're going to be just over $92,000.
And then your expenses, you're going to subtract, obviously, your maintenance.
Your HOA on this project is, obviously, the amenities are insane. So, it's $1.25 a square foot.
Your taxes, your insurance, your electric, and I also put in the 30% management fee that the building can do for you, so your total expenses are about $44,000.
So, your net income is about $48,000. So, your ROI is over 10%, which is absolutely sexy.
And guess what? That explains why the second tower is already 60% sold.
Boom. Right there. So, if you think those numbers are sexy or if you just want to say hi, send me an email, send me a DM, whatever the heck you want to do, but I'm around and E11EVEN is going to be amazing.
Thank you so much for checking out my article on E11EVEN Hotel and Residences: The Condo Building Accepting Crypto.
If you want to hear more about the project or how it would actually work going through the crypto, paying with crypto, going through FTX for this condo, what are the logistics?
Just shoot me a DM. My Instagram is @JadeKalbacher.
I'll talk to you guys soon and have an awesome January!

"Our home, priced at $1,225,000 was on the market for ONE YEAR with a local realtor without any offers...... the team sold it in 34 days at a price we were very happy with."
- Alicia Sandoval
"His high-end, digital marketing for sellers is truly cutting-edge and worlds ahead of the competition. Amit also offers hands-on buyer services that are the best you will find in the Coral Gables area. Hire him for all your real estate needs!"
Who are we?
We are the ALL IN Miami Group out of Miami.
We are Honduran, Filipino, Puerto Rican, Cuban, German, Hispanic, Indian, Syrian, and American.
We are Christian, Hindu, and Jewish.
We are many, but we are one.
We sell luxury homes in Miami, Florida.
Although some of our clients are celebrities, athletes, and people you read about online, we also help young adults find their first place to rent when they are ready to live on their own.
First-time buyers?
All the time!
No matter what your situation or price range is, we feel truly blessed and honored to play such a big part in your life.