Prefer listening to audio instead of reading, click the PLAY button below
🎧
Florida's version of "Hollywood" without the emblematic "Hollywood" signage on the hills, Broward County's Hollywood city is a destination for culture, adventure, and natural beauty-- without all of the glam and glitter!
Known as the second largest city in the county, next to Fort Lauderdale, Broward's county seat, the vibrant community lies on the coast, between Fort Lauderdale and Miami.
It has a total area of 30.8 square miles, of which 27.34 square miles is land, while 3.46 square miles is covered by water, including about 5 to 6 miles of Atlantic Ocean beach.
Hollywood is also a principal city of the Miami metropolitan area.
It is home to 153,061 residents as of the latest US Census.
With over 60 parks, seven golf courses, seven miles of pristine beaches, the world's first and only guitar-shaped hotel, and a one-of-a-kind Hollywood Beach Broadwalk, Hollywood is a suburban beachfront community you should "prio" when visiting Florida!
Sure, if you're among the peeps from the outside looking in, you wouldn't even expect this city to be as dynamic and bustling as it really is, especially if you compare it with its two "glitzy" neighboring communities, the tourist hotspots of Miami and Fort Lauderdale!
Nevertheless, despite its distinctive small-town atmosphere, it boasts a show-stopping itinerary any traveler would love to experience!
For one, Hollywood is the ultimate destination for outdoor activities because of its all-time good weather. Here, you'll see beachgoers lining up at Hollywood Beach, soaking up the sun, kayaking, or engaging in beach volleyball.
There's also the Hollywood Beach Boardwalk, which stretches nearly 2.5 miles along the town's shore of the same name.
A bright blip of a bricked walkway, this expansive promenade welcomes exercisers of all sorts.
It's also the perfect place to people-watch at Hollywood Beach or enjoy an array of oceanfront restaurants and cafés that fill the strip, as do stores and bike and water sports rental companies.
Another Hollywood highlight you should put on your "to visit" list is the Downtown Hollywood Mural Project, where you'll see all the commissioned street art that fills the city's beating heart.
Whether you're an art lover or not, it's a spot you can't miss, especially with artists from all over the world sharing their art for FREE.
The ArtsPark at Young Circle is also a place to get a feel for the local art scene, where there's always something happening, whether it be an art installation or a musical performance.
In fact, the city's local calendar is always jam-packed with events, ranging from food and wine festivals to live music and art festivals, so you may find yourself filling up your schedule pretty quickly while you're here!
Need a place to stay in Hollywood?
Seminole Hard Rock Hotel may be the one you're looking for!
With its preposterous guitar-shaped hotel, the massive resort is a tourist mecca, so much so that many visitors never leave to explore the rest of the city!
The hotel features a spa, golf courses, and a wide strip of boutique shopping.
You'll also find pools galore for cooling off, including a tropical-style lagoon with waterfalls, a man-made beach area, and a massive water feature for canoeing, paddleboarding, and more.
You can also come here for live music from some of the biggest name acts and live comedy from Jerry Seinfeld and Christopher Titus.
Meanwhile, for some green spaces and nature in your life, don't forget to drop by Hollywood's Anne Kolb Nature Center at the city's north end.
The nature center encompasses over 1,500 acres of protected coastal mangrove wetlands, where you'll see a lot of native plants and animals, some threatened or endangered elsewhere.
Anne Kolb Nature Center also has four main trails along wooden walkways ideal for viewing the wildlife, but the area is enjoyed best by boat.
There's also a large exhibit hall that houses a saltwater aquarium and nature-themed exhibits by local artists.
Another nature spot in Hollywood is the Topeekeegee Yugnee Park, known to locals as "TY Park."
It's one of the most famous city parks, especially for families looking to enjoy the campground, water park, and picnic areas.
With 138 acres of green spaces, there's never a dull moment!
Not to mention TY Park also has tennis courts and volleyball courts available and an epic kids' playground.
The park offers large shade trees line walking and biking trails, while a beautiful lagoon is where you can cool off on hot days, too.
Other spots to explore around Hollywood are the Hollywood North Beach Park, Hollywood Art & Culture Center, Yellow Green Farmers Market, and Downtown Hollywood Boulevard, among others.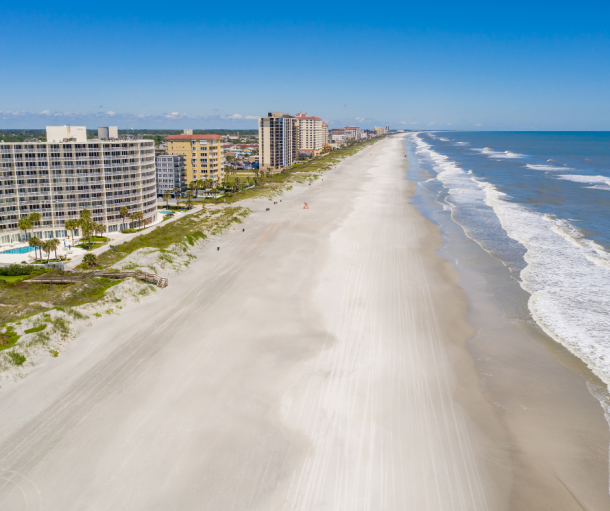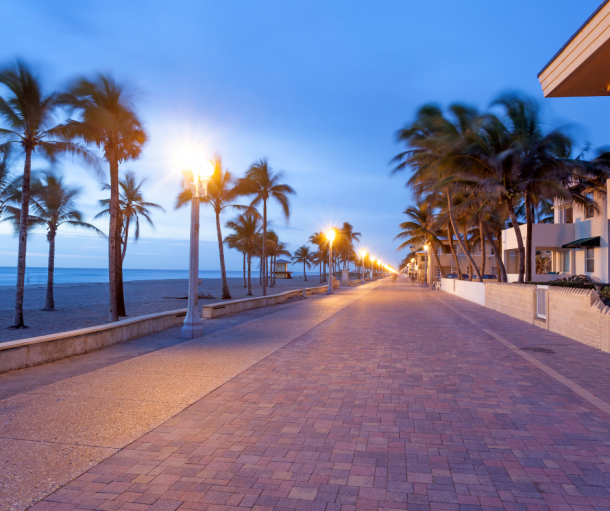 Hollywood Beach Boardwalk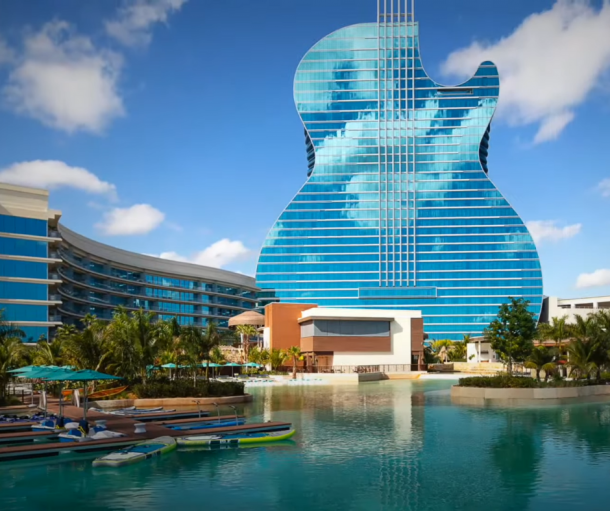 Despite being part of the Miami metropolitan area, Hollywood is far from an "over-developed" community.
In fact, it retains its suburban charm that attracts people vying for a peaceful, relaxed, and ethnically diverse place to call home.
Here, you'll find an eclectic mix of blue and white-collar workers and fascinating and vibrant culture, including Cuban, Latin American, and Eastern European influences.
The city is also a thriving business hub anchored by the commercial and retail center of Young Circle.
Locals and tourists enjoy shopping from independent boutiques and funky beachfront stores, easily losing a day perusing what's on offer.
Hollywood nightlife is also vibrant and eclectic, with the neighborhood's historic downtown full of restaurants, bars, and live music venues, all with sidewalk seating.
There's always live music somewhere, and everyone seems to be having a good time.
Another great thing about the Hollywood community is that it supports artistic expression, and it's evident at every turn.
Aside from the popular ArtWalk takes place every month, you'll also see a lot of choice spots for art and culture, especially featuring the local art scene, be it an art installment or a performance.
Of course, if there's a beach, an outdoor adventure can be expected, but in Hollywood, it's not just limited to the sun, sand, and sea.
Peeps can also take advantage of golf, kayaking, and other watersports activities, which means you'll rarely see the locals staying indoors for fun.
That said, you won't need a car to explore Hollywood, as the city government has done a lot to promote walkability in the community, including heavily investing in pedestrian infrastructure.
Walking and biking are popular modes of transportation, especially in the central downtown area, or the Sun Shuttle, a free on-demand electric shuttle.
On the other hand, those who commute to Miami or Fort Lauderdale can choose from the public transit options available, including the Tri-Rail train system and the Broward County Transit.
For those looking to move to Hollywood, the city boasts an array of real estate options available, ranging from high-rise condos with picturesque waterfront views to cozy single-family houses with swimming pools and fruit trees in the backyard.
In the Central Beach neighborhood, you'll find condos with easy access to the beach and within walking distance of downtown.
Meanwhile, North Beach offers similar amenities in a more exclusive environment, with modern single-family homes and high-rise condos tending to dominate.
Some Hollywood neighborhoods consist of larger ranch-style single-family homes built in the 1960s, and these neighborhoods appeal to those who want to be close to amenities while still slightly removed from the beach scene.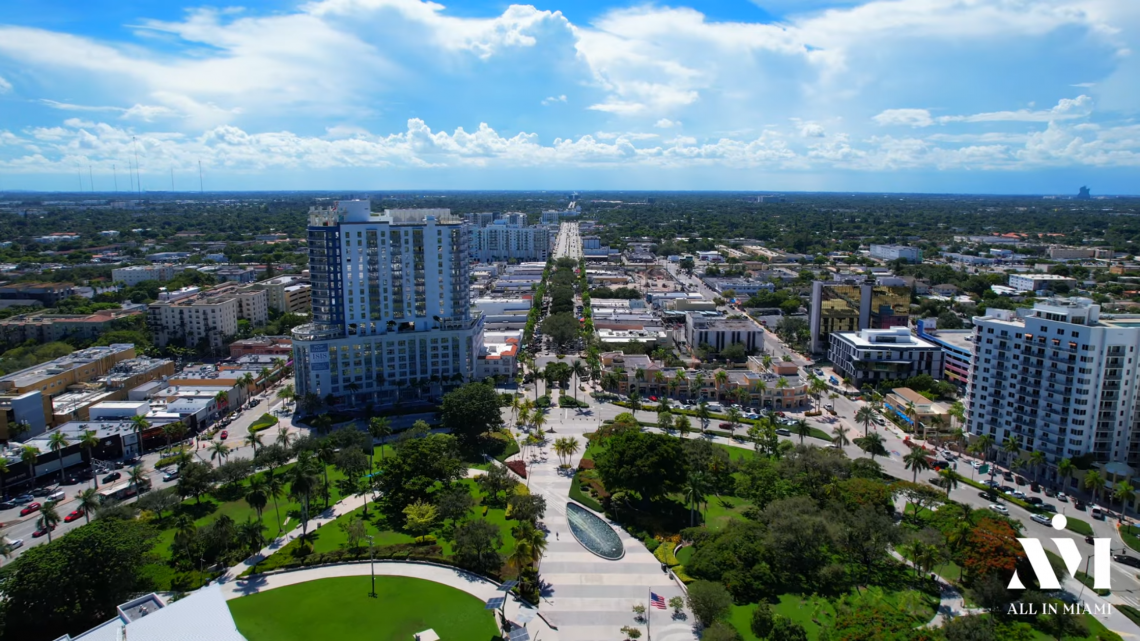 Who can resist residing in a central area that boasts a small-town charm, gorgeous beaches, a vibrant community, and world-class amenities?
Hollywood, Florida, may not have the glamorous, "superstar" vibe of its western counterpart, but it's called the "Diamond of the Gold Coast" for a good reason-- just check its growing population!
Entrepreneurs, young families, young professionals, or retirees-- whichever group you belong to, Hollywood has a home for you, complete with easy beach access, fun indoor and outdoor activities, and everything that screams QUINTESSENTIAL Florida!
Do I even need to say more?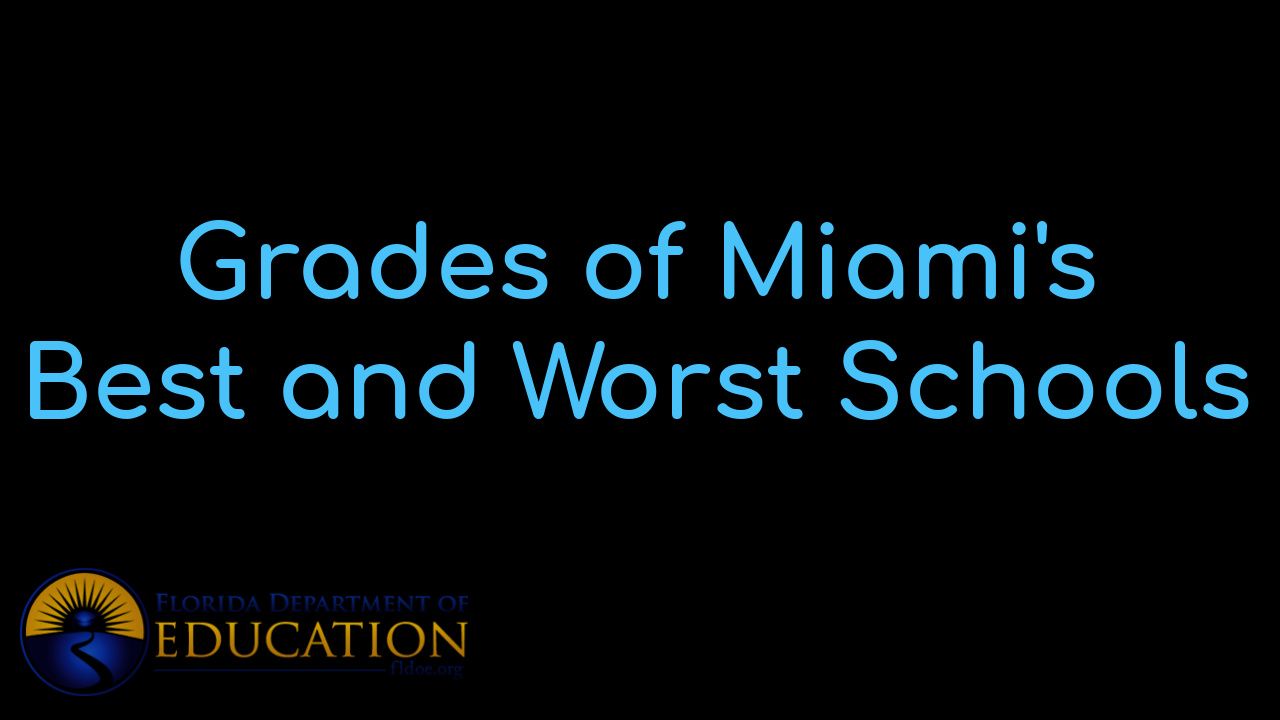 View Miami's BEST schools and the individual grades that each school received. Besides vie...

"Our home, priced at $1,225,000 was on the market for ONE YEAR with a local realtor without any offers...... the team sold it in 34 days at a price we were very happy with."
- Alicia Sandoval
"His high-end, digital marketing for sellers is truly cutting-edge and worlds ahead of the competition. Amit also offers hands-on buyer services that are the best you will find in the Coral Gables area. Hire him for all your real estate needs!"
Who are we?
We are the ALL IN Miami Group out of Miami.
We are Colombian, Filipino, Cuban, German, Hispanic, Indian, Syrian, and American.
We are Christian, Hindu, and Jewish.
We are many, but we are one.
We sell luxury homes in Miami, Florida.
Although some of our clients are celebrities, athletes, and people you read about online, we also help young adults find their first place to rent when they are ready to live on their own.
First-time buyers?
All the time!
No matter what your situation or price range is, we feel truly blessed and honored to play such a big part in your life.