Dog-Friendly Parks near Gables Estates
Visit a legendary private community lying beyond Old Cutler Road, and bring Fido along!
Gables Estates is one of Coral Gables' bountiful and most esteemed neighborhoods that feature quiet waterfront living with a modern spin on sophisticated luxury, one where your furry pal will surely BELONG!
Bordered by the shores of beautiful Biscayne Bay, Gables Estates is on the southern edge of Coral Gables and east of Old Cutler Road.
It encompasses more than 200 acres of shoreline plus a private 200-acre lagoon.
It is a neighborhood that remains a top choice for ultra-luxury buyers seeking waterfront estates within "City Beautiful," which features deep water and sea-walled waterways that wind throughout its perimeters, highlighting its lush tropical landscaping and foliage.
And luckily, when your pup tags along your Gables Estates journey, you'll find a park or two to explore nearby!
No questions asked-- this community is top-notch and DOG-FRIENDLY!
Here's a list of dog-friendly parks near Gables Estates.
1) Matheson Hammock Park & Marina (Top-Pick!)
9610 Old Cutler Road, Coral Gables, FL 33156
Plan a relaxing day with your pup at Matheson Hammock Park in Coral Gables, another famous tourist spot nearby Gables Estates!
The 630-acre urban park surrounds the north and western ends of Fairchild Tropical Botanic Garden, famous for its vast stretches of Florida mangroves and hardwood forests and planned green spaces designed by landscape architect William Lyman Phillips.
At Matheson Hammock Park, you and your dog can enjoy South Florida's beautiful water views and welcoming atmosphere.
Meanwhile, its winding road takes visitors through three important Florida landscapes, starting with swamp and dense mangrove forests and ending at an open cove overlooking Biscayne Bay.
Matheson Hammock Park & Marina also boasts an artificial atoll pool, naturally flushed by the tidal action of Biscayne Bay.
Its tranquil breeze-swept beach is a haven for families who enjoy the water and beautiful views.
The park is a prime spot for kite-boarding, too!
Other amenities include a full-service marina, snack bar & restaurant, picnic pavilions, and nature trails.
Dogs are allowed on the trails and in specific spots around the park on leashes.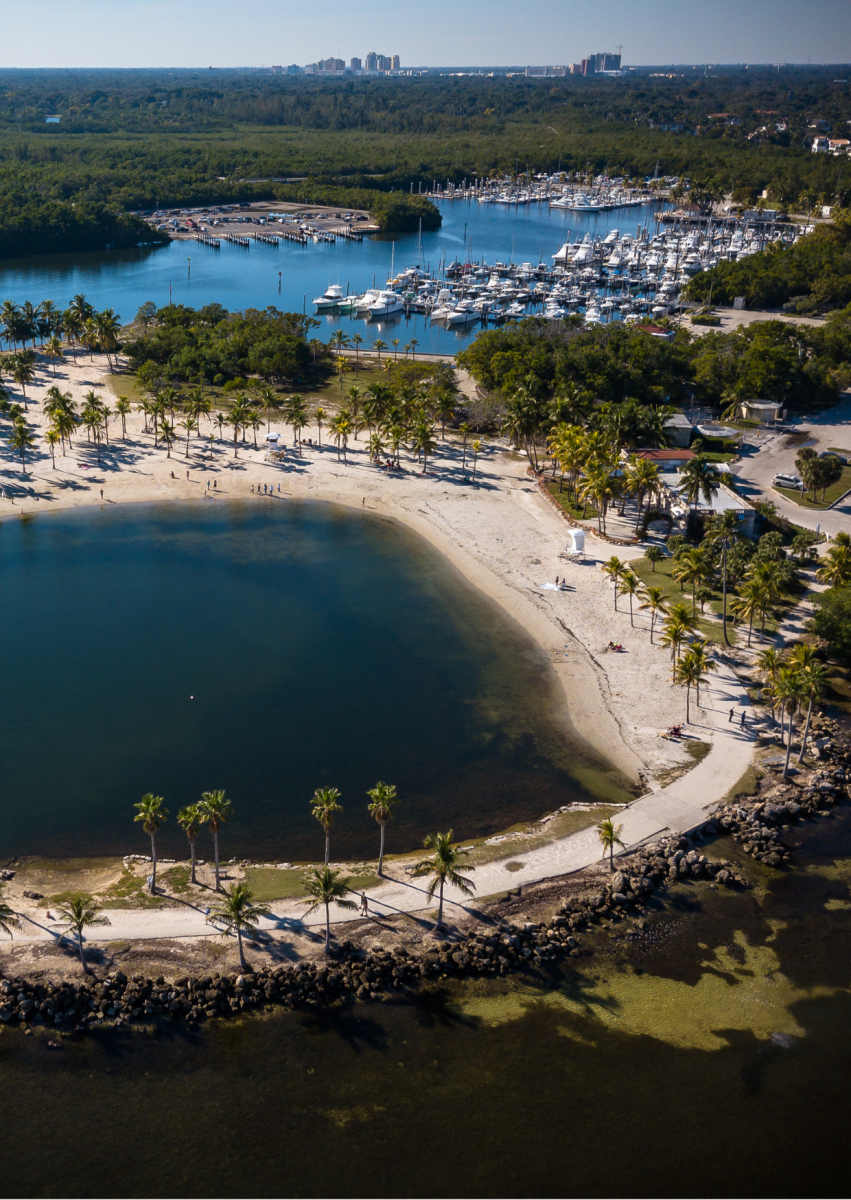 2) Ingraham Park (Top-Pick!)
4751 Ingraham Terrace, Coral Gables, FL 33133
A leafy public park featuring shaded benches, a playground, and scenic water views, Coral Gables' Ingraham Park is one of the few nearby nature spots you can visit with your dog near Gables Estates.
An eclectic little spot with over two acres of open spaces and picnic tables, Ingraham Park has recently been revamped into a neighborhood park of elegance.
Starting with its stunning fountain inspired by the Palace of Alhambra in Granada, Spain, to enhanced landscaping, exercise stations, walking & jogging paths, misting machines, inviting benches, and more.
Along with the park's reconstruction is the new bright red bridge serving as an enhancement to the Commodore Bike Trail.
The bridge provides bicyclists and pedestrians a safe crossing over the Coral Gables Waterway between Cocoplum Circle and Ingraham Park.
And yes, dog owners, dogs are allowed in Ingraham Park, as long as you keep their leashes on!
Since it doesn't get crowded much in the area, Ingraham Park is the perfect park to enjoy a relaxing quality time with Fido!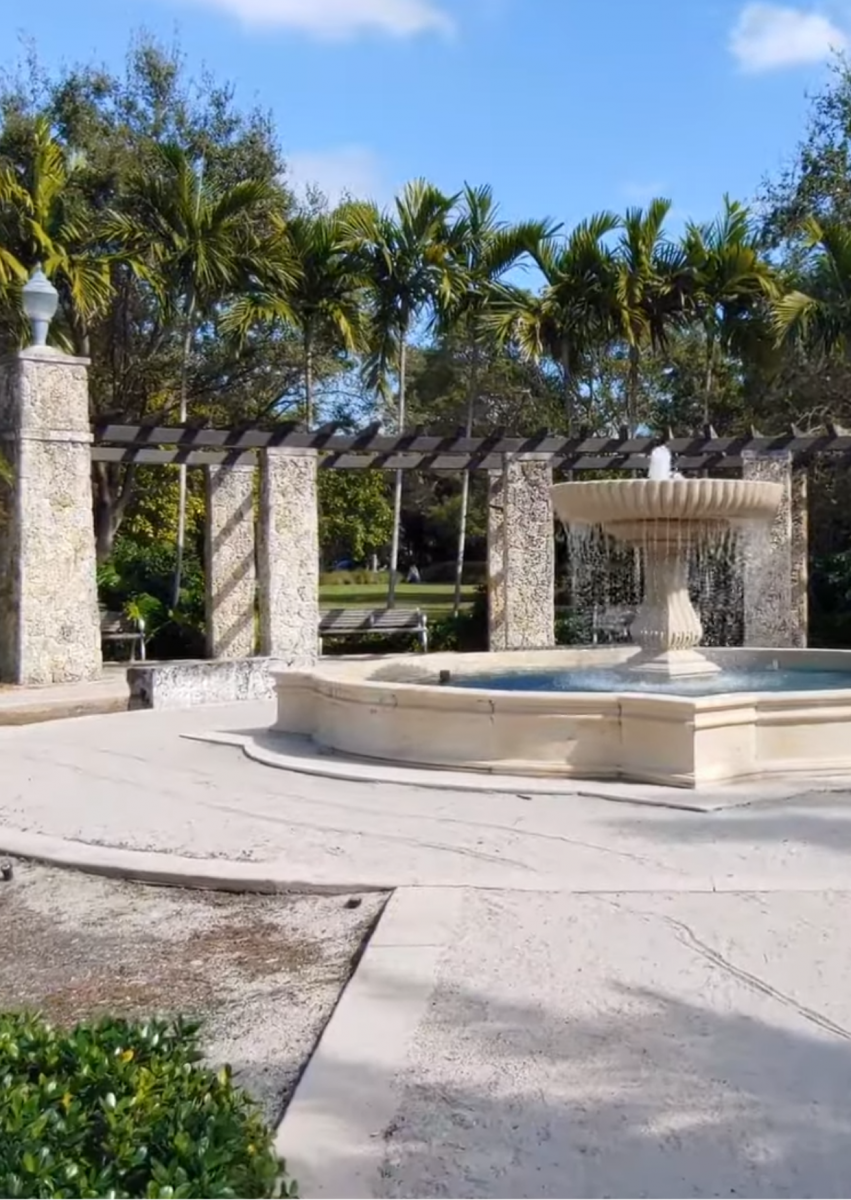 9055 Banyan Dr, Coral Gables, FL 33156
A quaint park lying nearby South Miami and Gables Estates, Banyan Drive Park may be 'lacking' in amenities, but it offers a vast green space to walk with your pup-- and a beautiful view of Center Lake along with it!
Come to the small nature area and enjoy a fun stroll with Fido, and bring the kids too for a quick run-around at the park's playground.
Just be sure to bring water, doggie bags, and a leash, as Banyan Drive Park doesn't have a water fountain to get water from, nor a restroom in case the 'call of nature' strikes!
Dogs are allowed to visit on leashes.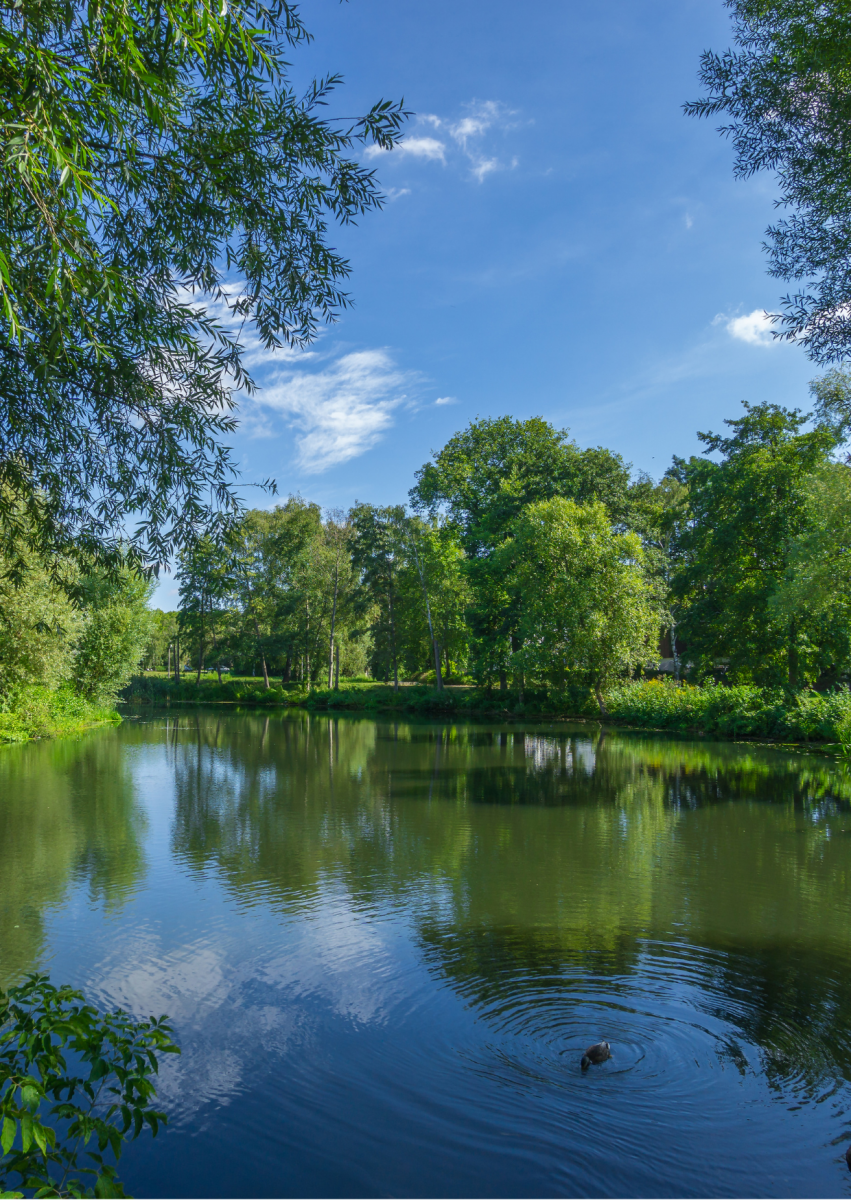 11000 SW 57th Ave, Pinecrest, FL 33156
If you're looking for a touristy activity with your canine pal, visit Pinecrest Gardens, a 7-minute drive from Gables Estates, via Old Cutler Rd.!
A "paw-some" tourist spot that delivers big on beauty, charm, and nature, the garden is home to an array of amenities, including a zoo, gardens, and a pond!
And while it's closed to furry visitors during the week, the recreational haven turns into a pup-friendly park during the weekends, from 10 am to 5 pm!
During this period, you and your best pal will have a ball roaming the various trails, enjoying a few hours of fun and exploration!
The Pinecrest Gardens staff can provide things your dog may need to enjoy its experience at Pinecrest Gardens.
It includes water bowls, drinking water, and cleanup bags. Park officials also have leads on a lending system, in case you forgot yours at home.
Aside from the trails, you'll find grass and picnic areas around the garden, so you and Fido can also enjoy a picnic on the grounds if the mood strikes.
Dogs are allowed to visit on leashes.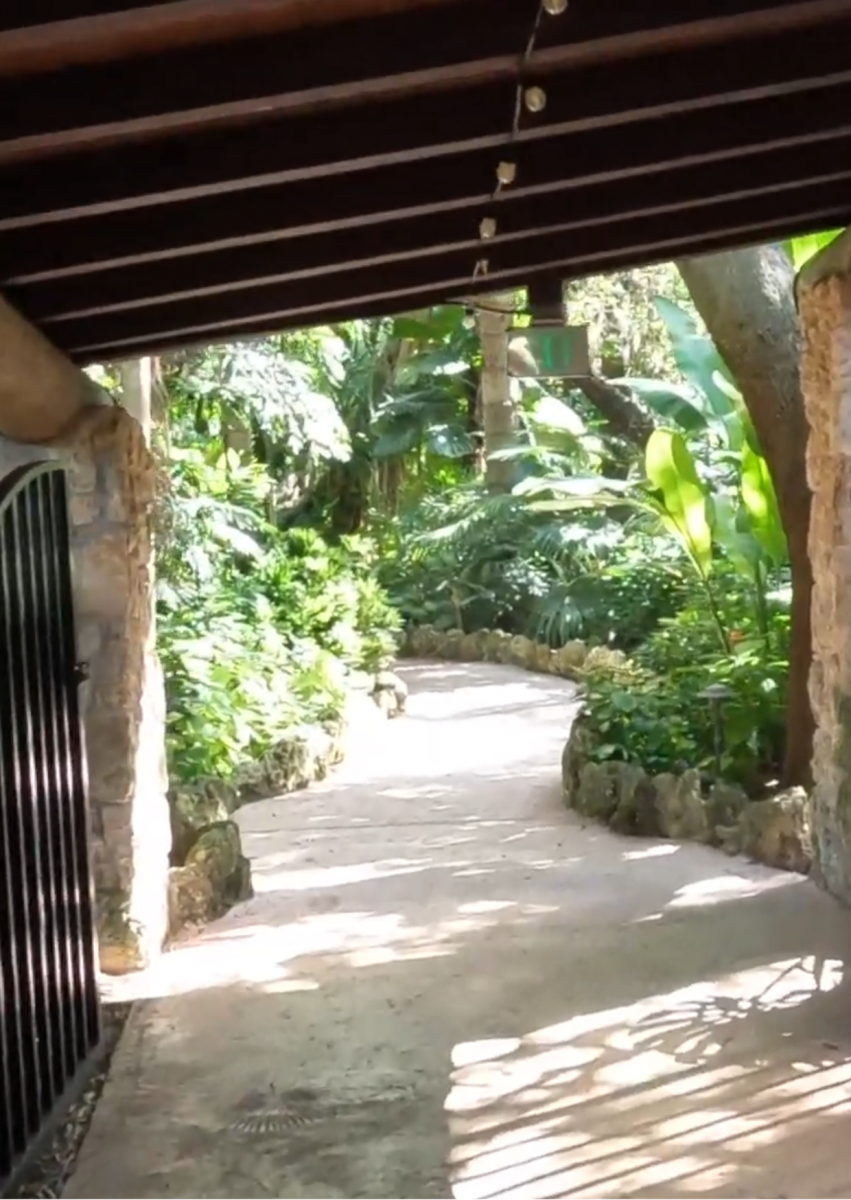 4355 SW 42nd Ave, Miami, FL 33133
With an array of Ficus and banyan trees with thick, twinning trunks dominating the park, you can say that Merrie Christmas Park's standout feature is its lush nature.
But the park offers way more beyond it!
Unlike many Miami parks, Merrie Christmas Park focuses on providing open green space, with only a tiny portion of land paved for sidewalks and playground equipment.
Its rolling lawns make a perfect spot for an on-leash romp or a gentle meandering walk.
It's a sunken park that sits in a natural bowl, safely containing all kinds of play.
There are picnic tables and benches placed under, near, and in front of trees around the park, providing places to rest and give your good dog some pets.
It's the perfect spot to visit with your pup when looking for shade on a warm sunny day!
Whether you want to romp up and down the park's small hills, gaze up into the maze of a banyan tree's branches, or bring a treat and something to read, Merrie Christmas Park is an ideal place to spend a beautiful Miami afternoon with Fido!
The best thing is that it's only a 5-minute drive from Gables Estates via Old Cutler Rd.!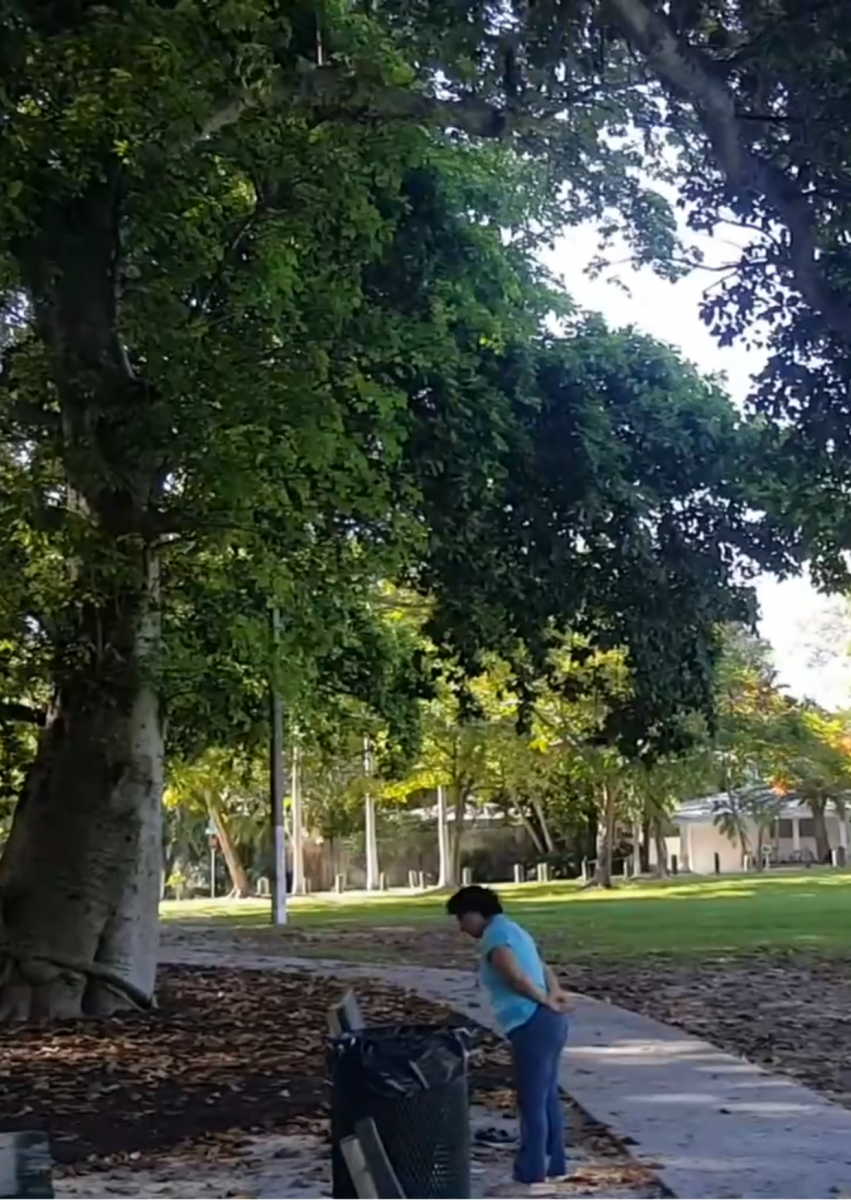 6) William H. Kerdyk, Jr., and Family Park
6611 Yumuri St, Coral Gables, FL 33146
Boasting three acres of manicured green spaces, a well-maintained playground, pathways, and an open area for outdoor activities, William H. Kerdyk, Jr., and Family Park is, indeed, a spot that families can visit to enjoy quality time-- Fido included!
At the park, visitors will see a variety of trees, plants, and flowers.
There are also solar-operated benches for relaxing or enjoying the picturesque surroundings better as you charge your phone.
Best of all, your pup can get in on the fun, too!
William H. Kerdyk, Jr., and Family Park is included in the list of dog-friendly parks in Coral Gables and welcomes leashed dogs in its vicinity.
It is an 8-minute drive from Gables Estates.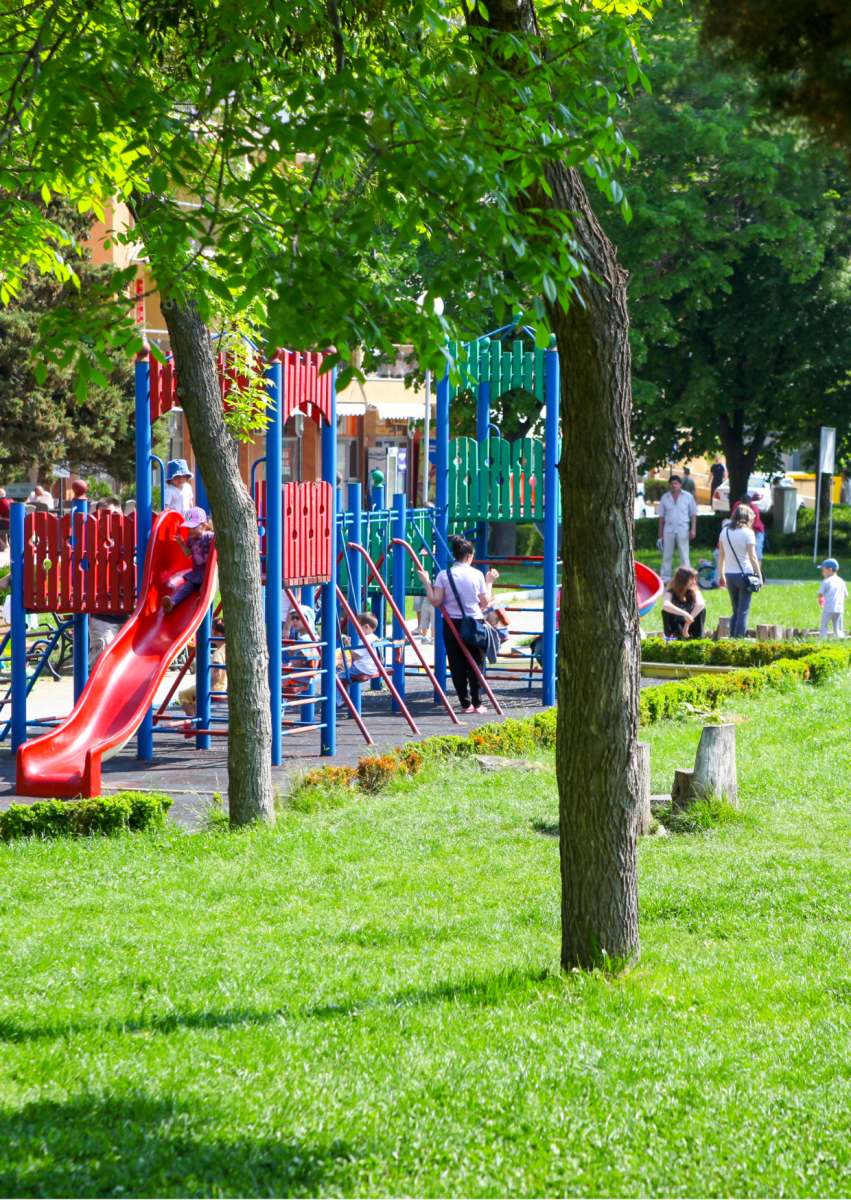 7) South Miami Dog Park (Top-Pick!)
6380 SW 78th St, South Miami, FL 33143
An 8-minute drive from Gables Estates, South Miami Dog Park is a must-visit when you're in the area-- especially if you've got furry companions to entertain!
Standing small at 0.13 acres, South Miami Dog Park is a fully-fenced dog haven where your pup can tear around at top speeds entirely off-leash, making it one of the most famous dog-friendly spots in South Miami.
At the park, you'll find agility equipment for your pup's workout!
Meanwhile, benches are scattered throughout the park to provide a place to rest while you watch your dog tire out.
The play space also has plenty of drinking water, and Fido can quench its thirst in between runs.
Be sure to bring cleanup sacks and promptly dispose of all wastes in the park's trash receptacles to help keep the dog park clean for all to enjoy.
Don't forget your dog's leash!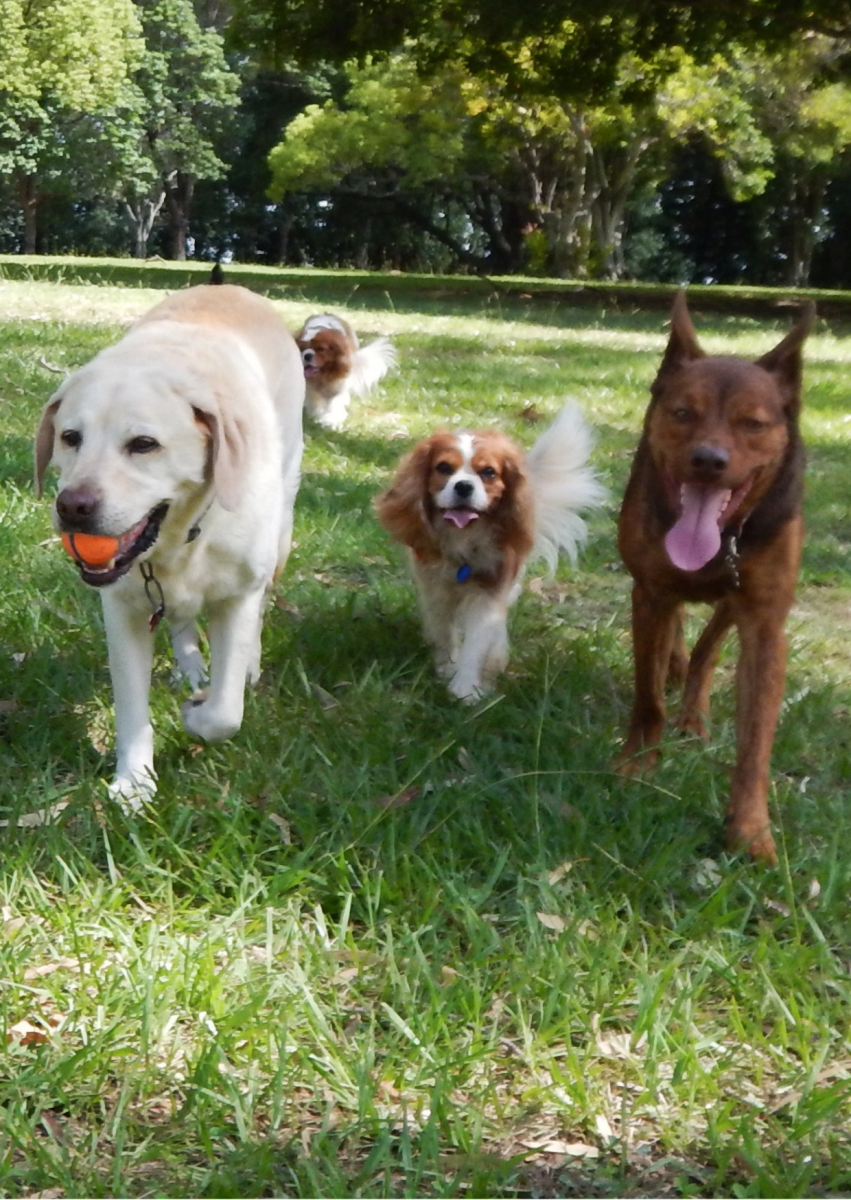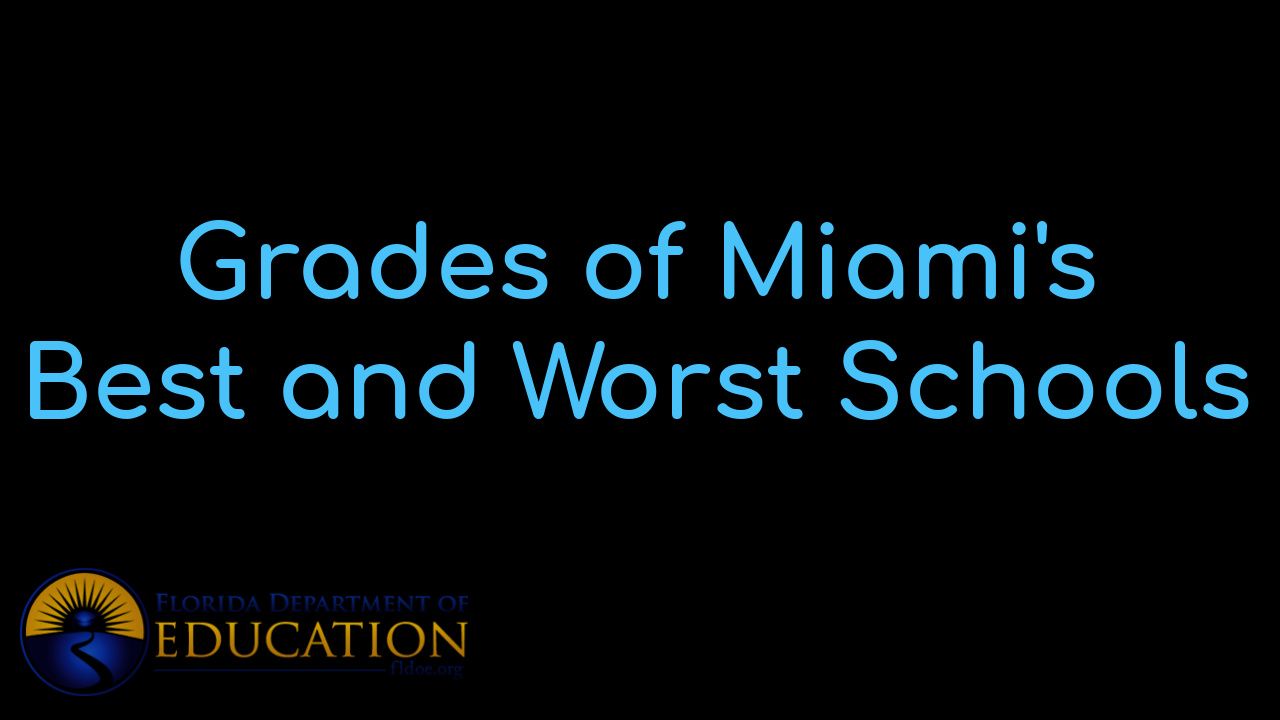 View Miami's BEST schools and the individual grades that each school received. Besides vie...
Who are we?
We are the ALL IN Miami Group out of Miami.
We are Colombian, Filipino, Cuban, German, Japanese, French, Indian, Syrian, and American.
We are Christian, Hindu, and Jewish.
We are many, but we are one.
We sell luxury homes in Miami, Florida.
Although some of our clients are celebrities, athletes, and people you read about online, we also help young adults find their first place to rent when they are ready to live on their own.
First-time buyers?
All the time!
No matter what your situation or price range is, we feel truly blessed and honored to play such a big part in your life.