Dog-Friendly Parks in North Beach
Prefer listening to audio instead of reading, click the PLAY button below
🎧
Open your hearts to a different side of Miami Beach, offered by a neighborhood where life is laid-back and peaceful amidst the exotic nightlife, boisterous vibe, and all the glitz and glam surrounding it. Luckily, Fido can come too!
We're talking about North Beach, an area occupying the northernmost section of Miami Beach (hence, its name)!
The community is roughly bounded by 63rd Street and Indian Creek Drive to the south and 87th Terrace to the north, referring to a group of communities, including the Isles of Normandy, Biscayne Point, and La Gorce.
Most locals and visitors will agree that it's the exact opposite of South Beach in almost everything-- but I mean that in the best way possible!
A slice of paradise between the hustle and bustle of South Beach and the upscale Bal Harbour, North Beach is a tranquil hub that serves as a Miami Beach "hidden gem."
And the best thing about this side of the beach?
It's got a few spots that'll get your pup's tail wagging!
Here's a list of dog-friendly parks in North Beach.
1) Bark Beach-North Beach Oceanside Park (Top-Pick!)
8328 Collins Ave, Miami Beach, FL 33141
Who knew dogs could be so lucky lounging beachside at their very own Bark Beach?
Found in North Beach Oceanside Park, Bark Beach is your pup's perfect spot for sun, sand, and sea!
While the entire beach area along North Beach Oceanside Park is off-limits to non-human visitors, Fridays, Saturdays, and Sundays between 1:30 PM and 5:30 PM are an exception!
During this period, the section between 80th and 81st Streets becomes an off-leash doggy paradise!
That's right, your dog can romp in the sand and splash in the water during these special dog-designated hours, but be sure they keep within the dog beach area.
Let your dog play under the sun, crush the sand castle you built, or get their paws wet on the beach.
Your dog can run the stretch without a leash, but keep it on hand, as you'll need it when entering and exiting Bark Beach and in the rest of the park.
If you didn't know, North Beach Oceanside Park also has another treasure for dogs, a dog park within the park!
It has two double-fenced dog-run areas, one for large dogs and one for small dogs, so your pup can ditch the leash again inside the area!
The dog park also features water fountains for thirsty pups, benches, bags, and trash cans to make clean-up a breeze!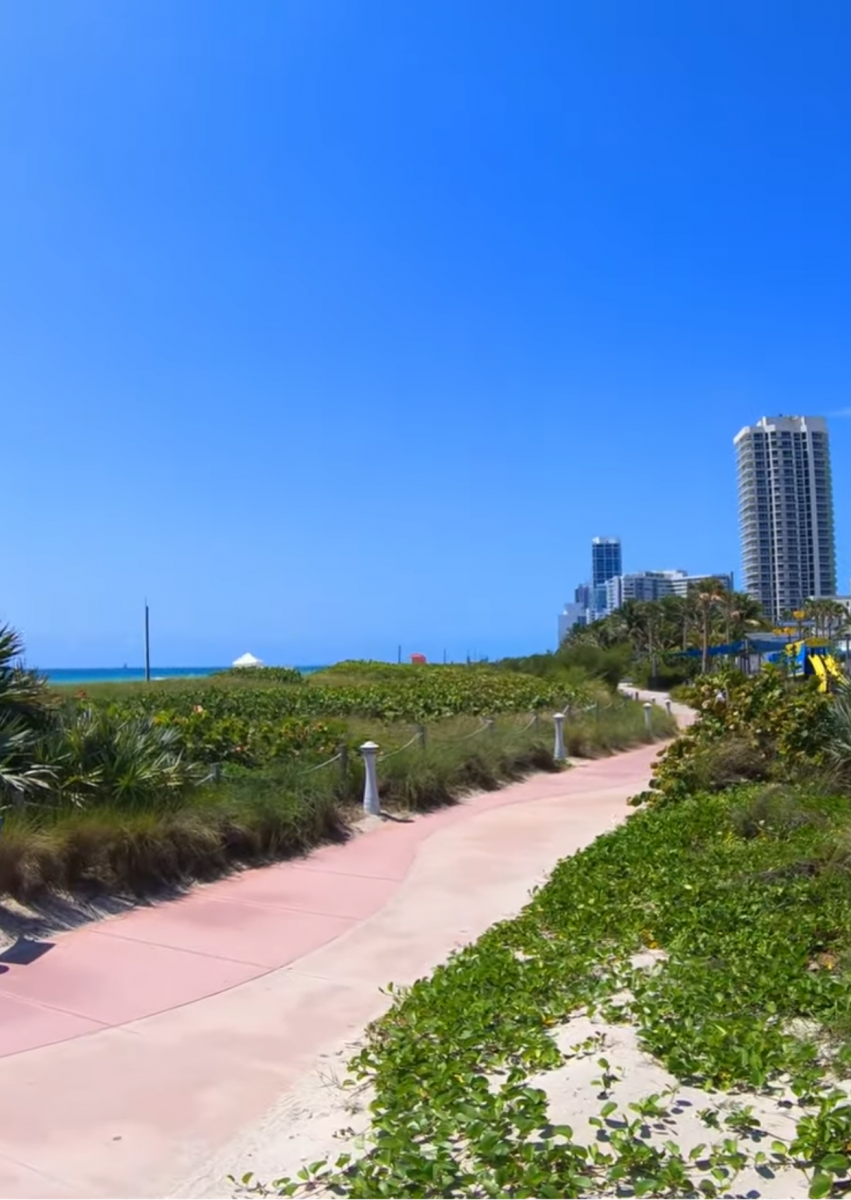 2) Fairway Park
200 Fairway Dr., Miami Beach, FL 33141
A beautiful family park set south of Normandy Shores Golf Course; Fairway Park is a gated dog-friendly North Beach park that boasts public access to an array of amenities that'll make your trip memorable!
At the park, you can enjoy a children's playground with swings, slides, and a rock climbing walk, two tennis courts, a basketball court, a soccer field, and pavilions with public bathrooms and vending machines.
It also has its own dog park!
Nestled on the southeast corner of the park, you'll find Fairway Park Bark Park, which features a double-gated dog entrance area that allows owners to unleash their pets in a holding area before releasing them into the off-leash bark park.
Other dog park amenities include a complimentary dog waste collection station and disposal can.
Don't forget to bring a leash!
While the Bark Park allows dogs to explore without it, you'll need to put your pup on a lead in the rest of Fairway Park.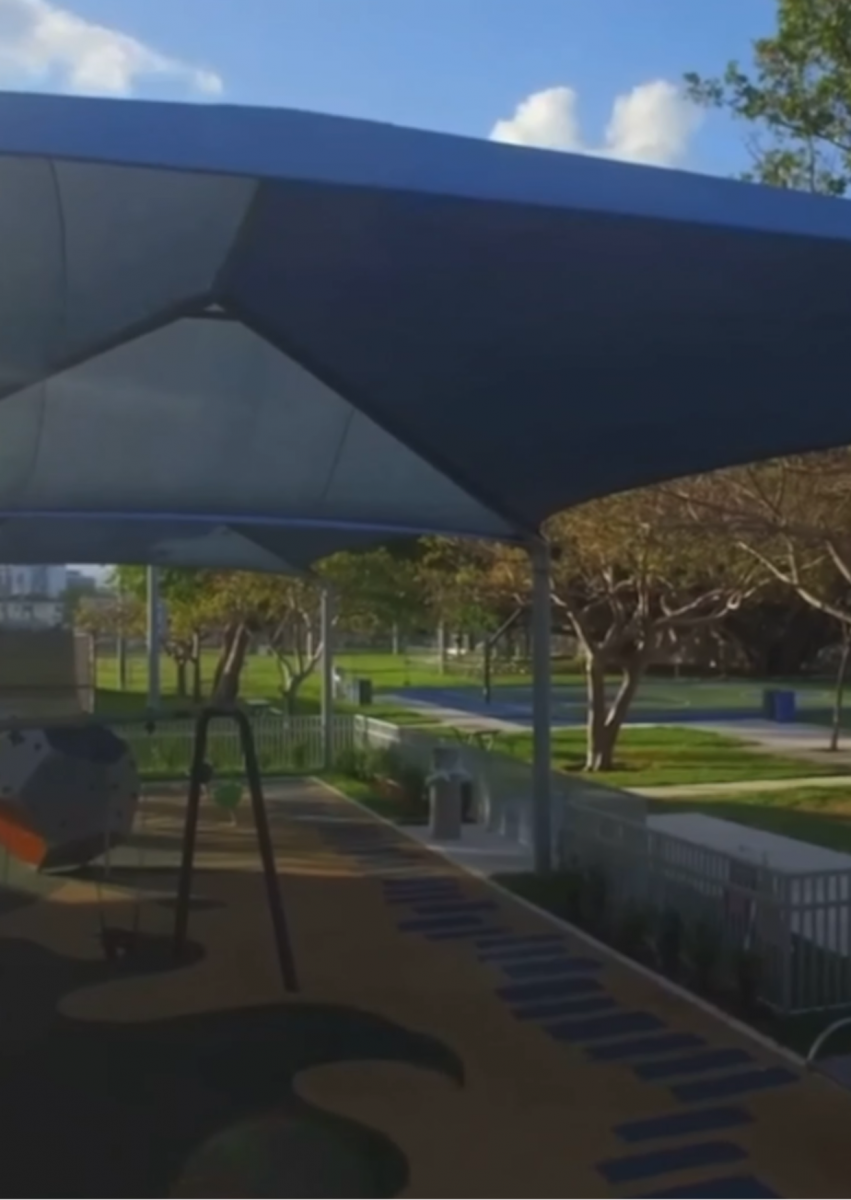 3) Stillwater Bark Park-Stillwater Park
8440 Hawthorne Ave, Miami Beach, FL 33141
Located at the entrance of gated Stillwater, Stillwater Park is a cozy triangle-shaped green space in the Biscayne Beach neighborhood of Miami Beach.
The park features amenities for all ages, including a playground designed for children ages 5–12, spring riders, a climbing board, a track rider (or zip line), a seesaw, toddler, and youth swings, a fully lit basketball court, and a grassy field with benches.
There are also picnic tables and benches peppered throughout the park.
The good news?
This park offers a bark park for Fido!
Located at the northwest corner of Stillwater Park, it features two double-gated dog entrance areas, divided for small and large breeds, allowing owners to unleash their pets in a holding area before releasing them into the off-leash spots.
Other park amenities include a drinking fountain for owners and dogs, waste collection, and disposal containers.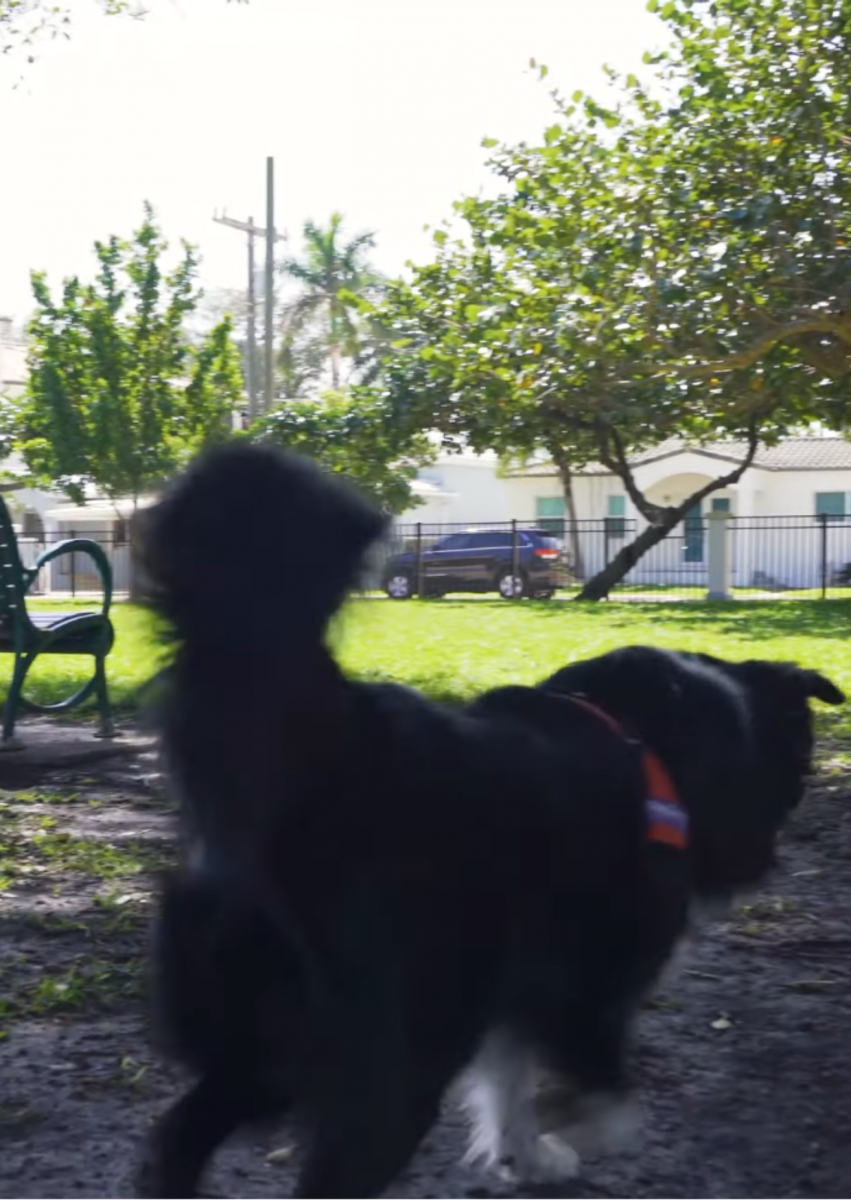 4) Haulover Beach Park (Top-Pick!)
10800 Collins Ave, Miami Beach, FL 33154
Feast your eyes on Haulover Beach Park, a 177-acre urban park between the Intercoastal Waterway and the Atlantic Ocean.
It is known as one of Miami Beach's premier dog-furiendly beaches, attracting people and their pooches from all over the world to its sandy shores!
Yes, folks, there are tons of fun to be had at this paw-some beach!
Take a stroll on the nearby dock or enjoy a picnic at tables.
Or, if you're looking for an expansive space your dog can enjoy, visit Bark Park, an off-leash dog park in Haulover Beach Park.
It features fenced large and small dog sections, drinking water, and clean-up bags for your convenience.
But that's not all!
If you're looking forward to swimming with your canine, you have come to the right place!
You'll find a dog-friendly designated beach area between Lifeguard Towers #2 and #3, available from 8 am to 3 pm.
Just be sure to keep your dogs on a leash until they're safely in the designated off-leash dog zones of the park and beach.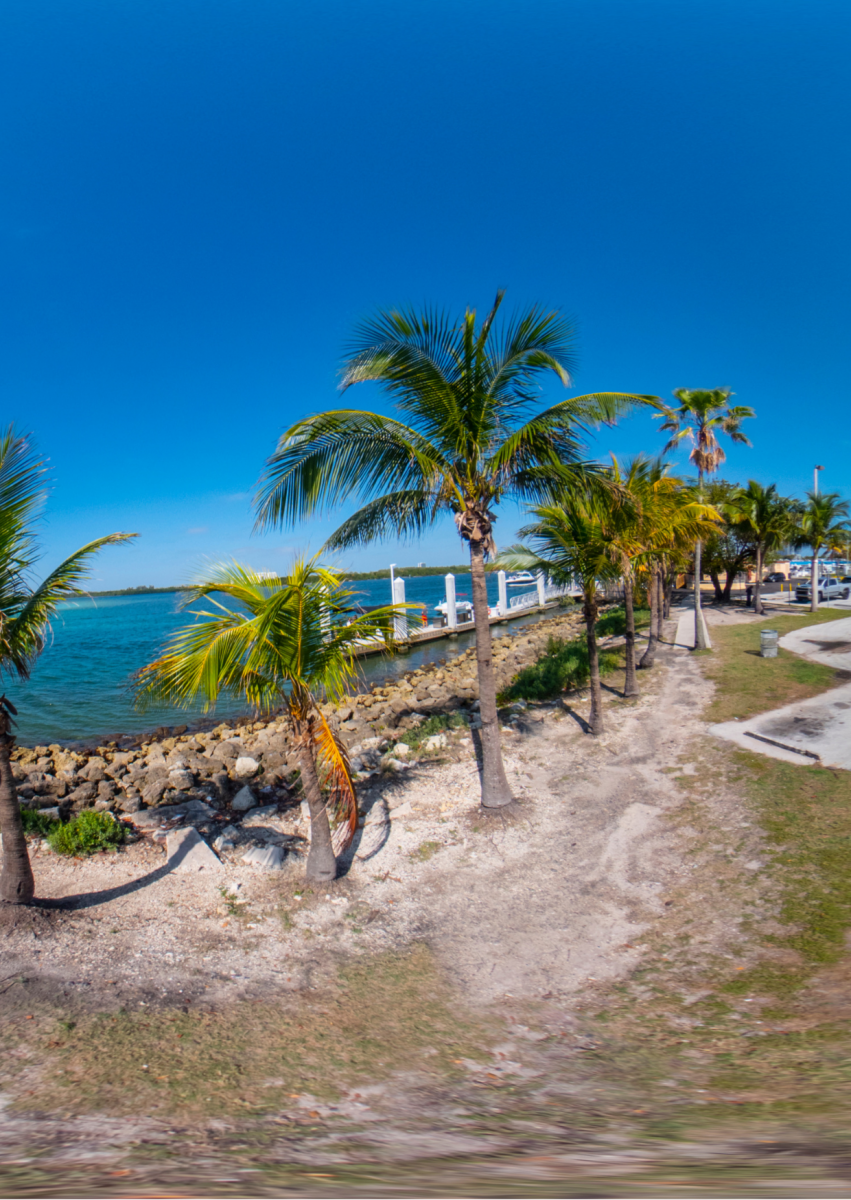 5) Miami Beach Boardwalk (Top-Pick!)
46th Street & Collins Avenue to 23rd Street, Miami Beach, FL 33140
While the famous Miami Beach Boardwalk isn't considered a park, per se, this four-mile stretch of walkway is best for walks, sightseeing, and people-watching with Fido!
Indeed, the beach itself isn't dog-friendly. But the good thing about the boardwalk is you're welcome to run or walk with your dog on a leash along this path, provided you're considerate of others.
Nonetheless, taking this trail means a chance to see the sun, sand, and waves of Miami Beach with your pup. There are vendors and street performers, and events often set up along the way.
If your furry pal is a fan of a nice, long walk with lots of new sights and smells, Miami Beach Boardwalk is a perfect place to get sunshine and exercise for your dog in North Beach!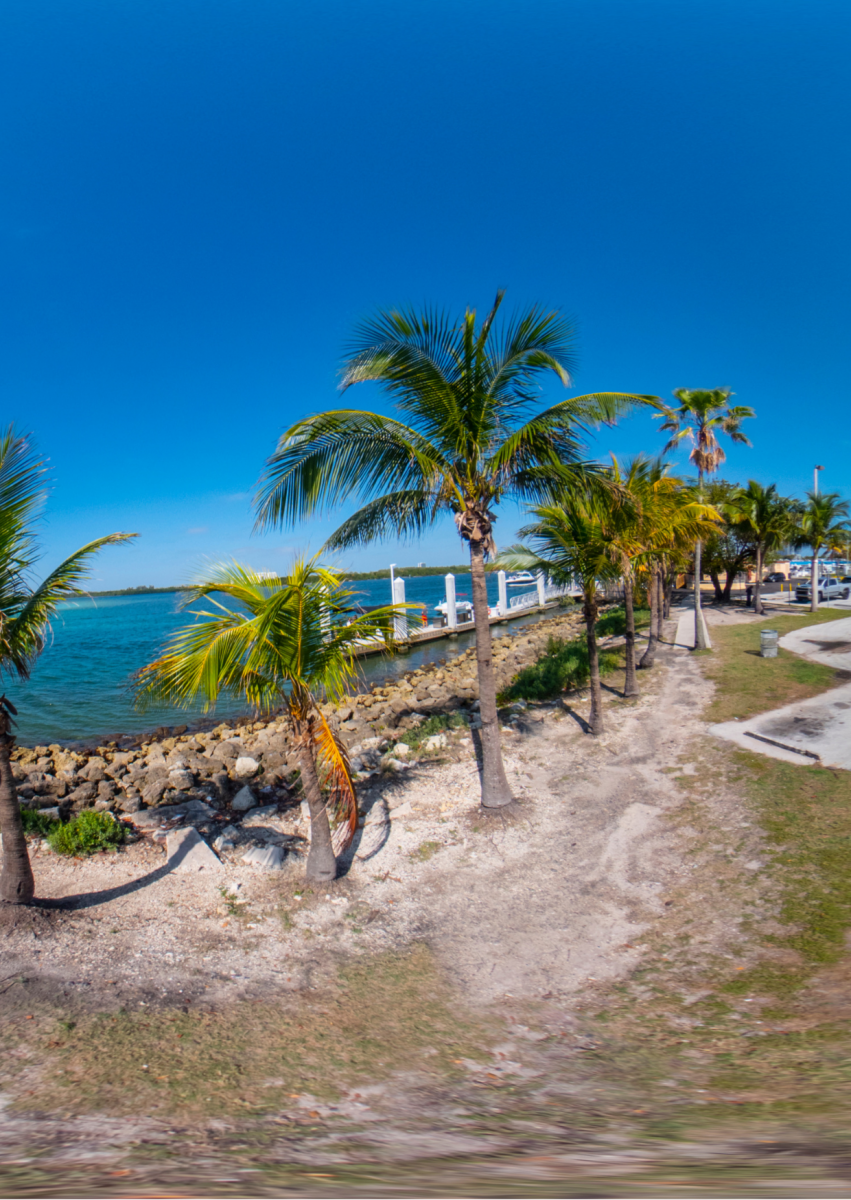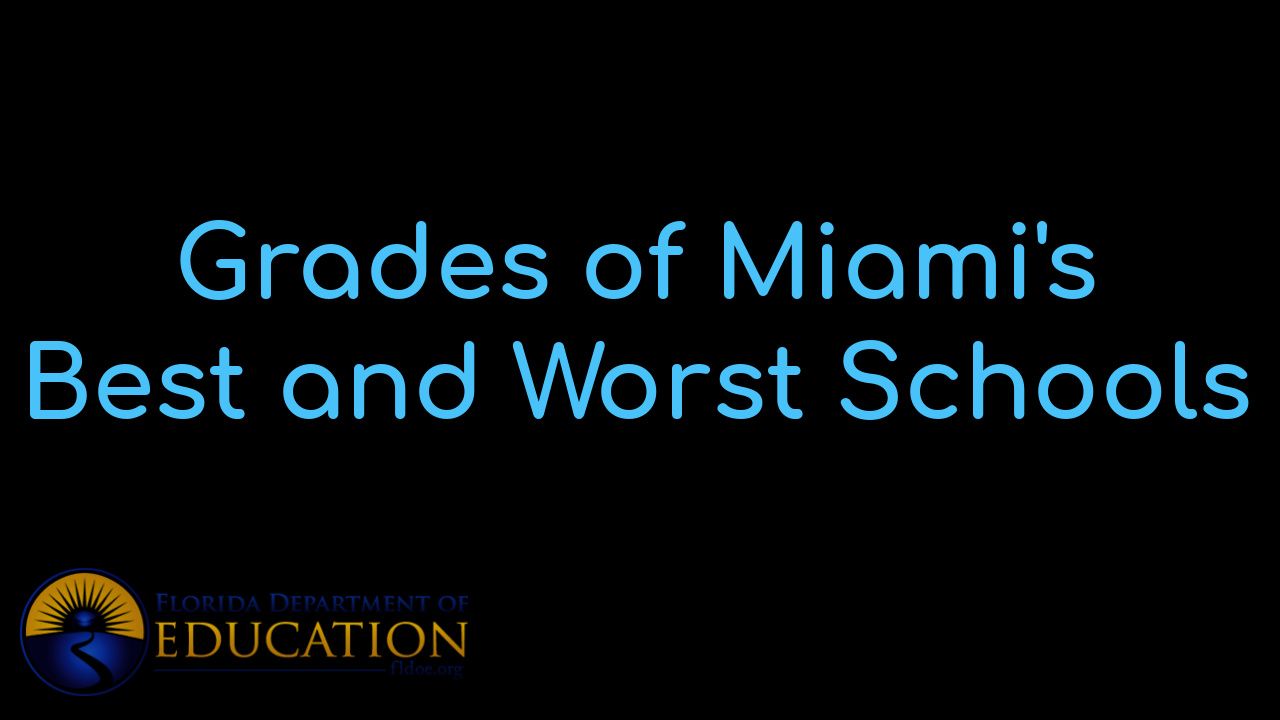 View Miami's BEST schools and the individual grades that each school received. Besides vie...
Who are we?
We are the ALL IN Miami Group out of Miami.
We are Colombian, Filipino, Cuban, German, Japanese, French, Indian, Syrian, and American.
We are Christian, Hindu, and Jewish.
We are many, but we are one.
We sell luxury homes in Miami, Florida.
Although some of our clients are celebrities, athletes, and people you read about online, we also help young adults find their first place to rent when they are ready to live on their own.
First-time buyers?
All the time!
No matter what your situation or price range is, we feel truly blessed and honored to play such a big part in your life.