Dog-Friendly Parks in Downtown Miami
Prefer listening to audio instead of reading, click the PLAY button below
🎧
Book a meaningful trip to the urban city center of Magic City, Downtown Miami, a hub of international finance, dining, arts, and entertainment-- and a Miami destination that welcomes furry companions with open arms!
Nestled on the Atlantic Ocean in South Florida, Downtown Miami is a waterfront community lined with marinas and off-shore islands (natural and artificial), backed by architecturally impressive high buildings-- and two or three odd palm trees, give or take.
The popular neighborhood is divided by the Miami River, bordered by Midtown (Edgewater and Wynwood) to the north, Biscayne Bay to the east, Civic Center and Overtown to the west, and Coconut Grove to the south.
It's a community with a vast history and culture that has kept up with the times, growing into a modern, culturally rich area filled with theaters, museums, galleries, event venues, and a surplus of world-class bars and restaurants.
Oh, and did I mention this hip urban city has an array of nature destinations for your pup, too?
Its 3.8 square miles, though smaller than most downtowns, boasts a few choice spots for Fido dog lovers dare not miss!
Here's a list of dog-friendly parks in Downtown Miami.
1) Bayfront Park (Top-Pick!)
301 Biscayne Blvd, Miami, FL 33132
In a city of skyscrapers, Bayfront Park provides a welcome green space in Downtown Miami.
An urban park that spans 32 acres in the heart of the urban center, Bayfront Park is perfect for families who want to relax, play or exercise on their trip to Downtown Miami with Fido! What's more, the park boasts a waterfront location on Biscayne Bay.
In fact, when describing Bayfront Park, iconic is an understatement!
The famous recreational destination offers vast open lawn spaces, performance venues with special event lighting and VIP seating areas, a tropical rock garden, and a waterfall that dates back to 1926.
The park also hosts many events, such as yoga, movie nights, and salsa classes, all of which are free, and a handful of paid events, such as festivals and concerts.
Other park amenities include tree-lined paths, benches, picnic tables, FPL Solar Amphitheater, The Tina Hills Pavilion, and the Lee & Tina Hills PlayGround for the kids. Dogs are allowed in the park on a leash.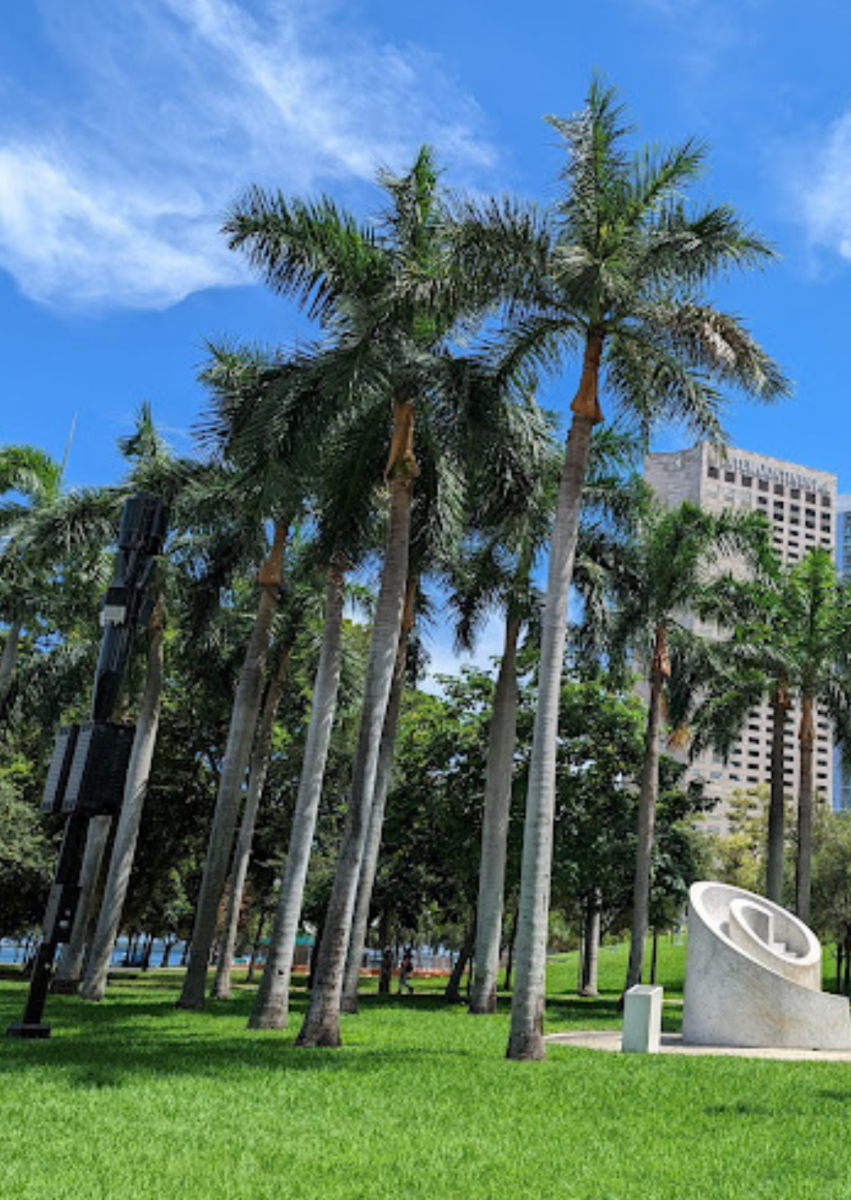 2) Maurice A. Ferré Park (Top-Pick!)
1075 Biscayne Blvd, Miami, FL 33132
Considered an extension of Downtown Miami's Bayfront Park, Maurice A. Ferré Park is a 30-acre public urban park with the longest waterfront bay walk in Miami, and a promenade from Biscayne Boulevard to Biscayne Bay, providing pedestrian access to a fascinating collection of museums.
And yes, this park is dog-friendly, too! Just be sure to put them on a leash.
Come to Maurice A. Ferré Park for a picture-perfect spot for strolling or jogging.
The park features the Plaza of the Spanish Navy/Plaza de la Marina Española, home to a monument that honors the Spanish Navy that arrived in the Americas on Oct. 12, 1492.
It was erected in 1991 near the mooring site of the Spanish tall ship Juan Sebastian Elcano by Mayor Xavier Suarez and Consul General Erik I. Martel.
The Dogs & Cats Walkway is another exhibition pet lovers will want to see.
It features 52 oversized aluminum sculptures of 26 dogs and 26 cats painted by local artists.
And you know what else is paw-some about Maurice A. Ferré Park?
It has a fenced dog park within its perimeters!
Let your dogs off their leash and tire them out as you sit on the benches and watch them have the time of their lives!
Maurice A. Ferré Park is also near a few landmarks, including the American Airlines Arena, Bayside Marketplace, the Perez Art Museum Miami, and the Patricia and Phillip Frost Museum of Science.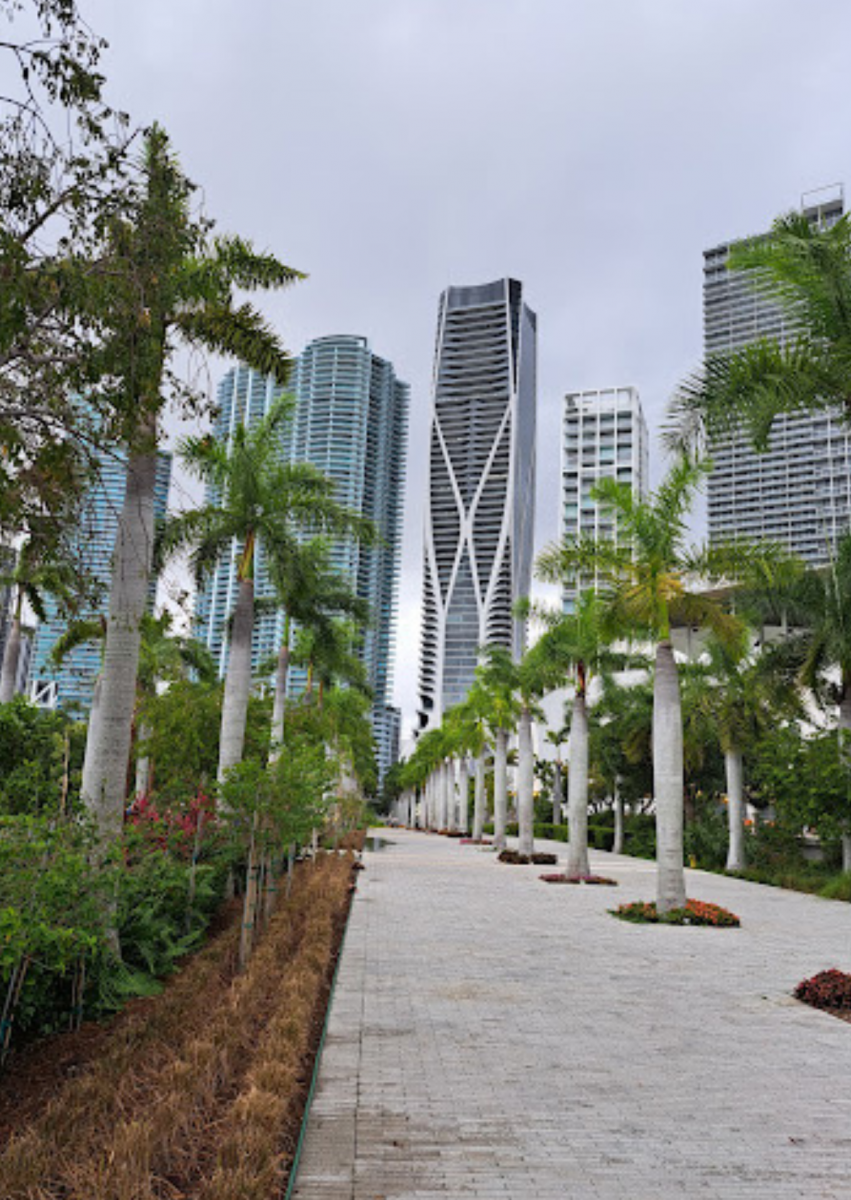 3) Dog Park - Margaret Pace Park (Top-Pick!)
1745 N Bayshore Dr, Miami, FL 33132
Set directly on Biscayne Bay amid Edgewater's residential condos, Margaret Pace Park is a hidden gem tucked away just north of Downtown Miami, a dog-friendly park shared by the neighborhoods of Downtown Miami and Edgewater.
Named for one of Miami's most important preservationists, the park boasts picturesque waterfront views of the Venetian Islands and Miami Beach beyond.
At Margaret Pace Park, you're likely to spot joggers stretching after an evening run and friendly pickup games at the park's basketball, tennis, and volleyball courts.
It's also a famous spot where locals walk their dogs along the waterfront and watch them play in the enclosed dog park.
Yes, this park has a dedicated dog park for your pups!
The half-acre Margaret Pace Dog Park includes two fenced areas for off-leash play - one for dogs over 25 pounds and another for smaller dogs, park bench seating, "fire hydrants," and water fountains for dogs and 'hoomans.'
Cleanup bags are available for your convenience, and owners must pick up and properly dispose of their dog's waste.
Don't forget to bring a leash!
Brickell Key Dr, Miami, FL 33131
Boasting scenic city views where one can disconnect from Brickell's hustle and bustle, Brickell Key Park is an 18-minute walk from Downtown Miami, set on the picturesque manmade island of Brickell Key.
It's a famous walking destination for Downtown Miami & Brickell tourists and locals-- and their four-legged best friends, too!
Aside from the best views of the Downtown skyline, this area offers paved routes along the beautiful Biscayne Bay, where you can stroll with your dog in an atmosphere of bliss and exclusivity as you pass an array of residences, the Mandarin Oriental, lush coconut trees, and a stream of yachts.
Brickell Key Park also has an expansive grassy area dotted with picnic tables (some shaded) where dog owners can sit back and relax with a book while their dogs rest up.
Be sure to keep your pup leashed when you visit.
While you'll find a few spots in the park that allows dogs to run freely, most of Brickell Key Park prohibits unleashed dogs.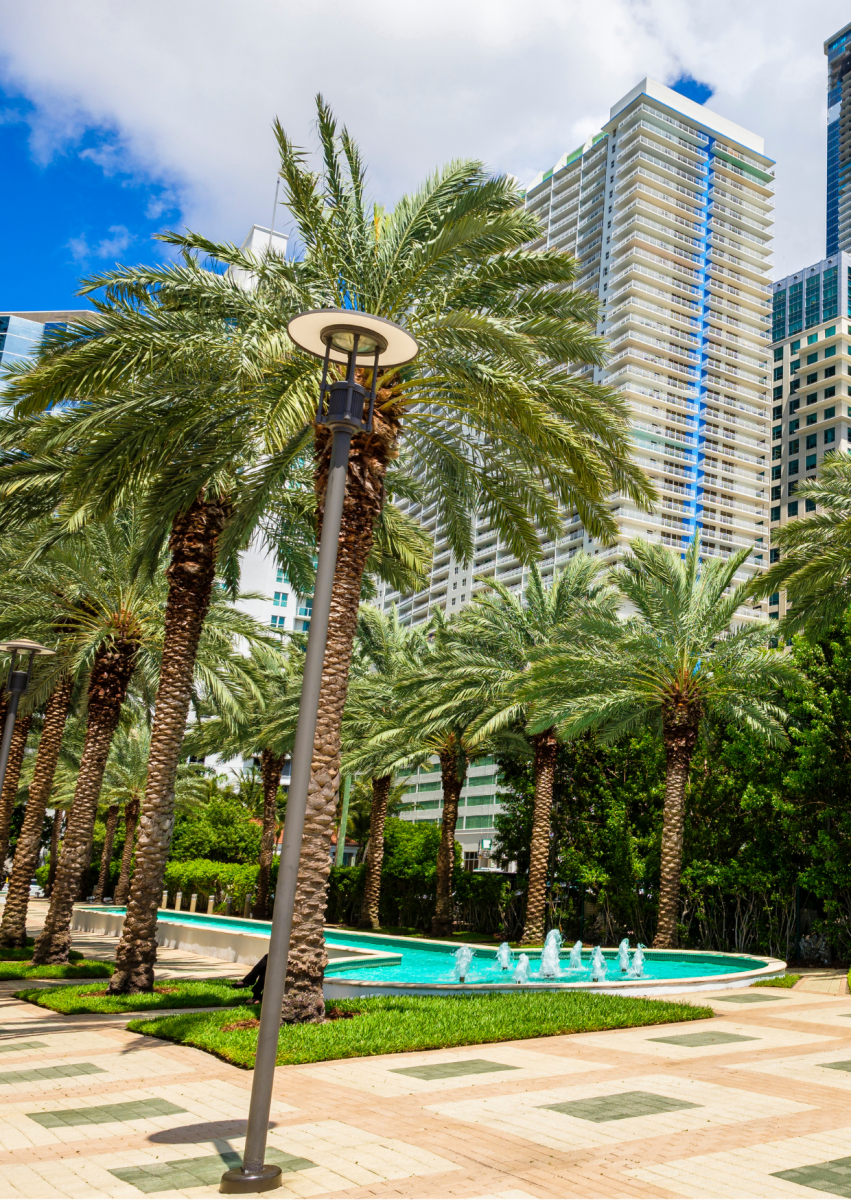 140 SW 11th St, Miami, FL 33130
A large urban park frequently visited by families and dog owners, Southside Park is the 'place-to-be' when Fido needs some 'downtime' with his furry buddies!
The good thing is this park is only a 20-minute walk from Downtown Miami!
Famous for the grassy open area and basketball court, the two-acre park is perfect for strolling, socializing, and a game of basketball with the locals.
It also boasts a playground for the kids and picnic tables & benches for snacking or resting.
Do you need a drink under the warm Miami sun?
Southside Park has water fountains to take care of your thirst!
All the park amenities are linked by a small concrete pathway surrounded by trees and grassy terrain on all sides, and you'll often hear birds chirping away in the trees.
Indeed, a beautiful space to share with your dog, where you can run, play or go for a walk.
Don't forget your leash!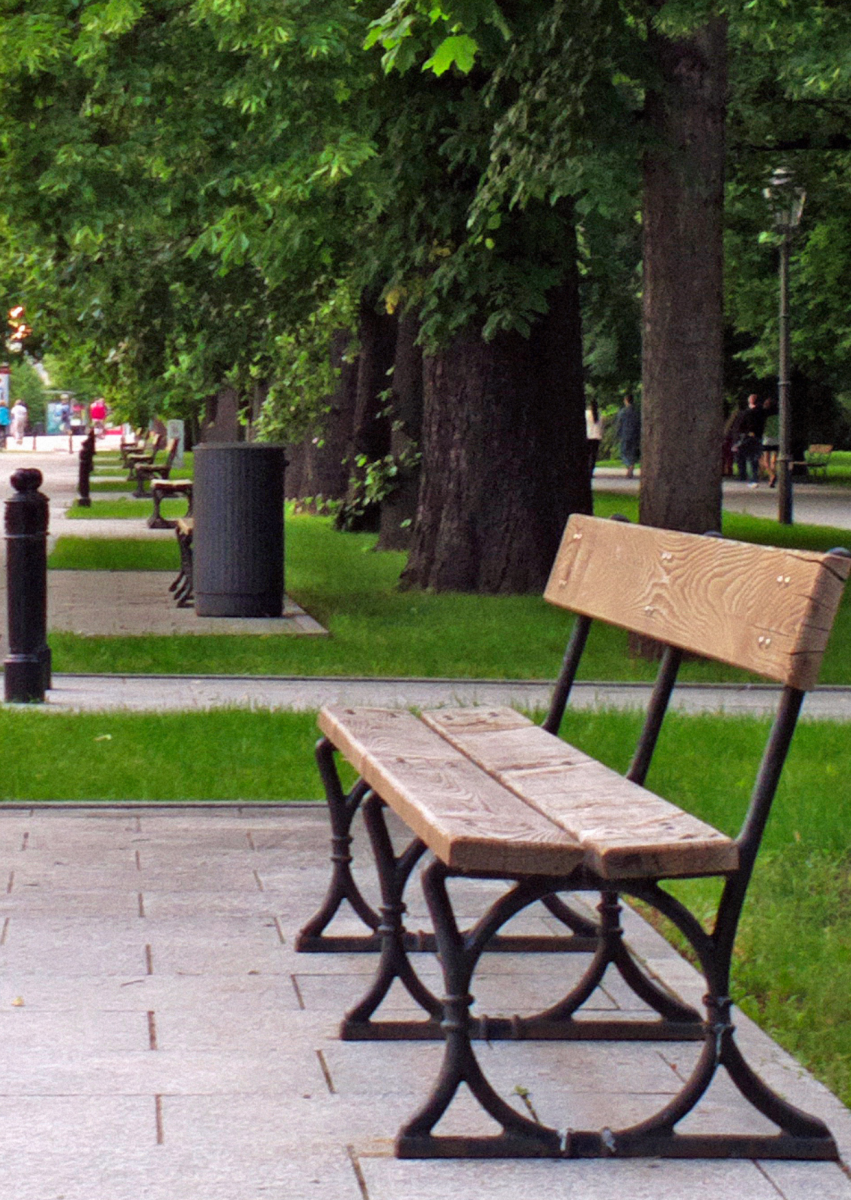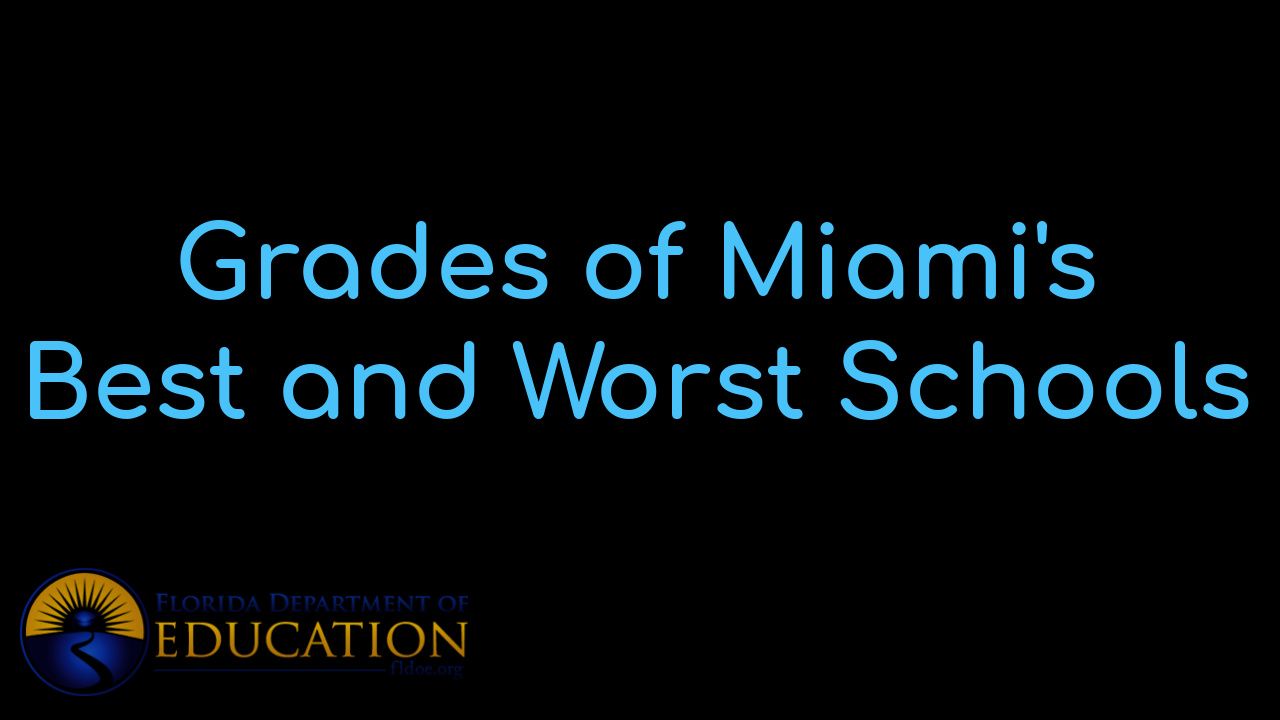 View Miami's BEST schools and the individual grades that each school received. Besides vie...
Who are we?
We are the ALL IN Miami Group out of Miami.
We are Colombian, Filipino, Cuban, German, Japanese, French, Indian, Syrian, and American.
We are Christian, Hindu, and Jewish.
We are many, but we are one.
We sell luxury homes in Miami, Florida.
Although some of our clients are celebrities, athletes, and people you read about online, we also help young adults find their first place to rent when they are ready to live on their own.
First-time buyers?
All the time!
No matter what your situation or price range is, we feel truly blessed and honored to play such a big part in your life.