Dog-Friendly Parks in Doral
Prefer listening to audio instead of reading, click the PLAY button below
🎧
Home to exciting shopping and entertainment complexes, picturesque city parks, and world-class golf courses, Doral has evolved into one of the most sought-after cities in the US for entrepreneurs and those who love living the good life-- even ones with fur on their skin!
Say ¡Hola to South Miami's very own "Doralzuela," a thriving Miami residential city of fairways and fine living, and a dog-friendly community at that!
It occupies 15 square miles of land area, bordered on the west by the Ronald Reagan Turnpike, to the north by the Town of Medley, to the east by the Palmetto Expressway, and to the South by the City of Sweetwater.
Recognized as one of the fastest-growing cities in the country, Doral has become a hot spot for new residents and big local and international businesses.
The city offers chock-full opportunities to shop, eat, play, and stretch your imagination, proving to be a prime travel destination within Miami for tourists and DOGS alike!
No doubt Fido won't run out of things to do in Doral!
First on the agenda: PARKS!
Here's a list of dog-friendly parks in Doral.
11555 NW 58th St, Doral, FL 33178
Built in 2006, Doral Meadow Park is a 14-acre recreational spot to visit when you're traveling to Doral with your pup in tow!
Offering locals and tourists an array of amenities, including two lighted soccer/football fields, two baseball fields, batting cages, a Vita Course exercise path, and a lengthy walking trail, Doral Meadow Park is one of the best spots for fitness, play sports, and marvel at nature's beauty.
And yes, you can do all that alongside your furry pal! Just be sure to have him on a leash at all times!
The good news is that Doral Meadow Park also has bikeway access to Trails & Tails Park, Doral's famous off-leash dog park, which means more fun with Fido is in store!
Other park amenities include a shaded, lighted kids' playground, a concession building with a covered pavilion, and picnic pavilions for rental!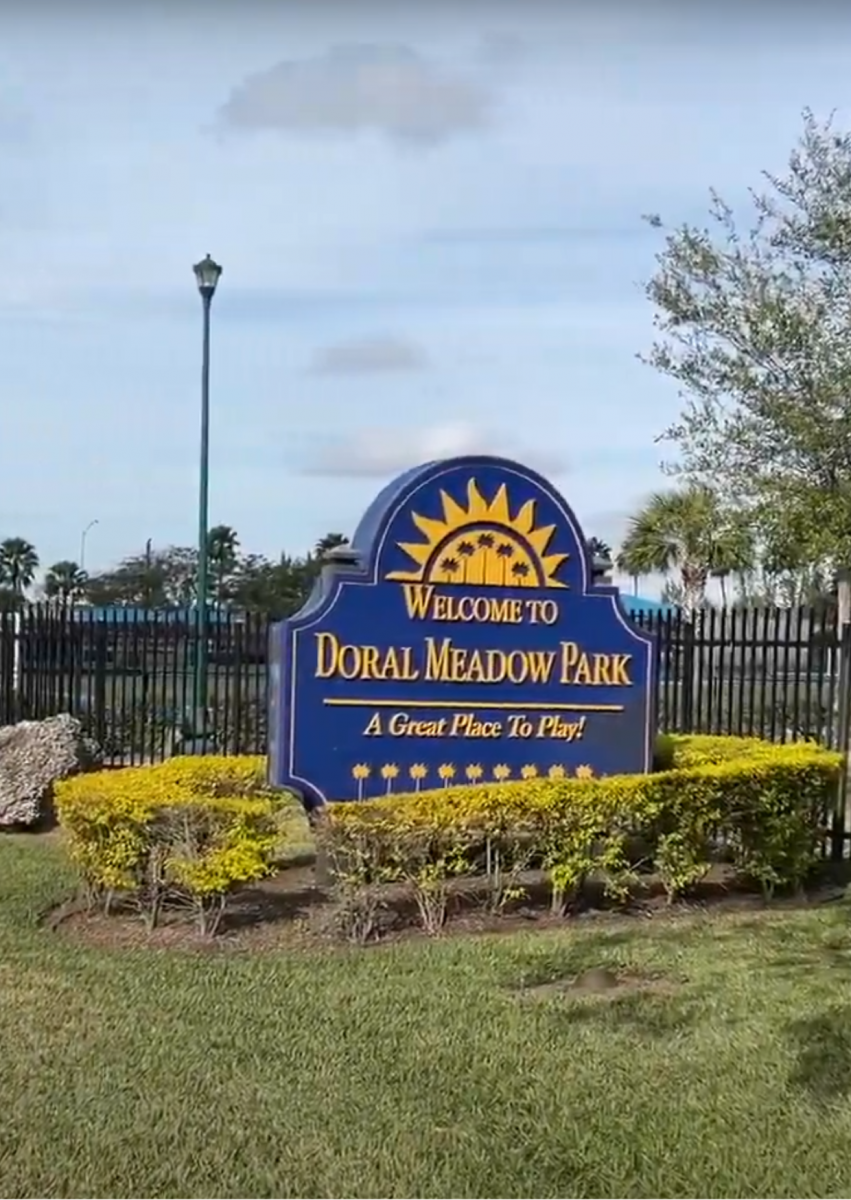 2) Trails & Tails Park (Top-Pick!)
11645 NW 50th St, Doral, FL 33178
Say hello to Doral's first-ever dog-friendly facility, Tails & Trails Park, Fido's version of "The Best Place On Earth!"
Completed in 2012, this eight-acre park offers small and large dog off-leash areas with multiple wash stations, a Memory Lane brick dedication, and dog-friendly water fountains.
For the "hoomans," Trails & Tails Park has a shaded kiddie playground and restrooms for convenience!
Most will agree that Trails & Tails Park is pretty state-of-the-art as dog parks go.
Its small breed section is grassed and has gravel pathways running around the border, and you'll also see a rockery-style garden installation planted with shrubbery and trees. Meanwhile, the large dog run is a vast grass field surrounded by metal railings.
It has gravel islands, boulders, and trees.
Another good thing about Trails & Tails Park is its clean facilities.
The park receives periodical spray treatment to prevent fleas, with spraying done on a rota system where one part of the park may be closed while the other is combined use.
Trails & Tails Park has benches for pet owners, poop bag dispensers, and water fountains.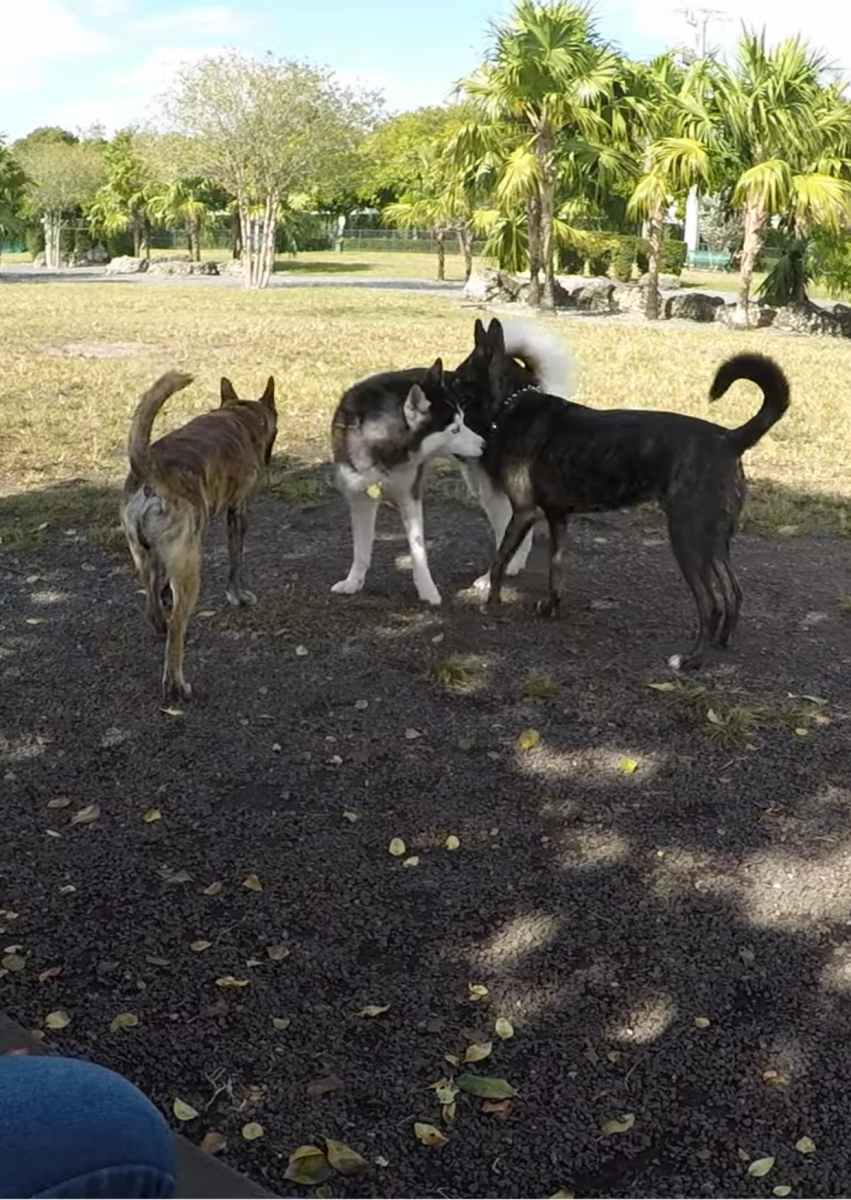 Veterans Park, 10190 NW 33rd St, Doral, FL 33172
If you're looking for a quick and quiet getaway in Doral, look to Veterans Park, a nature escape amidst a busy neighborhood.
While the park isn't as large as most parks in the city, its simple design encourages intimate reflection and quality time with family.
It features a statue honoring veterans near the center of the park, a small, shaded playground, and a picnic area, while the rest is open space.
Veterans Park is the perfect place to walk a shy dog who doesn't love crowds!
Note that this park doesn't have any trails, but its fields are spacious enough to give your pup a good walking session!
Bring your water and a bowl to share.
Dogs must be on a leash at all times.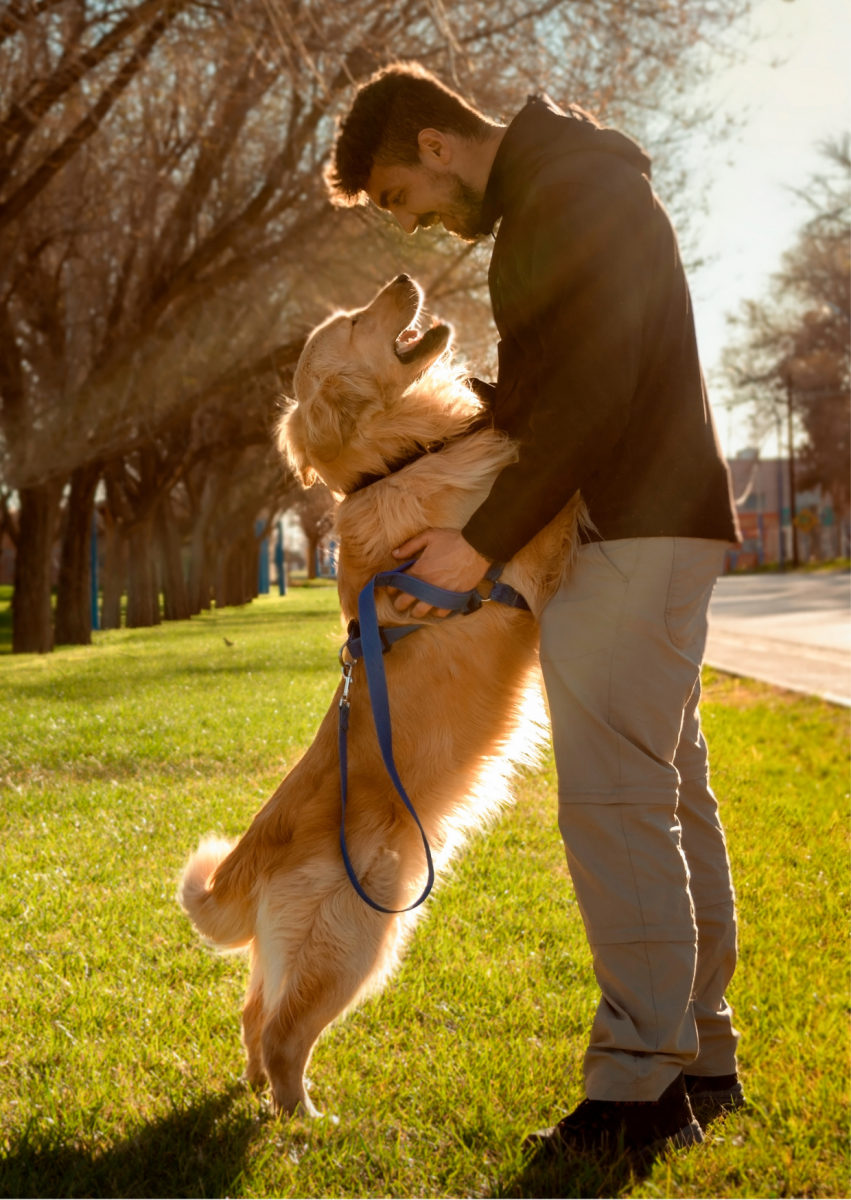 4) Downtown Doral Park (Top-Pick!)
8395 NW 53rd St, Doral, FL 33166
Take a walk with Fido to the famous Downtown Doral, a 250-acre dynamic city center teeming with luxury residences, trendy shops and restaurants, a bustling business park, and a premier golf destination-- to find one of the most dog-friendly parks in Doral, Downtown Doral Park!
At Downtown Doral Park, you and your pup will enjoy three acres of green open spaces ideal for family picnics, an afternoon stroll, or a leisurely walk with your dog.
The park also has a children's playground, picnic tables to rest or eat on, and a loop sidewalk around.
You'll find a few art sculptures in this park, too.
Its main attraction is the rock sculpture called "Micco."
It looks beautiful at night, as they put a light show on it and play audio sounds.
Downtown Doral offers proximity to an array of shops and restaurants, so be sure to visit a few pet-friendly establishments after playtime with your furry pal!
Don't forget your water bowl and Fido's leash!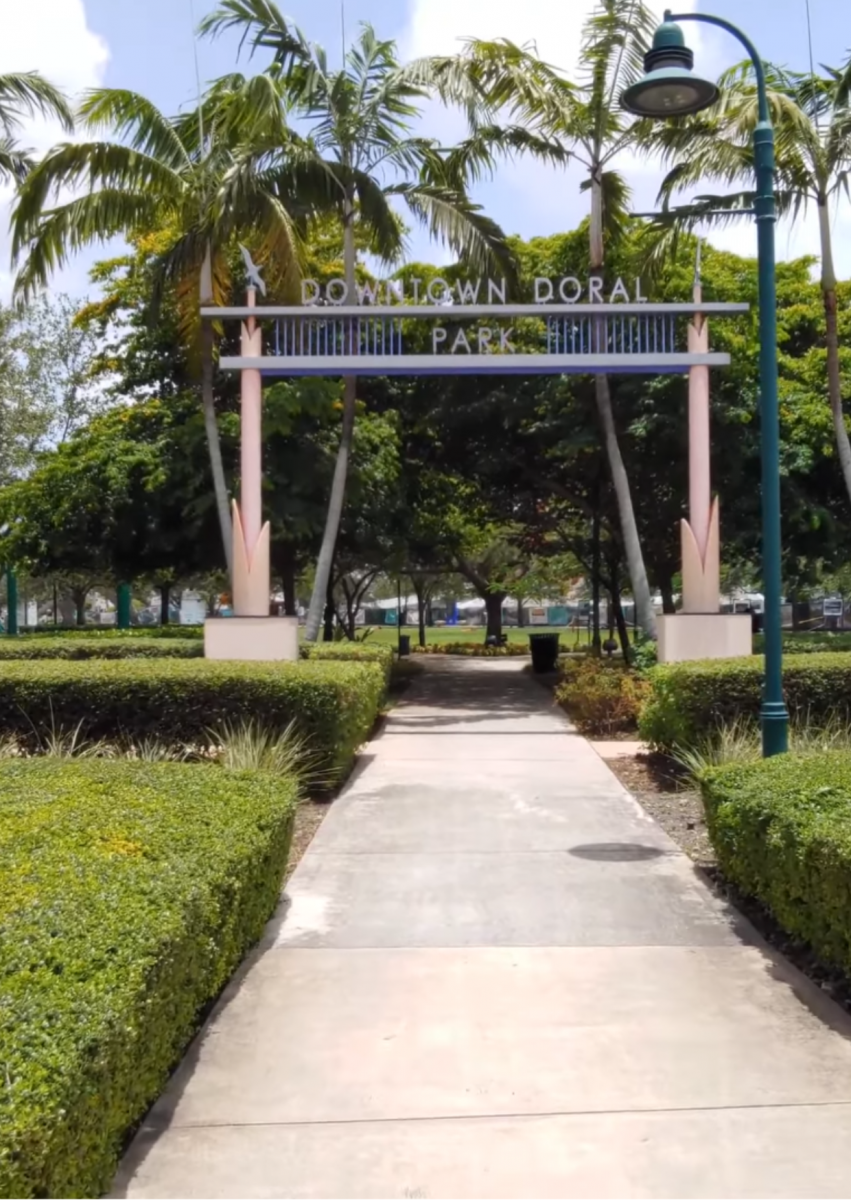 5) White Course Park (Top-Pick!)
8429 NW 41st St, Doral, FL 33166
One of the newest parks in the Doral, completed during the first quarter of 2022, White Course Park is, yet again, another fun spot you can bring Fido to when craving the outdoors.
Featuring a putting green and playground theme that honors Doral's rich golf history, White Course Park is a local hangout that offers a shaded playground, waterfront event plaza, outdoor fitness stations, fenced dog areas, restrooms, and shelters.
Its fenced off-leash dog area has two divisions dedicated to small and large dogs, with water fountains and hoses to use when your pup needs a cooldown or a quick shower.
White Course Park also has a spacious area to stroll after your dog's playtime!
Be sure to bring a water bowl and a leash, as dogs are only allowed without a lead in the off-leash areas.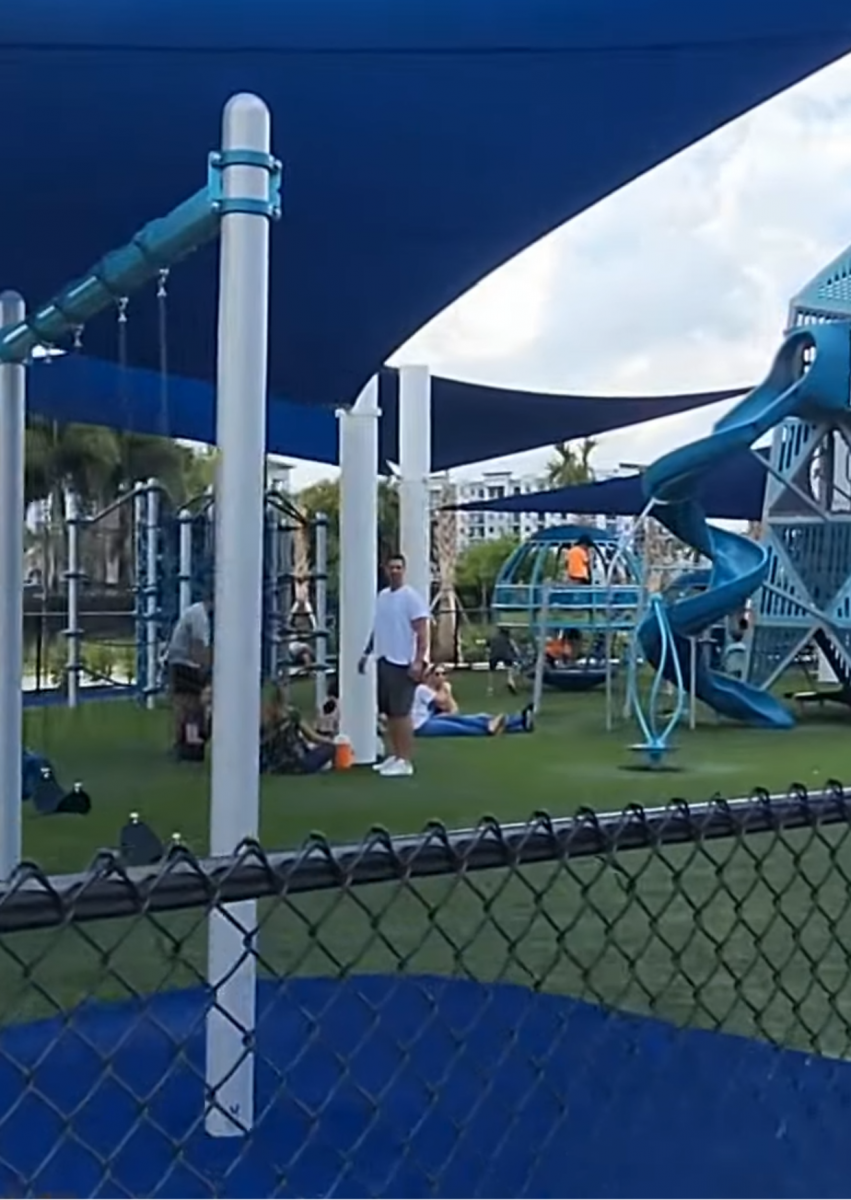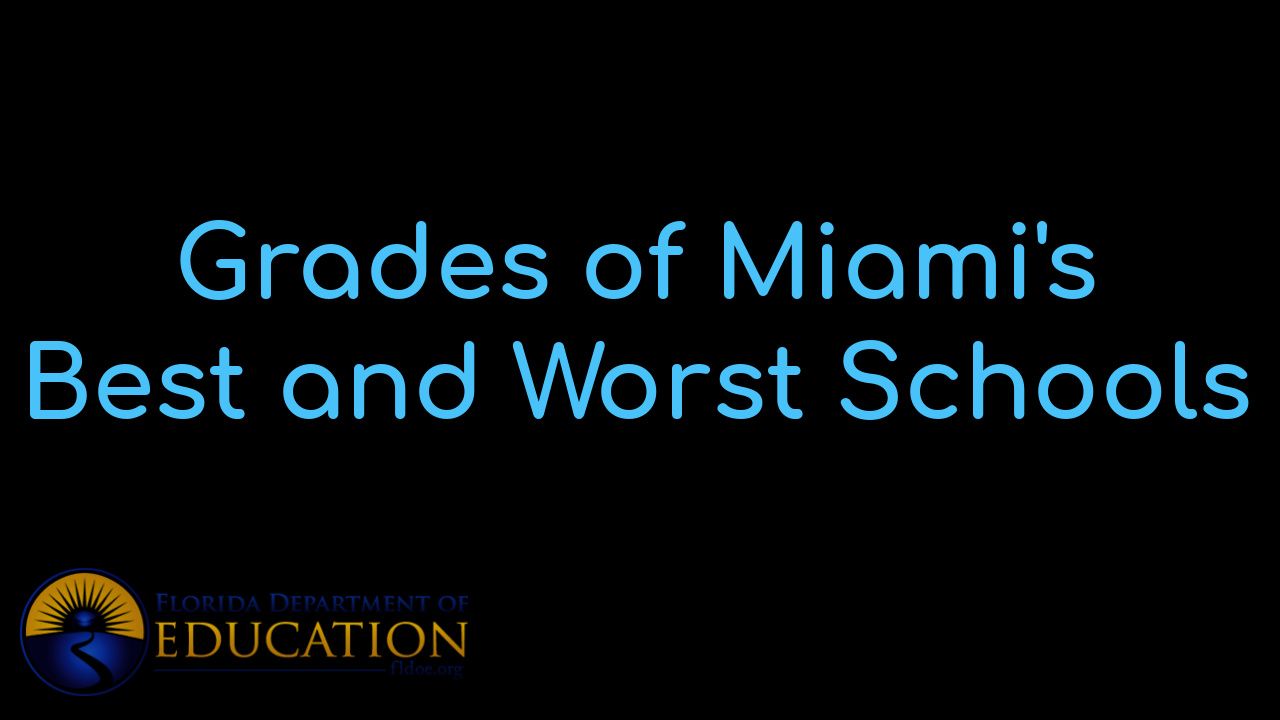 View Miami's BEST schools and the individual grades that each school received. Besides vie...
Who are we?
We are the ALL IN Miami Group out of Miami.
We are Colombian, Filipino, Cuban, German, Japanese, French, Indian, Syrian, and American.
We are Christian, Hindu, and Jewish.
We are many, but we are one.
We sell luxury homes in Miami, Florida.
Although some of our clients are celebrities, athletes, and people you read about online, we also help young adults find their first place to rent when they are ready to live on their own.
First-time buyers?
All the time!
No matter what your situation or price range is, we feel truly blessed and honored to play such a big part in your life.