Dog-Friendly Parks In and Around Sunny Isles Beach
Prefer listening to audio instead of reading, click the PLAY button below
🎧
Offering a one-of-a-kind South Floridian mix of luxury living, laid-back atmosphere, and stunning natural beauty, Sunny Isles Beach, known as Florida's French Riviera, is a comforting haven and the perfect travel destination for DOGS and humans alike!
Incorporated in 1997 as "The City of Sun and Sea," the neighborhood covers a 2.5-mile stretch of the Atlantic Ocean and two miles of sparkling white-sand beaches and towering resorts.
It is directly on the Atlantic Ocean to the east and the Intracoastal Waterway to the west, with an archipelago of residential finger islands in between, and offers proximity to Miami and Fort Lauderdale.
Relax in the sun, enjoy the sea breeze, and have a sandy-good time at South Florida's most coveted travel destination, Sunny Isles Beach!
There's really not a dull moment in "The City of Sun and Sea," whether you're exploring alone or have a playful Fido by your side!
Here's a list of dog-friendly parks in and around Sunny Isles Beach.
1) Heritage Park (Top-Pick!)
19200 Collins Ave, Sunny Isles Beach, FL 33160
Nestled in Sunny Isles Beach, Heritage Park is a must-see-and-enjoy recreational spot for dog lovers in the area!
Boasting four acres of park and play space, including two playgrounds, a Veteran's Wall, fountains, a water play area, a stage for events, a large open lawn, and spacious public parking, it's a dream spot for outdoor lovers looking to engage in an array of activities in one place!
And the best news for dog owners is Heritage Park has a dedicated leash-free dog area for their pups!
The dog area, located on the south side, is a haven for furry visitors looking to run around and socialize with fellow dogs.
It's fenced, too, so you won't have to worry about Fidos on the loose!
Please note that Heritage Park doesn't allow dogs in all other areas.
Other park amenities include a water play area, picnic tables, benches, free WiFi, restrooms, vending machines, and a community shuttle service.
Don't forget your dog's leash!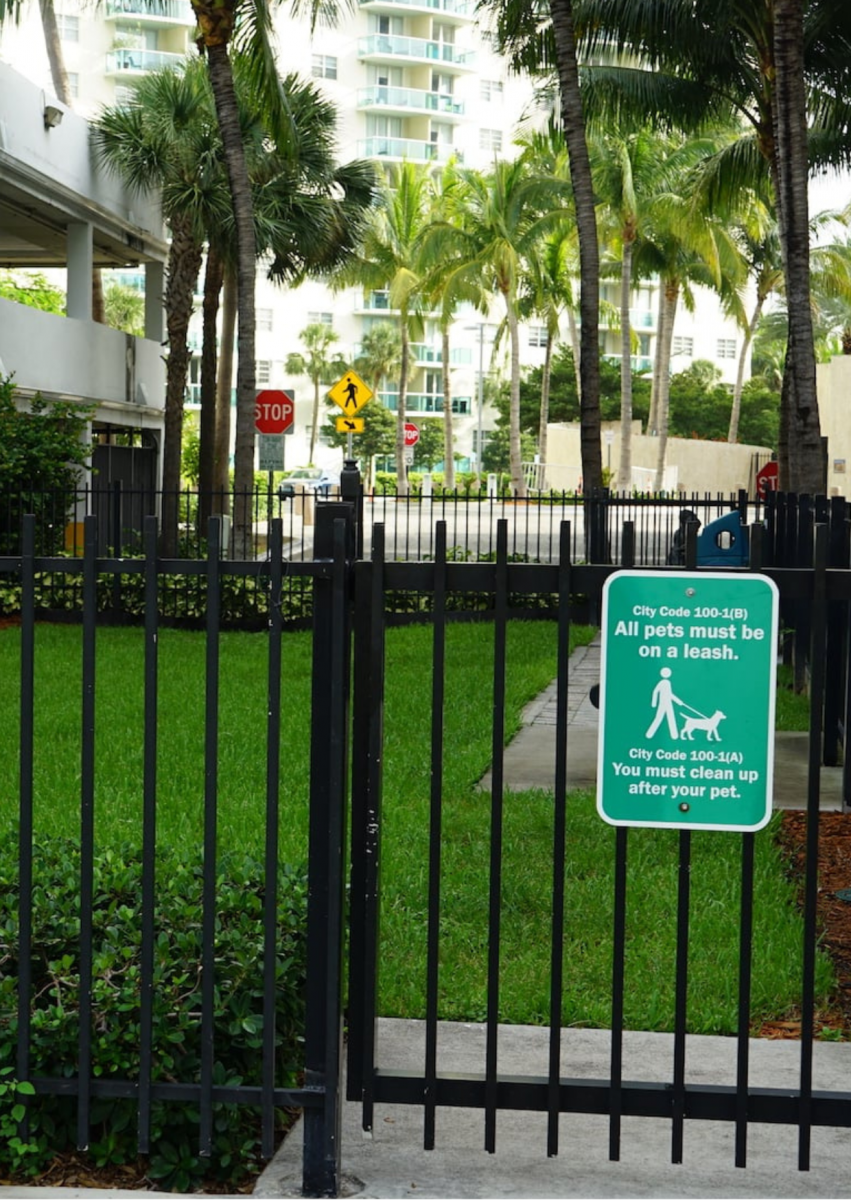 2) Bone Zone-Senator Gwen Margolis Park (Top-Pick!)
17815 N Bay Rd, Sunny Isles Beach, FL 33160
A famous 2.84-acre park in Sunny Isle Beach, Senator Gwen Margolis Park is another doggie-safe space you can visit with Fido when you're in the neighborhood!
At Senator Gwen Margolis Park, fun outdoor activities with the family are endless!
It features a soccer field, a shaded playground with equipment for toddlers and older children, picnic tables, and seating areas.
It's also known for its 'Bone Zone,' a fenced-in leash-free dog area located north of the park.
At the dog area, pups can roam around until they tire out and meet a new friend or two while they're there.
Please note that Senator Gwen Margolis Park doesn't allow dogs in all other areas.
You must also bring a leash for your dog to enter the park.
Other park amenities include picnic tables, free WiFi, and a community shuttle service.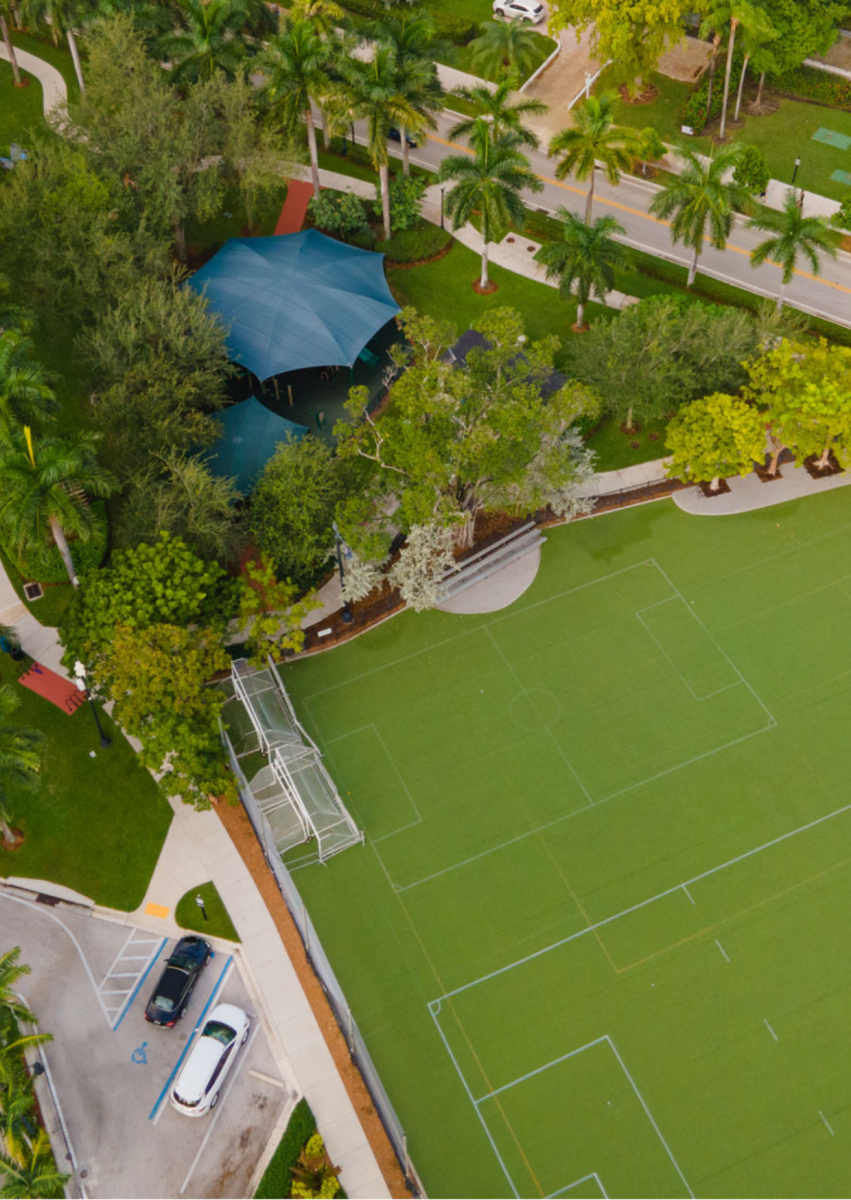 10800 Collins Ave, Miami Beach, FL 33154
Located five minutes from Sunny Isles Beach lies Haulover Beach Park, a 177-acre urban park between the Intercoastal Waterway and the Atlantic Ocean.
The beach park is known as one of Miami Beach's premier dog-furiendly beaches, attracting people and their pooches from all over the world to its sandy shores!
Yes, folks, there are tons of fun to be had at this paw-some beach!
Take a stroll on the nearby dock or enjoy a picnic at tables.
Or, if you're looking for an expansive space your dog can enjoy, visit Bark Park, an off-leash dog park in Haulover Beach Park.
It features fenced large and small dog sections, drinking water, and clean-up bags for your convenience.
But that's not all!
If you're looking forward to swimming with your canine, you have come to the right place!
You'll find a dog-friendly designated beach area between Lifeguard Towers #2 and #3, available from 8 am to 3 pm.
Just be sure to keep your dogs on a leash until they're safely in the designated off-leash dog zones of the park and beach.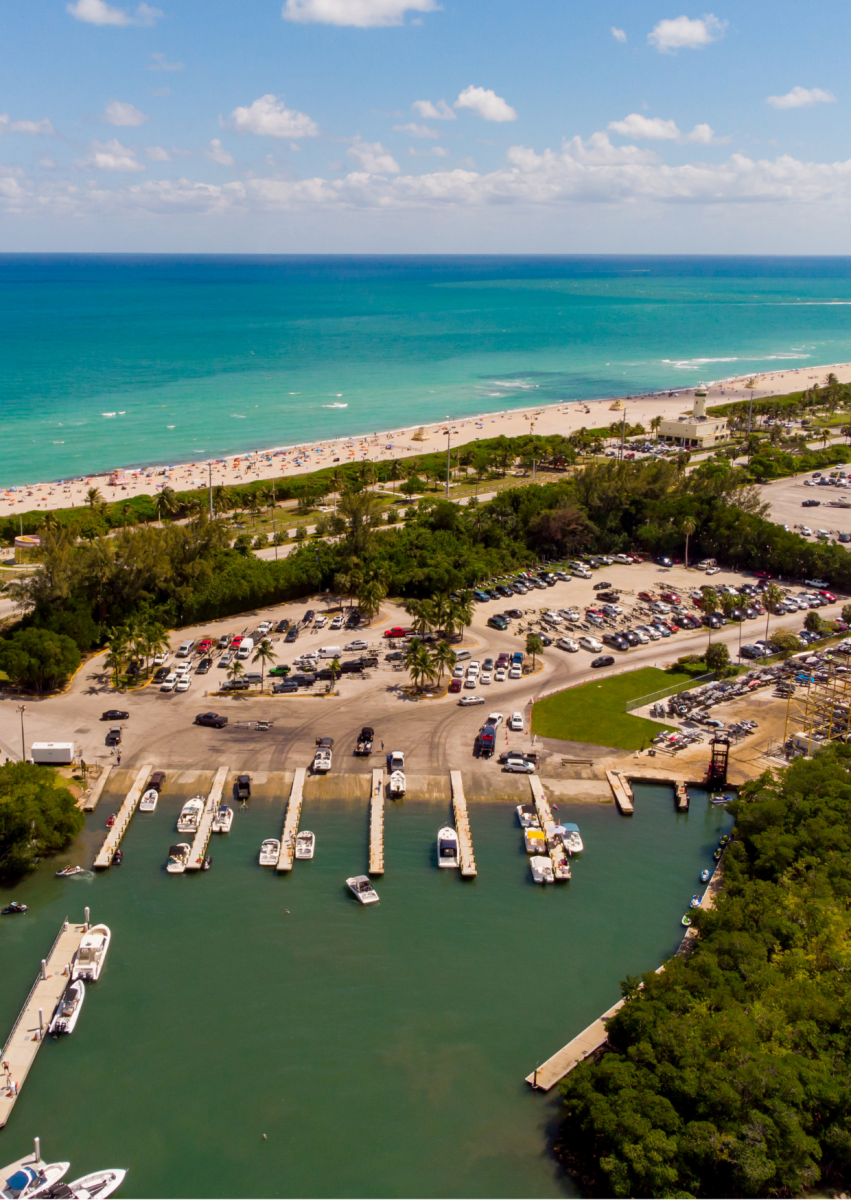 4) Oleta River State Park (Top-Pick!)
3400 NE 163rd St., North Miami Beach, FL 33160
A 1,043-acre state park on Biscayne Bay, in the municipal suburb of North Miami, Oleta River State Park is your best bet when looking to go on an adventure with Fido in tow!
Best news?
This park is only a 7-minute drive from Sunny Isles Beach via NE 34th Ave/Interama Blvd, FL-826 E/NE 163rd St/Sunny Isles Blvd and Collins Ave!
Enter through the gates of Oleta River State Park, and a feeling of tranquility will wash over you as you emerge into the world of tangled, tidal mangroves inside this protected river estuary.
Considered Florida's largest urban park, Oleta encompasses more than 1,000 acres of greenery set against Biscayne Bay, ideal for kayaking, biking, hiking, swimming, and camping.
At this park, you can bring your pup on the trails and campgrounds with no fuss, but be sure to put it on a leash to avoid mishaps, especially in wildlife areas.
Remember to bring pet waste bags and throw them away in the available trash cans throughout the park.
Cleaning up your dog's waste is mandatory at this park.
Also, dogs are not allowed on the beach area of Oleta River State Park.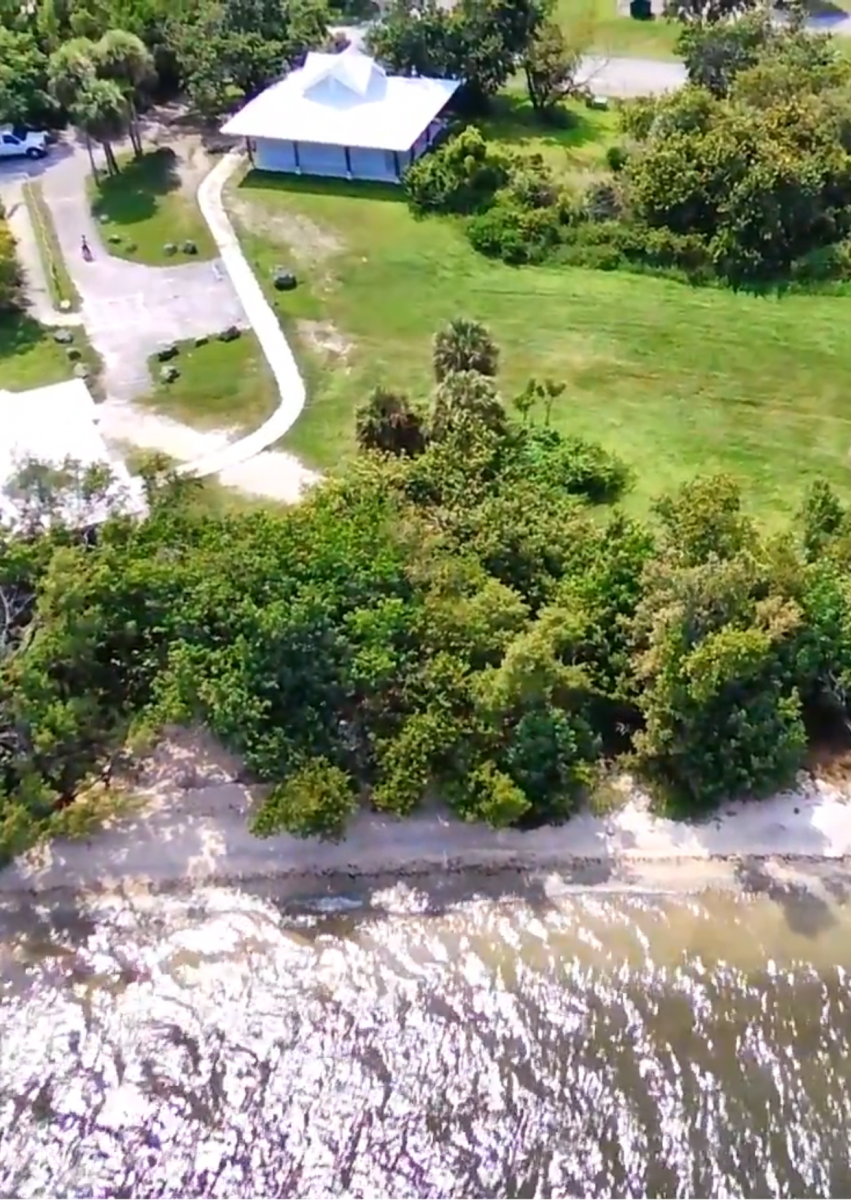 5) Northeast Regional Dog Park (East Greynolds Park)
16700 Biscayne Blvd, North Miami Beach, FL 33160
Another nearby dog-friendly park you can bring Fido to is the Northeast Regional Dog Park inside North Miami Beach's East Greynolds Park, 8 minutes away from Sunny Isles Beach.
A highly-rated, 1.76-acre park popular among dog owners in the area, Northeast Regional Dog Park is divided into two main sections: one for small dog breeds and another for larger ones.
The two areas are fenced and shaded and include site furniture and washing stations to clean and cool off your pups.
The Northeast Regional Dog Park also features water fountains for owners and their canines to enjoy after playtime and plenty of shaded benches throughout the park.
Sit back, relax, and watch as your dogs roam freely in the open, tennis ball-covered fields!
Just take note that the dog park and playground can get a little swampy, and there are several tempting mud puddles around the park, so make use of the hosing stations to ensure that your pup doesn't stain the back seat of your car on the ride back home!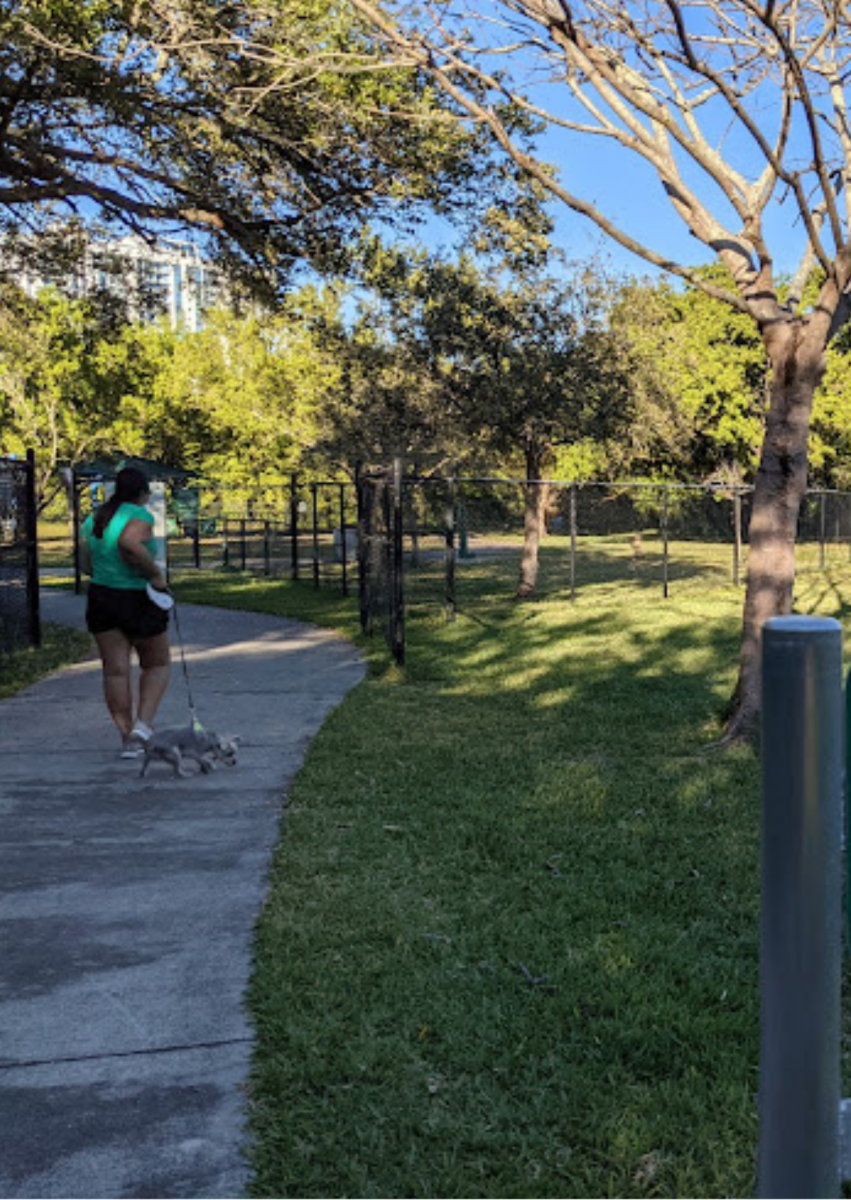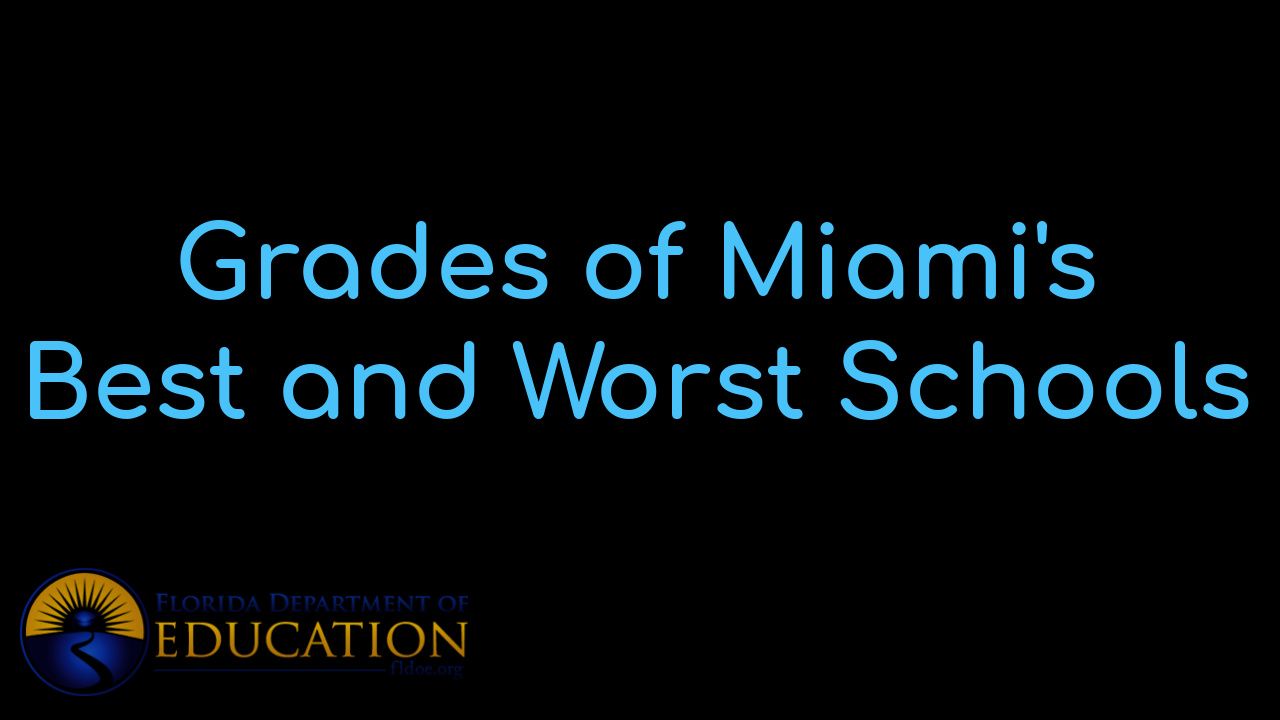 View Miami's BEST schools and the individual grades that each school received. Besides vie...
Who are we?
We are the ALL IN Miami Group out of Miami.
We are Colombian, Filipino, Cuban, German, Japanese, French, Indian, Syrian, and American.
We are Christian, Hindu, and Jewish.
We are many, but we are one.
We sell luxury homes in Miami, Florida.
Although some of our clients are celebrities, athletes, and people you read about online, we also help young adults find their first place to rent when they are ready to live on their own.
First-time buyers?
All the time!
No matter what your situation or price range is, we feel truly blessed and honored to play such a big part in your life.