Dog-Friendly Parks In and Around Miami Springs
Prefer listening to audio instead of reading, click the PLAY button below
🎧
Find rich history and charm in the "Heart of It All," Miami Springs. It's a small neighborhood that boasts small-town flavor, a Pueblo Revival architectural style, and fun activities for you and Fido in the middle of a busy Metro!
Bordered by Miami International Airport, the City of Hialeah, the Village of Virginia Gardens, and the Town of Medley, Miami Springs is one of the first planned communities in Florida, founded by Glenn Hammond Curtiss, "The Father of Naval Aviation" and James Bright during the "land boom" of the 1920s.
It has a total area of 3.0 square miles, of which 2.9 square miles is land and 0.04 square miles is water.
And since it's located inland along South Florida's Atlantic Coast, this small city nestles amidst the state's largest metropolitan area, which means Magic City's and South Florida's most famous attractions are within an arm's reach!
Not to mention it's got pup-approved nature spots in and AROUND its perimeter!
Start jotting down notes!
Here's a list of dog-friendly parks in and around Miami Springs.
1) Miami Springs Dog Park (Top-Pick!)
599 Quail Ave #501, Miami Springs, FL 33166
Nestled in the neighborhood of Miami Springs is a well-maintained, quiet, and convenient dog haven you can bring Fido to when you need a relaxing stroll.
Say hello to Miami Springs Dog Park, perfect for all dogs looking for a great time.
The park is off-leash, so your pup is free to run wild with their new furry friends while they are visiting.
It has small and large dog areas, benches, and shade to protect your dog from the harsh sun.
The Miami Springs Bark Park is also across the street from the Central High School within the city, where you will find softball and baseball fields nearby, a great outdoor addition to this family-friendly recreational spot!
All dogs must be on-leash before they enter and exit the dog park, and dogs can only remain off-leash once they are in the off-leash designated area.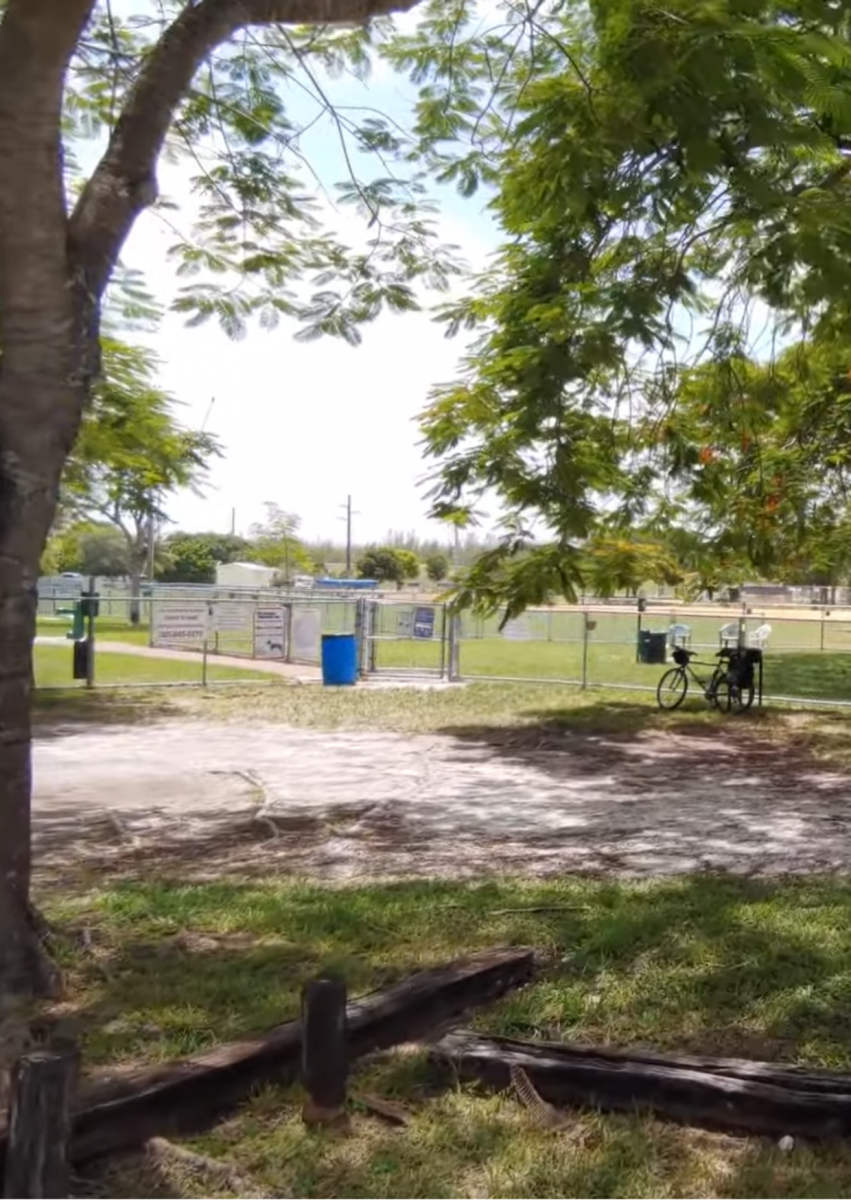 2) Grapeland Heights Park (Top-Pick!)
1550 NW 37th Ave, Miami, FL 33125
Anchored by its famous water park, Grapeland Heights Park is a paw-rrific spot to bring your dog when visiting Miami Springs, only a 9-minute drive via FL-953 N/NW 42nd Ave/S Le Jeune Rd and S Royal Poinciana Blvd.
Safe to say, with its family-friendly activities and top-notch facilities, this recreational destination has something special for every member of the family to enjoy-- even ones with fur!
Although dogs are not allowed to access the water park area, the last day of the season, typically held on the first Sunday in October annually, is an exception.
The day is dedicated solely to pups!
For a fee, Fido may freely swim, splash, and play to their heart's content in the shallow pools at this water park!
Aside from Grapeland Height Park's puppy palooza water day, dogs can look forward to the park's walkways, where you and your furry pal can get your walking groove ON!
Lush green grass lines the property and provides you with the pawrfect spot for a picnic lunch or a game of fetch or tug with your doggo!
Other park amenities include a baseball field, picnic tables, and a playground for the kids.
Dogs are allowed in this park, leashed.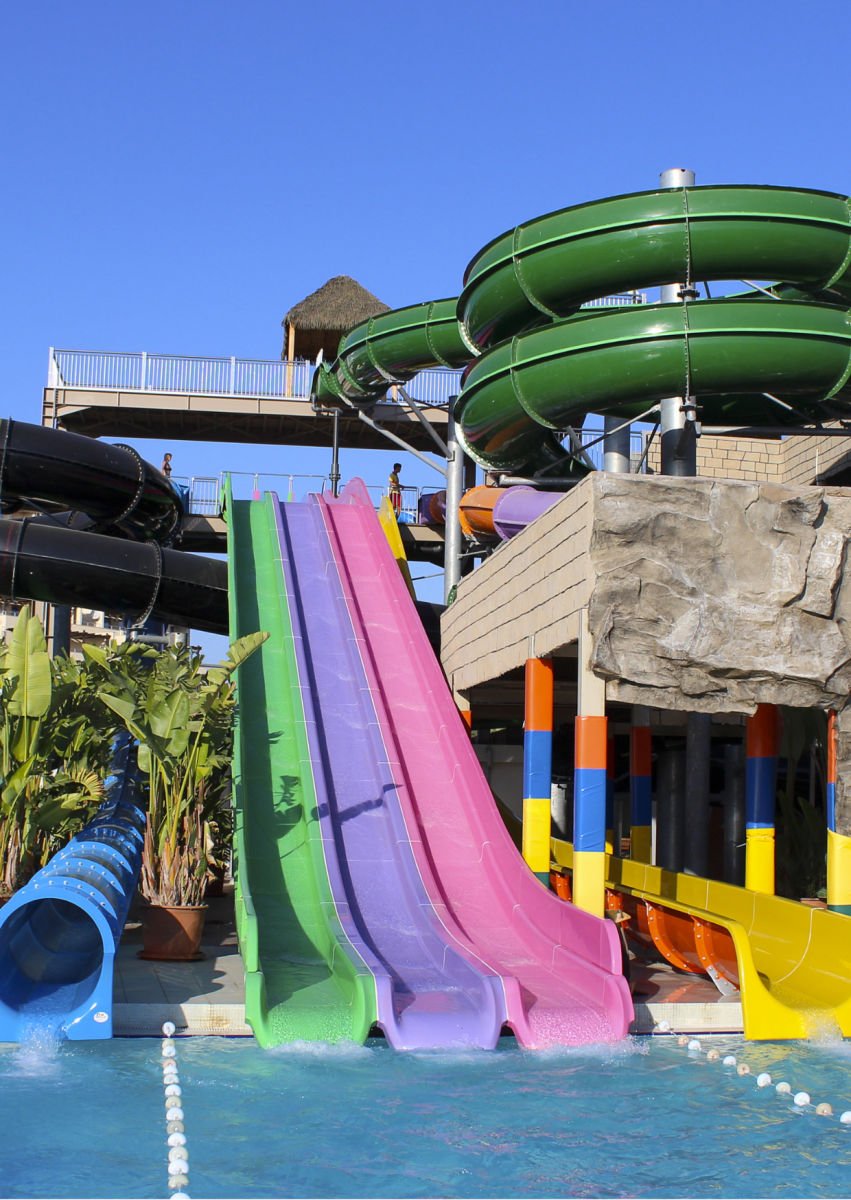 3) White Course Park (Top-Pick!)
8429 NW 41st St, Doral, FL 33166
One of the newest parks in Doral, completed during the first quarter of 2022, White Course Park is, yet again, another fun spot you can bring Fido to when craving the outdoors-- and it's only an 11-minute drive from Miami Springs!
Featuring a putting green and playground theme that honors Doral's rich golf history, White Course Park is a local hangout that offers a shaded playground, waterfront event plaza, outdoor fitness stations, fenced dog areas, restrooms, and shelters.
Its fenced off-leash dog area has two divisions dedicated to small and large dogs, with water fountains and hoses to use when your pup needs a cooldown or a quick shower.
White Course Park also has a spacious area to stroll after your dog's playtime!
Be sure to bring a water bowl and a leash, as dogs are only allowed without a lead in the off-leash areas.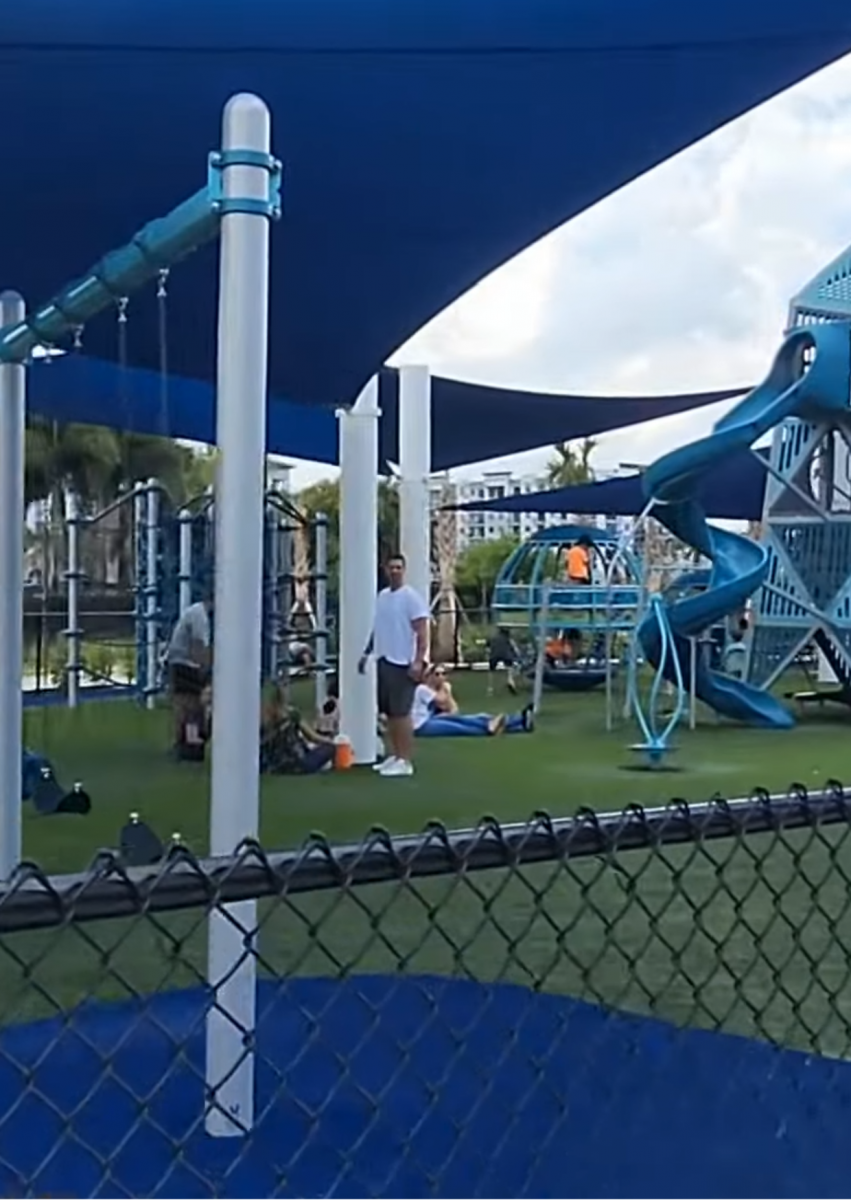 8395 NW 53rd St, Doral, FL 33166
Take a walk with Fido to the famous Downtown Doral, a 250-acre dynamic city center teeming with luxury residences, trendy shops and restaurants, a bustling business park, and a premier golf destination-- to find one of the most dog-friendly parks in Doral, Downtown Doral Park!
It's a good thing it's only a 12-minute drive from Miami Springs via N Royal Poinciana Blvd!
At Downtown Doral Park, you and your pup will enjoy three acres of green open spaces ideal for family picnics, an afternoon stroll, or a leisurely walk with your dog.
The park also has a children's playground, picnic tables to rest or eat on, and a loop sidewalk around.
You'll find a few art sculptures in this park, too.
Its main attraction is the rock sculpture called "Micco."
It looks beautiful at night, as they put a light show on it and play audio sounds.
Downtown Doral offers proximity to an array of shops and restaurants, so be sure to visit a few pet-friendly establishments after playtime with your furry pal!
Don't forget your water bowl and Fido's leash!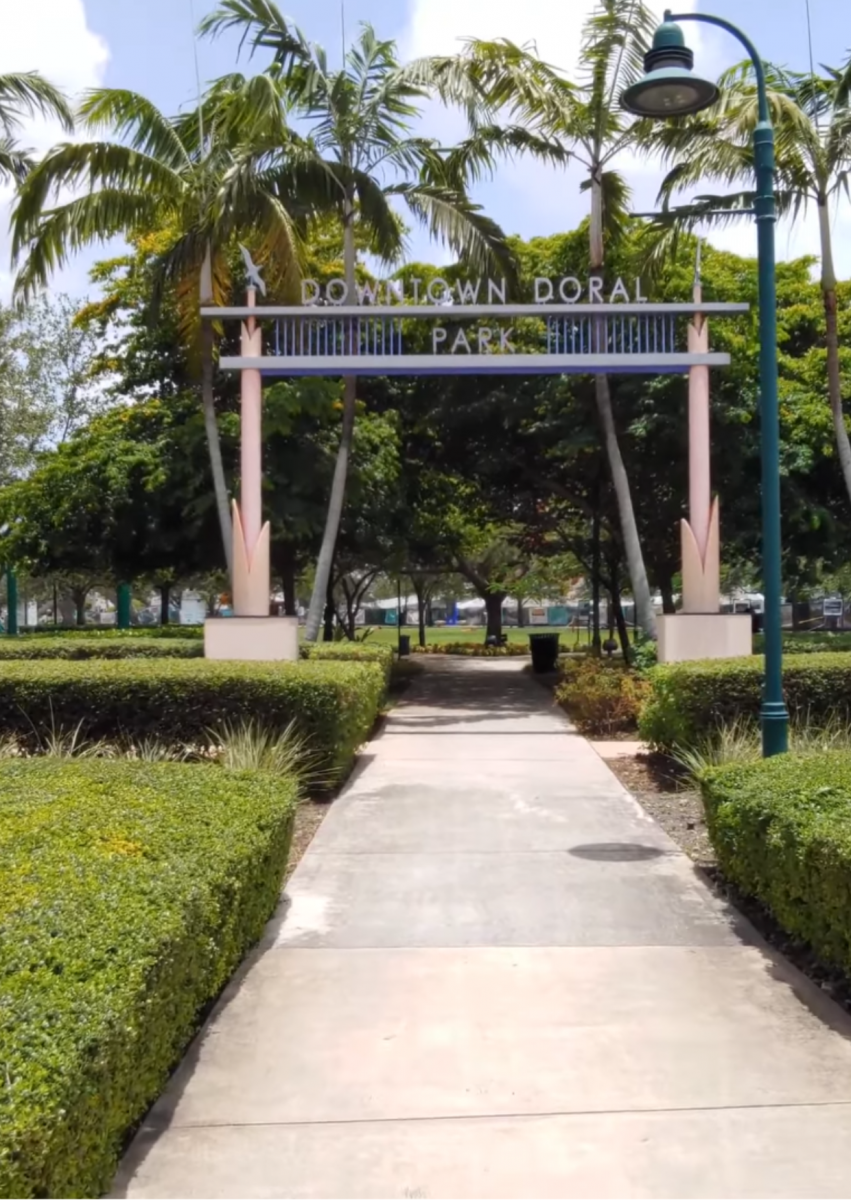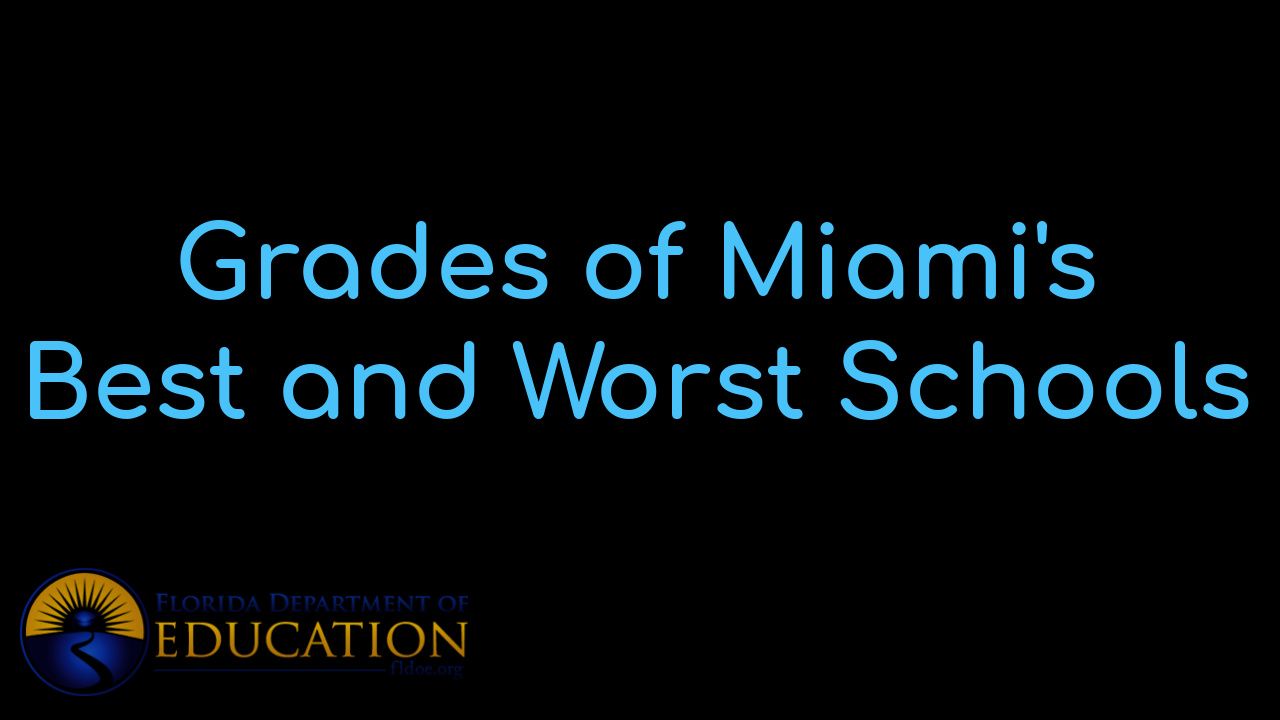 View Miami's BEST schools and the individual grades that each school received. Besides vie...
Who are we?
We are the ALL IN Miami Group out of Miami.
We are Colombian, Filipino, Cuban, German, Japanese, French, Indian, Syrian, and American.
We are Christian, Hindu, and Jewish.
We are many, but we are one.
We sell luxury homes in Miami, Florida.
Although some of our clients are celebrities, athletes, and people you read about online, we also help young adults find their first place to rent when they are ready to live on their own.
First-time buyers?
All the time!
No matter what your situation or price range is, we feel truly blessed and honored to play such a big part in your life.