Dog-Friendly Parks and Spots In and Around Design District
Prefer listening to audio instead of reading, click the PLAY button below
🎧
Spanning 18 square blocks just north of I-195 and Midtown Miami is the city's exciting shopping and arts district, Miami Design District, an urban destination that dog lovers, art fanatics, and shopaholics alike will enjoy!
Lying south of Lemon City (Little Haiti), roughly bounded by North 36 St (US 27) to the south, North 43rd Street to the north, West First Avenue to the west, and Biscayne Boulevard in the east, the trendy Design District neighborhood is the brainchild of visionary developer and art collector Craig Robins, who helped revitalize the famous Miami beach destination, South Beach.
Yes, folks, this buzzing district boasts a treasure trove of luxury fashion boutiques, edgy art galleries, engaging public art, and trendy restaurants.
And, of course, a few choice spots for Fido to love and explore!
Here's a list of dog-friendly parks and spots in and around the Design District.
1) Museum Garage (Top-Pick!)
90 NE 41st St. Miami, FL 33137
A seven-floor parking garage in the heart of Miami Design District, Museum Garage is not just your average car parking area.
It's a work of art-- and an ideal spot for Instaworthy photos with Fido!
In 2015, Design District developer Craig Robins commissioned architect and curator Terence Riley to develop the concept for Museum Garage.
Bringing together these designers from around the world, Riley drew inspiration from the surrealist parlor game Exquisite Corpse.
The game involved a collection of images assembled by various artists with no regard or knowledge of what the other artists have drawn, producing one image whose components don't necessarily match but flow together as one playful composition.
Under Riley's direction, each participating architect worked on an area and depth to build out, getting free rein to create individual designs.
And the result?
A unique modern, architectural version of the Exquisite Corpse-- Design District's Museum Garage.
While there isn't much to see or stuff to do in Museum Garage, Fido can tag along as you explore the unique corners of this parking garage and take beautiful photos with your furry pal for your socials!
Be sure to put your pup on a leash!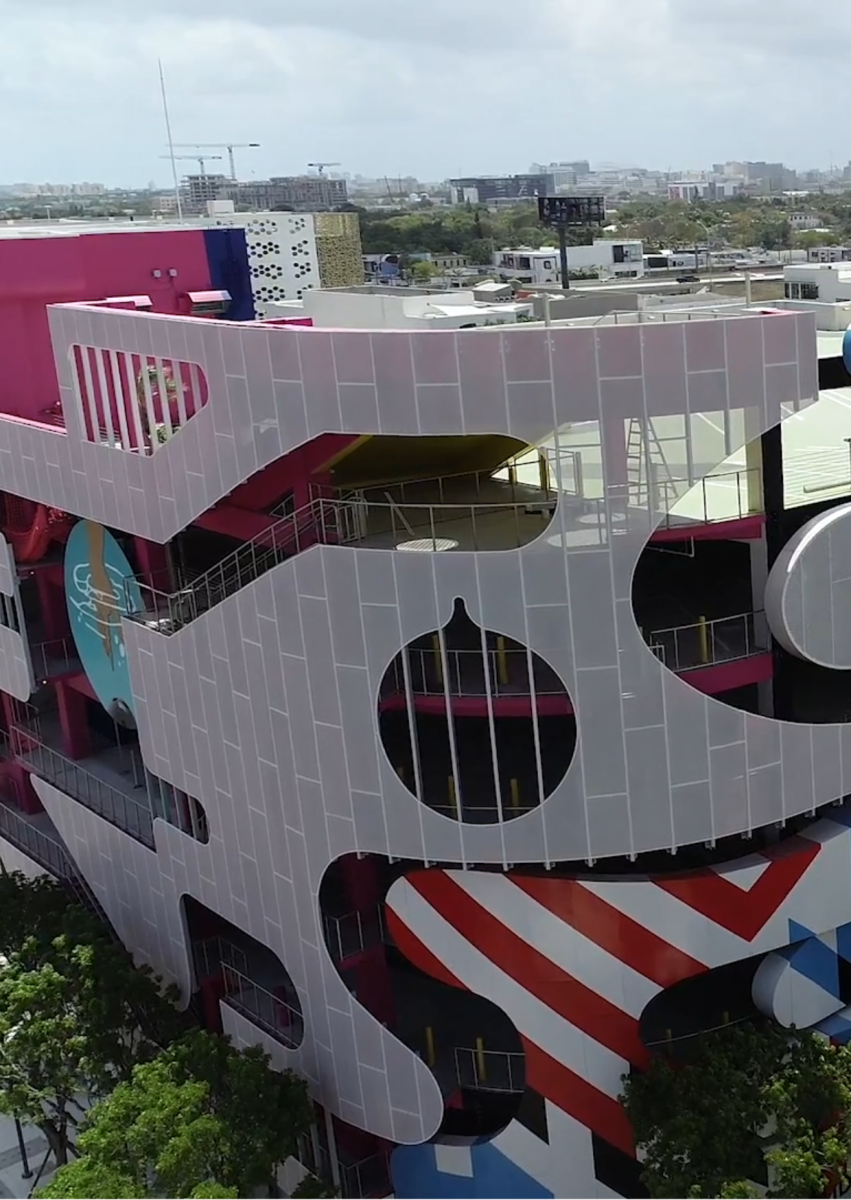 2) Jungle Plaza (Top-Pick!)
3801 NE 1st Ave, Miami, FL 33137
Design District's premier outdoor event space for large-scale productions and events, Jungle Plaza, is another spot you can walk Fido, albeit it's not a grassy, shady, or actual park, per se.
A 33,000 square foot location with easy access to parking, the plaza features a monumental mural by the Brazilian artist Criola, titled "Interdimensional Portal," a scene that represents a group of female characters in bright, bold colors and vibrant geometry, performing rituals of healing and protection.
It's one of the most artistic and colorful areas in the city!
Aside from the "Interdimensional Portal," visitors will see a Jungle-themed mural on the wall, a colorful focal point that pays homage to the South Floridian landscape.
Dogs are allowed in Jungle Plaza, but leashes are required during your visit.
Don't forget your dog's water supply.
It can get hot during the day, and you won't find shade nearby.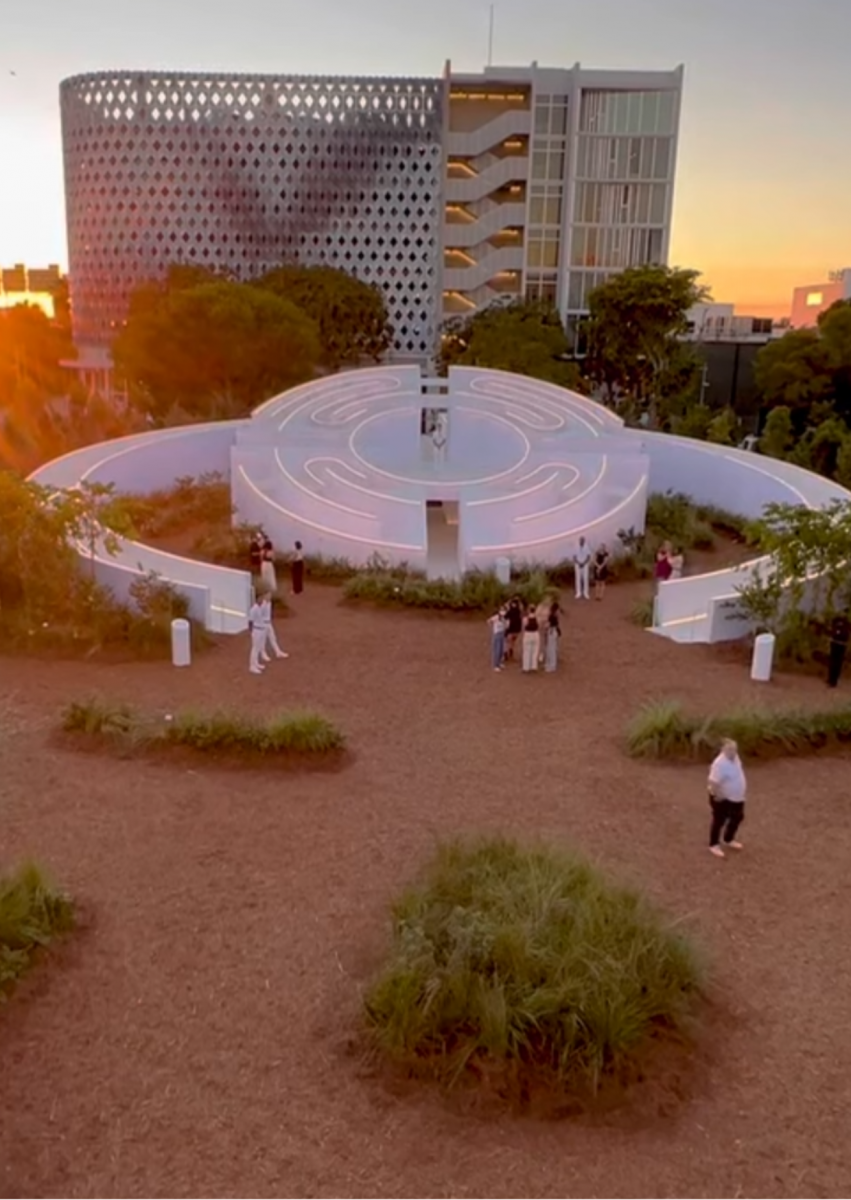 101 NW 34th St, Miami, FL 33127
If you're craving the outdoors, nothing beats a memorable visit to Roberto Clemente Park, Wynwood's only pocket park, a 15-minute walk from Design District!
A large plot of grass with amenities stacked around it, the famous park is open to humans and pups to explore and enjoy.
Roberto Clemente Park is fully fenced-in, surrounded by calm streets and lanes of family neighborhoods, so you're sure to have a quiet and secluded time with your furry pal while you're here.
Once inside, a perimeter sidewalk trail encompasses the area, with plenty of shady spots to relax and sit under to rest.
Its western side is the most open, with a large grassy field with two baseball diamonds.
Meanwhile, the park's eastern side also has grassy fields that offer spots for Fido to play in the grass.
Some benches line the pathways, too, where you can sit and enjoy the sights of the park.
Other park amenities include a playground, basketball court, football field, picnic tables, an outdoor sports area, and a recreation center.
Don't forget to bring your pup's lead-- Roberto Clemente Park only allows dog visitors on a leash.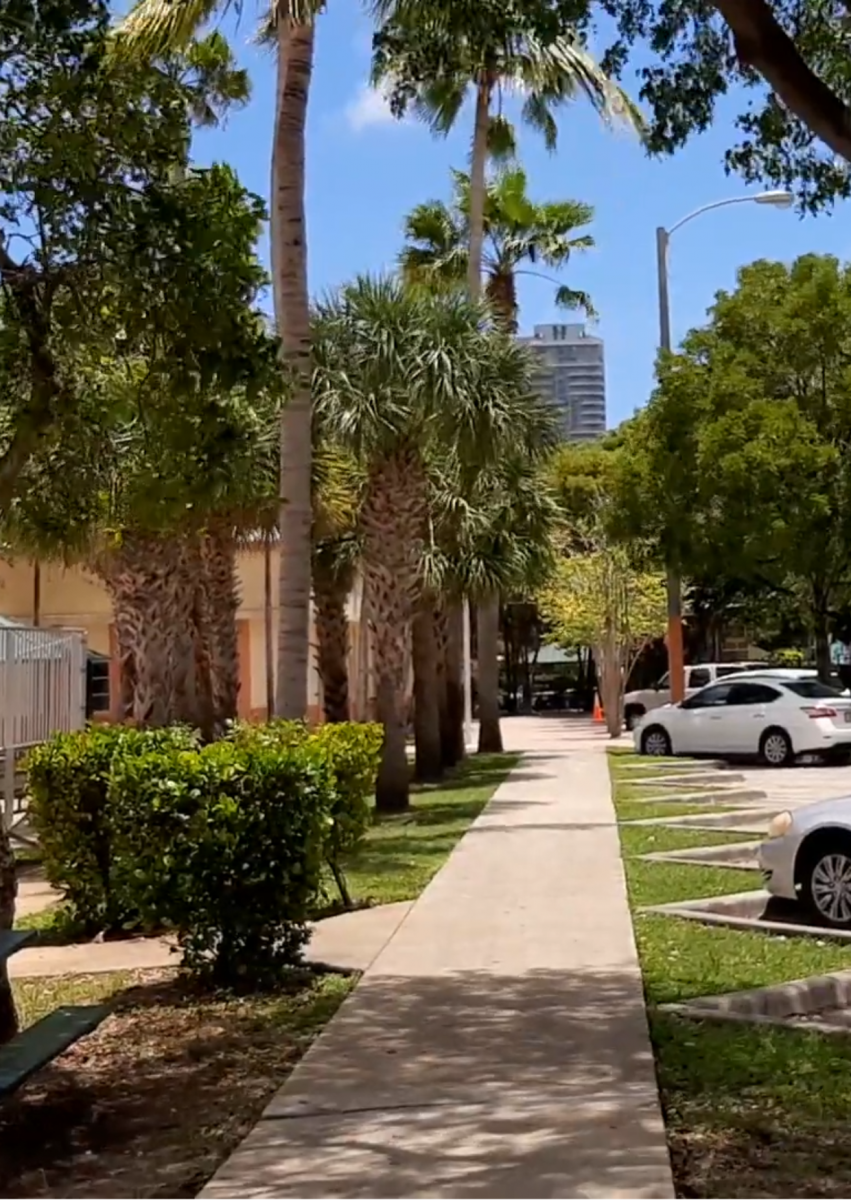 4) Albert Pallot Park (Top-Pick!)
3808 NE 6th Ave, Miami, FL 33137
Another quick walk from Design District, 12 minutes, to be exact, is the Albert Pallot Park in Midtown, home to a massive M-shaped domino sculpture that seems to welcome you back onto the mainland.
Folks say hello to Jose Milton Park at E. Albert Pallot Greenspace, a design-forward green space perfect in its simplicity: a well-manicured, thoughtfully planned lawn with a winding path, a playground, a kayak ramp, and a stunning, unobstructed view of Biscayne Bay.
The 3-acre park offers a large grassy area for picnics and a concrete area right before the water with benches to sit.
You'll find your fair share of dog walkers, rollerbladers, and kids on the playground, especially during the late afternoons.
Bring water bottles to share and doggie clean-up bags to keep this park pup-friendly.
And remember-- your fluffy friend needs to be kept on a leash throughout your visit!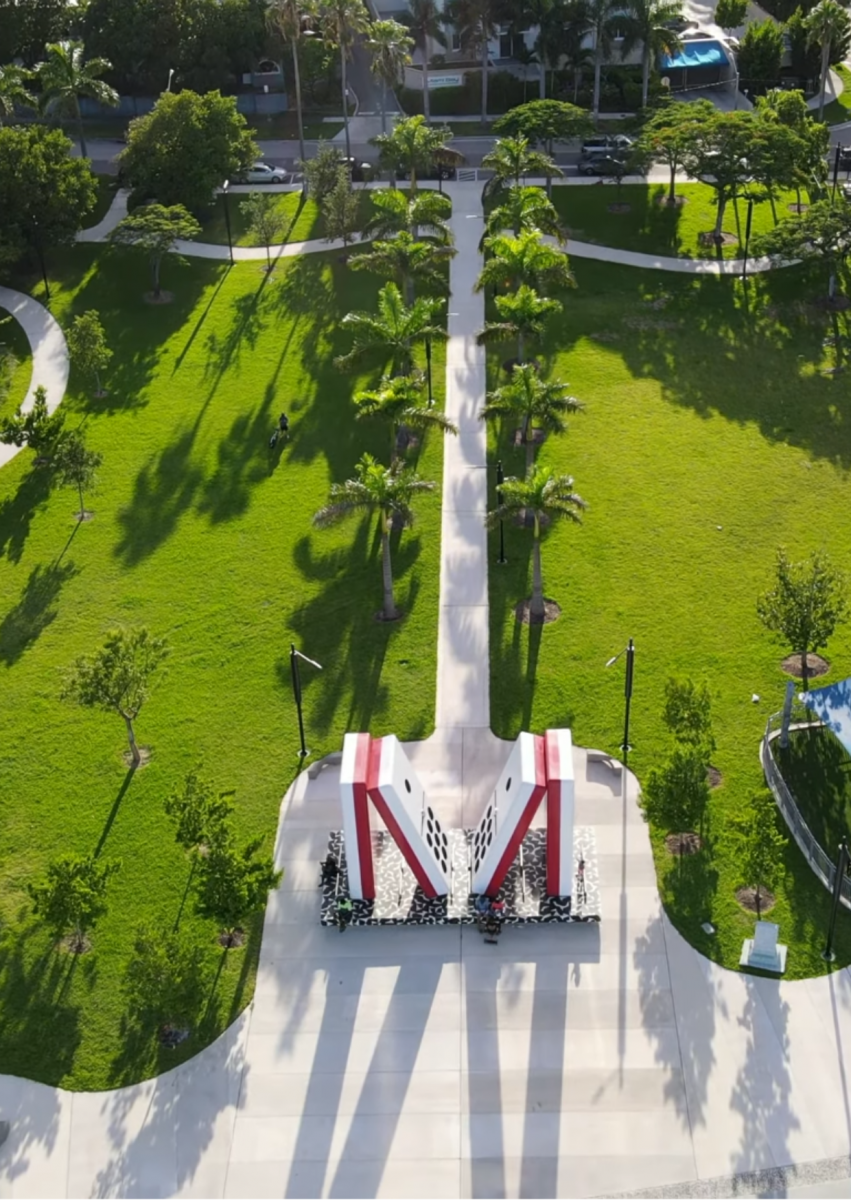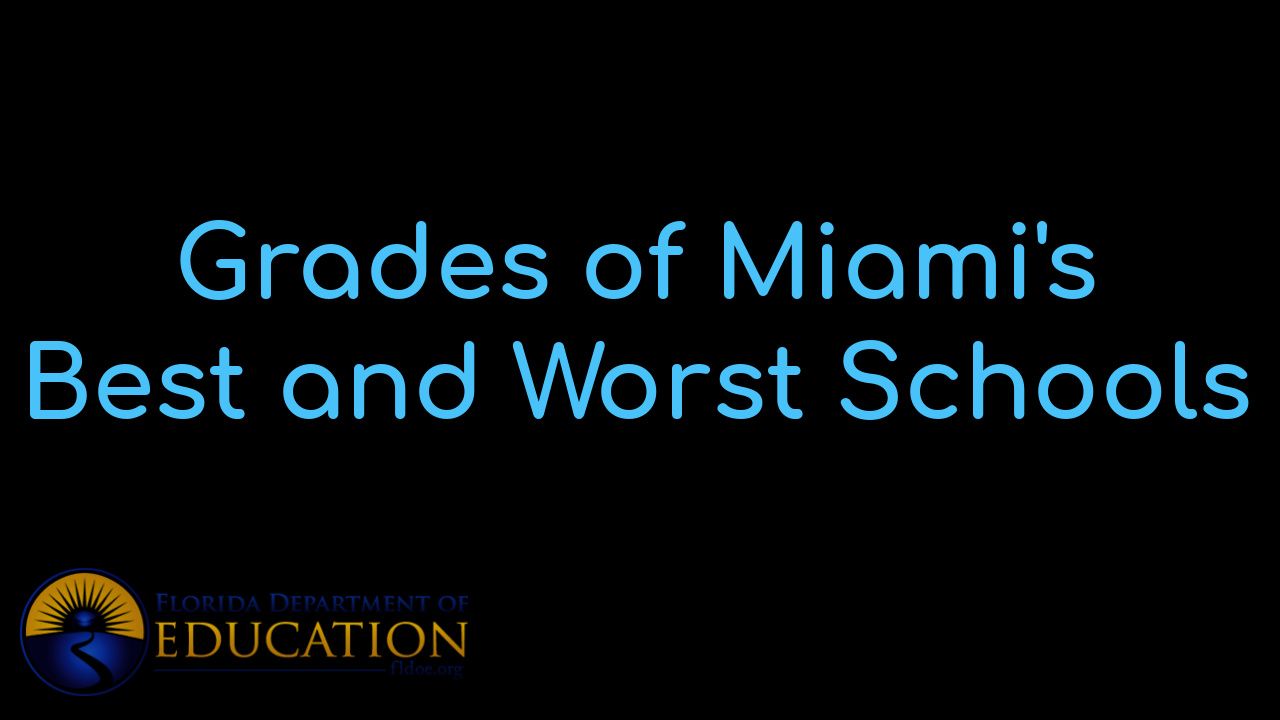 View Miami's BEST schools and the individual grades that each school received. Besides vie...
Who are we?
We are the ALL IN Miami Group out of Miami.
We are Colombian, Filipino, Cuban, German, Japanese, French, Indian, Syrian, and American.
We are Christian, Hindu, and Jewish.
We are many, but we are one.
We sell luxury homes in Miami, Florida.
Although some of our clients are celebrities, athletes, and people you read about online, we also help young adults find their first place to rent when they are ready to live on their own.
First-time buyers?
All the time!
No matter what your situation or price range is, we feel truly blessed and honored to play such a big part in your life.